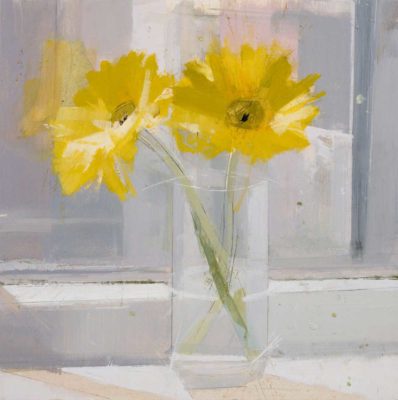 A few days ago while making myself crazy on Facebook from reading one maddening post after another about the latest Trump administration's outrage when a posting of Lisa Breslow's painting of gerber daisies in a glass (shown above) stopped me in my tracks. For at least a moment, this simple expression of light and color gave me a reprieve, perhaps even hope, that this too will eventually pass.
I'm unsure if a painting can offer us much more than visual delight but isn't that enough? I don't think beauty civilizes us or makes us better people. I'm sure Nazis loved Mozart as well as Wagner and grabbed as many beautiful paintings as they could during WW2. Many people in those times tried to protect paintings from harm but many also tried to destroy anything deemed decadent, that they felt didn't fit their belief. Today, we are sadly experiencing a situation in the world in which we are threatened by evil leaders, climate change, nuclear weapons and many other serious threats to the existence of civilization as we know it. Of course, considering the magnitude of the problems we face, painting isn't the best tool for changing the world or changing anyone's minds and even if it were, the painter's audience is pitifully small. But what great painting might offer is to add to society's list–one more reason for being alive. Beauty in all its forms might help slow the descent into the madness of war and environmental destruction by reminding us that having a decent society is worth fighting for.
With some of this in mind I decided to approach a seven painters, Lisa Breslow, Stanley Bielen, Amy Brnger, Kathleen Speranza, Scott Conary, Paula Heisen, and Scott Smith, all facebook friends, who are making some wonderful flower paintings to show a few samples of their work in a slideshow. I had no idea if any of the artists were even remotely thinking about political issues with their flower paintings. In fact, the more I thought about this the more the idea seemed ridiculous, flower painting seems the least likely genre to become politicized. However, I rarely let worrying about what others might think stop me for long as I was curious to hear more ideas from these painters about their thoughts on painting flowers or beauty in general in this time of political upheavals.
I also decided to include a separate slideshow of some great flower paintings from history that shows a wide range of approaches and types of expression. At the end of this article I've included excerpts and quotes and linked to a couple of books and essays that are related to this discussion about great flower painting.
Slideshow of seven painters with flowers as a subject.
I asked this of each of the painters shown below:
"Is painting flowers, something that is inherently considered beautiful, ever be an effective way to respond to ugliness and brutality in the world? and/or Why is painting flowers so compelling?"
Lisa Breslow: In one of my recent moments of despair over our current political regime, I posted a flower still life on facebook that I had painted several years ago. I felt the urge to share an image that made me happy and feel hopeful- taking a break from the bombardment of insanity and dysfunction. Painting flowers is not my response to ugliness and brutality, but grows out of a desire to find and depict beauty amidst the often chaotic world around us. For me, painting a simple glass with flowers on my windowsill, and capturing the particular quality of light, is a meditative and life-affirming act.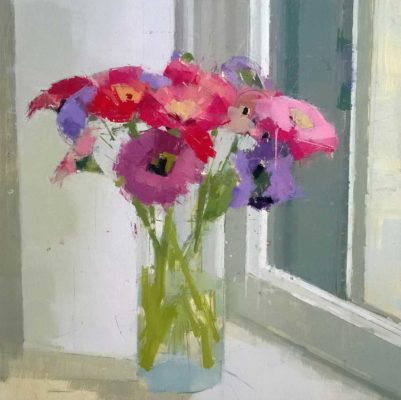 Lisa Breslow's work has been exhibited widely throughout the United States, including the Academy Art Museum, The Heritage Museum, The Heckscher Museum of Art, and the Armory in Philadelphia, among other galleries and institutions. She was an invited artist at the Center for Contemporary Printmaking, a recipient of the Weir residency and Cawdor residency, and was awarded the Pollock-Krasner Foundation Grant twice. Her work is included in many public and private collections such as New York Presbyterian Hospital, Tiffany & Co, and General Electric. Breslow attended the School of Visual Arts and the Arts Student League. She lives and works in New York City, and is represented by Kathryn Markel Fine Arts.
Stanislaw Bielen: I was born in Eastern Europe (Poland). My parents lived through the destruction of their country, Nazi occupation followed by Stalinist Soviet occupation.
Can painting flowers ever be an effective way to respond to the ugliness and brutality in the world? Try imagining life (the world) without Chopin's Nocturnes.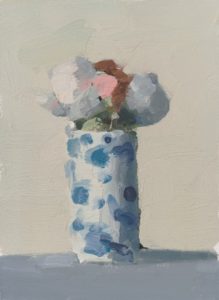 Stanley Bielen lives and works in Philadelphia, Pennsylvania and Bridgton, Maine. He studied at the Pennsylvania Academy of Fine Art. He exhibits nationally and is represented in public and private collections including the Hirschhorn Museum and Sculpture Garden and the Pennsylvania Academy of Fine Art.
Amy Brnger: Absolutely, though that is not usually my intention on a conscious level. Flowers are a good fit for me: I like how they change rapidly, they work very well with the both way that I use my paints and brushes, and I derive a lot of pleasure from working quickly and spontaneously. My flower paintings do reflect how I am feeling or what I am thinking about in general as well as in the moment, though that is by instinct rather than anything purposeful. I am a consumer of news, both in print and radio, and I listen to the news and political podcasts while I paint. Two years ago, most of the paintings I made of flowers were energetic, light and colorful. Since then, my flowers have become more somber, quiet, and reflective. Like so many, I have been so dismayed by our recent national politics and world events, I can't help but think that my overall mood has seeped its' way into my work. The day before the terrorist attack in Nice, France, I painted a bouquet that was crisp and light. The next day, as I listened to the news reports, I painted the same bouquet, and the result was painfully somber, to my eyes. I felt like I had said something with flowers about our changing world, yet it was accidental and completely personal.
The flower paintings may also reflect my optimistic nature, even in dismal times. While listening recently to an appalling speech by our president-elect, I made a flower painting that must have been made in protest to his words. The darker his words became, the lighter and more optimistic my flowers appeared—I was a little stunned at the result, considering how irritated and angry I felt as I listened to the news. So, I suppose my flowers can be a response to the ugliness around me, but as a celebration of beauty and nature, and not a denial of brutal times.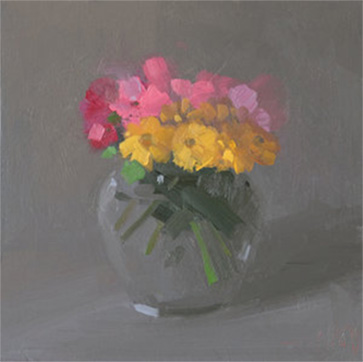 Amy Brnger
is a New Hampshire based artist who shows work at the Nahcotta Gallery, Portsmouth, NH and other venues in New England and Canada. She currently is having a solo exhibition of her work this February at BLOOMS at the Nahcotta gallery in Portsmouth, NH. Brnger has a BA and MA from University of New Hampshire and a MEd from Plymouth State University, Brnger is also represented by the Beaux-arts des Ameriques in Montreal, Canada, the Left Bank Gallery in Orleans and Wellfleet, Massachusetts, Edgewater Gallery in Middlebury, Vermont, and George Marshall Store Gallery in Maine.
I met Kathleen Speranza in Civita Castellana, Italy a few summers ago and we became friends. Recently, I saw her banner that she made for the Women's March on Washington on January 21. The poster was of painted roses and I asked her to tell us more about how and why this came to be.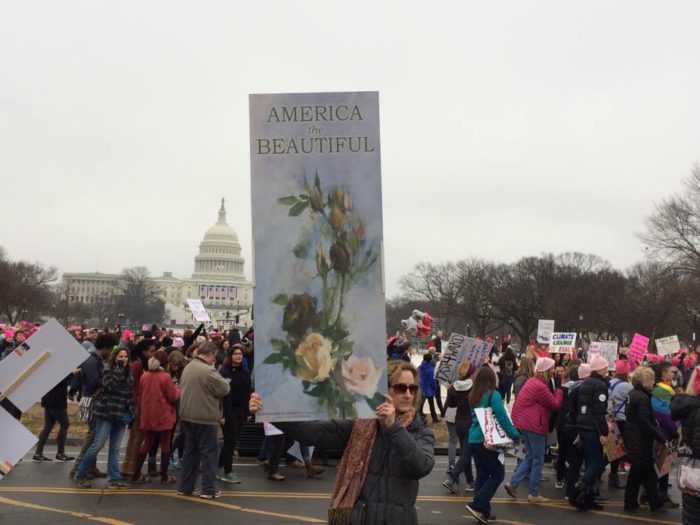 Kathleen Speranza: The banner idea came just after the election. The wave of disgust and horror that overwhelmed me was a shock. I felt violated as a woman that this misogynistic fool had been elected to the sacred role of the presidency. To tell you the truth I feel the same way now even though it's less acute. I have been working with the flower subject for a while and they were naturally on my mind. The first image that came to me was a group of roses surrounded by branches covered in thorns. We needed to protect one another from this threat. After a while I let that image go because I'll be damned if I'll live in fear of an illegitimate regime.
The idea evolved as a climbing pillar of roses, supporting one another in their upward growth. The color was the most difficult aspect since they needed to be a done in the range of human skin tones. Anyone who is visually sensitive can see that this is what makes America beautiful. I felt it was fairly successful in that goal but was perhaps a bit too subtle for the average viewer. People at the march responded well with the consensus being that it was an uplifting and celebratory image. A kind of defiant beauty. I had posters made of the image and have sold quite a few.
As far as what compels me to paint flowers, the answer seems to be evolving with each one I paint. The sheer, drop dead beauty is what grabs me first. I grow roses and am a bit obsessed by them. Once I put them into a still life the exploration moves in different directions depending on the specific color and form. Invoking their 'presence' is my ultimate goal and I have also found that they become 'portraits' at the same time. I did an interview with Antrese Wood on the Savvy painter and we got quite deep into my reasons for working with them. They are ephemeral and the urge to do them justice before they wilt seems to be a part of what drives me. They are very small sculptures with hidden spaces and that also intrigues me. I have a friend who tells me that I really want to be the bee….trying to get in and pollinate! For me painting has always been a way to explore the mysteries of space and form revealed by light. Whatever the subject that remains a constant in my efforts.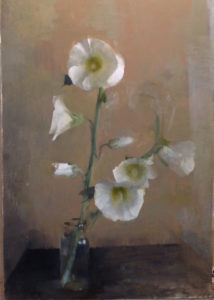 Kathleen Speranza is a Massachusetts based painter with a BFA from Boston University and her MFA from Yale. She teaches painting and drawing at Rhode Island School of Design.
Kathleen Speranza Savvy Painter Podcast
Scott Conary: The flower is a beauty rooted in its transience. As the father of a child that has had profound medical needs and a somewhat uncertain future, I am instinctively, almost inevitably, drawn to their earnest but ephemeral existence. They are, after all, life striving for continuity. These aren't the prim and trimmed specimens of the florist, but instead are the quirky opportunists from the garden with their flaws, singular agenda, and uncertainties. I hurry after their marvelous beauty as they open, close, sag, stumble, and finally succumb.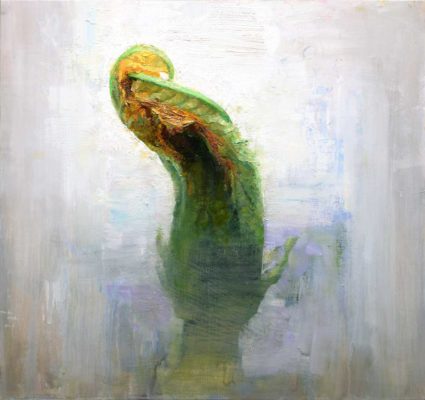 Scott Conary is a painter living and working in Portland, Oregon. Rhode Island School of Design, BFA '93
Paula Heisen: "Ugliness and brutality" create the need for beauty: both the contemplation and creation of it. The question of effectiveness is irrelevant. To paint a thing of beauty like a flower is to participate intimately in its complexity. But as with any subject, that flower disappears during the process of creating the mechanism of the painting itself, which – when successful – hums with its own logic and powerful beauty.
Painting flowers is compelling because it is impossible – impossible to represent the full richness of their surprising existence, their delicate geometry, the soft sturdiness of their petals, their fragrance. The game is one of limitless fun (and frustration) – rich with associations, traditions and history.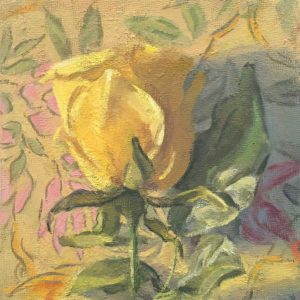 Paula Heisen lives and works in New York City. MFA '82 Yale School of Art; NY Studio School. Recipient of an Elizabeth Foundation Grant, a New York Foundation for the Arts grant and an Ingram Merrill Foundation Grant. Exhibits work throughout the United States, with solo exhibitions in New York City, Chicago, Houston and Milford, Pennsylvania.
Scott Smith: When I read your first question my thoughts went right to the morning of 9/11 where I was teaching a painting class as the news came over the radio…..We all froze while trying to process what we were hearing…the question was 'how can we continue painting in the face of this chaos, hatred, violence and destruction?'…..a few days later the poet laureate of our state was on campus to give a talk and I remember her saying that immediately after the attack in NYC half of her writer friends stopped writing, feeling lost, paralyzed, and hopeless…. and half buckled down with a new fervor, doing what they care about and doing it well…. I remember thinking as well 'why should I continue going into the studio, putting flowers into a jar, and paint them when it seems so trivial and meaningless in this new context?' But painting is a political act and my responsibility as a painter was to do it well with whatever I have…It was clear and important and relevant. I remember talking to Jack Beal for an interview the conversation turned to the idea that all painters face the same questions of what to paint and how to paint it and that he seemed to focus on ideals which often seemed nonexistent in our society. He quickly responded by quoting Eldridge Cleaver who said if one is not part of the solution one is part of the problem and for him it was an example of clear thinking, right thinking, and art needed to be a contributing factor in life…'but you have to want it to be that, and then you have to make it be that. Both of those are conscious, moral decisions, and if you don't make it on that level, you're never going to commit.' For him there was a purpose to his work which was meant not to separate but to bring us together. In looking at my notes he also said…'I want the viewer to believe in the painting as much as I do. The only way I can make that happen is by making it happen. By putting that intensity in it in the first place — otherwise you're playing it cautious, you're touching the canvas but being cynical about it at the same time. I want my paintings to embarrass people because they're so intense. I think embarrassment is the most operative emotion that an artist can evoke from a viewer. It breaks through the line of defenses most people have built up around themselves. I want to make art that attempts to be as full and exciting as life and as complex and unrealized as life often is'….
The short answer to your first question is yes, but a qualified one…Sure, one can use flowers as a motif but beware of the loaded and sentimental thoughts that come with them…In order to be effective the work needs to shed its flowerness, if that's a word, and become much more, it has to become a painting. That's the only hope we have.
Good art is beautiful because it imitates creation. It's always challenging and affirming. I've never made a conscious decision along the lines of 'there's too much ugliness in the world so I should paint something inherently beautiful, like flowers, as an answer or antidote'….it doesn't work that way and, believe me, I've seen and painted enough bad (ugly?) flower paintings to know that no one wants or needs those in the world! So painting can only be effective if it meets the requirements of good art, something that exceeds the sum of its parts and exists as a new and living thing in the world, therein lies its beauty.
I think good painting, in general, can be an effective way to respond to ugliness in the world. The subject matter doesn't have to be something considered inherently beautiful, like flowers. Maybe it's best to use something you hate or dislike and by working on it with defenses down, which ptg demands, there's often a transformation in one's experience where all of a sudden an insight is found which is surprising. To me that is beauty, and to find a way to keep it on a canvas in a state of perpetual motion is what it's all about … For me it's found in the act of looking, giving up old ideas and searching for new discoveries to that set of facts right there. That's a political act in and of itself, it cannot be escaped, and if done well it has an impact which is intense and lasting and affirming. If one stands in front of a good painting and takes the time to look I think one can quickly become embarrassed about how they use to think about things. That's exciting, that's why I like to paint.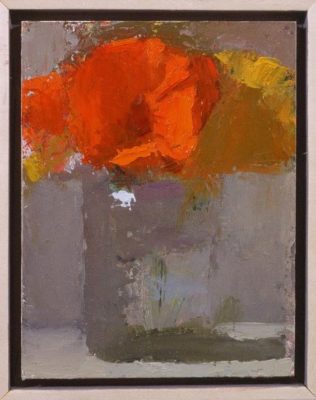 More on the painting of flowers
The memory of childhood flowers is similar to memories a freshly opened box of crayons with all the magical possibilities the colors offered. I remember very little of my early childhood but I have a distinct memory of the the color, taste and smells of my grandmother's tulips. Of course beauty of a flower is completely different from the beauty of a painting but I wonder if our brains respond to the color sensations from both in a similar fashion. I suspect science may someday prove that pleasure inducing hormones like serotonin imprint in us a deep and lasting memory of our early experience with flowers, perhaps this early awareness of beauty and that being alive is amazing is part of what moves us forward as person and maybe a culture. The sensual delight of color seems to activate a primal instinct of a need for beauty.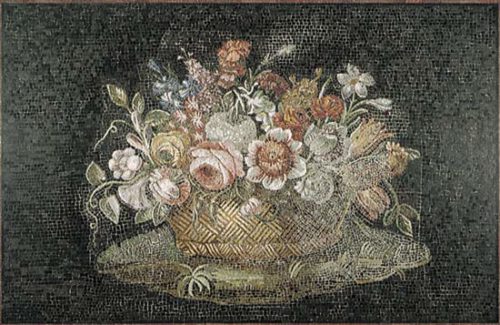 Michael Pollan suggested in his Botany of Desire that there is a reciprocal relationship between plants and animals. He links the fundamental human desire for beauty with the flowers that satisfy them such as the cultivation of the tulip. Perhaps the very first awareness of beauty was when ancient humans stopped to look at a flower and from that awareness sparked a desire for something more. We exchange and appreciate flowers at the key moments of our cultures life cycles. I would guess that almost every painter has made at least one flower-related painting at some point. Many flower paintings, happily, are never shown outside the painter's studio. I'm unsure of the exact ratio of masterful flower paintings to dreadful ones but I suspect the figure would be alarming. Despite this a few painters transcend the schlock and their flower paintings add something new and great to the visual continuum.
Here is a link to a powerful and poetic essay about many issues relevant to Flower painters, the essay centers around the flower paintings of Morris Graves and then looks at other painters and poets who have explored floral lyricism and abstraction. The Flower Artist by Melissa Kwasny at cerisepress.com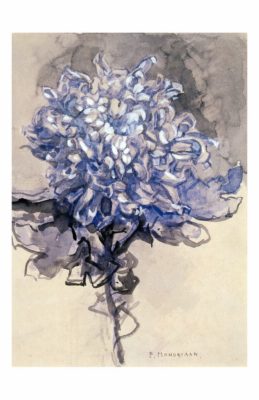 An excerpt from the above essay:
Piet Mondrian painted flowers before his signature experiments in abstraction, and then he returned to them again and again, creating his highly abstract Modernist grids in primary colors alongside his shaggy, shopworn chrysanthemums and top-heavy stalks of red amaryllis with blue stems. The "relationship between natural lyricism and geometrical abstraction" — a phrase used by critic David Shapiro in speaking of Mondrian — seems to be less oppositional than creative, the flower, in particular, offering an image that moves between both, movement we see in the work of many other modern painters, including Odilon Redon, who didn't begin his floating bouquets until he was in his sixties; Georgia O'Keefe, whose larger than life flowers appeared well after her experiments in abstraction; even Pop artist Andy Warhol who silkscreened unnamed flowers, as well as soup cans and Coke bottles. We have been educated to think of the romantic and modern, the abstract and representational, the symbolic and real, as antithetical. Yet photographers, such as Edward Steichen, Edward Weston, and Robert Mapplethorpe, while at the same time giving us strikingly edgy and un-sentimentalized images of war, machinery, and sex, have also given us some of the most moving, intimate, and, revelatory images of flowers. What drew these experimental artists to depict Dying Sunflowers, chrysanthemums, amaryllis, and Heavy Roses, which are certainly traditional, even stereotypic emblems?

Shape and color, of course, have always been attractive to painters, and flowers, most of us would agree, are attractive in shape and color. Every culture, it seems, enhances its surroundings by decorating with real or imagined flowers, from the beading on Ojibway moccasins to the patterns on vessels from Africa or the rugs woven in Turkey. The archeologist Andrew Marshak believes that many of the abstract symbols on Paleolithic cave walls are not abstract at all but leaves and flowers of specific plants.[5] Shape, color, fragrance, even the names of flowers set us dreaming — rose, hyacinth, lavender, violet, iris — as if by merely saying them we could move from the ordinary to the extraordinary:

I will have the gardeners come to me and recite
many flowers, and in the small clay pots
of their melodious names I will bring back
some remnant of the hundred fragrances.

— Rainer Maria Rilke


Morris Graves

from the The Flower Artist by Melissa Kwasny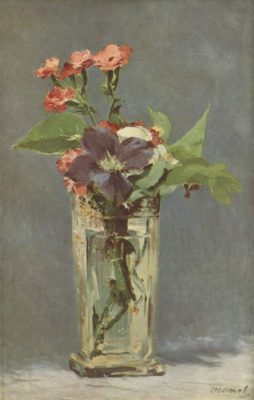 Below is a quote from James Henry Rubin's
Manet's Silence and the Poetics of Bouquets
(Essays in Art & Culture) that talks about Manet's Last Flower painting – that may be of interest… I have several reproductions of Manet's flowers in the cut glass vase paintings in the slideshow above.
"…It is no accident that the object of that figuration is a bouquet. Painted flowers are among those categories of art whose function as painting is closest to their function as original object. In other words, a painting of flowers has for its beholder an effect parallel to a real bouquet. Both are decorative, and both display the taste of its creator for beauty and arrangement. A painting of a bouquet or still-life differs from a photograph of the same subject-matter in that photographs are often likened to mechanical reproductions, whereas paintings usually are not. Indeed, it is often assumed that painting as an art exhibits a kind of creativity similar to that displayed by arranging bouquets or still-lifes. To the degree, then, that painting a bouquet is like painting another work of art, it is a self-referential act. It belongs to that genre of painting that takes art as its own subject-matter. Yet we must keep in mind that flower painting is still a specific and limited branch of art-one of visual selection and arrangement, of appropriation of nature for pleasure and personal taste-that is not dependent on didacticism or allegory. In accepting its function as that of an object of delectation, indeed by taking that experience as its theme, flower painting, like still-life in general, only more so, epitomizes Manet's performative poetics. When one experiences the texture of Manet's paint, one experiences not simply the beauties of soft petals or fresh leaves but the actively ordering process of representation itself. And the discovery of that process is a source of pleasure and reassurance every bit as much as is the sight of the bouquet."
The Last Flowers of Manet, by Andrew Forge and Robert Gordon


In 1880 Edouard Manet was dying at the age of 49. "In the last months of life, he funneled his waning energy into a series of remarkable still lifes — 16 small paintings of flowers, brought together in this book for the first time. Andrew Forge's moving essay pays tribute to the artist's struggle and to his legacy; Robert Gordon's selections from Manet's intimate letters and other documents add poignancy to the readers's experience of the dazzling last glow of a brilliant artistic flame." (from the editor)
Morris Graves: Flower Paintings with an Introduction by John Yau
poet John Yau states in the preface to Morris Graves: Flower Paintings, "In this century, one which has seen the rise of both abstraction and mechanical reproduction, Graves does something wholly unexpected and ultimately profound: he uses paint to restore to flowers their specific identity. He does so by halting at the edge of both abstraction and exactitude, by concluding at the limits of sight…"