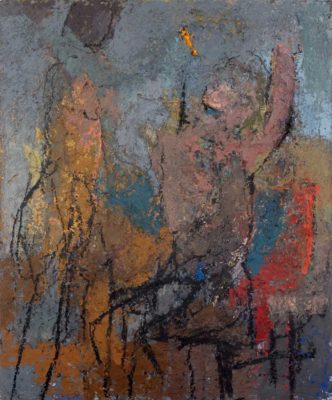 Review by John Goodrich, guest contributor
Thaddeus Radell at John Davis Gallery
Time was, painters were drawn to notions of the epic. All manner of artists – from Titian to Goya to Picasso—tried their hand at grand mythological or historical themes. Even when the Abstract Expressionists largely abandoned figuration, they still pursued the transcendent effect; for them, the epic was part and parcel of painting.
In our post-modernist era, however, tastes seem to run more towards the ironic and the quirky. These days we turn to paintings for intimations of the political and the social, not the heroic or the legendary.
A show currently on view at John Davis Gallery, however, presents one painter who unabashedly attempts the epic, and on multiple levels. The checklist for the sixteen paintings in Thaddeus Radell's exhibition "Hard Rain" reveals more than a casual predilection for the legendary; titles of works include "The Crossing of the Acheron," "The Death of Cordelia," and "King Lear and the Fool." A first glance at the paintings, which range from small depictions of heads to a twelve-foot wide multi-figure composition, shows that Radell shares the "Ab-Ex" faith in the power of the gesture; in fact, Radell's paintings are­ gestures, built-up of repeated layerings of rapid, black outlines and ragged, humming planes of color. These impart a richly atmospheric impression of pulsing depths and thick space. Adding to this rather otherworldly aura are the raw surfaces, sometimes embedded with fragments of burlap: visceral evocations of the ravages of time.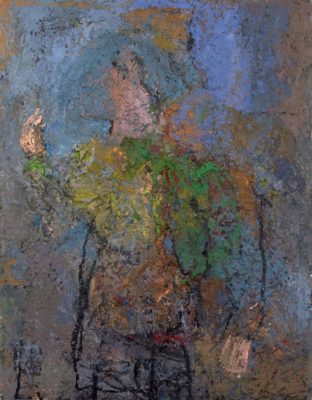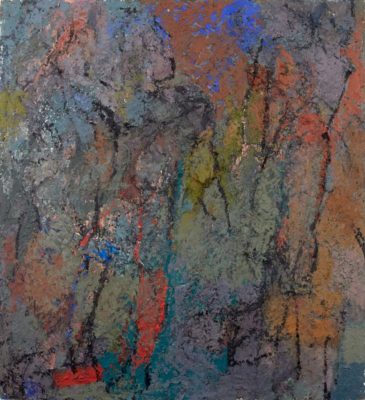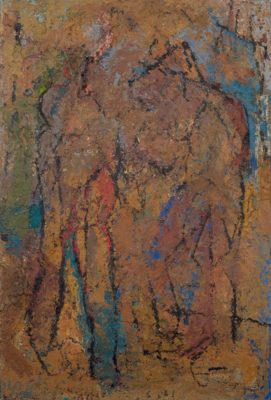 Of course, every painting lives or dies according to its own particular internal dynamics, and in this respect the show encompasses a variety of expressions. In the paintings "Lear and the Fool" and "Adam and Eve," hanging side-by-side, the vertical presence of figures emerge slowly and evenly from depths of ochre and green-blue – perhaps the closest of any works here to the all-over, enveloping energy of seminal Ab-Ex pieces like Pollock's "Autumn Rhythm (Number 30)" (1950), in the collection of the Met Museum.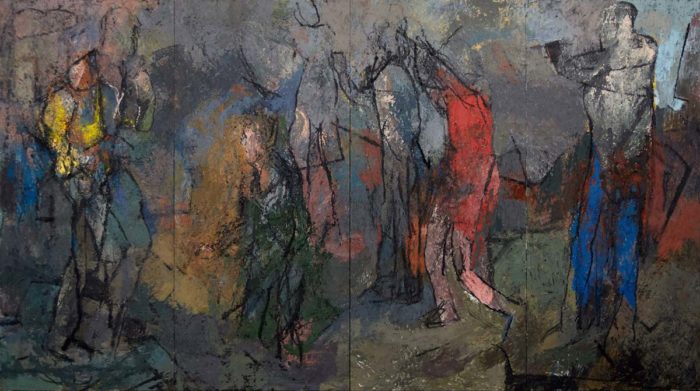 More climactic in its rhythms is "On the Banks of the Acheron" (2015), which locates a half-dozen figures – broad, ragged swathes of yellow, red, and greenish-blue – against a background of muted green- and blue-grays. As is Radell's habit, facial features are minimalized, conveying little more than a head's general volumes, and individual gestures are suggestive rather than explicit: a central group of figures could be dancers, while a figure at far right might be aiming a hand gun. And yet the sense of a conversation among them comes through, not so much narratively as pictorially, with discrete shifts of color – the darkening of a limb or garment in shadow – evoking specific movements of masses.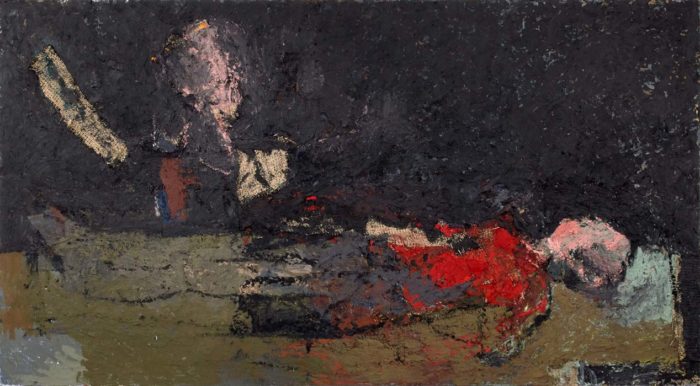 Perhaps most momentous of all is "Death of Cordelia II," with its depiction of a reclining figure limned in stop-sign red, pink, and grays, reclining at length on a green-brown bed or bench. The abruptness of the raw burlap arms, lifted to penetrate the streaming horizontal dark of the background, says all we need to know about vulnerability and loss.
Throughout these paintings, the candid attempts and re-attempts to define each subject become, in effect, stories of their own: encapsulated histories of a transcendental quest. Radell's work, in short, revels in the epic in all senses: assuming it as a core value of painting, applying it as narrative, and ingraining it as a pictorial force. Absorbing his paintings, we sense that the epic is alive and well, and will remain so just as long as there are painters like Radell to pursue it.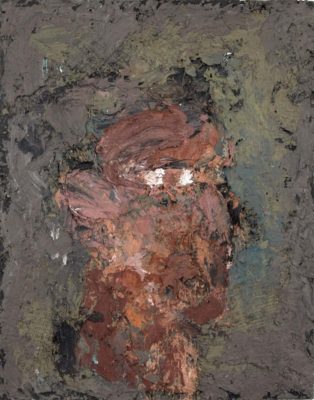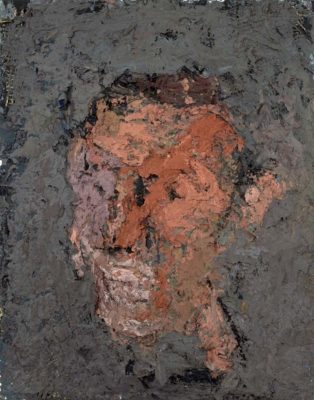 ---
Donate to Painting Perceptions
Donations to Painting Perceptions helps this site greatly, please consider your gift today.