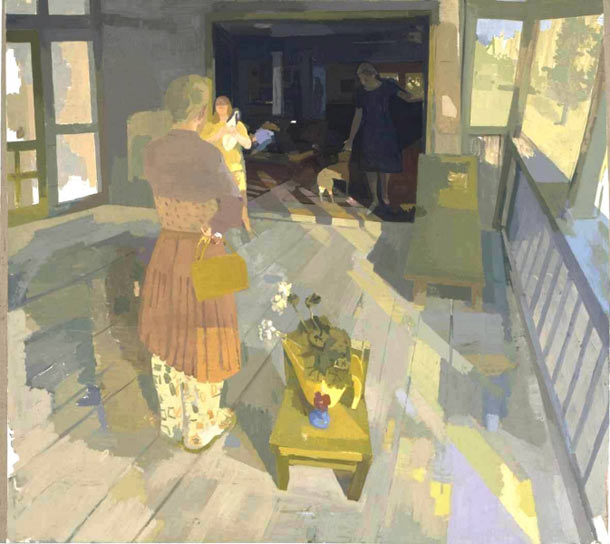 Visitors 2006 Oil on Linen 60 x 66 inches
If you are anywhere near Philadelphia this April, a must see is Susan Lichtman's current show of stunning oil and gouache paintings will be part of a two-woman show with Celia Reisman at the Gross McCleaf Gallery. She is also in a group show, Tenets, at 106 Green, in Brooklyn, curated by Vera Iliatova, on view until April 4th. Susan Lichtman's interiors and figurative work are more derived from memory, sketch's and some photo reference rather than being directly from observation. Her paintings often depict domestic scenes with a hint of narrative that are based on views from her home of many years. However, the most compelling subject is the marvelous inventions of light and color arrangements using flattened abstracted forms interacting in a potent visual drama.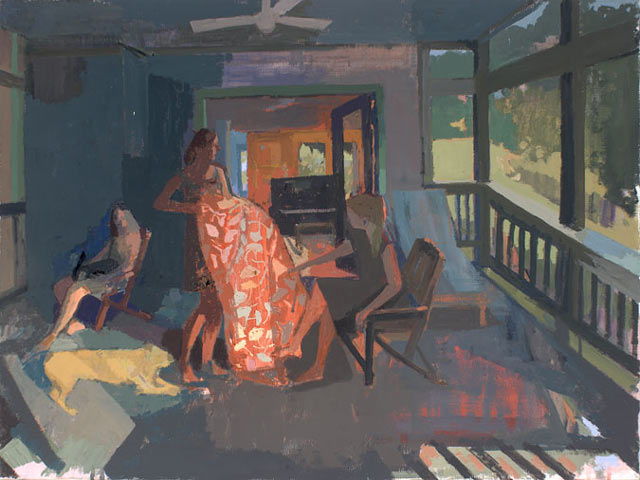 Fabric on Porch, gouache on linen, 18 x 24 inches
In a well written article in the August 2008 American Artist by John A. Parks
there are a number of interesting quotes from the artist and observations the writer made that I'll quote here:
The artist's narrative strategy, like her rendering approach, is one of hints and suggestions, rather than fully realized stories and perfectly turned forms. "I used to love Mallarmé's quote that said you should suggest and not name, because that's where the poetry lies," she recalls. On the other hand, the artist does not let her paintings become too general. "I'm trying to get mystery and specificity at the same time," she adds, "even though they seem to be quite opposite things."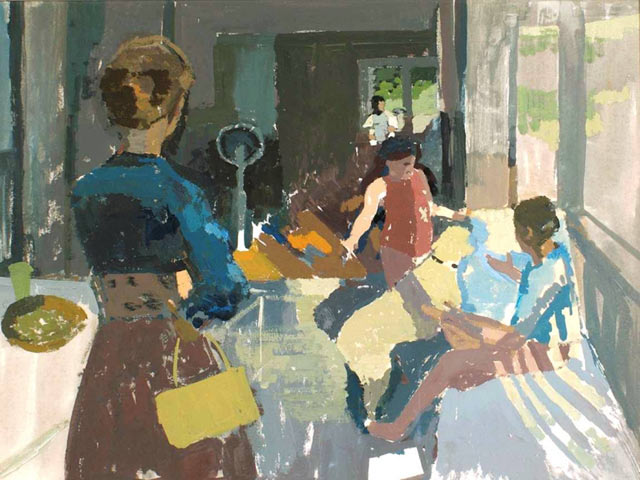 Family Dog 2006 Gouache on Paper 12 x 16 inches
"For all the dramatic light in her work, Lichtman's paintings are unified by a carefully controlled palette. "To me, close-valued color is magical," says the artist. "It's a way for the paint to imply the fiction of light and air. A palette of close values also gives the picture a kind of envelope into which everything is placed." In order to achieve this end, the artist uses a very limited set of colors. "For many years I used a palette of earth red, cobalt blue, cadmium yellow, and white," she says. "The darkest color I could mix was red and cobalt blue, so everything remained in a fairly narrow range, tonally. And because the cobalt easily gets overwhelmed by the red, the paintings tended to have a reddish tinge."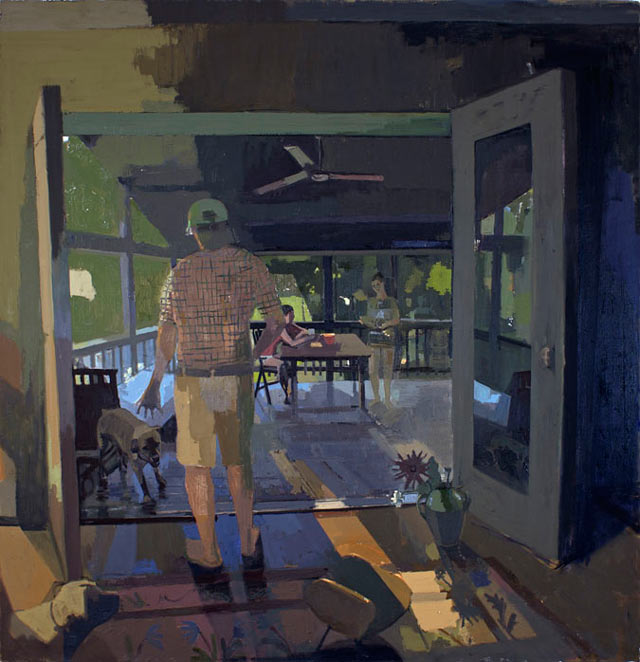 Fathers, Dogs, Daughters oil on linen 62 x 60 inches
… "The artist also considers the overall decorative property of a picture achieved with a limited palette. "I think my idea of beauty in painting has to do with the tension between the depiction of deep space and the properties of shape and surface," she says. "I see that tension in interior paintings of artists I love best, from Roman wall painting to De Hooch, Vuillard, Bonnard, and Gwen John. Sunlight or lamplight juxtaposed with shadows add to the complexity of shapes. I am interested in how light can divert attention away from figures and slow down the reading of the imagery."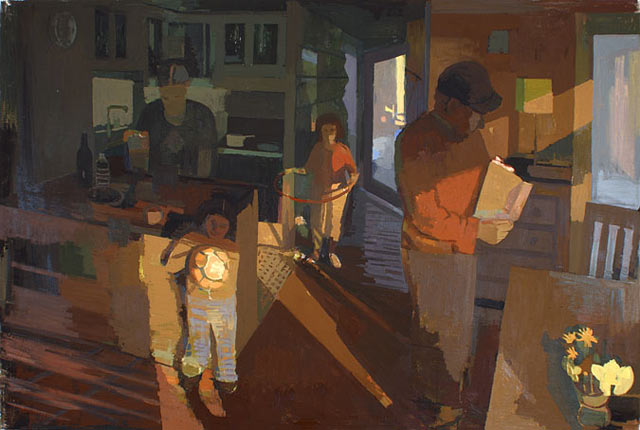 Family at Sundown oil on linen 48 x 72 inches
Susan Lichtman studied at Brown University and then attended the Yale University School of Art, in New Haven, Connecticut, where she worked with William Bailey, Bernard Chaet, Gretna Campbell, and Andrew Forge.
She is currently an Associate Professor in the Department of Fine Arts at Brandeis University where she has taught since 1989.

Man in White Suit gouache on paper 12 x 9 inches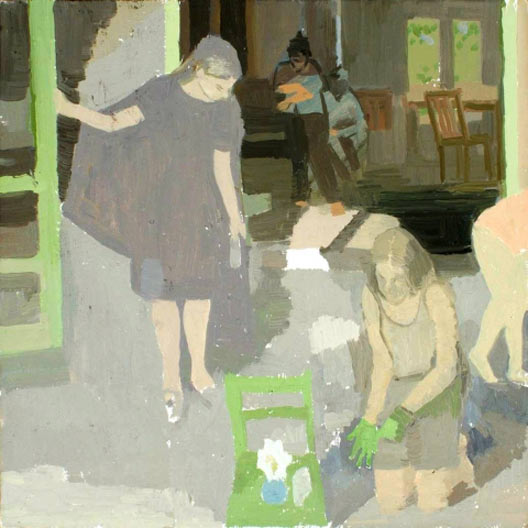 Fresh Air2005 Oil on Panel 12 x 12 inches
---
Donate to Painting Perceptions
Donations to Painting Perceptions helps this site greatly, please consider your gift today.