Shalom Flash Tel aviv Panoramic view 7/16, oil on canvas, 8 x 10 inches
Shalom Flash is an Israeli painter I had the pleasure of getting to know when he was a grad student with George Nick in the mid 80's. I also shared a window where we painted the same view of Kenmore Square in Boston. Shalom moved back to Israel where he has been painting views of Tel Aviv and the surrounding country from observation. His website shows the amazing range of subjects and volume of work done over many years. Shalom paints from observation and is very interested in the scientific study of visual perception as well as the artistic study.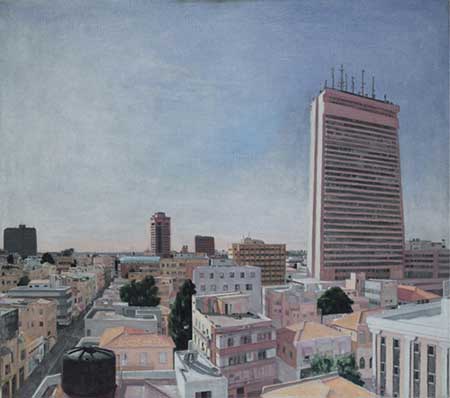 Tel-Aviv Panorama 32 x 36 inches
(Please not on all the images below you can click the image for larger view)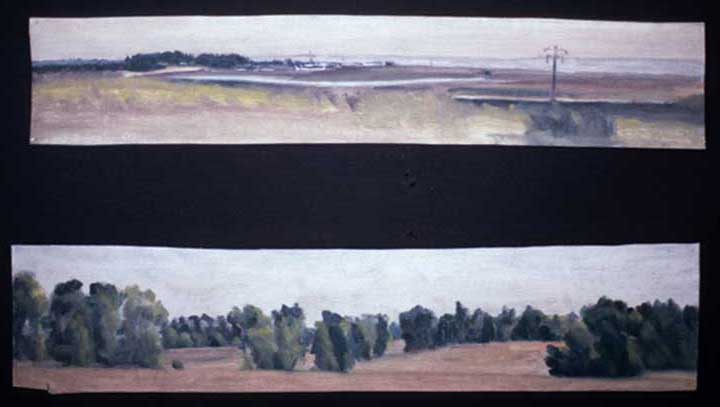 Click image for larger view
Strips
Shalom paints in a variety of sizes ranging from 40 x 60 inch to 8 x 10 and smaller, even has some delightful miniature gems in a section of his website titled strips, what looks like left over strips of pre-primed canvas. In some works it is hard for me to tell the larger works from the smaller as the level of detail is often similar.
Normally you might expect the smaller work to be painted more broadly but even in a 8 x 10 panoramic view of the city he chooses to include as much detail as the size of his brush and hands on his clock will allow. Many times excessive detail can distract from the resolution of the larger masses and create disunity. But Shalom often plays the detail to his advantage, the tiny windows and dark spots of tree shapes form patterns and rhythms that lead the eye through the painting. He plays the large against the small keeping a larger color feeling as well as the delights of detail. Sometimes he seems to push the contrast between a small area of dark shapes such as foliage creating an accent that keys the surrounding light areas. At first I thought this would created a spacial confusion by interfering with the notion of atmospheric recession but It is often hard to read how successful this is or isn't in a small jpeg. You really need to see the work in real life.
The work often lives in a middle zone between tight photo realist work and looser painterly realism. In some ways Shalom's paint handling reminds me of another great Israeli realist, Avigdor Arikha.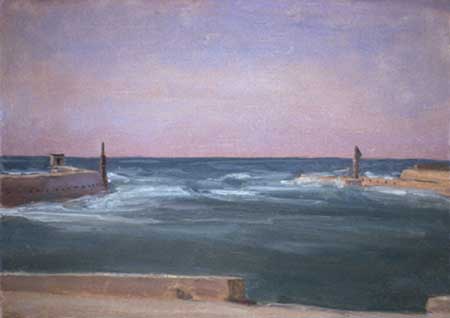 Tel Aviv Port 5, oil on canvas, 9 x 12 inches
I tend to be drawn more to his smaller works that appear to have been done in one sitting. They have a freshness and energy about them that are more personable to me. His larger works, like the Tel-Aviv panomaic view 1/6 32 x 36″ are the most impressive, conversely, when he works slow and deliberate with careful drawing and color resolution. My favorite paintings of those of the countryside where the broader handling focuses more on the tonal/color resolutions of the light and big forms and less on descriptive detail. Some of these studies have a Corot-like simplicity and charm in its quest for visual truth.
Shalom reveals in working with color that is pale and muted, he seems to be saying the world's color is already perfect, no need to tweak or sweeten.
Shalom said in an interview with the writer Dan Tsalka:
"Yes, the character of the landscape is important, its grey, white, washed-out nature, the sunlight that blurs the differences but only in one sense: it's the image that dictates my painting technique. When one paints with thick paints, one must be entirely familiar with the pallete colors, a virtuoso at mixing the colors on it. The palette is the essence of artistic creation. When applying to the canvas thin layers of paint in an almost monochromatic continuum, there are more possibilities to make correction both in wet on wet and in wet on dry paint. The very possibility of correction affords huge versatility and freedom in mixing the colors on the palette."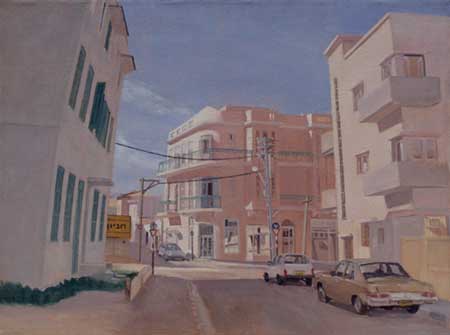 Corner of Yehuda Ha'levi St. and Pines St. , oil on canvas, 18×24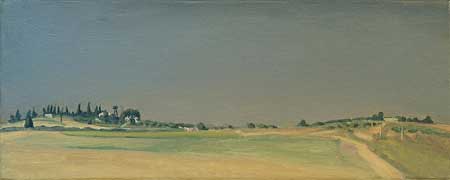 Shalom has an essay from another great Israeli Realist, Israel Hershberg who said of Shalom's work:
…This encounter (his study with George Nick) was cathartic for Shalom, a purging. He was purged of the burdensome baggage of a past which mistakenly perpetuates the notion that the word is the only transmitter of thought and feeling, and a Byzantine present where the visual never transcends the semiotic, the sign. He was of a history profoundly anthropophobic. He was purged of a so-called new tradition and devotion to a vacuous utopian secularism. He was purged of the cerebrality of work and land and freed to embrace the sensuality of nature and craft.

Shalom returned to his home a stranger, and paints it as a wonderful stranger would, with humble Corot-like openness and directness, and the excitement of an unaccustomed eye. He paints this place freely, unencumbered by local myth, as would Worthington Whittredge, Van Dearing Perrinc, Edward Hopper, or Fairfeld Porter, had they visited and painted this place.
Shalom Flash studied with George Nick 1983-1984 Massachusetts College of Art, M.F.A. and 1978-1979 Massachusetts College of Art, B.F.A.
He has shown at various galleries in Tel-Aviv, Paris, Boston and other locations.
Here are few more selected works from his website that I particularly enjoyed. You can click these image for larger view. (my apologies that I was unable to get the dimensions and titles on all the images)