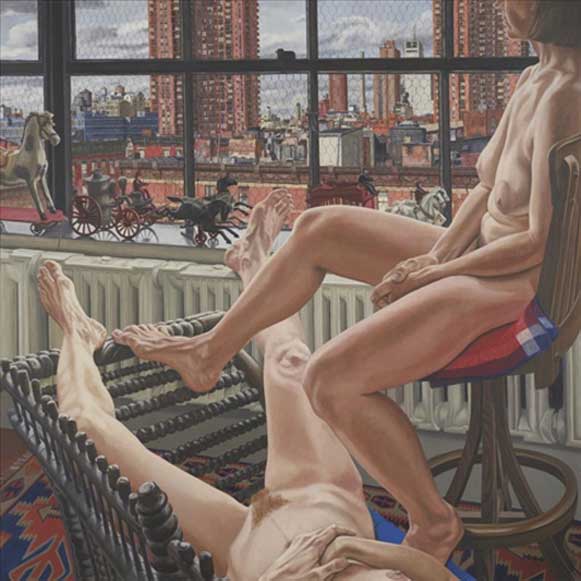 Philip Pearlstein Two models in a window with cast iron toys, oil on canvas 1987 72 x 72 inches

Video of Philip Pearlstein in his NY studio
A couple of Philip Pearlstein shows are going on that may be of interest. At the Betty Cuningham Gallery PEARLSTEIN/HELD: Five Decades
Works by Pearlstein and Al Held on view from 11/19/2009 To 2/13/2010.
On the Betty Cuningham Gallery website there is an excerpt and link to an article by the art critic Irving Sandler that is a good read. I quote here and excerpt as a possible point of departure for discussion.
"By the late 1960's Pearlstein had committed to the "New Realism", as stated in John Perrault's manifesto:

No stories; no allegories; no symbols.
No hidden meanings; no obvious meanings.
No philosophy, religion, or psychology.
No jokes.
No political content.
No illustration.
No fantasy or imagination; no dreams; no poetry."
I cringed when I first read this thinking that is exactly the reasons I never fully embraced his modernist sensibility – I'm stuck with a romantic streak that wouldn't know what to do without the last line. However, I respect Philip Pearlstein's painting enormously and his influence on new perceptual realist painting is monumental. Compared to some prevalent post-modernist works, who no doubt would spit on this manifesto's Seven-Point program, I find Pearlstein's work masterful and visually satisfying.
Here is a quote from an article from Art and Optics that has an essay written by Pearlstein about his work and thinking. This article also has a unique image roll-over display showing the progression of him working on a wedding portrait of the art-historians Linda Nochlin and Richard Pommer.
When I decided to become a realist painter I determined that every mark I put down on the canvas would come from my actual visual experience. And I soon learned the technical difficulties of trying to make each mark be a metaphor for the light on the forms, textures, and space in front of me. I found that the greatest difficulty lay in getting those metaphors of form to break the picture plane, to get the forms to look as though they existed with measurable distances from each other, with a sense of air around them. When I stare at the scene I am painting, the distance between the forms assumes a kind of profundity, and it seems very important to capture them accurately. Those spatial relationships seem to characterize the basic life experience of potential movement. I suggest that it is the honesty of the attempt to recreate the forms and spaces visually without artistic editing that is one of the hallmarks of realist painting.

The use of optical devices, whether prisms, sheets of glass or photographic prints, can give the artist only the outlines of three dimensional objects reduced to one dimension. But the struggle to make that reduction and fill the areas between the outlines gives the artist working from direct visual experience some of his greatest kicks. The difference is like the acceptance of the published score of a hockey game as the finished product, while ignoring the physical experience of the struggle that is the point of the game. It is what is painted between the outlines that makes the difference between merely competent painting and really meaningful art.
read the full article at art and optics here.
There is also a big show of his work at the Montclair Art Museum in Montclair, NJ – October 19, 2008 – February 1, 2009
A good review of this show with a slide show from the New York Times by Ken Johnson. A good online collection and article about his work can also be found at this archived show from the Tweed Museum of Art; The Dispassionate Body: Philip Pearlstein, Paintings and Drawings of Figures in Still Life link.
Finally I found a youtube video of a Pearlstein opening at the Betty Cuningham Gallery from April 2007 – here is a review to that show from James Kalm.
The video is a little quirky, and Pearlstein didn't seem all that pleased to be video taped but it was a great way to go to the opening if you can't stand crowds.