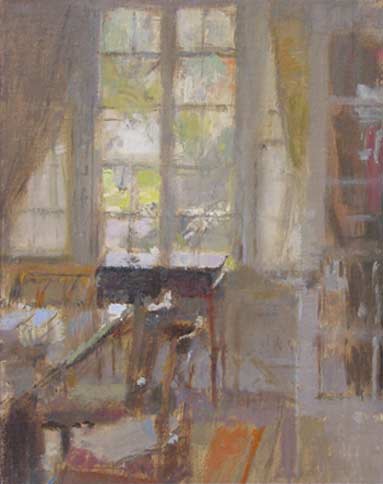 Neil Riley Bexley Interior 2009, oil on Panel, 10 x 8 inches
I am often drawn to the intimacy and freshness of small alla prima paintings where you more directly follow the artists path in the brushstrokes and marks that translate their visual experience of that moment. Getting up close with small works allows you to own the painting for a minute, only room for one nose at a time to engage with a corner of nature that caught the painter's eye, like sneaking a peek into someone's diary. Maybe all they did that day was to appreciate the afternoon light crossing a field on the way to the post office, forgettable and inconsequential but these universal visuals can often be what most brightens our day.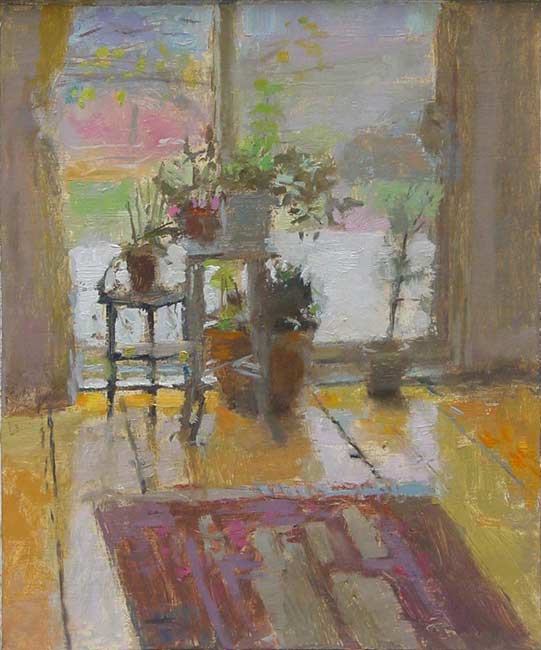 spring Interior 2006, oil on Panel, 10 x 8 inches
I'm touched most by paintings, like Neil Riley's that have no agenda other than to directly and honestly paint some found beauty, a view the artist was compelled to translate in the language of paint because some grouping of trees or light through a window demanded to be made into a painting.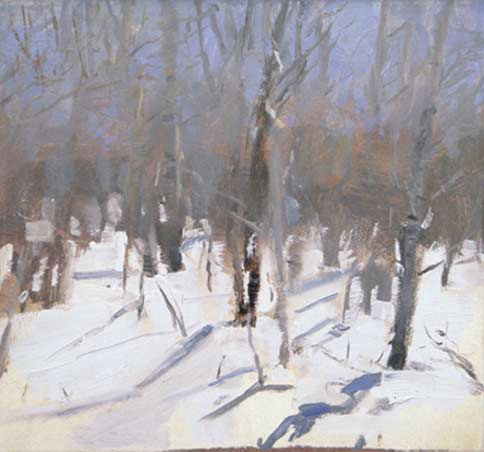 Late Winter Aspens 2009, oil on Panel, 7 x 7.5 inches
Hopefully this won't sound too sappy but his work recalls to me the famous poem by William Carlos Williams, "Between Walls" that seems relevant somehow to Neil Riley's work in that it too finds quiet, hidden beauty in the unsuspected.
the back wings of the

hospital where nothing

will grow lie cinders

In which shine the broken

pieces of a green bottle
Neil Riley said in an article; … "When you see a painting that moves you, I think it moves you because you believe in the authenticity of the person who did it, that they found a correlation between what was inside them and what is outside them" he also goes on to say "My paintings are like the stuff that you go by on your way to someplace else,"… "They are sort of places between things."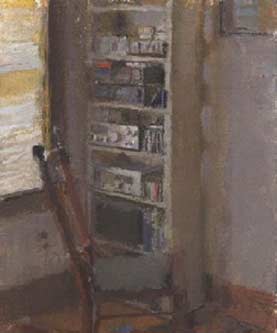 shelves
Also in this article Neil talked about his painting, "Shelves"; "It's very hard to explain why you would do a painting like this: hopefully, you would have to do the painting to explain it. I'm reluctant to say more than that, because I would fumble with the words. That's why I paint. I think this is true of all artists. Their work is a way to make themselves feel connected. Painting keeps me in conversation not with me but with the world." Neil also explained to me in an email that … " I'm very fond of that time in the 19th century when the painting sketches were a bridge between drawings and the more (serious painting) to be done. I think I'm stuck in that middle stage."
Neil Riley studied with Mark Karnes at the Maryland Institute College of Art and got his MFA from Boston University. He has been an associate professor of painting and drawing at Columbus College of Art and Design in Ohio for the past nine years but also spends a portion of his time painting in Vermont. He has also been a lecturer at Dartmouth College and the Jerusalem Studio School. His awards include a Fulbright Fellowship to Italy and a residency at the Klots Chateau in Rochefort-en-Tere, France.
He shows with the Keny Galleries in Columbus, Ohio.
Here are several more of his works in no particular order that caught my eye.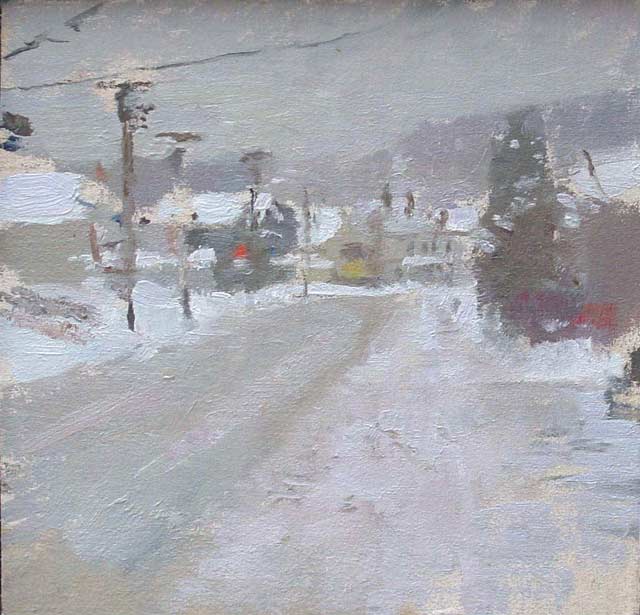 December Barre 2006, oil on Panel, 5 x 5 inches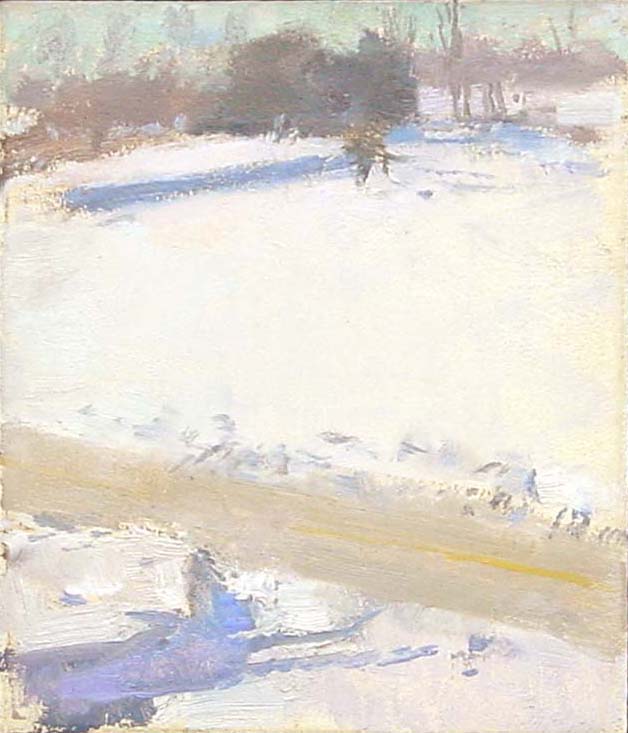 Snow Drift Field 2006, oil on Panel, 6 x 4 inches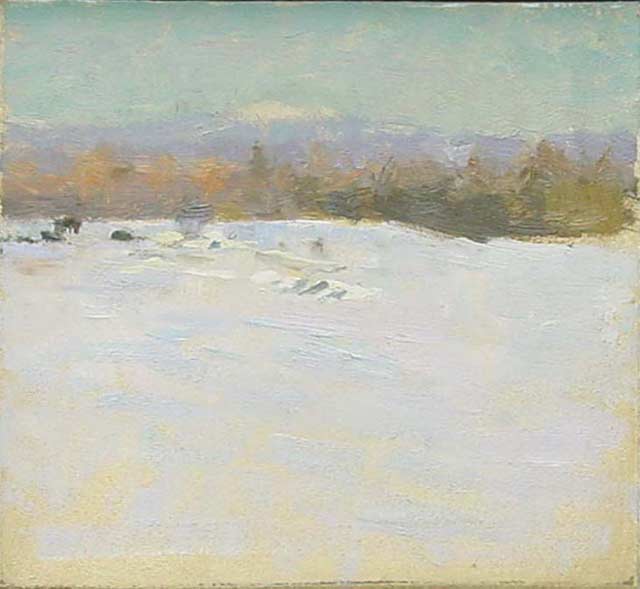 Winter Danville 2006, oil on Panel, 6 x 6 inches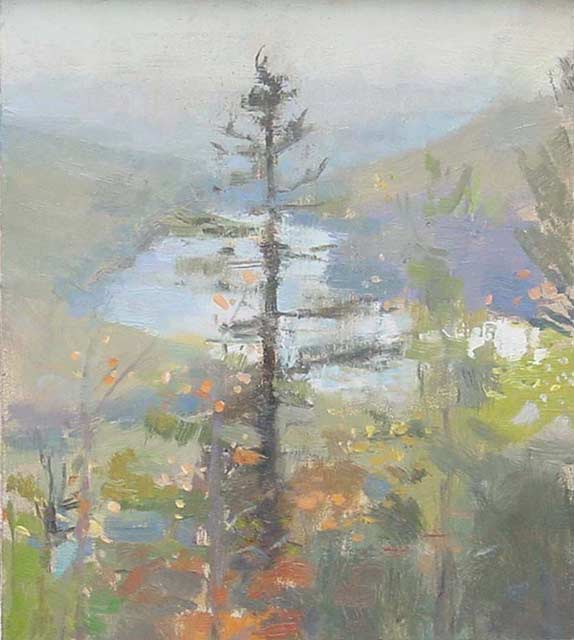 Early_Summer 2006, oil on Panel, 7.5 x 6.5 inches