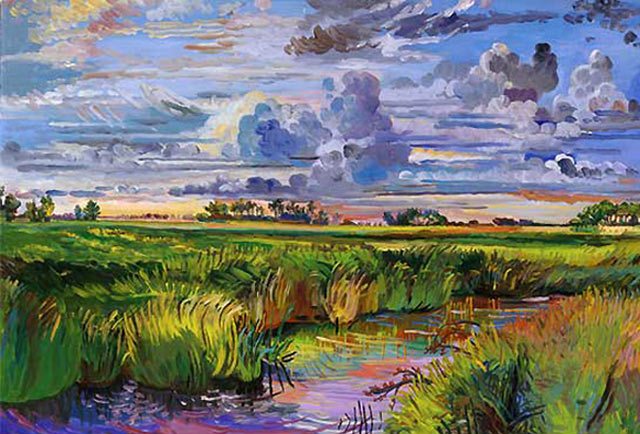 Nancy Friese Clouds 2005, oil/linen, 15 x 22 inches
Nancy Friese is a leading landscape painter and printmaker who paints outdoors from direct observation, often of the Rhode Island landscape, where she also lives and teaches at the Rhode Island School of Design. She has also traveled widely to paint views from such places as Japan, Pont-Aven and Giverny, France, her native North Dakota and other scenes around New England.
Unlike many other contemporary landscape painters, like Rackstraw Downes, who paint with a more objective, naturalistic approach, Ms. Friese unapologetically paints in a bold expressive manner. She uses brilliant color and broad, painterly brushwork and surface texture but appears to remain faithful to the view. I imagine the scene looks like she paints it. The foliage and other shapes are likely drawn faithfully to represent their specific forms however she is also interpreting the shapes gestures, relationships and color to transform the view into pictorial wonderment. Her use of saturated, trippy color, particularly in the intense greens, may at first seem or jarring to landscape painters with a more tonal or traditional temperament but if these paintings used more sober, naturalistic tones – I worry it would suffocate the new life she is bringing to the scene.
This approach show affinities with such painters as Vincent Van Gogh and Charles Burchfield not only for their use of color but how they transformed views of their immediate surroundings to such lasting poetic resonance and visual power. Her subject often seems commonplace, only a few trees, a field and maybe some water – enough of a subject for many painters but she takes this a step further with finding the lyricism in the the changing light and other animated vagaries of nature such as constantly moving clouds and wind through the tree branches. She appears to be looking for what the landscape might reveal to her emotions as much as her vision.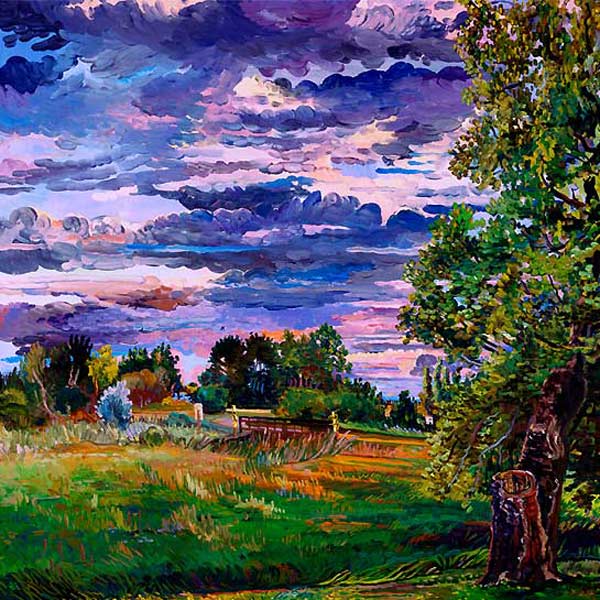 Light Falls 2005 oil on linen, 24 x 24 inches
The art historian and critic, John Arthur said of Nancy Friese's work in his 2006 essay,
Nancy Friese and the Practice of Plein Air Painting, for her show at the Pepper Gallery in Boston:
"… The American practice of plein air painting-from the oil studies of Frederic Church, the western paintings of George Catlin, the watercolors of Winslow Homer and Thomas Moran, to the directly observed canvases of Rackstraw Downes and other contemporaries-remains a significant factor in our visual heritage. Importantly, while attitudes toward the environment have radically changed during the last half century, images of our natural surroundings have taken on a new luster in contemporary American art. And even though the breadth and history of these long and continually evolving phenomena have rarely been acknowledged by the art world, the lure of the physical and sensual exhilaration of the one-to-one encounter with nature that lies at the center of plein air painting shows no signs of diminishing.

Rather than following the course of naturalism-as have Rackstraw Downes and Peter Poskas, for example-the directly observed oils and watercolors by Nancy Friese tilt toward gestural rendering, heightened color, and implied animation. Such expressionistic interpretations are all too easily overlooked in discussions of the plein air tradition, even though it traces back to those charged drawings by Claude and mystical watercolors of Samuel Palmer. In our own twentieth century art there are the sensory illusions of Charles Burchfield, the Maine abstractions of John Marin, and Nell Blaine's effervescent views of Gloucester. One senses a dialogue with these artists of the past in Friese's watercolors, paintings, and prints."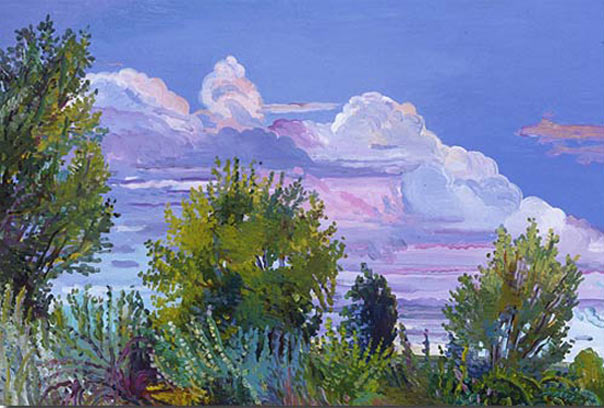 Light of Spring 2005 oil on linen, 15 x 22 inches
"… The poetry of Nancy Friese's scenes, which are rendered with great self-assurance and painterly flair, lies in the fusion of empirical observation and the ambiguities of persona suspended just beneath the surface of all perceptual painting."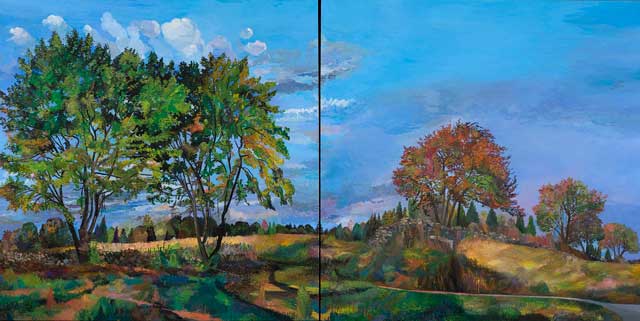 Avondale Farm Preserve Fall
Left Painting 72" x 72", Right Painting 72 x 72 inches
Oil on Linen Diptych (2007)
(Click image for larger higher resolution version)
Another remarkable aspect of her work is the scale of some of her plein air work, as in her 72 inch square diptychs of the Avondale Farm Preserve. I can't imagine the practical difficulties of painting that large outdoors.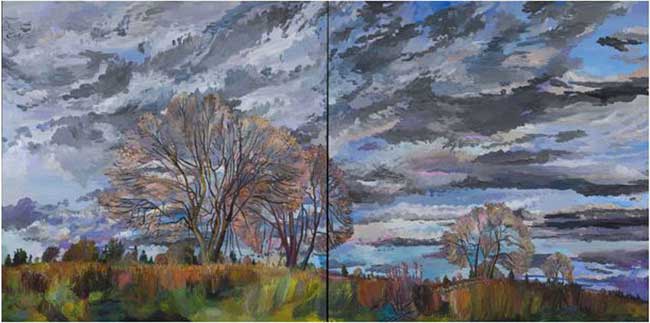 Avondale Farm Preserve Winter
Left Painting 72" x 72", Right Painting 72 x 72 inches
Oil on Linen Diptych (2008)
(Click image for larger higher resolution version
Sometimes you can be lucky find great views from a window and keep all your indoor comforts intact. An interesting side note, Nancy Friese had a studio along with several other artists painting views from the 91st floor windows of the World Trade Center. All her paintings in this studio were destroyed during the Sept 11th attack. A 2002 show called "Re-Imagining New York" of nine landscape painters who lost their studios at the world trade center was held at the North Dakota Museum of Art, you can read about here.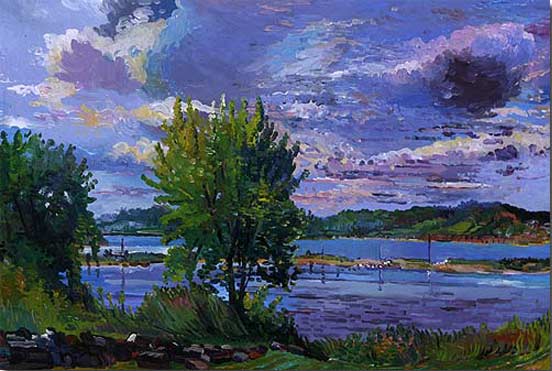 Across the Bay 2005 oil on linen, 15 x 22 inches
From her website bio:
"…Friese's paintings and prints have been exhibited in more than twenty-five solo shows and 170 group shows, nationally and internationally. The recipient of several prestigious competitions and awards, Friese has received three National Endowment for the Arts Fellowships, including the Japan-US Friendship Commission Creative Artist Fellowship. She was granted a Lila Acheson Wallace Giverny Fellowship, a Blanche E. Colman Award, Pollock-Krasner Foundation funding and a George Sugarman Foundation Grant for painting. Artist's Resource Trust (A.R.T.) funded her exhibition and residency at Trustman Gallery."

"… Nancy Friese received an M.F.A. in printmaking from Yale University School of Art and studied in the graduate painting program at the University of California, Berkeley. She studied painting and printmaking at the Art Academy of Cincinnati and was a recipient of a Yale University Summer School of Music and Art at Norfolk fellowship. She has a B.S. from the University of North Dakota.

Her paintings and prints are represented by Pepper Gallery in Boston. Prints can also be found at Mimosa Press in Tulsa, art4business in Philadelphia and Riverhouse Editions in Steamboat Springs, Colorado. Her artworks can be seen at www.nancyfriese.com. A member of ArtTable, she resides in Rhode Island and North Dakota and teaches at Rhode Island School of Design."
She has an upcoming show at the Kemper Museum of Contemporary Art in 2010 in Kansas City organized by the Curator Barbara O'Brien.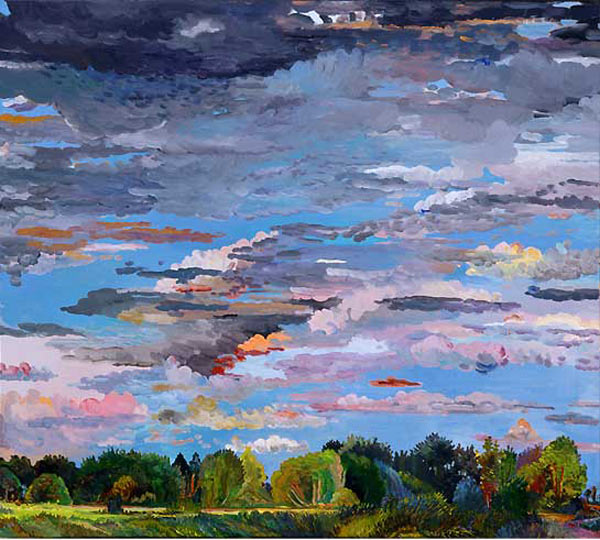 Moving Light 2004 oil on linen, 24 x 29 inches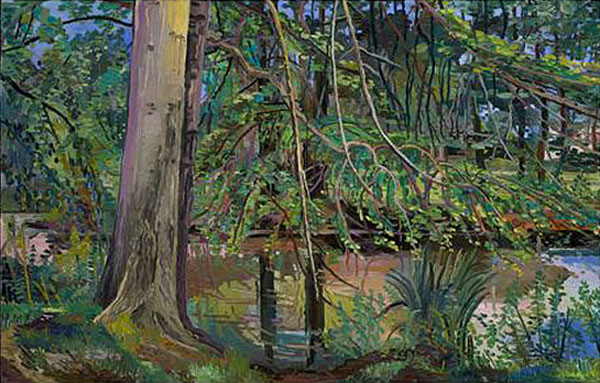 Emerald Necklace Muddy River #4 2008 oil on linen, 16 x 24 inches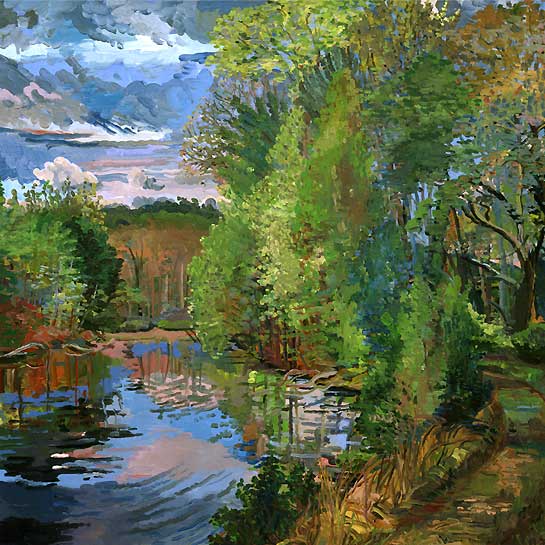 Path & Pond 2003 oil on linen, 24 x 24 inches
---
Donate to Painting Perceptions
Donations to Painting Perceptions helps this site greatly, please consider your gift today.