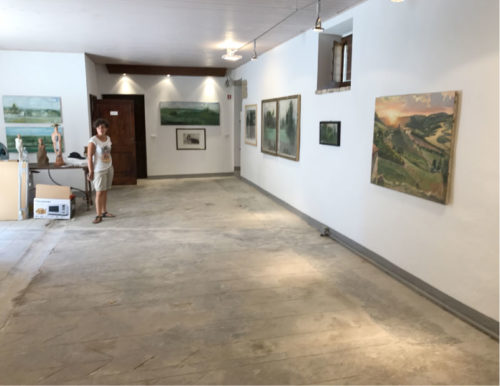 Painting Perceptions would like to offer the opportunity to view the Italian show Mystery and Rapture: Landscapes by Four, curated by William Bailey, to our readers in the form of a virtual exhibition. The following images present paintings and installation shots from the opening at Civitella Raineri on August 12. Photos are by Langdon Quin.
(ED. PLEASE NOTE: Due to an editing error a portion of the quote from William Bailey discussing Langdon Quin was omitted. It has now been corrected. We regret this error and apologize for this oversight. Also, you can now view a pdf of the show's publicity bulletin from this link)
The Italian exhibition, Mystery and Rapture: Landscapes by Four, was hosted by the Civitella Ranieri Foundation in the Castle Gallery, and runs from August 12 through September 1 2017. The artist shown were Mario Fallani, Marco Fallani, Dan Gustin and Langdon Quin.
The Director of Civitella Ranieri Foundation, Dana Prescott, maintains an artistic and cultural mission to host exhibitions that present the cross-cultural mix that is the embodiment of the Foundation.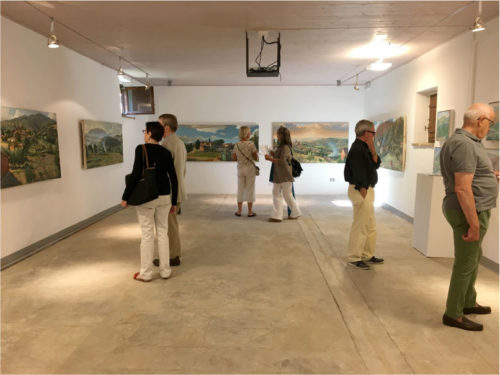 Mystery and Rapture: Landscapes by Four, was curated by the acclaimed painter William Bailey, Professor Emeritus, Yale School of Art, member of the National Academy of Design and the American Academy of Arts and Letters. Professor Bailey conveys the resonance of different cultural spheres that results in and is intended to mediate the confluence of artworks, cultural exchanges, ideas and pictorial sensibilities. The underlying concept of this exhibit was to host a landscape show that highlighted the works of two Americans and two Italians. The American painters Dan Gustin (b.1948) and Langdon Quin (b.1948) have had a longstanding attraction to Umbria and have portrayed the resplendent landscapes there. The Italian painters, Mario Fallani (1934-2015) and his son, Marco Fallani (b.1965) have spent many years studying and teaching in the United States.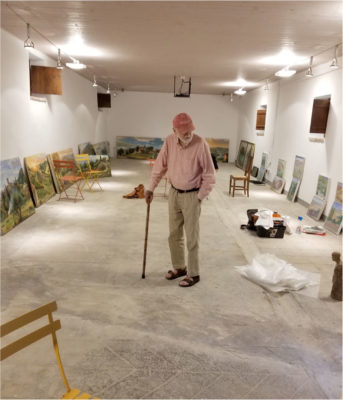 Dan Gustin is an Associate Professor of Art at the School of the Art Institute, a member of the National Academy of Art and Design in New York and teaches at the International Center for the Arts, Monte Castello di Vibio during the summer sessions. Langdon Quin is a Professor Emeritus of Painting and Drawing at the University of New Hampshire and is also a member of the National Academy of Art and Design in New York.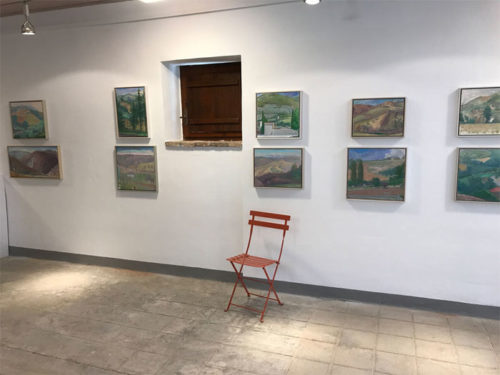 William Bailey eloquently describes the work of Quin and Gustin and their distinct relationships to the Italian landscape:

"Dan Gustin and Langdon Quin are American painters. They live and work in Umbria several months every year. Gustin, near Todi and Quin, outside Gubbio. Each has found challenge and meaning in this Landscape so often painted throughout history. They bring their own histories, as did Claude and Corot in their time. They paint with conviction and imagination, shunning the mannerisms which conventionally assure contemporaneity. Gustin and Quin share a subject but find completely different content….Dan Gustin's landscapes are typically large-scale, and executed entirely within the setting portrayed in his paintings. Using a full range of vigorously applied color and tone, he fills his canvases with the space, light and atmosphere which characterize each particular place. Gustin's painterly presence and mastery are his own, but one can sense the extravagant Courbet lurking nearby – urging him on.

Langdon Quin also paints directly from nature, though he often continues to develop his work later in the studio. He is a classicist by inclination, approaching painting with deliberation and a desire for harmony. Full of surprising spatial shifts and vivid colors that are rarely naturalistic, his work achieves a spirituality that has more to do with Piero della Francesca than traditional plein air painting. Quin is an artist whose sensitivity and responsiveness to nature give his work a timelessness worthy of its subject, evoking fifteenth century Italian paintings with a contemporary imagination."

As a Fulbright scholar in the early 1960s, Mario Fallani lived in Chicago where he taught at the Art Institute of Chicago, and then later in Pittsburgh and New York, where he taught at Pratt Institute of New York and the School of Visual Arts. Marco lived and worked in San Francisco from 1986-1994, receiving his MFA from the California College of Arts and Crafts. Marco Fallani currently teaches sculpture at Syracuse University's Florence Program and is a Visiting Critic at the Studio Arts Cultural Institute (SACI) in Florence.

The Civitalla Raineri website notes that "Artists Mario Fallani and his son Marco Klee Fallani carry on a long Florentine tradition of fathers and sons working with a shared vision and aesthetic kinship, following in the footsteps of their illustrious Renaissance antecedents, Domenico and Ridolfo Ghirlandiao, Filippo and Filippino Lippi, and Bertoluccio and Lorenzo Ghiberti."

Marco Fallani has exhibited both paintings and sculptures, winning the distinguished painting prize from the city of Lucca. He designed the sets for Teatro Del Maggio Musicale Florentino production of the operatic version of Maurice Sendak's book Where the Wild Things Are and for Luca Ronconi's production of Lo Specchio.

The exhibition, Mystery and Rapture…. examines the nature by which each of these artists find a path to observation, perception and artistic interpretation of the Italian landscape, all the while absorbing that which is the essence of the Italian scene that, despite the exuberance, sucks them in and implores them to risk it all.

The following works were a part of the Mystery and Rapture: Landscapes by Four, Italian exhibition at the CIVITELLA RANIERI FOUNDATION, Civitella Ranieri, Italy
www.civitella.org
---
Donate to Painting Perceptions
Donations to Painting Perceptions helps this site greatly, please consider your gift today.