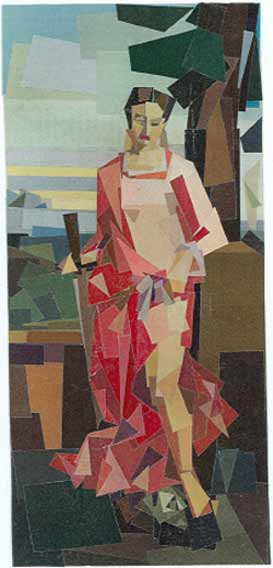 Judith with the head of Holofernes (after Giorgione), 2005 7 1/4 x 3 1/2 inches Collage
Color not based on theory but on the artist's love of color. This will be in the work if the mind does not get in the way. Be aware of the whole painting. Look at no color without looking at another. Every color needs to relate to every other color. Which one is darker, which lighter. Keep in the mind the colors most nameable. Keep the number of these small; yellow, orange, red, purple, blue, green, white and black. Be aware of going towards or away from these. OK, one minute color theory; draw a circle and evenly place those colors around the circle, often called a wheel. On my color wheel white goes between green and yellow and black between red and purple. Colors on the opposite side of the circle are opposite colors; yellow and purple, orange and blue, red and green, white and black. To quickly get away from a color mix it with the opposite color. Think value from white to black. Yellow would be closer to white. A dark green or alizarin crimson would be closer to black. Think in this wide range. Transparent colors may need to be mixed with other darks and even black. These dark colors, used as a tint with white, create a color closer to white. Travel between these two extremes. Instead of always cleaning the brush transform whatever is on the brush toward a nameable color by adding that color or the color that when mixed becomes that color or away from that color by mixing that color's opposite. And at the same time be aware if you are going darker or lighter. To go lighter and keep the color add white, to go lighter while changing colors add whichever color is lighter and takes you closer to the desired color. To make a bigger jump between colors, as you go lighter or darker mix in a color that goes away from the adjacent nameable color. Keep away from just adding white or black to make more surprising color. Do not think too much. Better just to enjoy the color. Do whatever you need to do to keep excited. Play, do not work. Play is the most productive work. Buying any color that excites is not a bad idea but a pretty color in itself is only a pretty color. With some basic colors you can get an unlimited amount of exciting colors when they are mixed and juxtaposed. Work in a close range then work the colors away and back again. Be aware of the dark and light masses. Group both lights and darks to make a light complex and both darks and lights to make a dark complex within the composition.
Paint parallel to nature. Be natural. Do not try too hard to match colors. This takes your eye off the larger picture.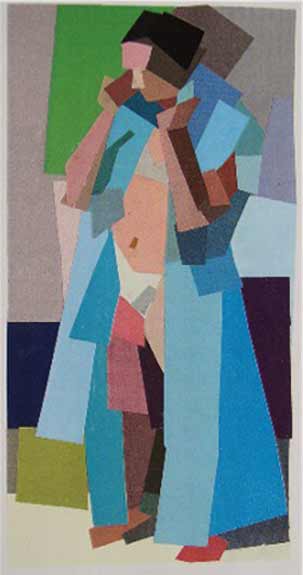 Collage
Paint with color-shapes. One color-shape followed by another. Paint instinctively, reacting without rejecting. If not looking at nature then having looked at nature. Do not fall in love with any part. Always think of the whole. Stop at the thought of stopping.
Use a straight edge to make an unconscious line appear conscious. Nature is beautiful because it is not self-conscious. The beauty of things comes greatly from never having become accustomed to that thing, that relationship. It is what keeps things always fresh, always surprising, it is that the mind has never been able to completely name the thing.
Do not make a picture of a landscape, create a landscape.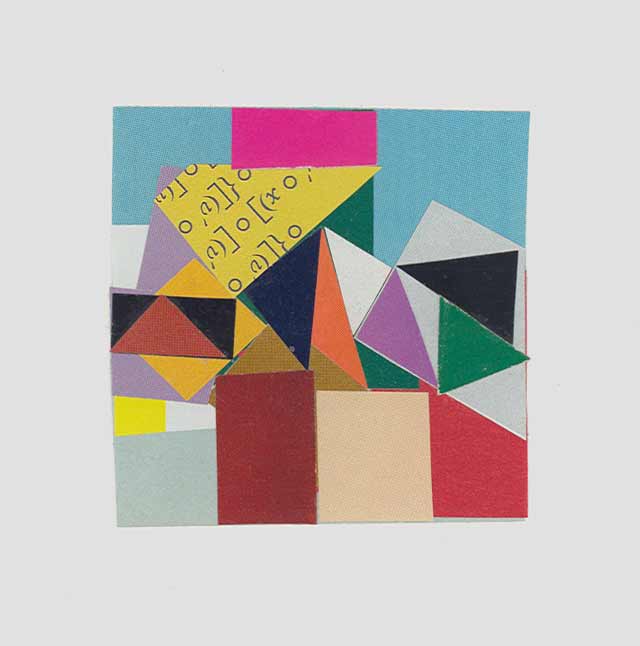 Collage
Describe form with at least two lines in drawing, and with two colors in painting. It is placing forms in space by defining limits. A third color to describe the journey between these. Every color needs to correspond to another to build form.
Painting is very simple. Anyone can fill an area with paint but to relate everything in a complex journey without resulting in chaos takes a lifetime to master. It is amazing how unpleasant paint can become, just as some sound can be painful but this usually takes a lot of conscious thinking which we are not going to do. Similar to how sound can be noise or music the same sounds, the same paint, can be pleasurable in the right context.
Composition = a composite.