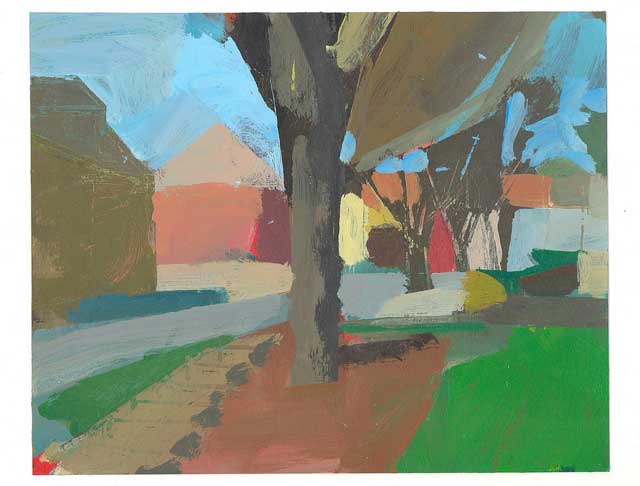 from the Easton, PA paintings acrylic on paper, 8 x 10 in. 2008
Instinctively adjusting color for your own entertainment (excitement). Done by adding, taking away, moving to new locations. Making a color stronger by removing a color else where. Becoming aware of a color when a similar color is added else where. Knowing instinctively when this requires removing one of the colors or at least knowing to question that color. Making colors do more adds excitement. Remove lazy (less useful) colors.
From the beginning relate colors to find order within disorder. Push colors toward an unpleasant result to test extremes and to find ways to contain them within the whole. A composition of unpleasant even jarring color relationships can be very exciting and pleasing.
You speak. Some will listen others will not. You cannot choose who will and will not. Do not concern yourself, do not adjust to please. Those you please will find you.
The observable world and painting are two separate things.
Your love of the visual world naturally comes through in your work. If you try too hard it will show up in the work as an unpleasant element. I do not like to see artist suffering.
The most uninteresting life is made up of amazing details, amazing subtleties.
Study the model without drawing for the entire twenty minute pose then when she takes a break draw everything you can recall.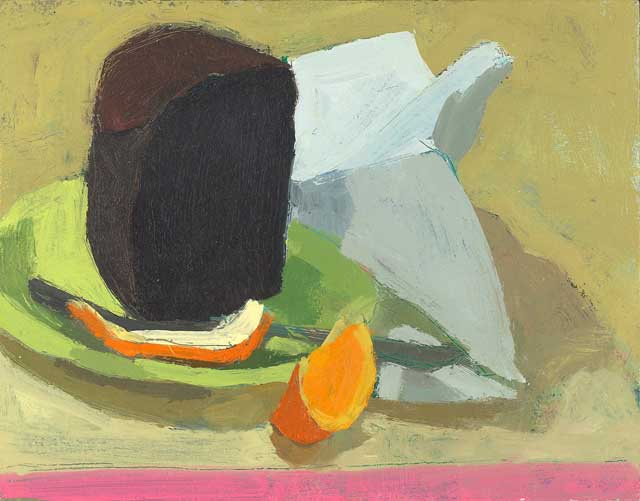 Chocolate Cake with Orange Slices, 2000, 8 x 10 in., oil on panel
Give up the desire to be there when it happens. Do not think about it that much. Get away from the self. Reject consciousness. Make it child's work. What is created is the real thing. The rest is the world. What is a picture of the world? Nothing. The closer one tries for correctness usually the further one moves away from it. Three elements in the right relationship get much closer to feeling real and often are enough to carry the whole. Do as little as possible. What makes a painting great is not correct anatomy. More important is truth, humanness, the whole person undivided. This is what makes it universal. That speaks through the ages (over the centuries).
Emphasize one thing over another. It is saying; this is what I want you to look at.
"A work of art which did not begin in emotion is not art." – Cezanne