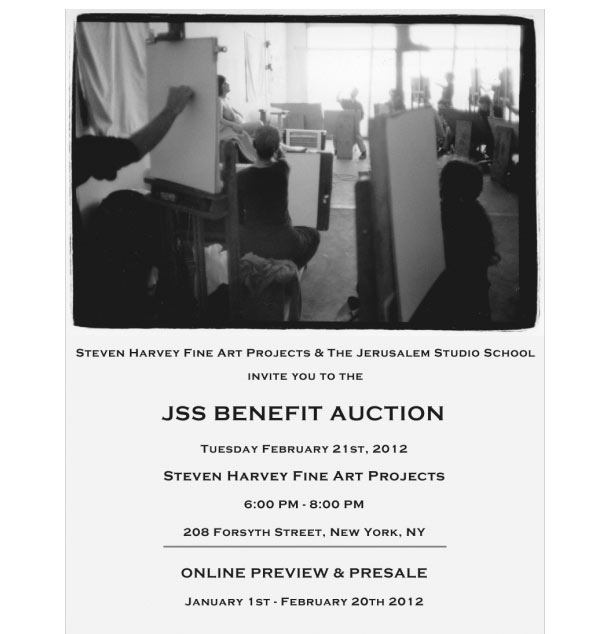 Several members of the Jerusalem Studio School faculty, visiting artists and friends have generously contributed their thoughts and experience with interviews and articles on Painting Perceptions over the past couple of years. The Jerusalem Studio School was founded by Israel Hershberg in 1998 where it not only pioneered figurative art training in Israel but evolved into one of the world's leading figurative painting and drawing programs.
I mention this now because JSS has been recently been facing serious financial difficulties and is in need of our support (more detailed information about the nature of the financial difficulties at the JSS can be read on David Cohen's article about this on artcritical.com ) Fortunately, the school has many friends and supporters who are rallying together with a fundraising auction to help the school remain solvent and continue its mission.
Here is the link at the JSS for more information on the benefit.
A benefit auction, with work donated from 26 distinguished painters, will be held this Feb. 21 at the Steven Harvey Fine Art Projects in NYC. Contributing artists include such major painters as Lennart Anderson, Gideon Bok, Leonard Dufresne, Philip Pearlstein, Ruth Miller, Sangram Majumdar, Stuart Shils, Ken Kewley and Kyle Staver. Here is a link to view the work being sold at the auction's preview and presale.
Donations can be made via Donate Sideways
The Jerusalem Studio School was founded by Israel Hershberg in 1998 where it not only pioneered figurative art training in Israel but evolved into one of the world's leading painting and drawing programs. Their rigorous program gives the student a firm foundation in classical traditions as well as contemporary painting. There are far too few art schools where the emphasis is on perception, the human form and the careful study of the old masters that is not taught in a conservative, academic or atelier-like structure. At the same time the JSS differs significantly from many university and other art schools by their focus on studio practice instead of art theory and conceptual matters. The JSS's programs of rigorous visual analysis through daily drawing and painting from life and from make for a unique course of study that should be supported by all who wish to further modern yet traditional figurative training of future artists.
see this link for examples of student work from the master class at JSS.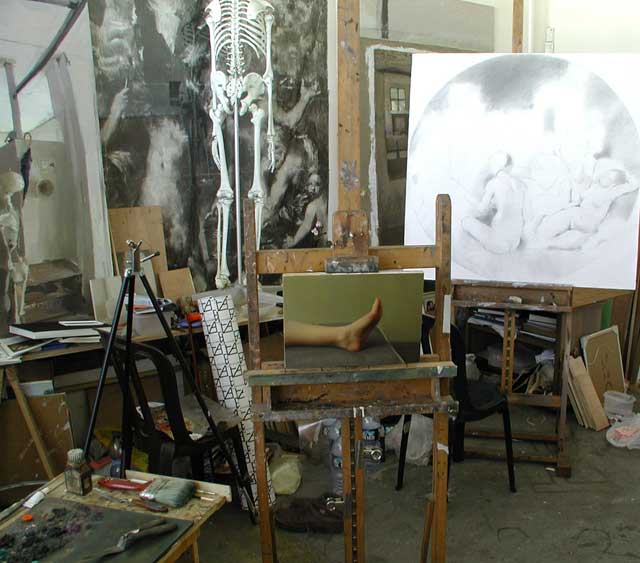 In an earlier interview with Painting Perceptions, Israel Hershberg stated:
"The school was designed to compensate, particularly as Israel is concerned, for the dearth of significant collections needed to generate artistic archetypes in developing art students' minds, as mentioned. The Master Class, the core component of the School, is an intensive, immersive, incubator-like studio environment that's designed to prod, through drawing and painting, with due emphasis on perception and the human form on a daily basis, the germination of what can become an unadulterated pictorial intelligence. This roughly comprises the school's imprimatur of sustained physical contact during the first two years of study. In the third and fourth years this imprimatur is phased into ambitious pictorial research based on copying, transcription, variation and adaptation. There are no Art History 101 courses at the school – no courses "about" anything. The poly-referential historical scope of the studio itself is set up to actualize the integration of art history on the most intimate level. It becomes very clear and at the very outset, that a student cannot possibly proceed in the making of their drawings or paintings, without placing themselves smack into the nexus of that history."
Short film about the Jerusalem Studio School and its Hall of Casts

---
Donate to Painting Perceptions
Donations to Painting Perceptions helps this site greatly, please consider your gift today.