I recently ran across an essay on the Arts and Opinion website by John Gordon on the state of the arts as relates to painting from perception. John Gordon, a Wisconsin painter who runs a private school, Gordon School of Art.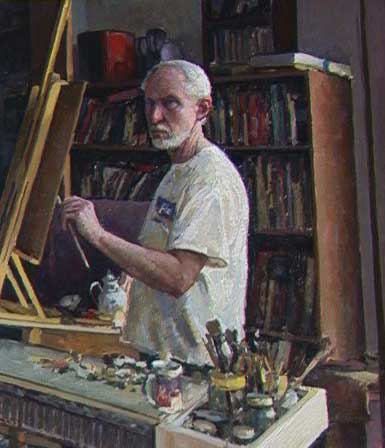 John Gordon Self Portrait in White T-Shirt
He makes many compelling argument for returning to perceptual based training in drawing and painting as a means measuring artistic growth and to return to the roots of art making. He states in his opening statement that;
"After nearly a century, modern and postmodern artists, critics and art educators have so liberated the term art from its traditional meanings and applications that in both the popular and professional senses of the term, it has lost its capacity to function as a word – that is it can no longer distinguish itself from what it is not. In both theory and practice, art is anything one chooses to make it; an artist is anyone who makes the claim. The lack of focus of the visual arts is due not only to its theoretical ambiguity but to its related lack of instructional coherence and measurability. It can be safely stated that art education is the only performance-based field of study that has neither a viable system of standards nor an established technical foundation. It is a field with no clearly defined, generally accepted goals, no established methodologies and no meaningful way to measure the progress of its students."
He makes many interesting points some I agree with more than others. The article is a great point of departure for conversation for the comments section here. In an email he told me he is more of a purist on the subject of perceptual painting. I'm no purist for sure but lean closer to this than another direction. I also believe that perceptual painting doesn't necessarily mean just painting from strict observation – that the process of perception also includes filtering vision through one's personality and creative concerns. So when ten painters all paint a subject at same time you will invariably have ten completely different paintings. I mention this because sometimes painters in their efforts to paint the perfect apple forget that most people already know what apples look like and are far more interested in how the painter might see and what new thing is possible to say about this apple.
John Gordon, in a way, says something similar in his paragraph:
"The common assumption that creativity is exclusively a function of the imagination fails to take into account the superior and more fundamental creativity of perception. Researchers in the perceptual sciences — like Charles Solley and Gardner Murphy (Development of the Perceptual World, 2006, Kessinger Publishing, 2006) — are in general agreement that seeing is not, as commonly assumed, a straight-forward, purely receptive process. We do not see and then think about and have feelings about what we saw. Thinking and feeling are part of the perceptual process. What we actually experience as a result of looking at a tree or an apple on a plate is not the tree or the apple, but a percept, a picture in our own brains. This picture is formed in the visual cortex at the back of the brain, and is only partially composed of retinal data (which is already pre-filtered to admit only a portion of what is actually out there). This remaining retinal data is combined with the memories of past perceptual, intellectual and emotional experiences into an image that we mistakenly assume to represent the outside world. In fact, it is a composite of two worlds: the external and the internal, the present and the past. So to abstract — to willfully distort or ignore the images of direct experience — is to depart, not only from the world at large, but from ourselves as individuals. Thus it can be argued against the self-expressive assertions of abstractionism that the most creative human function is seeing and the most self-expressive artistic act is painting truthfully what one sees."
Copying nature without a good painting idea is can be just as boring as copying a photograph or painting abstractly without a good painting idea. For me, it's more what winds up on the finished painting that is key, all is fair if the painting is has rich visual intelligence and emotional power. Many times, great painters working from observation are able to lose their self-consciousness through the intense scrutiny of their motif resulting in a less formalistic or mannered style and find their unique response to the subject. Some worry that painting is dead, it has all been done before and what's the point if nothing new is possible. I like to think that every painter can make his or her unique mark, like our voice prints and fingerprints. Of course, you could say people are dead too but that's a different matter… 😉
In the coming years it will be increasingly important to keep painting alive, to promote the admiration and support for strong traditional observation-based training as well as in the arts as a whole.
I hope people will go to the Arts and Opinion website and read this fine essay when you get a chance. Please return here and let us know your thoughts if you can.