So in a lot of ways, if I look at Edward Munch, he's showing us, at the same time as Freud, what the tensions of the 20th and 21st century are going to be. Titian is showing us some amazing images that are more related to surrealism, I think, than his own period of time.
Things like that. Like de Chirico, also, a great prophet, although the guy was screwed up in terms of his later work, I think. But the early great stuff. It's so fine. It's so fine. And so touching.
So that's what I want to say. I think it's hard to label anything. And I think we shouldn't label. We should just let the person ride out into a few decades and hope that they find who they have to find.
Larry Groff:
I was curious. One is kind of unrelated to the other ones, but maybe not so much. I read that you had once, when you were living in Italy, you had met Giorgio Morandi. And I find that very curious. I hadn't read of anyone meeting him like you did. I was just wondering if you could speak a little about his work.
That seems to me something that is very much about aesthetics and formal issues and beauty, and it's hard to really see where this could go in what we were just talking about, but still has a profound effect on so many artists who, in turn, may go on and do something else.
It was very personal to him and very real. I w as just curious what you would say about his work and about meeting him.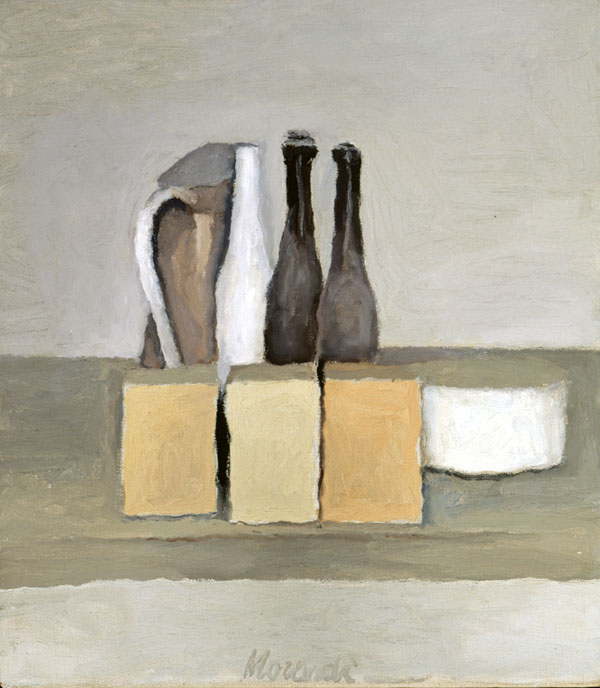 Giorgiob Morandi_Natura morta 1956
Jerome Witkin:
I became twenty-one in Florence. A little party was given for me with some English people at this pensione. It was very cute. And then a few days after that, I decided meeting this woman, a very young, beautiful American girl, with a car; I told her that I had this wish to spend this week of my birthday, twenty-one years old, doing something unusual that I had been thinking about. On the trip to Europe out of New York, there was a critic for ARTNews, whose name I'm now forgetting. But he told me that he knew Morandi's address.
He gave me the address, and I had it in my wallet. I pulled it out that day, and I said to this girl, "If I get somebody to help me write the letter in Italian …" I could speak Italian fairly well, but the writing was a problem. I did finally get her to help me write the letter saying, "Dear Morandi, I would like very much to come up, if you'd allow me, to your studio and to share with you some time and offer you two drawings.
And oddly enough, I got a letter back saying [to] come up next week. And she drove me, and herself, of course, to Bedonia from Florence. I think he was about seventy-one then. He used to [be], on every Wednesday, I think it was, at the Via Fondazza,  where he lived on the street.
I walked in the house rather regularly. I had to walk through the bedrooms of his sisters, and sure enough, that's all true. And they were very polite, the sisters, and they said to me, "Wait here. You are next in line."
This was like visiting the Art Pope, because he was so famous then. La Dolce Vita, the film that came out in 1960, he's mentioned in the movie and his work is shot in the movie as one of the great signals of Rome's culture, post World War II.
I go into his studio. I see the little bottles with the dust, the dust around the little necks of the bottles, and all that stuff. I felt very familiar with the work, and I loved the work so much. I love the work because it's so intensely beautiful. There was nothing to say except it's so beautiful and so right. There were like little people in  agreement with each other, out of these bottles.
So I sat down, and we spoke Italian. And I offered him two of my drawings. He said, "Oh, I must give you two of mine from this cabinet." He [then] said, "No, I don't have them." I said, "Don't worry about it." And we sat down.
He was philosophical, and telling me things like, art eventually is all about reality and how you define reality. And I continued to think about that for a long time. It's a very broad word. But I think that's true. He found his reality and he found profundity in what he did.
So I don't think I became a still life painter, or never cared to do that, but I found what is my reality, as he did. Did he know he was making great art? I think he did, but at the same time, I don't know if you know this, but he would give work away easily. Like he said, "Here. Take this painting." A lot of dealers would go nuts because he didn't even value the commercial end of that stuff. He would just say, "If you like it, take it." He was very generous that way.
At the same time, those two drawings which I never received, that's not as important as meeting him. And I've been very lucky in my life in meeting certain—I call them profound people, like Guston and Morandi and Bill de Kooning and Franz Klein. Isabel Bishop is a personal friend. Alice Neel is crazy but interesting. I don't think she's as high as Morandi, but she was a wonderful person to bring to young women, which I brought to her studios and young classes of mine during my time in Philadelphia or Syracuse.
We are deepened by our teachers, our mentors, and I think the Morandi experience was so special, so special. And I think when you're in your studio by yourself, you think, Who is my audience? If Morandi is standing behind me or Isabel Bishop or Bill de Kooning or Phil Guston or Orozco. Rembrandt. Those are your real audiences. They're the climbers of Everest and they're helping you to get to the top.
Larry Groff:
Right. Did you know Edwin Dickinson at all?
Jerome Witkin:
No. A very good friend of mine, John Driscoll wrote his doctorate on Dickinson. Unfortunately when John Driscoll went to the studio of Edwin Dickinson, Dickinson was already [suffering from] Alzheimer's or collapse of his mind, and he wasn't really that receptive.
I saw [Edwin Dickinson's] show at the Philadelphia Academy, some years ago now, the retrospective. I really think he did some really three or four incredible pieces, but he wasn't as consistent as one would have hoped. His greatest little painting is that little one he did in Paris of the Pont Neuf. Cornell up here, in upstate New York has one of his better large paintings. He did three of them, like dream pictures and they have one of those three. And they are marvelously memorable pictures.
The Met has that one crazy picture he spent twenty years on …
Larry Groff:
Ruins at Daphne?
Jerome Witkin:
… the one with the … that one. The birds  and the architecture. Which is amazing, because he can find ways of combining drawing and painting very well. But I think some of his work is very sentimental, and some of it is very interesting. But I think he's less of a great artist because he'll be an uneven character of the work. And he would make these four-star things and then he would do these one-star pictures for a long time. So I didn't get it. His drawings are also very interesting, but …
Interestingly, Isabel Bishop collected a lot of his drawings, and had in her estate quite a bit of them, too. Dickinson, unfortunately, I think people copy that kind of style of rub-a-dub-dub and leftover bits and stuff like that. And it looks good, but it could be very style-driven. I think in the original Man, Dickinson, I think he loved that stuff. But unfortunately, a lot of people copied it to a point where they simply became little "Dick heads" if that's a word …
Larry Groff:
I hadn't heard that one before. That's pretty funny …
Jerome Witkin:
Well, I just made it up. Or Son of Dick. Why don't we put it that way.
---
Donate to Painting Perceptions
Donations to Painting Perceptions helps this site greatly, please consider your gift today.