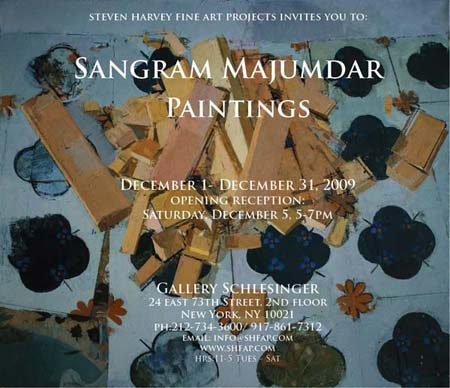 Sangram is a leading contemporary painterly representational painter who primarily paints from observation. He currently has two shows in New York City as part of the Steven Harvey Fine Art Projects, current paintings showing until December 31, 2009 at the Schlesinger Gallery, 24 E 73rd St. NY, NY and a show of drawings up until December 19th at the Coleman Bancroft LLC 35 East 67th Street, 4th fl NY, NY
You can also see this show on the Steven Harvey Fine Art gallery website..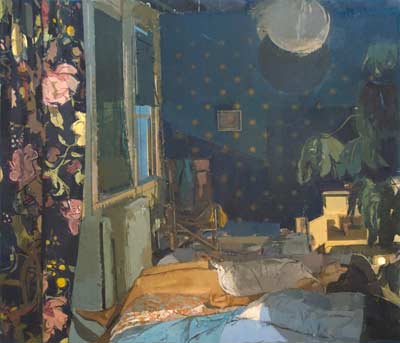 Click image for larger view
Sangram Majumdar Eclipsed, oil on linen, 78 x 90 inches, 2009
All works by Sangram Majumdar, courtesy of Steven Harvey Fine Art Projects
Please note that for all of these images a larger view is available if clicked (unlike many other images on this blog)
Sangram was extremely generous to take time out of his busy schedule to answer a few questions for this blog. Another excellent read is the 2008 interview at Neoteric Art with him.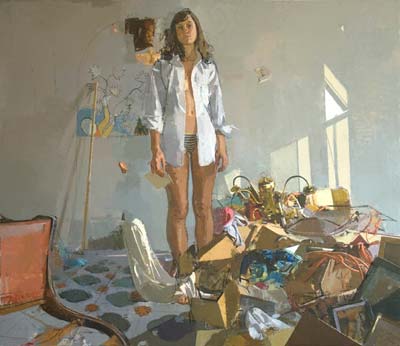 Material Thoughts, oil on linen, 78 x 90 inches, 2009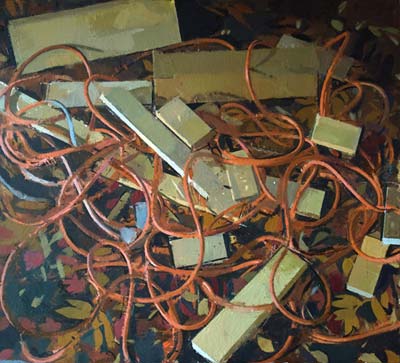 The Maze, oil on linen, 38 x 42 inches, 2009
Larry
Some of your recent work appears looser and more abstract, especially in the figurative paintings, than your work of a few years ago. Can you talk about where you want to go with your more recent work?

Sangram Majumdar
The words "looser" and "abstract" don't fit for me. I am not an abstract painter because I am interested in an overall but specific experience that is tied to our world in a very concrete way.

Instead I think the language is kept more open, with visible pauses and breaks in the paint handling and materiality of the surface of the object. These passages are not planned but are a direct outcome of my working process – which is fairly basic – a decision is made, it is edited/rethought, and a new decision is made, sometimes parallel, other times contrary to the initial decision. This change is also reflective of a greater shift in my thinking of "painting" – the object and "painting" –the experience. I want a greater range of experience embedded in the painting itself, so the history of the object is important for me, not just in the process of making, but as a part of the aesthetic and visual construct. Right or wrong, they are all right at the end of the day if the painting works.

I suppose in my work, more and more I am trying to find a stronger connection between the subject matter, the process, and the painted object. So, what I don't paint in a way is becoming more important to my narrative.
Larry
Much of your work seems based on observation in some manner. Can you talk about why this is important to you? When does observation stop giving you enough for the painting's needs?

Sangram Majumdar
It is important because it always gives me something new and something unexpected. It can be extremely familiar in one sense, and in the next, utterly foreign. As, many artists have noted, what we see is intrinsically tied to our memory, and in many cases it is very telling of what we want to see. So, in that sense it is truly subjective, and only "true" to our sense of truth.

What becomes really critical in the sustained paintings are the pauses between the painting sessions if I am working from life. Sometimes the problem will be that I would have a section I would work on, and I'll get "blinders" on, and after 2-3 hrs realize that everything needs to be moved an inch or two one way or another. So, the decisions, the planning before or after the sessions from life are really important to tying it all together. The longer the work goes on, I paint more without any direct reference, and towards the end of the painting, I paint from life very little. However, it is not a full-proof system, so it's really about what the painting needs.
Larry
You said in another interview at Neoteric Art that "As a painter, my concerns really revolve around form, space and the specificity of the experience" Do you think in going after the "specificity of the experience" allows you opportunities for greater invention and perhaps a more universal statement?

Sangram Majumdar
All I know is that those concerns are really what drive the work, especially the latter part of my comment. I try to pay attention to the painting and maintain an open dialogue throughout the process. Sometimes the "inventions" are really about looking, and paying attention and removing "me" from it, at least for a while.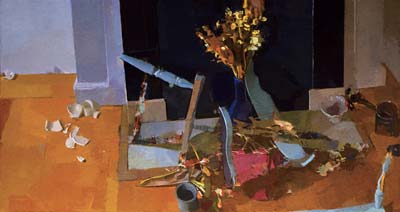 Home, oil on linen, 44 x 84 inches, 2008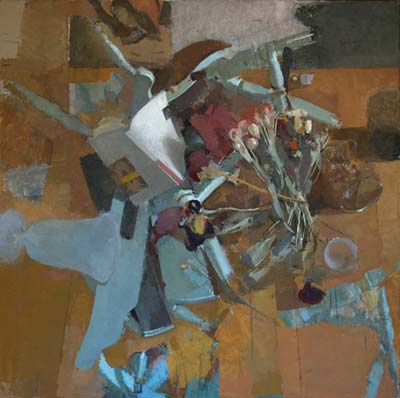 Built to Spill, oil on linen, 46 x 46 inches, 2007
Larry
In a few of your paintings like, "Built to Spill", "The Maze", and "Home" you show magnificent piles of cluttered papers and trash, broken objects strewn about, perhaps from recent violence, and other seemingly random arrangements of forms. You then seem to revel in creating order out of this chaos; such as finding gestural pathways and rhythms in the shape and color relationships. While this is visually stunning and this alone is enough for great painting, there also seems to be some kind of emotional tone or narrative going on. Can you tell us something about what you are going after with these paintings?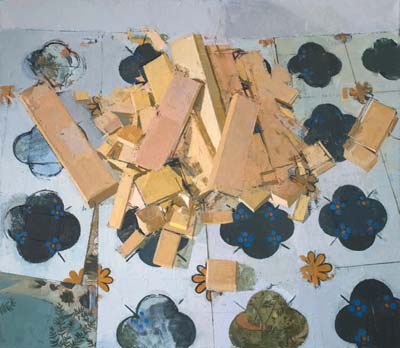 Islands, oil on linen, 40 x 48 inches, 2009

Removal, oil on linen, 28 x 32 inches, 2009

Sangram Majumdar
Well, to me they begin to tie together the visual complexities that I am drawn to formally with the narrative and metaphoric potential of these weathered and discarded objects. At the heart of it, is really my interest in the nature of history, how it's built, one on top of another, it's repetitious and often circuitous nature, and how we create links – sometimes in a linear manner, other times a big event will connect itself to another event from years past.

A while ago I was giving a talk, and I started noticing these moments of "detritus" in my work – going all the way back to grad school. And I realized that it's not simply that I enjoyed painting those passages the most, but there might be something more in them. "Built to Spill" was actually a painting of the same forms in a fairly conservative, straightforward still-life. I remember working on it, liking it, and then realizing that it was one of the most boring things ever! It looked "like" other paintings I loved – so, at that moment I decided to dump the whole thing on the floor and rework the painting. It was revelatory, in that for the first time there was no plan, and the entire painting was open.

Around that time, my thinking began shifting, and the paintings with figure groupings left my head. It's not that I am against artifice – but the paintings can't be artificial – they have to be real, in a physical sort of way – like a person is real. It has be a "living, breathing" thing for me. I wanted a stronger, richer connection to the materiality and process. So, I stopped doing sketches more or less, and decided to make the painting the surface where everything would be worked out! Sometimes this would lead to multiple paintings on the same surface, vastly different structurally but keenly tied to a continued thought.

So, in the newer works I am choosing the objects more carefully, because of their functional and formal significance. I am more interested in how, what they are changes, after their prescribed functionality has been derailed. It's the debris or the remains that become visually and historically dense with possible meanings and hints at new, unintended structures and places. The paintings "Removal" or "Islands" are about this. For me it's when suddenly we get a glimpse into the layers of history against a new, clean surface that excites me. Looking at and looking through, being aware of the surface and the process, become the two critical experiences that connect the past and the present for me. It's why I paint.
Here are a few more of Sangram's paintings that are among my favorites.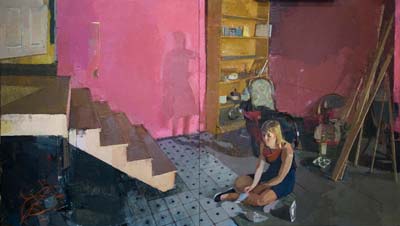 Presence, oil on linen, 60 x 108 inches, 2008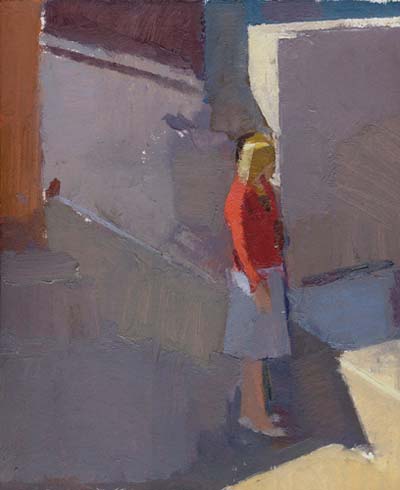 Steps, oil on muslin on panel, 12 x 9 inches, 2008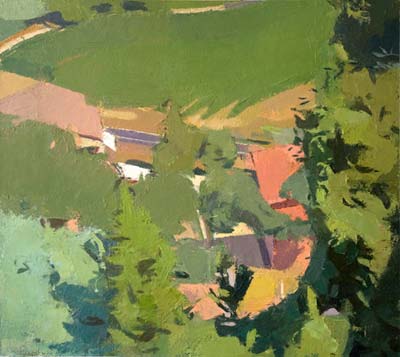 Midday Sun, oil on paper on panel, 19 x 21 inches, 2008
From Sangram's website bio information:
Sangram Majumdar was born in Calcutta, India and received his BFA at the Rhode Island School of Design and his MFA at Indiana University.

Selected venues for solo exhibitions include Steven Harvey Fine Art Projects at Gallery Schlesinger, NY and Coleman Bancroft LLC, NY; Ann Nathan Gallery, IL; Wright State University Art Galleries, OH; Lyon College, AR; Indiana University Art Museum, IN; He has participated in group exhibitions at the The Painting Center, NY; Alpha Gallery, MA; Steven Harvey Fine Art Project, NY; Museum of Art in Rochefort-en-Terre, France; Aichi Prefectural Museum of Art in Japan; Indiana University, IN; College of William and Mary, VA; Maryland Art Place,Delaware Center for Contemporary Art, DE; Rochester Institute of Technology, NY; C. Grimaldis Gallery, MD; Madison Art Center, WI among others.

His awards include the 2009-10 Marie Walsh Sharpe Studio Space Program Grant, MICA Trustees Award for Excellence in Teaching, Maryland State Art Council Individual Grant in Painting, the Elizabeth Greenshields Foundation Grant, and the Tony Munavec Overseas Fellowship to Italy. His work has also recently been published in drawing textbooks: Drawing Essentials: A Guide to Drawing from Observation (Oxford University Press, 2008), Drawing: Structure and Vision, (Prentice Hall, 2008) and Exploring Life Drawing (Thompson Delmar Publishing, 2007). He has been a Visiting Artist at the International School of Painting, Drawing and Sculpture, Ball State University, Indiana University, Princeton University, College of William and Mary, Ecole Superieure des Beaux Art, de Lorient, University of New Hampshire, University of Wisconsin-Stout, Wright State University, Dreyfoos School for the Arts, Design and Architecture Senior High School in Miami and the Rhode Island School of Design-Palazetto Cenci.

Since 2003, he has been teaching painting and drawing at the Maryland Institute, College of Art. He currently splits his time between Baltimore, MD and Brooklyn, NY.