"Aria Umbra II" 2007-2009. Oil on linen, 93 x 250.5 cm
LG You founded the Jerusalem Studio School in 1998 which not only pioneered figurative art training in Israel but went on to become one of the top painting and drawing programs in the world. You offer a rigorous course of study that gives the student a firm foundation in the tradition of great painting from the past as well as the present.
With all you stated about college-based painting programs putting the emphasis on theory and conceptual matters on the one hand, and on the other academic ateliers teaching the craft of painting in a formulaic and sentimentalized manner, with this in mind, what advice would you give today's students, who are looking for the best possible education to prepare them for being a figurative painter?
IH That's really a tough one. There are still some very fine painters and sculptors out there today and some are teaching in colleges.  Look, even when I was a student we would, at least the serious folks I knew, first identify who the "artist" was we wished to study with and then make a choice of school based on that rather than any school's reputation. To do that today is quite a different story I'm afraid. What we are talking about now is a far more intrusive academic environment, far more monolithic and inflexible then one would have ever imagined would be levied, or should it be, leveled, on the fundamentally subversive natures of artists and art students. In doing that today both the artist/instructor and the student would find it difficult to shake free the pervasiveness of the academic environment and its grand inquisitors.
I think we need to face it honestly. If it's a degree one is after I suppose one can always make the best of a bad situation. But for that most precious, formative period to have been so adulterated, be assured, cannot be mitigated. And if a degree is not an issue, one is not much better off because good 'academically unattached' art schools are rare and my opinions on atelier schools you by now know.
There are in all fairness a few university art departments left that are certainly exceptions to what I've described. Indiana or New Hampshire, distinguish themselves, I think. However, as a great believer in the importance of being in a state of "sustained physical contact" with great works of art, meaning museums, galleries, looking, copying etc., I'm loath to send students, especially from Israel where the paucity of great collections constitutes a propaedeutic disaster-zone, to study somewhere out in the hinterlands.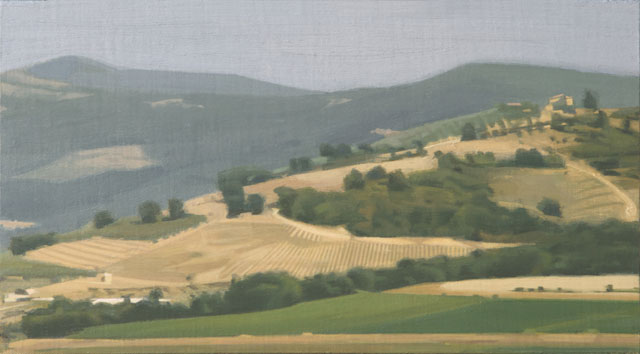 LG Do you think students can truly learn to paint on their own through self-study, workshops, things like that …
IH Wish I could offer more solace, but no, I do not. In a world where visual culture has been so eclipsed and muted, where pictorial language is no longer a lingua franca, one cannot learn this on their own. Courbet, an exception in his own day, would now be quite impossible. And workshops are just not sustained and convergent enough as experiences to make a substantial difference. Something more immersive and comprehensive needs to be in place to take up the slack, to illuminate the darkened zones.
Look, The Jerusalem Studio School has drawn some very fine people from around the world. The Master Class of gifted students and a seriously focused and distinguished visiting faculty that made their way here, have defined this school in great measure. But not everyone makes it to Jerusalem.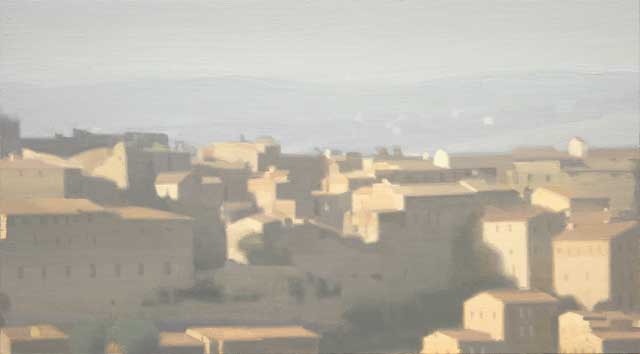 "Todi From Afar", 2009, oil on linen mounted on wood, 8 3/4 x 15 3/4 in., 22.2 x 40 cm
Over the years there have been entreaties from various quarters to open specifically our very intense Italy program to outside students and make the ethos of direct unmediated experience which defines this school more widely available. For a number of years and for various reasons and affiliations this was not possible, but as of last year all that has changed and I'll get into that in a moment…
A short while after moving to Israel in 1984, I signed on with the Marlborough Gallery and was for eleven years basking in the radiance of never having to teach again. Frankly, teaching was never an ambition of mine. In any case, I had come to a place where any kind of engagement or complex dialogue with the art of the past, the idea that all history is modern history, was anathema. There was not an art school or artist here that have ever drawn a taught line of engagement with the art of antiquity — it was a place completely devoid of artistic memory. There are understandable reasons for this and there is the weight of other memories, certainly, but this is a complex subject for another time, another forum, and with a good anthropologist by my side. The exception was Avigdor Arikha who sadly passed away a few months ago. However, Avigdor's artistic journey, his transformation, really began in Paris which he made his home, and was set off specifically after seeing a major Caravaggio exhibition at the Louvre in the mid-sixties that caused him to develop as he said, "a hunger of the Eye". That said, there was no way I could possibly live in a place like this, so I decided to change it, if only to begin to.
The Jerusalem Studio School was founded after it became clear to me that there was a group of young, hungry-in-the-eye artists who grew around the work I was doing, and with some prodding from them and the then director of the Israel Museum, Martin Weyl, I decided to establish a school on condition that it embody the values that are the precise polar opposites of the litanous soliloquy I've just subjected you to.
---
Donate to Painting Perceptions
Donations to Painting Perceptions helps this site greatly, please consider your gift today.