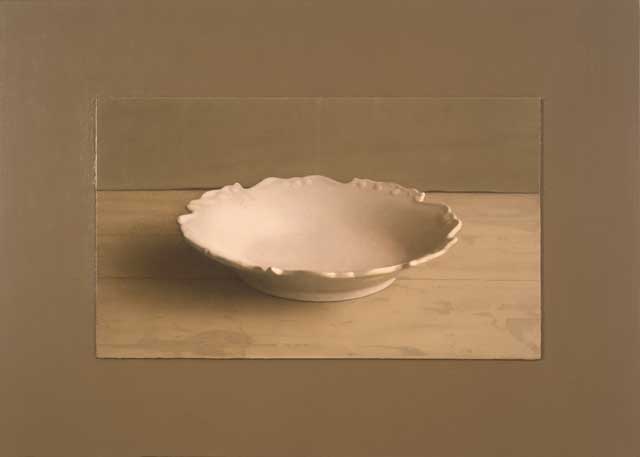 "Penumbrian Bowl" 2003-2005. Oil on linen mounted on wood, 25.5 x 35.7 cm
LG Do you think that we're losing the language of painting? I'm able to see more painting being done now than I remember from twenty or thirty years ago. Because of the Internet, it's become a popular pursuit for many people for a variety of reasons …
IH Painting?
LG Painting. But the painting is about something else. I think that people are losing the language of painting, and it's more about the imagery. People don't even actually see the paintings a lot of times. It's just images of paintings. So it's changing the whole way people think about art, and not in a particularly positive way, especially when people want to learn to sell it, they're selling it to people who don't really know anything about art. Obviously, there's no solution really. I'm curious if you've thought about this much?
IH I have, and unfortunately I think this is correct. I'm reminded of a discussion I once had with a rabbinic scholar. We were discussing "belief". He asserted astonishingly, that belief, on a certain pedestrian level, no longer exists. Instead he said, people just believe in belief.
I'm thinking of this new denomination of zealous, born-again promotion-driven artists, these products of atelier schools, the so-called New Realists, or whatever one calls  them… Unsurprisingly, in a world where the language of painting has been so greatly eclipsed, the attention they are attracting goes beyond the predictable precincts. This new benighted Brotherhood is for the most part, unabashedly revivalist, with penchants and allegiances to Bouguereau, Cabanel, Couture, Makart, the blandishments of L'art Pompier, Pre-Raphaelism – that part of human history's acknowledged artistic nadirs.
It should not surprise that this is so. It is upon close examination, the very mirror image of the exploitive art world establishment we see when peering out that has mired itself in mercantilism, cynicism and novelty. And really no surprise that the celebrities I mentioned of L'art Pompier comprised some of Andy Warhol's many favorite things – he collected this stuff.
This is not "being into painting"! It's being into an ignorant and sentimentalized idea about painting that the informational nature of learning today, along with educational and museological institutions, are in great part fostering. It's absolutely appalling! I know, I know: there is the seeming irony, which I assure you is not lost on me, of one that has always championed the transmission of classical values, sounding like some kind of Umberto Boccioni in the Technical Manifesto of Futurist Painting deriding the nude as nauseous and tedious. Or proclaiming that "bituminous tints" and "the ideal" put to the purpose of obtaining the patinas of time should be banned! Well OK, maybe bituminous tints…, but I hardly think that those who know me, friend or foe, who know my work or the school I founded, could possibly accuse me of ranting that. This said and without shilly-shally, the trend in my view is alarming. It in no way represents the ascendant qualities of the art of painting, it represents the precise opposite, its decline.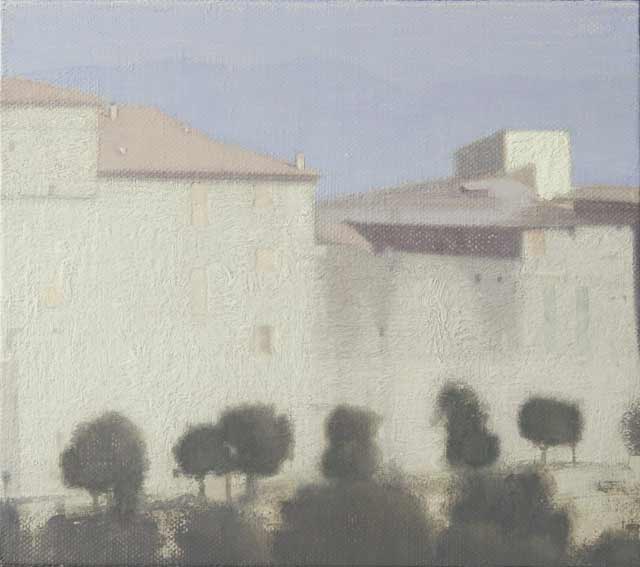 Fratta Todina From Afar I, 2003, oil on linen mounted on wood, 5 1/2 x 10 1/4 in., 14 x 26 cm
The other part of your question, basically, are we seeing with a full deck? Do we see all that painting or sculpture has the power to deliver or has that too been reduced to "image"?
We live in a very diminished world visually. We're being conditioned by all sorts of images: photographs, computer generated images you know, media. When reared on this, there's little question: by the time a youngster makes it to the museum, if ever, and sets his eyes on Velazquez's Las Meninas – I mean his eyes – it is highly doubtful he or she will have the necessary brain cells to see abundantly what that astounding work can hold out beyond the shallowness that the pixel dimensions their computer screen, mind you, a substantial improvement over offset reproduction, currently has.
I have recently come across an interesting study sent to me by my daughter-in-law's father, a leading psychiatrist, which appeared in the Journal of Neuroscience, that has confirmed much about what artists and musicians have always known intuitively. The study reports on the development of cortical plasticity in the human brain induced by musical training. Now, cortical plasticity refers to the brain's ability to form or add new cells and connections while also strengthening those connections through enacting, execution or experience. The plasticity here refers to the brain's malleability, take note, throughout a person's life. This vitiates the idea that the brain does not change past a "critical period" in infancy.
Anyway, there were two groups researched: one group actually learned how to play a musical sequence on the piano, whereas the other group just listened to the sequence and, again take note, made critiques! Using magnetoencephalographic measurements, the authors found some astounding group differences. In particular, greater plasticity was found in the auditory cortex of the group that actually played the piano sequence versus the group that just listened and engaged it solely on the cerebral level. This is important: we're talking enhanced auditory representations in the brain as a direct result of practice or execution over what is gained from passive listening and critique. The operative conclusion then is that it is the animal experience which augments capability and understanding – use it or lose it!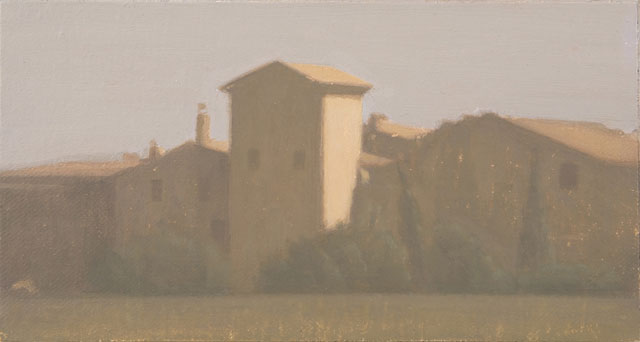 "Fratta Todina From Afar," 2005 – 2006. Oil on linen mounted on wood, 23.1 x 26.2 cm
On the other end of this litany and no less worrisome: I have now over a lifetime, watched as schools and university art departments, individually, universally, and with inscrutable callousness, go about the business of pulling the plug on an idea that has inscribed itself in the memetics of our intellectual history, on the artist's individual and collective sensorium – what Louis Finkelstein aptly coined as the centrality of "sustained physical contact" or the "animal experience", where the hard-core study of art is to be pursued.
The new sanitized and theorized model for art studies is by now everywhere ensconced and pervasive. As I see it, artists have been made servile to the needs of the academy and are now producing work shackled, reduced and parochial in its language as that of the academy and its new syndicate institutions – museums, the market place and the media – to benefit their mutual sustenance. OK I can hear the howls and hisses rolling in from certain quarters and the protestations. I hear the oft-raised question once more: How is this different than any other era or different than the church? Well, there's a titanic difference: the church sought to leverage pictorial language to advance and impose its particular message on our culture. The new church, Academe, seeks to actually supplant that language.


"Tel Kakun" 2005-2007. Oil on linen, 250 x 68 cm
I do have a great admiration for institutions of higher learning within parameters. It is their nature and the nature of academic disciplines to foster movement starting with theory, then practice, to product and back. What they've done by applying this to the plastic arts, the ravages they've wrought, the alterations beyond all recognition, is an unmitigated disaster. The flow of lifeblood, of moving from practice to knowledge, from process to proposition in the perpetual stream of the artistic creative process, the understanding that in reversing this vital, vascular essence, in moving it backwards from proposition to process, from knowledge to practice, has become the kiss of death to developing young artists. And who are the people doing the kissing? It's those who age, advance and ossify in these schools and departments, who have attained positions of authority and power within them, who don't know the difference between a sow's butt-hole and a truffle when it comes to the "making" of art or of learning something for your eyes or your hands, that have foisted and fostered this ruinous new order on the study of art.
When invited as a guest critic to various institutions over recent years, I have, I kid you not, walked into studios where students actually put their work out of sight and attempted to engage me, before all else, into "what" they are "trying to do". Needless to say, I would have nothing of that and told them to turn their work around. How sad! But the fact is, they are not at fault, it's precisely what they've been taught! And that you see art students today who sound, look and smell far more like MBA students rather than bemused art students, should also not surprise.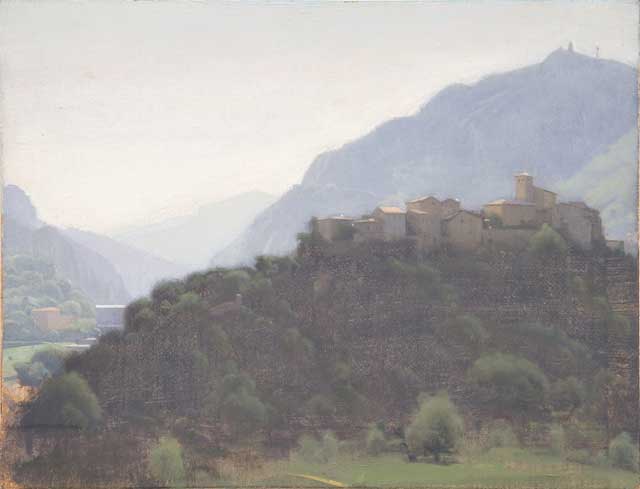 "C-Spot- Papigno," 2005-2006, oil on linen mounted on wood, 20.3 x 26.5 cm
How far have things gone? Here's something that really gets my animus up and is now quite the common practice. I'm talking about bringing in functioning or perhaps former museum curators — makes no difference which — ostensibly invested to become factors, if not lead actors, in that most sensitive and formative cauldron of artistic intercourse, I mean the studio and its unique metaphysics of practice, discourse and critique. Is this not the grossest intrusion on the preserve and domain that belongs to making, of learning for the eye, and of learning for the hand? The studio is an arena where whole cosms and systems of plastic and pictorial experience must by their very nature be transmitted in the language of their own conception. That these extracurricular mediators are inserted into this ecosystem, where the most incidental gestures, silent pauses or demonstration can reveal more than whole libraries are able to contain, is an intrusion outrageous in the scope of its denseness and is ultimately crippling. I've heard of these invitations extended to high-profile art dealers as well. And all this not just as playful or experimental divergence – which is appalling enough. It has become a permanent fixture, a main component in shaping on a rudimental level an art students' weltanschauung. Mind you, I'm not talking courses in Critical Studies, Contemporary Trends or Ten Easy Steps to an Inflated Self Image and Early Self Promotion. In all seriousness, what we are seeing is the substitution of the critical process over that of the creative one. On the more prosaic level, it corrupts to the nub a student's ability to develop outside of, or rise above a promotional apparatus based on the vagaries of fashion and the banalities of the market-place.
In 2002 there was a revealing article, also by Calvin Tomkins in the New Yorker, about Ellen Phelan's attempt at building from scratch a studio art program at Harvard in which she, a serious artist, wildly succeeded in doing beyond Harvard's expectations. This is a very bizarre tale of misbegotten sequences and convoluted events based on that success, which finally led to her dismissal. But not just her dismissal. It was also her immediate replacement with a Shakespearean scholar from Harvard's English department who they had assume the chair in her stead. I repeat, to lead a studio-painting program! I'm still trying to figure out who in hell the winners and losers in this theater of the absurd are! It is unfortunate that the article did not go far beyond Ms. Phalen's personal narrative and delve more into the symptomatic, systemic nature of this folly.
Be that as it may, to think that the choices out there today are between these highly academized environments on one-hand and atelier schools on the other, is very dispiriting. What's more dispiriting, however, is that we've reached a point where only the few know to be despondent!