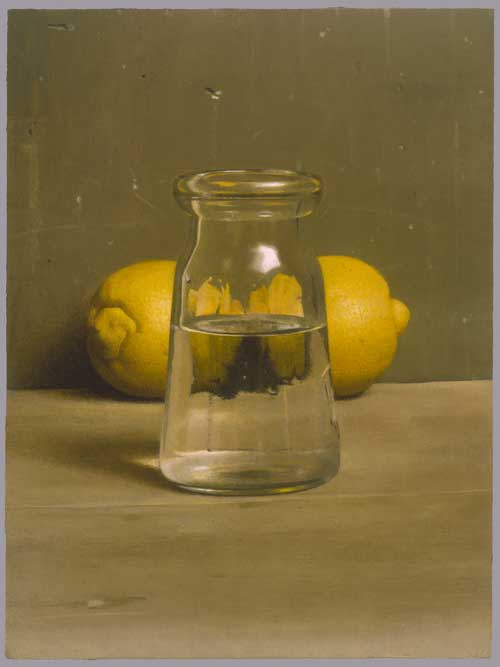 "A Flask of Water with Two Lemons," 1996. Oil on canvas mounted on wood, 24 x 18 cm
LG In your own work, much of what I've seen, anyway, has been over extended periods of time. They seem like they're really highly resolved, very fine work done over a period of time. I am not familiar with any kind of premier coup work that you've done yourself. Can you speak to that in relation to what we were just talking about?
IH Yes, I've done a lot of premier coup! In the earlier years most of what I did was generally hammered out in one sitting. That's certainly changed over the last 25 years. I can't say honestly that I know why or how this change, this slowing down, came to be. I could easily point to a whole corpus of painterly concerns that now occupy a more forefront plane in my thinking, but I'd never trust that as any kind of definitive answer. Neither would I want to dwell on it. I think I'm still a pretty fast painter but it takes so damn long to get what I'm after.
You know, one reason there are no images of my early work making the rounds is that they are in 35mm film slide form. Scanning and enlarging these tiny images into any format is total grief. The grain on the rough side of the slide, remember…? That gets magnified along with the image. The results are pitiful and therefore just not part of my archiving activities. That's one reason – the other: I don't really like most of it…
LG So you do them, you just don't show them…
IH No, no, I haven't done a premier coup in a very very long time. Actually I should qualify that, not really true. Almost every painting I start starts as a premier coup really – it's essentially what becomes my underpainting, the context out of which I continue to work. I approach the initial laying in when starting a work in precisely the same way I would a premier coup. I don't start with a ghost of a thing and then work up to the full corporeality of color range and experience I'm after. I start with it! I start with a full bodied paint in large masses that hit at the outset the specificity and large color relationships, laid in with a big brush and run through flat with a palette knife to keep things as open as possible for the longest time possible. I find it very liberating to start this way. Down the line it allows me to take on, unencumbered, many other concerns. I must say, I'm averse to the idea of spending one's time painting just to get things right. I make a strong distinction between finish and completeness and it's just the most dreadful thing imaginable to finish a thing before one completes it. I see this all the time when teaching. I start with that completeness and if in the process I do something that discounts it, the painting, if it has that probity, vomits it out. So in a way the premier coup is still very much there, but eradicated and concealed, like a sinopia.
LG I understand that you do work from observation on site, as well as from other sources such as photographs in the studio. Can you tell us a little bit about your painting process? What thoughts might you have before you start a painting that will take you a long time? Maybe even up to a year or more?
IH Well, I used to be very canonical about the idea of painting strictly from life. That changed with the series of Tree Portraits I started in 1998 and were shown in 2001 at what was my second show at the Marlborough Gallery. I hadn't done landscape in a really long time, and you know, being out in the landscape is very, very different than doing a still life or figure in the stability of your north lit studio. Working in an extended way under such conditions enables, if not creates, certain concerns or preferences that take hold and develop pictorially and ideationally. The way my work evolved during that period and what I was determined to go after in these tree portraits, made it very clear after the first few attempts out in the "nature", that the "nature" of painting, in fact, had come to reassert and restore itself.
A major preoccupation for me at the time was how I go about transubstantiating the sensory quality of surfaces, you know, I mean on the nervous system, the whole range of plastic and tactile values and how they can be transmogrified and re-experienced pictorially. I had found that the stillness of studio work with a north light opened the way to these kinds of contemplations of surface, their substitution in paint.
The cypress trees here not only possess a dark self-contained knotted conoid perplexity; they have a kind of tufted and scraggy foliage that the dust blowing in from the desert sticks to, making them appear almost petrified when there is no rain to wash them down. I wanted to get that, among other qualities. Look, I think once we get down to saying things in paint beyond the large experience of things and enter into tactilities, the exquisite lie, the artifice of painting makes itself more than just felt, it's inescapably present. Something like this we know we cannot do from observation. We make it up! Maybe where trees have a more predictable repetitious patterned foliage, a case can be made for something registering by painting it from life. But this kind of tactile complexity, well, it would be truly daffy to pretend one were painting that from life. That gap in time and space between perception, memory [the short and long of it in the painterly process] restores us, I think, to the artifice of it all.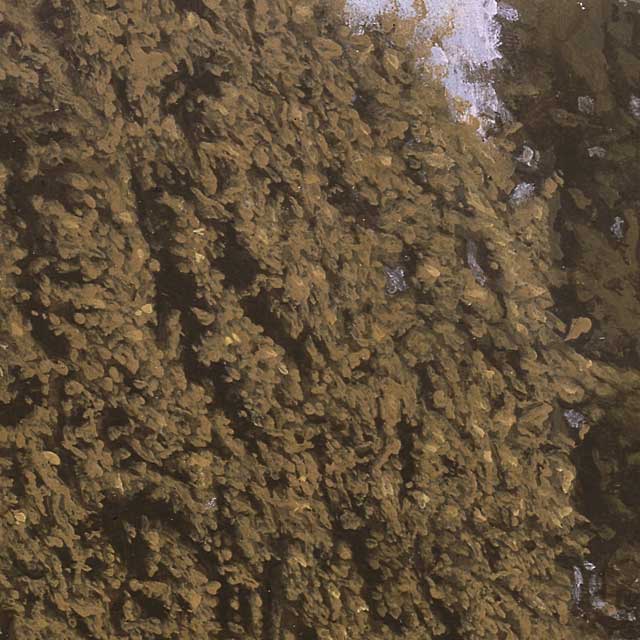 Detail from "Cypress, City's Edge"
I'd bring these premier coups into the studio and completely based on the color context I established in the nature, proceeded to invent that scraggy foliage as best I could. The primary and secondary plane breaks I needed were down to suggest how I'd go about it. In doing that, however, I saw immediately the dangers of systemization taking over. I'd paint at the start as I'm usually wont to do, with my right hand.  But when I got to the tufted foliage, I switched to my left hand with which I could perhaps control "where" I put something but not "how". I didn't want the trees to look like they came out of a one-time formula for tree-making – do you know what I mean?  My interest was to maintain the empiric quality of what I nailed down in the nature and weave that into what I was intent on contriving. There's nothing new in any of this! Vermeer, Velazquez, Corot, Morandi all did this in varying aggregates and summations. And each painter working perceptually reveals, I think, his or her construct of this dichotomy unknowingly, unpredictably, individually.  I think it's bad to reconcile, as we have it today, in a highly academized and theorized art world, this apparent contradiction. Painting's best when it's born of this dichotomy.
If we can revisit now the idea of the time-capsule I spoke about earlier. That inner treasury, if you remember, what we "forge in the smithy of our souls", as not only another layer or lens via which we peer, but as a civilizing layer, then the whole question of what makes for a stimulus or impetus for putting things down in paint becomes a very open matter. Everything and all on this strata, of painting as desire, is or can be nature. A photograph too. It – a photo, an illustration, a movie still, another's painting, drawing or sculpture, can inform a painting but it cannot define it.
With all that said, for me, the most succinct color sketch or barest color notation done in the nature, will decisively and comprehensively impact what I do more than anything else.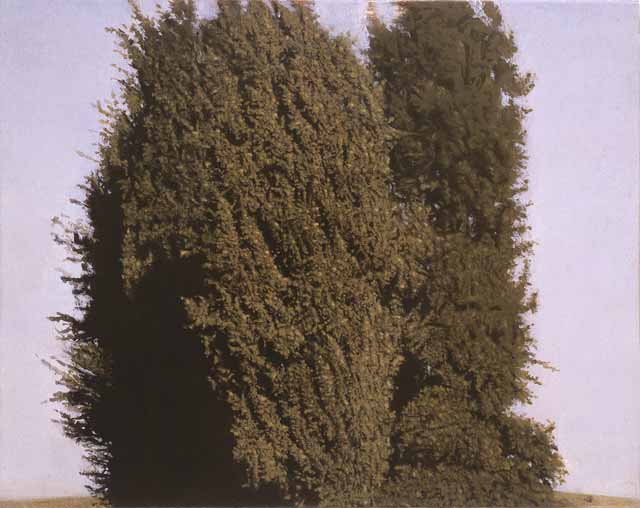 "Cypress, City's Edge" 2000. Oil on canvas mounted on wood, 21.3 x 26.7 cm
LG So when you're painting from a photograph, you're able to access your response to other art as kind of your primary reason for making the painting, of the continuum of the art process …
IH Yes, like in a Degas or Vermeer, the photograph can inform, as I said – it does not define. And to clarify, neither does any subject, narrative or object before us define, they inform. The moment it is put through that lens, those civilizing layers, and abstracted into motif; every impetus comes under the sway, the imperative of the painterly impulse. You know, there are things external and internal to the formation of all things…