Part Three in a series of articles about the Slade School Artist by guest writer, Neil Plotkin.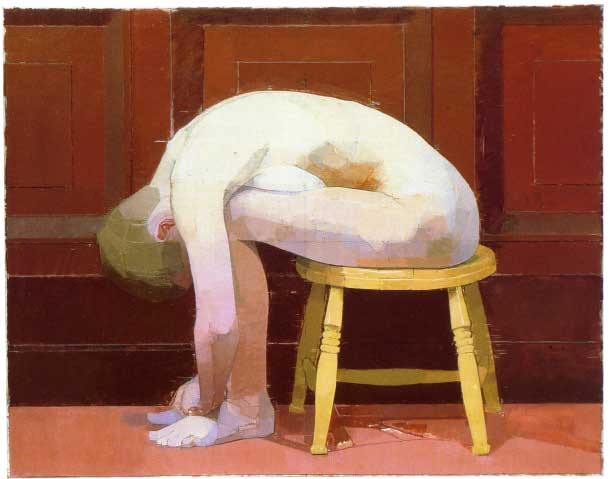 Euan Uglow, Curled nude on a stool 1982-3 Oil on canvas 30 x 39 in
"Most people who have the opportunity to look for hours at one painting by Uglow find their eyes traveling over the surface, perplexed that marks, shadows and forms so limpid could crystalize conflicted emotions. The painter John McLean wrote, 'These planes of Uglow stand for colour changes perceived with a keenness on might have said bordered on the hallucinatory, there it not reality that was in focus … His observation is so exquisite each discrete plane, each color rings out, like a note in a finely delivered song. The planes coalesce just like such sounds… This surface of a Uglow painting is beautiful. The frankness with which it reveals its constructions resonates as you read the continuum of form and space'."
From Catherine Lampert Uglow in his earthly observatory. pixxi
Euan Uglow: The Complete Paintings, Catalogue raisonne by Catherine Lampert
Probably the best-known student of William Coldstream, Euan Uglow stands out as one of the most important figurative painters of the late 20th century. Arguably it is Uglow and Freud who dominated the late 20th century figurative painting and influenced countless artists. Perhaps it's due to Uglow's private nature or that he was more interested in painting than promoting his work, but Uglow does not get the attention that his work deserves. And to add to this, it is very difficult to see originals of his work in the US (though there are some in private collections). For that reason, I was very interested in going to Browse and Darby (the gallery that represented Euan Uglow for most of his career. Please see note below) while in London. Though I didn't get to see a full-blown Uglow show, I was able to learn a great deal more about him and was exposed to large number of other great artists who were influenced or taught by him.

Many readers of Painting Perceptions are probably familiar with Euan Uglow and his work and for that reason, I'm going to try and focus on things that I imagine will be interesting to other artists. Also because some of the readers of this article knew Euan Uglow as his gallerist, student, and or model, I want to make clear that this article is my personal interpretation of what I've read and found and is not intended to be any sort of historical record. I have done my best to be accurate with the information and if anyone feels that there are any omissions, inaccuracies or would like to add anything to this please contact either Larry Groff (larry@larrygroff.com) or myself at (neil@neilplotkin.com).
Measuring, Marking and Set Up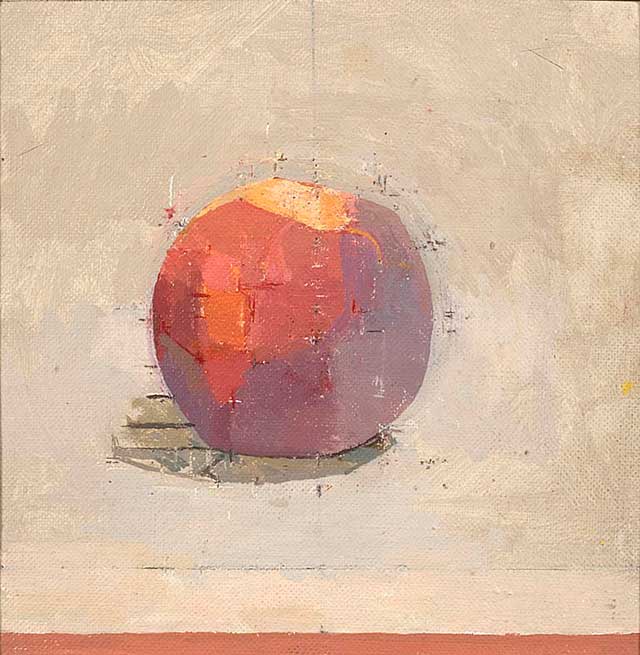 Peach I Young 1999 Oil on canvas laid on panel 6 x 6 inch
(click for larger view – true for many images in this article)
"The majority of Uglow's rare statements on his art have been extracted from interviews. With their aid, one can visualize the artist sitting in front of the organic subject, light reflected off the back wall, the wires and a plumb line defining the plane that demarcates their separate territory. 'I take measurements so that the subject has a real link to the rectangle; it also gives me freedom to make a whole surface… I'm painting an idea not an ideal. Basically I'm trying to paint a structured painting full of controlled, and therefore potent, emotion. His attitude to mark-making and surface owed to the Old Masters but also much to Mondrian and William Coldstream, as well as to American abstract painter, particular Rothko and Newman.: 'I don't do wristy paintings because I want the brain to intervene between the observation and the mark;' 'Sometimes I like a painting to be like [the keys off] a typewriter going across the whole surface. A close friend, Georgia Georgallas, recalled a familiar expression; 'The words he always used to say: "it's got to have magic". And the only way he could think of creating this "magic" was to be true to himself. He was ruthless with himself.'"
From Catherine Lampert Uglow in his earthly observatory. piiii — Euan Uglow The Complete Paintings
The measuring marks over the surface of Uglow's paintings are a distinctive feature of his work. The marks are a vestige of his mentor William Coldstream. Like his mentor, Uglow also nearly always worked from direct observation and used a similar method of measuring to Coldstream. Uglow would put done marks on the painting (and sometimes on the models) to help measure between different points. Whereas Coldstream felt like it was untidy when he left the marks (he likened it to having his shirt untucked), Uglow claimed he didn't remove the marks because he didn't know when he might need to refer to them again.
In order to anchor the elements of his paintings, plum lines were employed. These can be seen in some of the photos of his studio. In those photos we also see the elaborate markings created to position the models. The markings of other set ups and working lines also seem to make their way into other paintings. With all these model position lines, plum lines, dots to measure elements, the final paintings are alive with markings.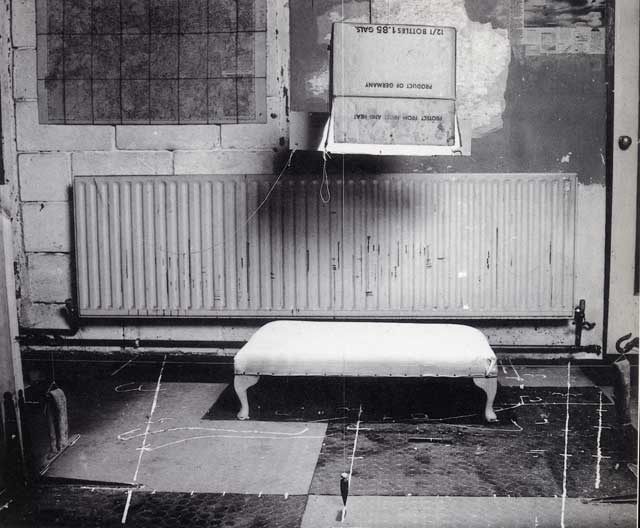 Set up for Jana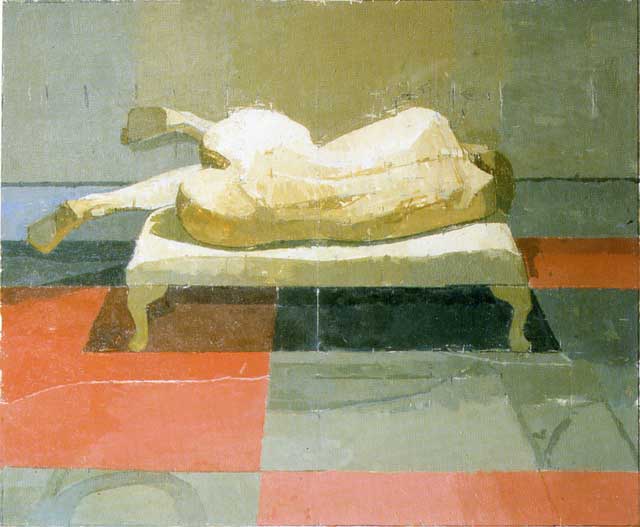 Finished painting Jana 1996-7 Oil on canvas laid on board 14 x 16.75 in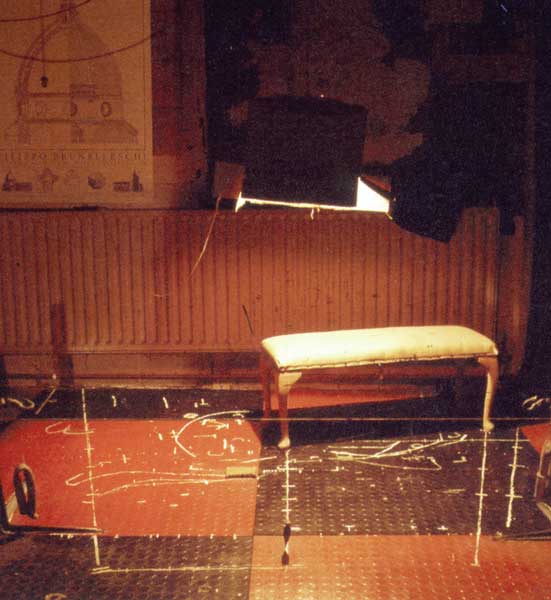 Set up for Nuria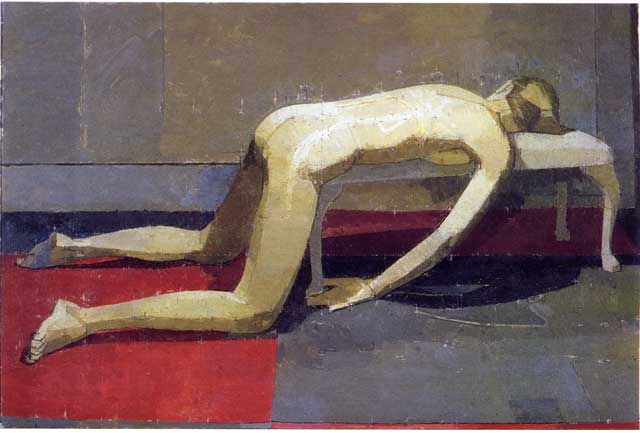 Nuria 1998 – 2000 Oil on Canvas laid on panel 14.25 x 21.25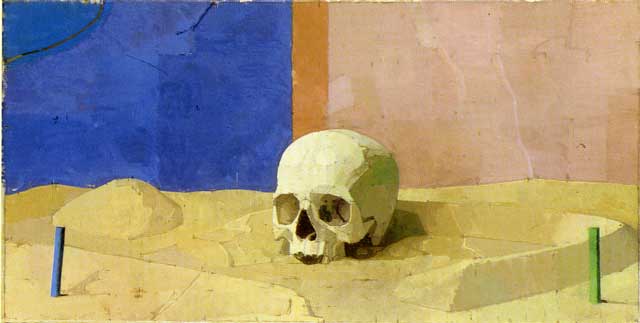 Finished painting Skull 1994-7 Oil on canvas 12.75 x 25 in
As one might suspect with someone as structured as Uglow, he employed the Golden Section and other mathematical systems either as his canvas size or in his markings in the canvas. His drawing Study for Summer Picture shows his process of working out proportions.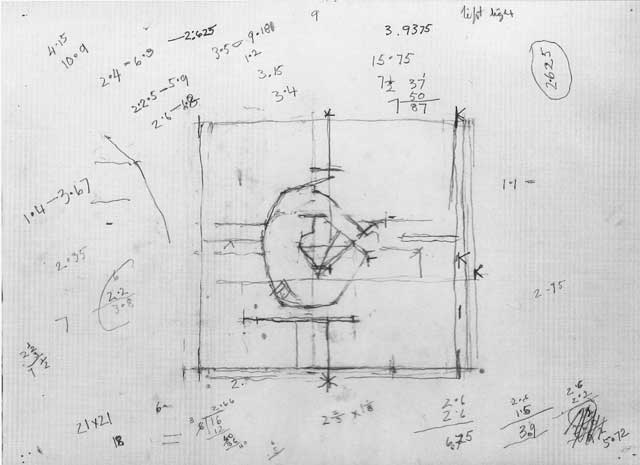 Study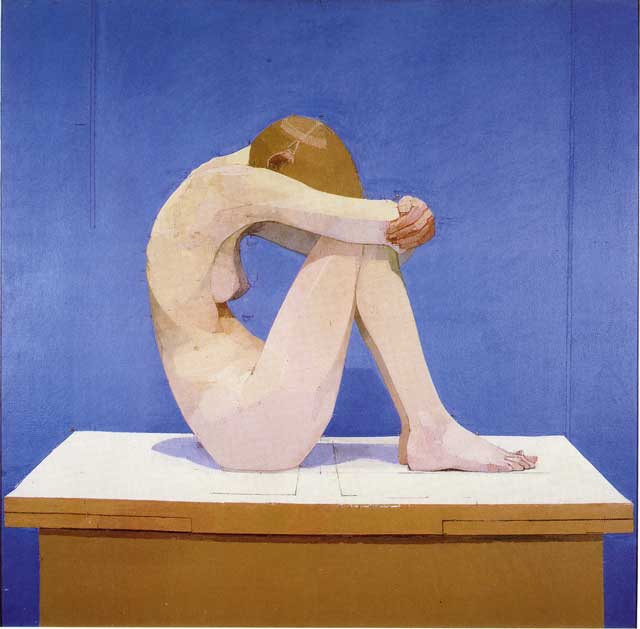 Finished painting Summer Picture 1971-2 oil on canvas 43 x 43.5 in
Poses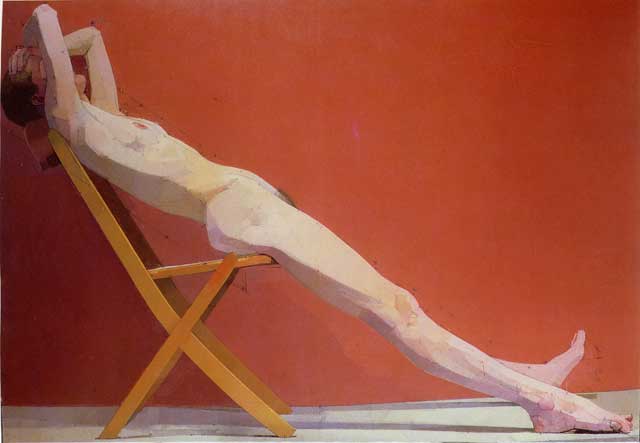 Finished painting The Diagonal 1971-1977 oil on canvas 46 x 65 in
There is solidity to Uglow's poses that can be read as both strange and very interesting. He was notorious for these difficult poses and the long time it took to complete the paintings. His models would have to commit to years of posing for him (for models responses see the link below).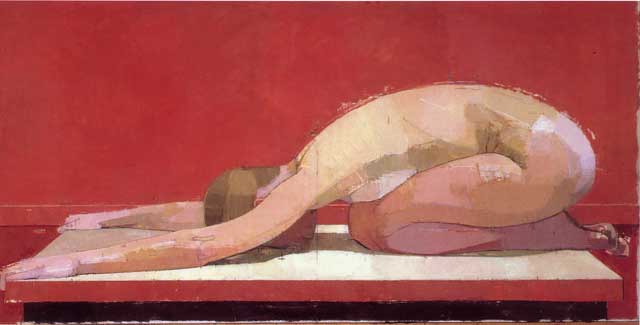 The Wave 1989-97 Oil on canvas 19.5 x 39.5 in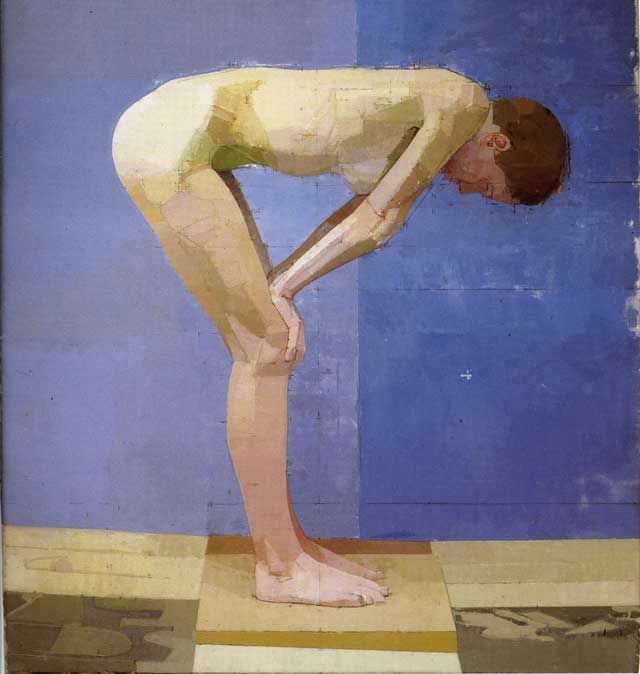 Ali 1995-1997 Oil on canvas 32 x 30 in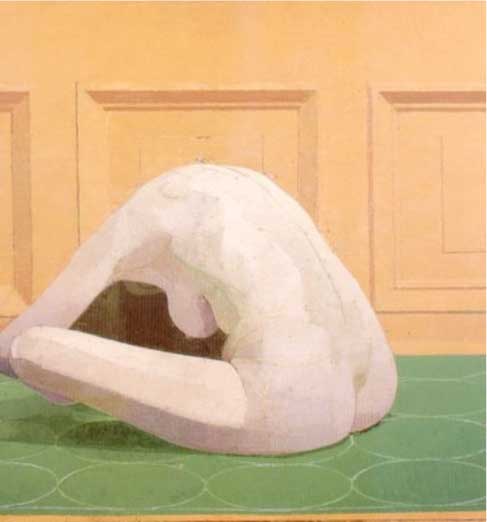 Pyramid 1994-1996
While I am painting,[my models] often go through a cycle of personal events. When one model first arrived, she had a boyfriend. Later she married, and by the time I was done, she was divorced.
–Euan Uglow