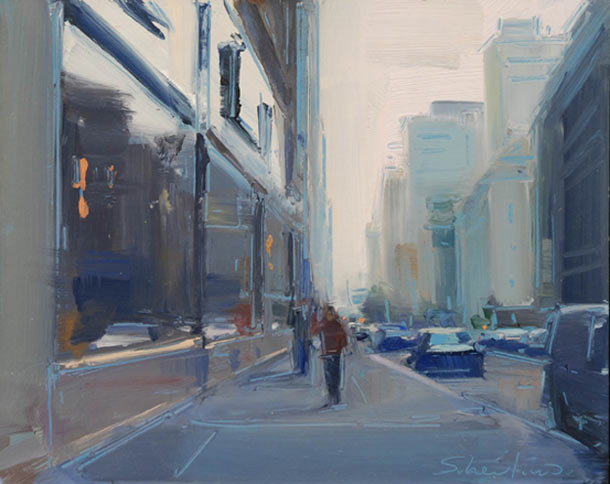 Reflection 2008 Oil on Panel 8 x 10 inches
David Shevlino paints a wide range of subjects but lately appears to focus on the figure and urban scenes. In many of his works, especially the landscapes, there is a wonderful balance between slow careful observation and the mad rush to capture fleeting light situations. In his urban landscapes David slows down a bit and considers inventive ways to simplify the complexities of crowds, traffic and architecture by emphasizing the design of the broad play of light and shadow that creates rhythmic passages and geometric tensions in the painting.

Seeing videos online of David Shevlino highly accomplished drumming in an amazing arrangement of Thelonious Monk makes me wonder how much of the Jazz musician sensibility spills over into his painting as well – perhaps like how intervals and proportions of his gestural broad brush strokes accentuate and give counterpoint to the driving beat of light. Like a Jazz musician taking an old standard as a point of departure, David uses the commonplace urban views as a riff for his visual improvisation.
This delightful youtube video by his friend John Thornton gives a warm introduction and impression of David Shevlino and his paintings.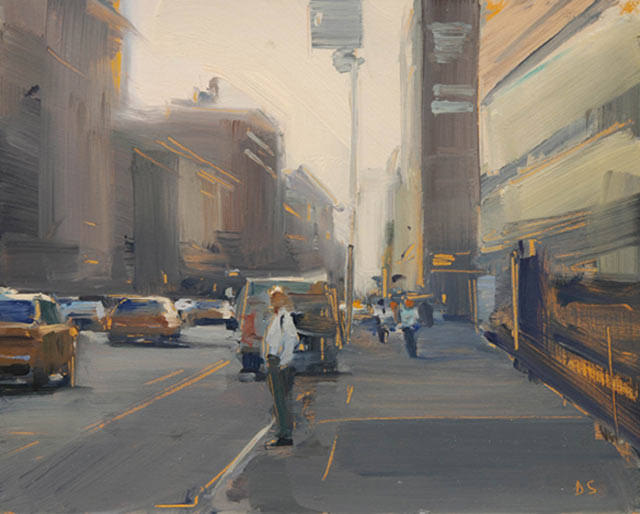 Evening Color 2008 Oil on Panel 8 x 10 inches
The small "Evening Color" appears painted from life and has a gutsy bravura to the paint handling where rapid drawing and painting are fuzed with design decision. The visual pull of the perspective is reinforced by the flow of traffic as well as lines drawn through the wet paint revealing the yellow ground of the panel. These drawn elements somewhat interrupt the tonal structure of the painting but enhances the sense of movement and mood and almost gives it trippy radiating aura coming from the central figure. Some of his city views bring to mind similarly powerfully graphic representations of busy street scenes painted by Ben Aronson. As much as I like many of his urban scenes, figures and other works I find myself coming back to his more suburban views such as the white house in bright daylight with a woman hanging laundry, here the high keyed light seems to have a greater emotional punch and is evocative of Fairfield Porter similar subjects.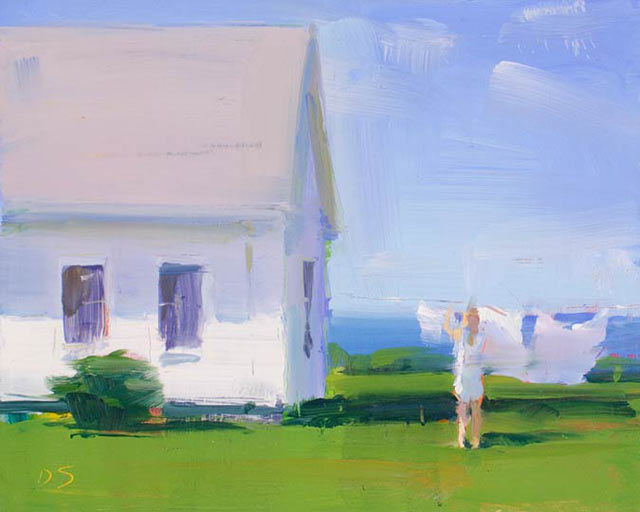 Hanging Laundry Oil on Panel 8 x 10 inches
I like his willingness to experiment with new approaches as seen in his more recent figure painting such as pearls before swine. His juxtaposition of the finely painted nude woman with piggy images in which inkjet photos were transferred directly onto the canvas all against an abstracted blue background invites a narrative interpretation. The direct almost confrontational gaze from the model to the viewer combined with her passive stance defies easy explanation but has a satisfying edginess that also has a visual staying power, unlike some more post-modern works where it seem more of a one-trick joke pony.

David Shevlino Pearls Before Swine 2010 oil/mixed media 43 x 39 inches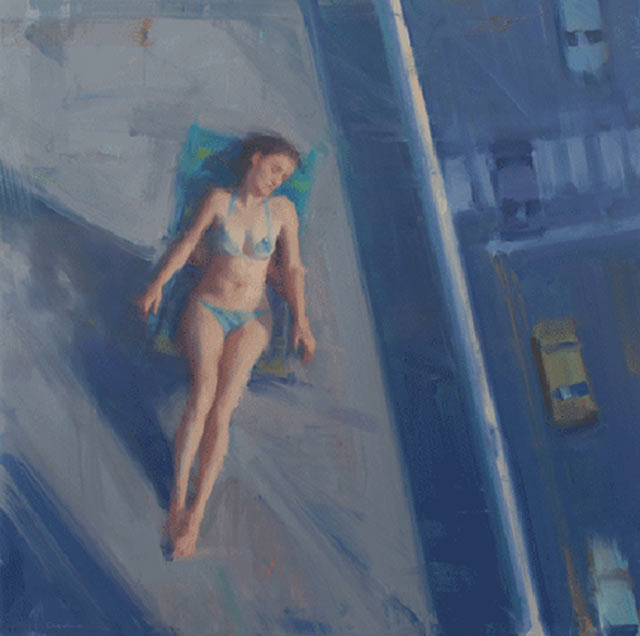 Roof Top 2007 Oil on Canvas 40 x 40 inches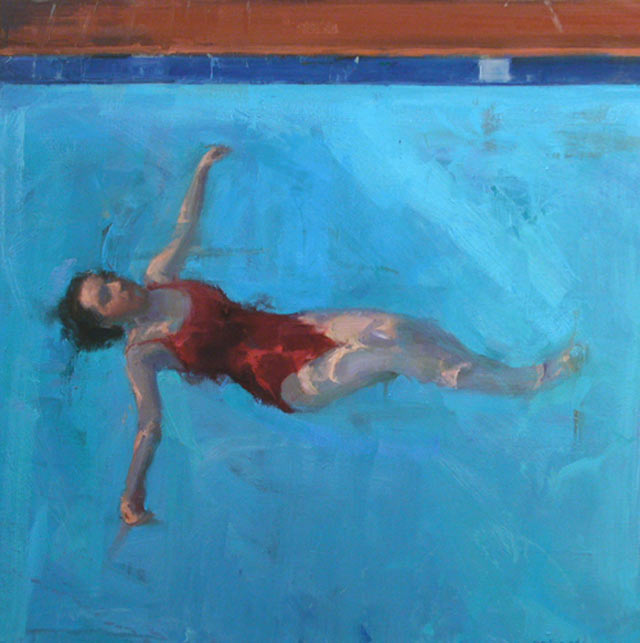 He studied at the Pennsylvania Academy of the Fine Arts, the University of Pennsylvania, Philadelphia, PA. and the Art Student's League in New York. He has had articles written about him in New American Paintings, American Artist Magazine, American Art Collector Magazine and Art New England.
David Shevlino has shown his paintings at the DFN Gallery in NY, Gross McCleaf Gallery in Philadelphia, and the George Billis Gallery in LA.
Here are a few more works of note.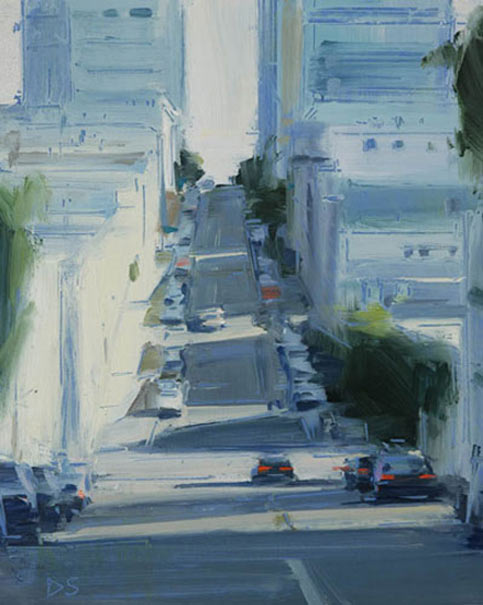 Uphill Oil on Canvas 10 x 8 inches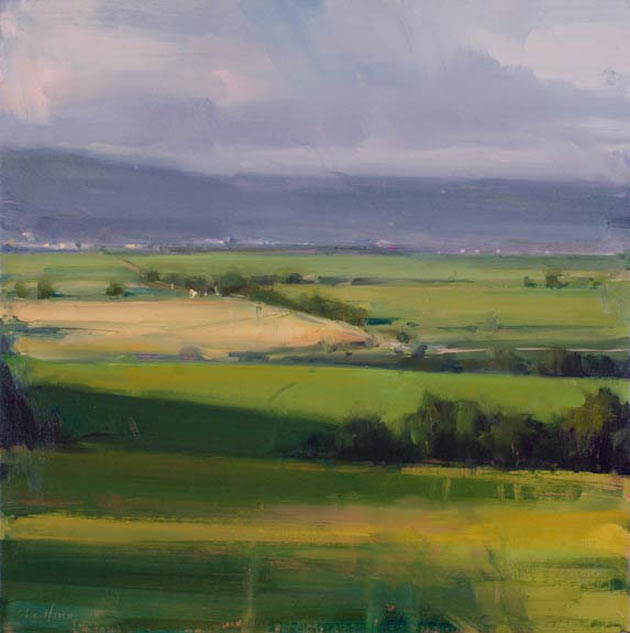 Distant Clouds Oil on Canvas 22 x 22 inches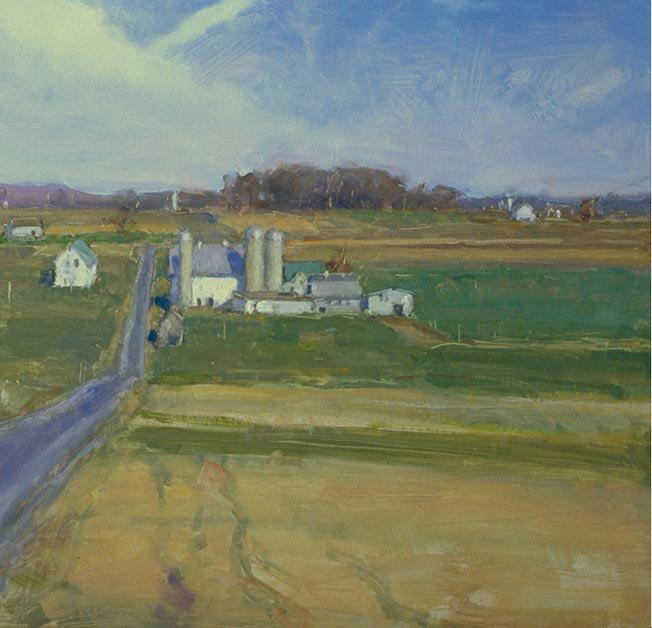 ---
Donate to Painting Perceptions
Donations to Painting Perceptions helps this site greatly, please consider your gift today.