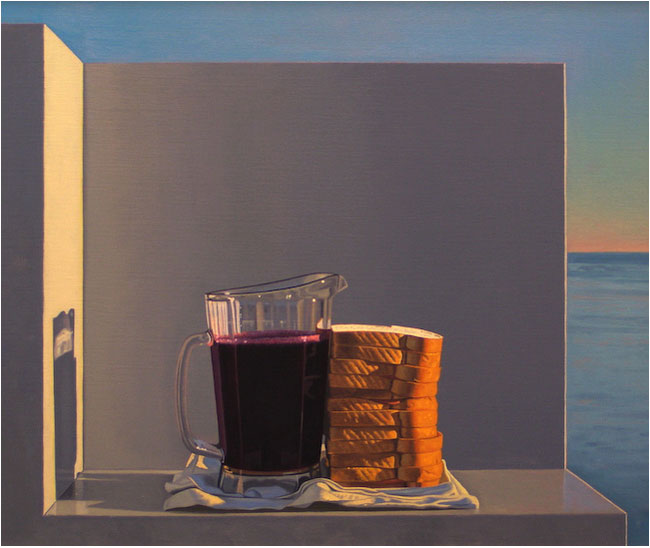 David Ligare Still Life with Grape Juice and Sandwiches (Xenia), 1994 | oil on canvas, 20 x 24 inches
Cezanne famously said something to the affect of his "wanting to bring Poussin back to life by way of nature." Richard Shiff discusses this in depth in his excellent book, " "Cezanne and the End of Impressionism: A Study of the Theory, Technique, and Critical Evaluation of Modern Art" He suggests that Cezanne followed Poussin's lead to create a classicism that is a "living" tradition and not regurgitation of lifeless academic dogma. Schiff talks about how both Poussin and Cezanne brought classicism back to life through their contact with nature.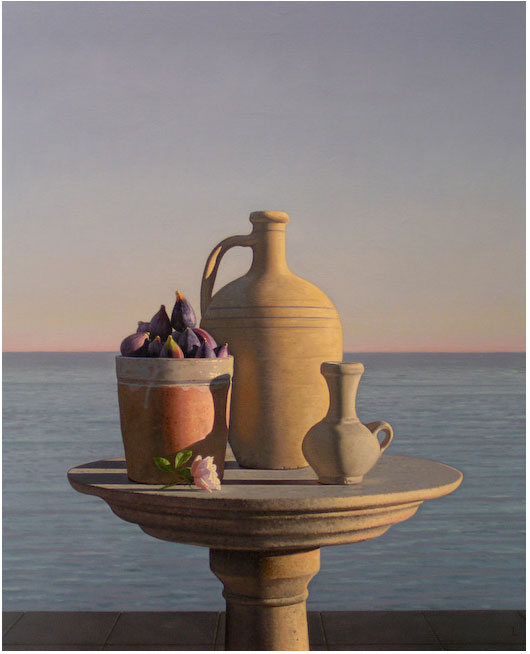 Still Life with Figs and Rose (Egyptian Style), 2007 | oil on canvas, 40 x 32 in.
David Ligare is unapologetic in his carrying forward the classical traditions in his work. However, unlike some neo-classical painters today Ligare's painting not only has a strong pulse but also a modern spirit and a compelling personal vision. Ligare says in a very interesting interview on his website " Personal expression and having a personal style are very important to many artists but I've been much more interested in how we see – what I call perceptual analysis…"
He had a number of thoughtful ideas in this interview, I don't have time to review this in depth I will mention that when asked about Plato's disdain of imitation he said: "That said, the artist who makes a critical reconstruction of reality is not necessarily deceiving the eye but instead revealing the nature of reality rather than reality itself. He or she is practicing the art of perceptual analysis – that is, looking carefully at something, analyzing why it looks the way that it does and then recreating it critically. And the key here is that we see what we know. Both art and nature are languages and, unless we understand their vocabularies, our knowledge of them is limited."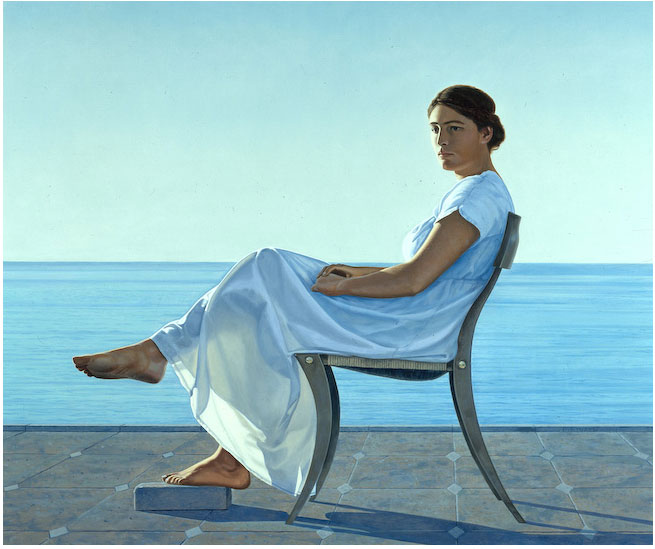 Penelope, 1980 | oil on canvas, 40 x 48 in.
David Ligare shows at the Hackett Freedman Gallery in San Francisco and the Koplin Del Rio Gallery in LA. A catalog of his work can purchased from the Hackett Freedman Gallery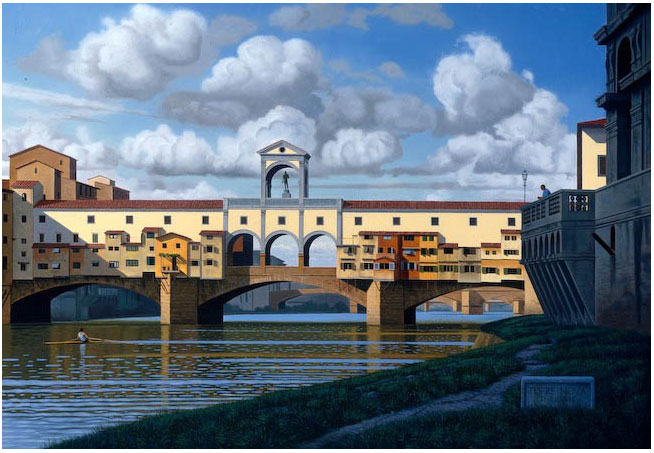 Ponte Vecchio/ Torre Nova, 1996 | oil on canvas, 40 x 58 in