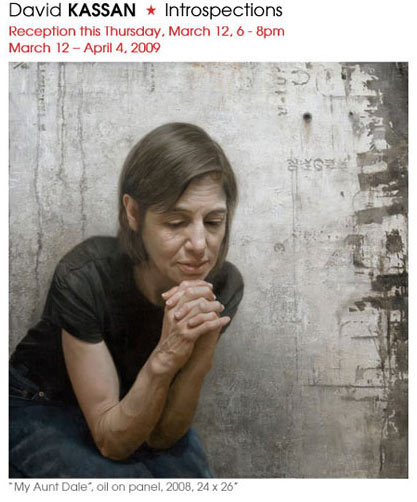 David Kassan's one-man show at the Gallery Henoch starts today, if you are in the New York area, these paintings are a must see. He paints the figure with a controlled sensitivity and a subtle painterly texture and layered paint surface. All his paintings are beyond amazing but my preference is the older, less overtly sensual models – like "My Aunt Dale". Maybe I am getting too old but I lose myself more easily in the emotional tone and marvel of the painting's construction without getting sidetracked by any erotic allure of attractive young women juxtaposed with abstract gritty textures and Franz Kline inspired backdrop.
I am lucky to have hung out with David a couple of times at a Goya show at the Frick Gallery and at a show of Alexi Worth at the DC Moore Gallery. I found him very outgoing, witty and personable sort who goes out of his way to help other painters. His web-savvy takes advantage of all the Web 2.0 tools to help
get his work and teaching. He keeps his blog updated with lots of posts, including video. I understand he has plans to make a DVD soon.
---
Donate to Painting Perceptions
Donations to Painting Perceptions helps this site greatly, please consider your gift today.