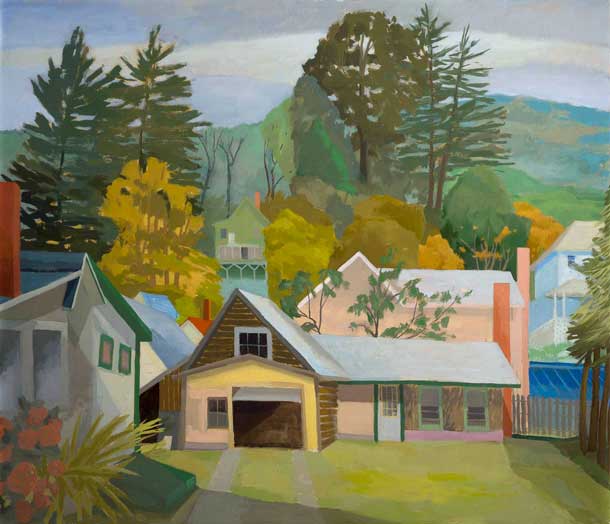 Celia Reisman Lebanon Hills Oil on canvas, 36 x 42", 2011
click here for a larger view
Celia Reisman is a painter who for many years has explored the suburban landscapes through memory and invention from scenes near where she lives as well as other places important to her. Celia recently had a solo show of her work in 2011 at the Paul Thiebaud Gallery, New York, NY as well as participating in the 2011 Pennsylvania Landscapes, Lancaster Museum of Art, and a recent group show at the Gross McCleaf Gallery American Landscape: Coast to Coast.
A press release from the Paul Thiebaud Gallery, New York states that:
"Reisman takes her inspiration from the overlooked and the ordinary. These scenes of green lawns, traditional houses and wooden gates develop from direct observation and preparatory recording, memory and Reisman's fascination with geometry and structure. They result in medium to large-scale paintings patchworked of almost flattened areas of color. Although rooted in places the artist herself has inhabited or visited — her Merion, Pennsylvania home; Taos, New Mexico; and Vermont — her renderings are not naturalistic; instead, they balance between realism and a dream-like world conceived in the mind of the artist. Distinguished by otherworldly light; unreal, lush hues, and an off-centered perspective, Reisman's neighborhoods and scenes take on a curious personality – one oddly quiet and devoid of figures though the human presence is tangible. This mysterious emptiness allows viewers to enter an illusionary space and invites the viewer's own narrative development."
Also from her gallery:
"Reisman received a BFA from Carnegie-Mellon University (1978) and an MFA from Yale School of Art (1971). She was the recipient of the prestigious Hassam, Speicher, Betts, and Symons Fund Purchase award from the American Academy of Arts and Letters in 2009. She long served as Assistant Professor of Art at Swarthmore College, and is currently a Visiting Critic at the Pennsylvania Academy of Fine Art in Philadelphia."
I would like to thank Celia Reisman again for being so generous with her time to share her thoughts with us in this email interview and for her providing larger images of her work here for viewing.
Larry Groff: What first made you decide to become a painter?
Celia Reisman: My interest was piqued at an early age. My junior high and high school in Cleveland Heights, Ohio had a very advanced art programs. It was a serious endeavor and many students before me went on to art school. There were three teachers who were very influential and supportive, encouraged me and helped me receive a National Scholastic Art Award which enabled me to attend Carnegie Mellon University. In addition, I went to Saturday morning art classes at the Cleveland Institute of Art so I was committed at an early age.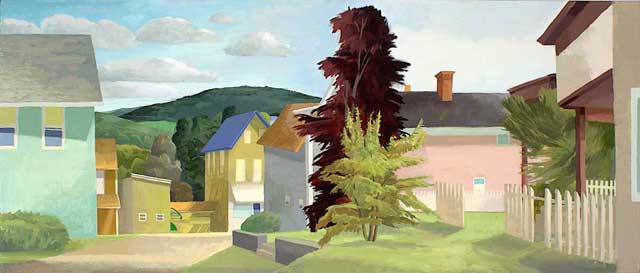 07 Lebanon Near and Far Oil on canvas, 20 x 48", 2009
Please Click for a Larger View (true with all of the images)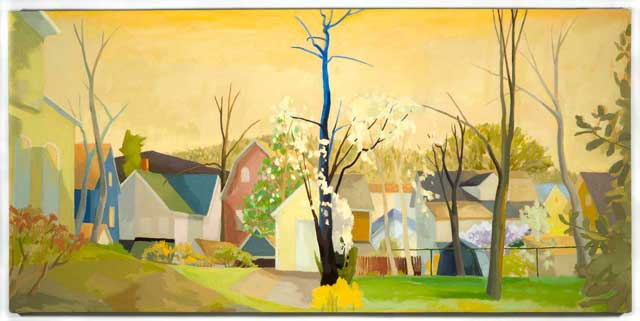 Haverford Houses Oil on canvas, 22 x 46", 2010-11
LG: Have you always painted representationally? Did you used to paint from direct observation or have you primarily painted from memory and imagination.
CR: I came to representation backwards; abstraction first and then direct observation. As a student at Carnegie Mellon University, where I went to undergraduate school, I was influenced by my professors who were abstract expressionists. I wanted to paint the figure and interiors but no one was working from direct observation so I made paintings that combined imagery with abstraction. Rather than using sources, I would invent and sometimes make quick sketches from life to use for paintings and prints.
In graduate school at Yale, where I was a printmaking major, I would draw from the figure and paint from direct observation. The process of looking was so captivating but I didn't know what to do with it, or how to make something personal from the process. I felt as if I was learning a new set of skills. Even though I had drawn for many years from the model, there was something quite different about painting from the model, still life or landscape.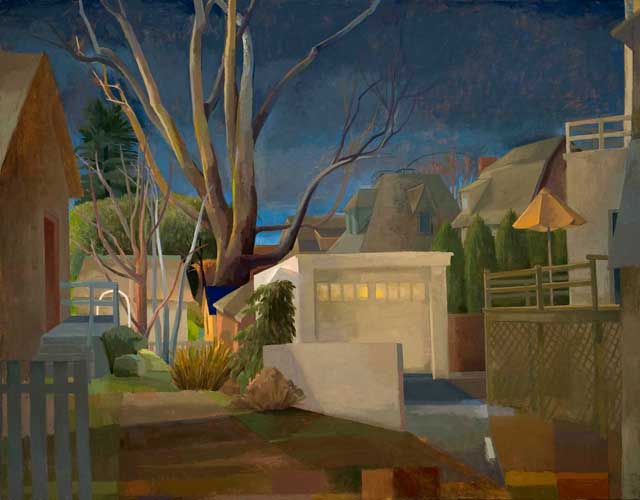 Night Oil on canvas, 44 x 57", 2008-09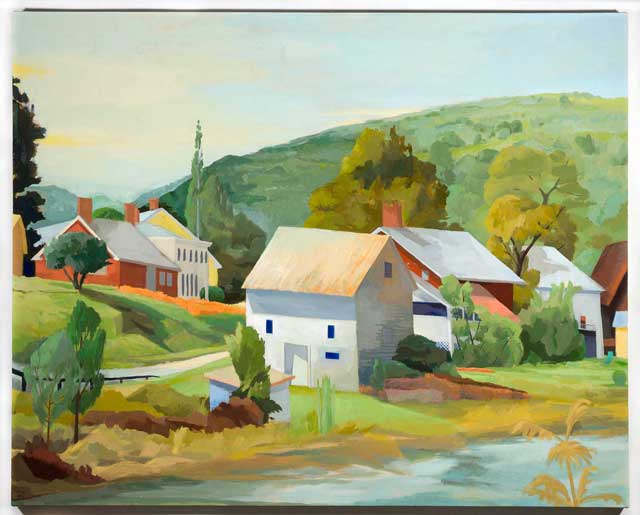 Tunbridge Facing South Oil on canvas, 40 x 50", 2010-11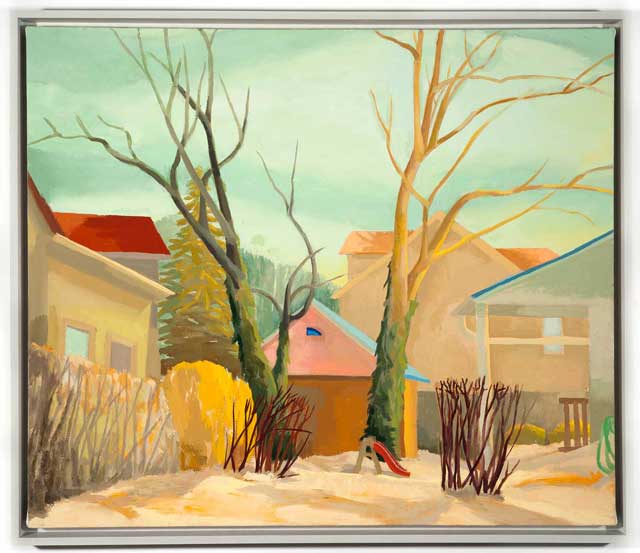 V Trees Oil on canvas, 24 x 28" , 2011
LG: How has your painting changed over the years?
CR: Funny but I feel that my painting has not changed enough over the years. For more than 20 years I have been working with the "suburban landscape". The subject still captivates me. The early paintings were small in scale using a limited palette. I also looked for ways to create a series; series of images such as patio umbrellas, a series of place by painting the same location, and a series of seasons making a group of fall paintings etc.
Slowly I began to increase the scale along with the complexity of the space. In the early work I would eliminate ground plane and sky. It was a way to deny the traditional components of a landscape and still work with the same forms. Now I am more interested in how to use distant space, find a way to enter into the paintings to create a greater sense of a specific location and imply a narrative.
My large paintings have always been complex with many distorted perspectives and that is still something that attracts me. The past several years I have been making small oil paintings of still lifes or interiors which feel like they are portions of a larger view. Sometimes they are studies for some of the larger pictures.
LG: Is there any one painter that's been the biggest influence on you?
CR: I love Bonnard for his pictorial structures and his ability to paint his own reality, finding his own language. I am always intrigued by his decisions. On the opposite spectrum is Stanley Spencer who paints in a very clean and precise style which feels akin to my way of working.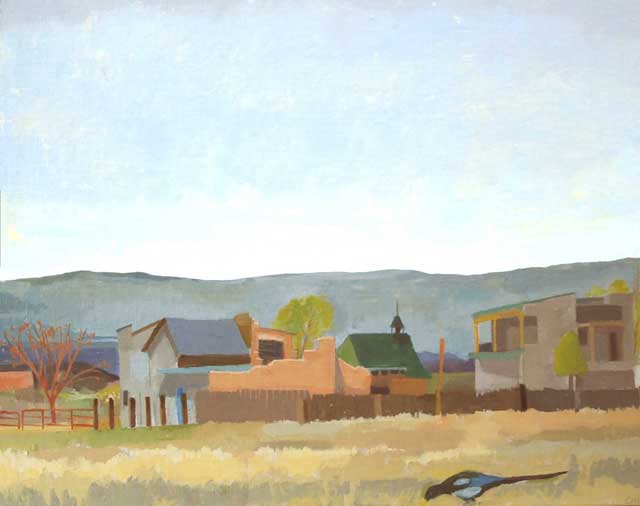 Arroyo Seco, Alan's View Oil on panel, 16 x 20", 2009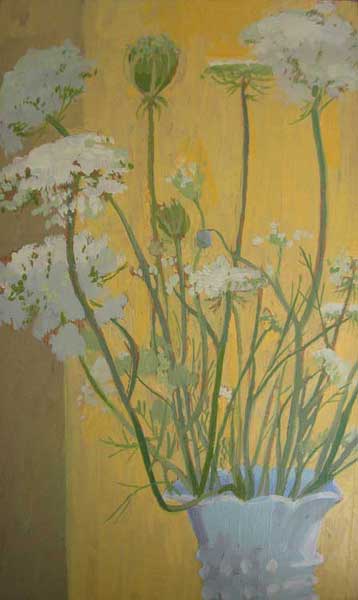 Queen Anne's Lace , Oil on silk panel, 10 x 6", 2010
LG: Can you tell us about your process in making your suburban landscape paintings?
CR: My paintings have primarily been based on drawings which are done from direct observation. From inside my car I find locations and work on a drawing, adding color notations. The drawings are a way for me to use what is in front of me to compose and construct by selecting parts of the landscape, eliminating others, shifting perspectives, exaggerating color. The drawings provide a clear memory of what interested me at the time and remind me of what I want to explore once I get to the studio.
The drawings are the only source for the studio work so invention, memory and an abstract concept become the guidelines to develop a painting. I think about color structure and organization for each painting and make small sketches that direct me.
Sometimes I will use an idea from a master painting and that will be a guide.
The drawings get scaled up. I try to keep the same proportions that exist in the drawing. Lately I am more instinctive, trusting myself and allowing the paintings to develop more organically rather than following the drawing too exactly.
LG: Do your paintings have roots in observed situations? How important is the actual place and does your connection and memories of these places significantly influence the final work?
CR: Every painting comes from a specific place. It's interesting to take people to the locations because there is very little that looks like my painting. Places are so complex and my editing process is so extreme that I eliminate so much from the location. My aim is certainly not to replicate but I want to communicate the feeling of visual excitement that I felt when I first laid eyes on a place. A simple blue shed may have struck me at the time and that becomes the impetus for a painting. Everything evolves around that blue shed and every decision gets made to support that visual sensation.
After a while the painting has its own issues and I need to find ways to make the paintings hold together and feel complete. How that comes about may have very little to do with the observed situation.
Really my painting is a combination of direct observation which gets filtered and then filtered again in the studio through invention so the process changes the images through my lens more than once.
LG: What excites you most about good painting?
CR: A good painting is a world unto itself. It holds a clarity and beauty of intention that feels totally connected. Sitting in front of a "good" or "great" painting means that things unfold slowly. The relationships between spaces, color, light, touch – all the elements that make up a visual image – are there to experience, analyze, and learn from. A good painting holds secrets that are revealed and can be used in one's own work. There is a quality of honesty and truth, poetry and sensibility that only that individual artist could make.
LG: What depresses you most about bad painting?
CR: I am not sure if I would say bad painting depresses me – I try to ignore paintings that I consider "bad". Of course, there are paintings that some artists and critics admire and I wonder why. They may be considered good in the eyes of some people but to me they hold no interest. If a painting doesn't appeal to me for a variety of reasons I may consider it bad but try to move on. Sometimes I think a painting is bad because the artist hasn't spent enough time "looking" at their own work. Other times, the artist is too interested in trends and can't find their own vision. Making a good painting is difficult and I like to think that anyone who paints is trying to make the best painting they can make. In the end we all have a sense of aesthetics and sometimes my aesthetic is so drastically different from another artist that I can't possibly identify or understand their sensibility.
****************************************************
I first ran across her work from her painting shown in the terrific 1993 book "The Artist as Native: Reinventing Regionalism" by the painter Alan Gussow (who also wrote "A Sense of Place") The painting "Once There Was" shown below was scanned from this book as well as this quote from part of her artist statement that was included in the book:
t is the suburban settings, the congestion and compactness of these altered landscapes, where I feel most able to imagine and transform the physical environment into another world. The combination of architecture (particularly of the past century) and its relationship to the land provides a constant array of choices that are open to interpretation. It is particularly the middle class areas that give me the most stimulation, possibly because personalities are not hidden and one can see the variety of choices people make to define themselves. The color of a building, the surrounding vegetation, the architectural changes all supply visual information. With this visual information, I then alter my own spaces in the painting. Scale shifts, altered perspectives, exaggerated color and dramatic light are all conditions that exist somewhat, somewhere, but then I create my own place from the facts that surround me and change fact to fiction.

I feel I am truly a native of the suburbs. Raised in the suburbs of Cleveland and now living in the outskirts of Philadelphia, I am surrounded by a certain life-style. Not only am' I familiar with the physical manifestations of these older neighborhoods, but there is an emotional component that I am connected to as well. There is a timeless quality to life-a calm, serene and secure feeling. But this can just be a facade. There is decay and deterioration of the older structures that reflects the fears, hopes and dreams of the people inside. All of this creates a mystery that I can use in my work. Maybe it is these dualities that keep me interested in these images. In truth, it is the connection that I feel to these places that gives me the inspiration and provides a vision that I do not feel in other places. My whole life I have been immersed in these places, and rather than fight them, I have embraced them and tried to bring meaning to them through my work.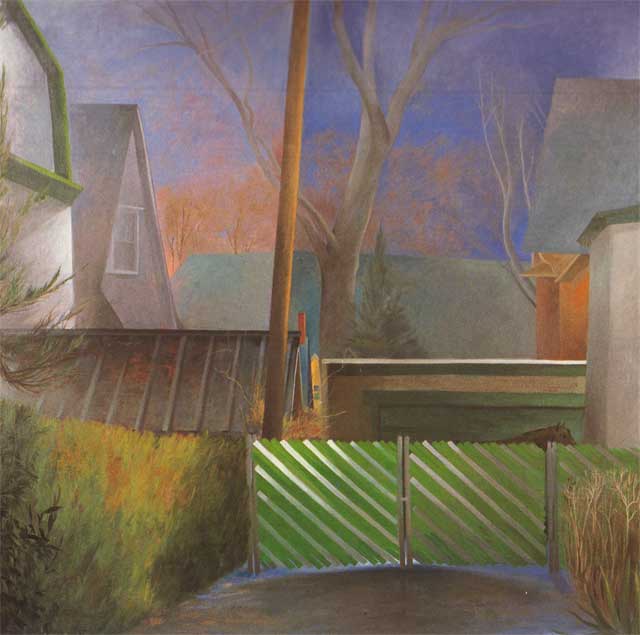 Once There Was Oil on Canvas 38 x 38 inches 1992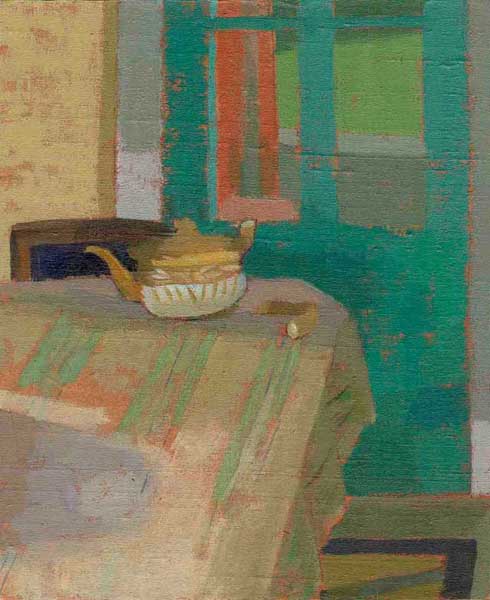 Broken Teapot , Oil on silk panel, 7 ¼ x 8", 2008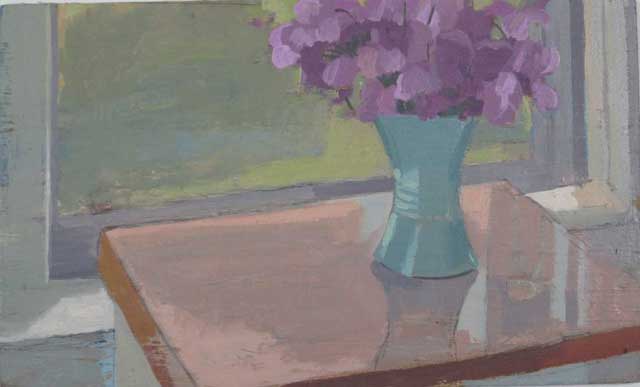 Sweet Peas , Oil on silk panel, 6 x 10", 2010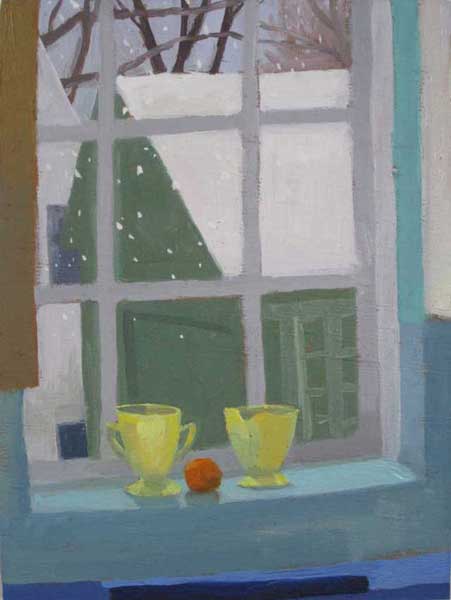 Orange and Winter , Oil on silk panel, 8 x 9", 2009