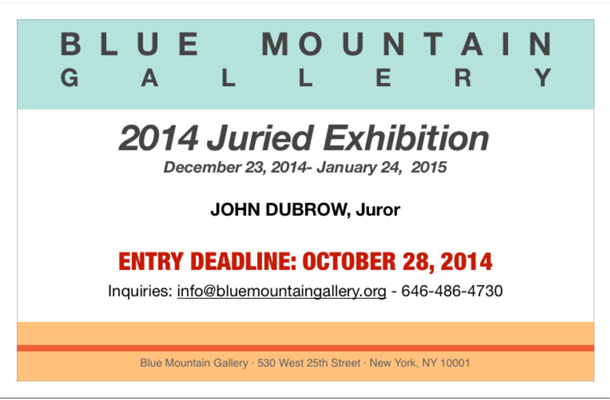 Blue Mountain Gallery recently send me an email to remind me that they are still accepting submissions for their 2014 annual juried exhibition with John Dubrow as Juror. The exhibition dates are December 23, 2014 – January 24, 2015 I decided to help them out by posting their press release below:
APPLICATION DEADLINE: OCTOBER 28, 2014
Blue Mountain Gallery accepts online submission only.
For more information, and to apply, please visit www.bluemountaingallery.org
DOWNLOAD PROSPECTUS: http://www.bluemountaingallery.org/2014-juried-exhibition/
BLUE MOUNTAIN GALLERY, founded in 1980, is located in the heart of New York City's Chelsea art district, and is sponsoring its second Annual Juried Exhibition in 2014-15. The gallery's exhibitions are frequently reviewed in both the New York and national press. Our invitationals are part of the gallery's outreach to the artist community. With this juried exhibition we are offering artists from across the United States, not only the opportunity to exhibit in an established New York gallery, but to have their work reviewed by John Dubrow, a renowned American painter.
JOHN DUBROW is a prominent contemporary American painter. As a member of the National Academy of Design, he has received numerous awards from the Academy. Dubrow has also been given a Pollock-Krasner Foundation grant and the American Academy of Arts and Letters award. His paintings have been seen in many exhibitions, including at the National Academy of Design, Salander-O'Reilly Galleries, Forum Gallery, and Lori Bookstein Fine Art, where he currently is represented. Recently he had a mid-career retrospective at the Demuth Museum in Lancaster, PA. His work is included in several major collections, including the Metropolitan Museum of Art, the National Academy of Design, and Harvard University. Dubrow has been making ambitious figurative paintings of New York scenes since 1983, and lives and works in NYC.
I am planning a new section for Painting Perceptions that will include listings of juried shows and competitions. Anyone who knows of any upcoming good juried shows or places to go to find this information please send it to me and I will post. ( larry@173.254.55.177 )
---
Donate to Painting Perceptions
Donations to Painting Perceptions helps this site greatly, please consider your gift today.