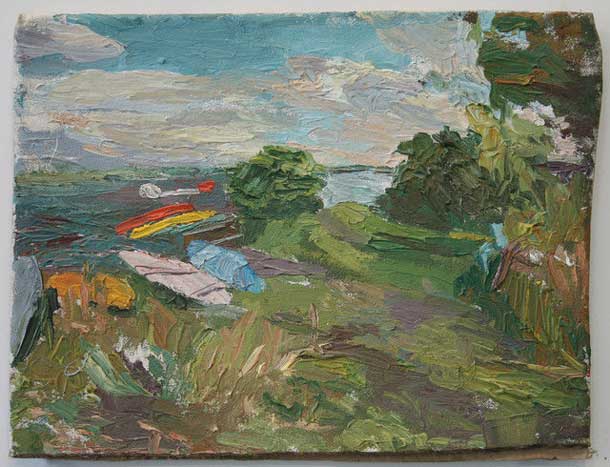 Stanley Lewis' current exhibition at the Betty Cunningham Gallery reaffirms his stature as a great landscape painter and goes beyond. I have been following Lewis' work for a few years now with greater and greater attention, and I was poised for several hours of demanding visual engagement with his remarkably obsessive, robustly structured images. And indeed the work continues to stagger me with its almost overwhelming scope of intent and rigor of execution. This time, however, though my feelings relative to Lewis' ever-impressive plastic virtuosity were, if anything, enhanced by his sheer honesty an biting devoutness to the motif, the exhibition was now breathing another, less pragmatic air, that of an inspired Faulknerian syntax of construction, and, most poignantly, a palpable sense of loss.
Lewis' paintings dictate a precise sense of light and harmonize mesmerizing scales of urgent descriptive content. One sees a weathered wall, a weed-raged field, a gleaming white 18-wheeler, a few beached rowboats, a fence, a house, telephone lines. As one explores further and further into these pastoral kaleidoscopes, one can never exhaust the multiple layers of densely packed details nor the broad range of mark-making used to describe them. They are fiercely won painted trophies of intimate spaces ravaged by Lewis' intrepid eye. The squared and multi-colored negative spaces that staccato a brick wall in Backyard Jeykll Island, GA (2014) or the white pointed red-stone pillars of Winslow Park, Westport (2010-2014) are truly delightful to discover and thrilling to visually digest. The deployment of details in the drawings is equally terrifying, be it the stacked crucifix of bricks that unites Family Group Based on Durer Woodprint (2012), the spanning rafters of Westport Train Station (2013) or the laced-to-infinity branches in the magnificent Hemlock Tress Seen from Upstairs Window in the Snow (2007-2014).
Of more interest, however, than Lewis' prowess in amassing these seething layers of details is the dynamics that he employs to exceed both the details and the marks themselves. In this respect, a parallel drawn to Faulkner might be ventured. Faulkner wraps the broader scope of his narrative into a labyrinth of language that entangles time and space, creating profoundly evocative studies of the human psyche. Time, space, narrator, characters, plot and theme often leap ahead, double back or splinter off, only to find themselves part of a breathtaking orchestration, resulting in some of the most poignant tales in American literature. In a similar way, Lewis knots and weaves his painted or drawn passages into the formal context of his subject: in part, by literally cutting and pasting, and in part by recklessly juxtaposing areas of dissimilar spatial orientations. The assembly results in a densely tactile, rich phrasing while maintaining a certain buoyancy of light and atmosphere. Lewis reaches for his own heights of interpretation- almost in spite of his steadfast observation of the motif.
In both the paintings and drawings, the constant presence of cut and pieced bits of painted description is indeed stimulating to the eye, and subsequently keep the large quiet areas of the image as alive as the more visually pregnant passages of lush, brisk detail. The sky and snowy foreground of Hemlock do not lose vitality against the weight and density of the tree. The sky in Boat on the Beach is likewise as present as the scraggly field in the foreground. Moving beyond such astounding rigor, Lewis proceeds to heighten the intrigue of his pictures by punctuating them with passages of contradictory space—almost as coherently, if not as sublimely—as Faulkner does his novels with time/narrator vacillations. In his Snopes trilogy, for example, the plot weaves through shifts in the time frame and is told from the viewpoint of three different characters, all building into a thousand-page edifice of astounding insight. Likewise, Lewis does not limit himself automatically to the same spatial construct in adjoining areas although each part adds up to achieve a coherent and convincing whole. On the contrary, sections of the paintings are seamlessly juxtaposed (or sometimes not-so-seamlessly!) that allow alternative readings of the space. Lewis' paintings/drawings are, in truth, syntheses of painted fragments, some of which are slightly out of tune with others and serve to syncopate the rhythm of the pictures and add to their rich meaning. Returning to those tightly observed pillars in Windsor Terrace, especially with the pillar on the right, the forms of the pillars become almost translucent and weightless as they blend into the road behind, becoming rippling stones in a blue-grey river of pavement. Other examples include the grey-violet boat on the left of Lake Chautauqua Boat Scene with Woman and Boy (2013) as it launches itself flatly against the picture plane, as opposed to the sculpted perspective of the other boats, or the windows of Backyard Jeykll Island, GA, that appear almost as small paintings hanging on the side of the house, or the erupting foreground of Matt Farnham's Farm with Truck (2014) that plays so well off of that miracle of a white truck. Lewis, like Faulkner, is able to bind all of the elements of his pictures together into highly cohesive images, with his language and narrative tending to follow a sometimes jolting and circuitous, ambitious route.
Of all the revelations and delights that this exhibition offers, the most enduring are triggered by the majestic drawing that opens the exhibition, Hemlock Trees Seen from Upstairs Window in the Snow. Studying its impossibly fathomed and mapped depths of marks, lines of another sort came rippling unexpectedly into my mind.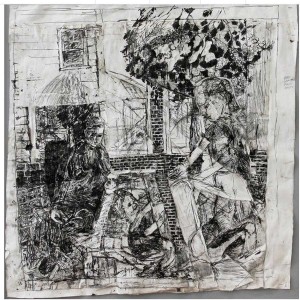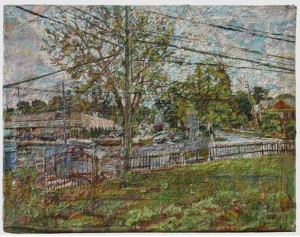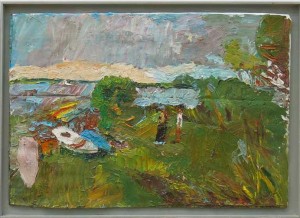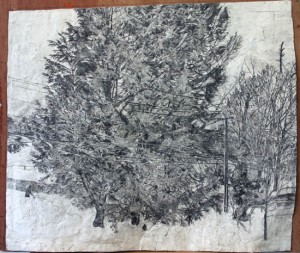 O plunge your hands in water,
Plunge them in up to the wrist;
Stare, stare in the basin
And wonder what you've missed.
What one is left with, in the end, upon truly contemplating and corresponding with Lewis' work, is a poignant sense of loss. Lewis' frantic quest for every detail and nuance, so desperate, so purposeful, unveils a broad sense of unease with capturing what he sees. The natural elements that he faces on the motif are so overwhelming that he must rip his work apart and reconstruct it after hours and hours of determined observation. Conversation with the artist is permeated with the difficulties faced by the painter in crossing the unbreachable threshold into true painting. This exhibition is often refreshed with such simply pronounced images as Late Eve Study of Boats (2013), Study for Big Painting (2013) and the joyful Woman and Boy by Lake (2013), but the weight of the major works—the drawings, again Hemlock and Trees and Family Group Based on Durer Woodprint (2012), and the paintings, Matt Farnham's Farm with Truck (2014) and Boat on the Beach, Lake Chautauqua (2013)—drive the exhibition and point to a state of pathos, the defeat of the hero at the hands of the gods. Lewis is a hero. His work grapples towards a comprehensive vision of nature that is truly rare and beautiful. And the most beautiful part of all is that he is so desperate to achieve what he has missed.
Stanley Lewis at Betty Cunningham Gallery, until October 25, 2014
---
Donate to Painting Perceptions
Donations to Painting Perceptions helps this site greatly, please consider your gift today.