(photo credit: Tommy Agriodimas / Downtown Alliance)
click here for larger image
I've long admired Diana Horowitz's paintings and I was thrilled to have the opportunity to speak with her on the phone and by email for this interview. I thank her greatly for the generosity of her time and thoughts for this interview.
Maureen Mullarkey wrote in February 2008 in the New York Sun:
"Diana Horowitz is a deeply appealing painter. She works within the tradition of open-air painting dear to artists from between the 17th and 19th centuries. Making gracious use of her antecedents, she balances the improvisational appeal of plein air against the demands of unromantic modern constructions."
The September 2011 issue of Artists Magazine a feature article by Judith Fairly states:
Diana Horowitz rode her bicycle to lower manhattan and painted views of the city from the observation deck on the 107th floor of the World Trade Center, first as a graduate student and later as part of a studio program. after the Twin Towers fell in 2001, she scouted around for a new location from which to paint and eventually landed on the 48th floor of the newly reconstructed 7 World Trade Center (WTC), where she has a 360- degree view of the city. "I've had an affinity for high vantage points for as long as I can remember," she says. "I think that's because of the way things become more abstracted."
This article examines Horowitz's work process in depth with many images and is a fascinating and informative read.
(entire article can be read from this link)
Diana Horowitz lives and teachs in NYC. Horowitz is represented by Hirschl & Adler Modern, New York City. Horowitz received a BFA from the State University of New York at Purchase College and her MFA from Brooklyn College. She is an Adjunct Associate Professor of Painting at Brooklyn College and has taught painting and drawing at the School of the Art Institute of Chicago, Tyler School of Art in Rome as well as teaching at many visiting artist venues. Horowitz is the recipient of many prestigious awards and residencies including being elected member of the National Academy, a Pollock-Krasner Foundation Grant, and residency at Yaddo and the MacDowell Colony. She has been featured in numerous solo and group exhibitions across the country since 1985 and is included in the collection of the Brooklyn Museum of Art, the New-York Historical Society and the Museum of the City of New York, among others.
Diana Horowitz is participating in two group landscape shows, one at the Staten Island Museum in fall 2014, and one at Adelphi University in Long Island, NY December 6th through January 10, 2014.
Larry Groff: I'm curious about some of your early influences as a painter. Your mother is a painter, who makes abstracted landscapes of Cape Cod and studied with Hans Hofman and at Cooper Union School of Art in NYC. You also grew up in the Westbeth Artist Coop in NYC's Greenwich Village where you likely came into contact with numerous influential personalities. Any interesting stories about how your early years shaped who you are today?
Diana Horowitz: I feel very lucky to have grown up in such an unusually artistic environment. Most of my parents' friends were painters and we always seemed to be around other artists, not only in New York, but during the summers that I spent in Provincetown as well.
One of my early influences was a family friend named Arthur Cohen, who died just last year. He was a perceptual painter who studied with Edwin Dickinson. His work is not very well-known now, but he was a marvelous and sensitive painter with a beautiful sense of color and touch. I own quite a few of his paintings and I still love them. He gave me a lot of support. Other early influences were Selina Trieff and Robert Henry.
I definitely learned a number of early lessons from this exposure. One lesson was that rejection is a big part of the life of a painter and that it is important to not let it get to you. Second, I saw how the green monster of jealousy can be a destructive force. And third, I saw friends of my parents who never sold a painting in their lives and then at age 65 suddenly had a big career — as well as the reverse. It made me aware of how important the long view is.
Also, I was exposed very early to many different types of work so I took a certain amount of pluralism for granted. The majority of the artists I encountered were color-field painters, hard edge abstractionists, conceptual artists, and abstract expressionists. There were fantastic figurative painters as well, but they were people like Bob Thompson, Bob Beauchamp, and Jan Mueller all of whom I think would be considered more expressionist. It was less common for me to encounter painters interested in perceptual painting, so I started out with a pretty snotty attitude about representational painting.
When I became interested in "realism" I felt a little like a black sheep. So many of the artists I knew as a young girl were people who had studied with Hans Hofman — nearly all of my parents' friends. But looking back I am amazed by the number and variety of artists I knew, and how deep the bench was, Hans Haake, Diane Arbus, Mary Frank, Elizabeth Murray, Pat Lasch, Nassos Daphnis, Anne Tabachnik, Robert DeNiro Sr., Nicolas Carone. Now, it's true that I encountered half of these people through my active babysitting services and a lot of this contact was wasted on me. I realized 20 years later who Hans Haacke was after years of babysitting for his kids as well as Elizabeth Murray's son (that was when I was 12 and it was only once or twice). I learned that Diane Arbus came to my house to look at my brothers to photograph although apparently they didn't fit her needs (way too cute) but she spent a lot of time photographing another friend of mine. I also babysat for Milton Avery's grandson in a house filled with his paintings way before I could really appreciate his work.
One embarrassing story I have was when I was in college my boyfriend worked for Frank Stella in his shop and he gave me a signed original silk screened Frank Stella t shirt that was a very limited edition. It was actually really beautiful. I was such an idiot that I wore it to painting class to impress my teacher Robert Swain a color field painter and got it covered in paint. I'm sure he was impressed with what an ass I was.
The ViewFinder
Rackstraw Downes Videos
Rackstraw Downes discusses his approach and philosophies involved in his outdoor...
---
The Perfect Squint: The Teaching Legacy of Edwin Dickinson – video lecture by John Leavey
Fascinating presentation explaining Edwin Dickinson's approach to teaching...
---
Read more posts from The ViewFinder
Sounding Technical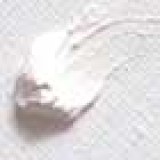 The Great Lead White Shortage
Who took the lead out? Painters who use some form of lead white are now noticing...
---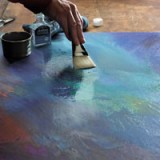 Thoughts on Varnishing
This is the first article for the new section on materials and technique, "Sounding...
---
Read more posts from Sounding Technical
Featured Interviews
Interview with Diana Horowitz
(photo credit: Tommy Agriodimas / Downtown Alliance) click here for larger image I've long admired Diana Horowitz's paintings and I was thrilled to have the opportunity to speak with her on the phone and by email for this interview. I thank her greatly for the generosity of her time and thoughts for this interview. Maureen Mullarkey wrote... [Read more of this review]
---
Seeing Along the Periphery, Getting at the Essence
Photo credit: Jason Houston click here for larger view  A'Dora Phillips interviews Lennart Anderson in Collaboration with Brian Schumacher Lennart Anderson on painting from life with central vision blindness; what vision loss has taught him about painting; art school; creativity; genius; influence; not fitting in; and hunkering down. The perceptual... [Read more of this review]
---
Interview with Michael Tompkins
Barge for an Evening Bird, (DETAIL) 9 3/4 x 81 7/8 inches, 2010, oil on wood panel Please note: several images in this interview link to a "zoomify" viewer where clicking the image allows you to zoom and pan, much the same way one uses google maps. You also have the ability to enlarge the viewing area to fill the browser window with button... [Read more of this review]
---
Interview with John Dubrow
John Dubrow in his studio Interview with John Dubrow by Xico Greenwald John Dubrow has been making ambitious figurative paintings of New York City scenes since he moved to Brooklyn in the mid-1980s. His light-filled canvases are often years in the making—ragged, impastoed surfaces the result of the high standard Dubrow holds himself to.... [Read more of this review]
---
Interview with Lucy MacGillis
Lucy MacGillis Astoncolle II 50 x60 inches Oil on canvas 2010 click here for a larger view Lucy MacGillis is a painter who has been living in Italy since her graduation from the University of Pennsylvania in 2000. Her paintings are represented in private and corporate collections internationally. She shows her work at a variety of venues in Europe... [Read more of this review]
---
Interview with Sigal Tsabari
Sigal Tsabari , Hidden, 102.5x 102cm 2008-10 oil on canvas click here for a much larger view (true for most all images) This past summer, in Civita Castellana, Italy, I was fortunate to meet Sigal Tsabari and to watch her slide talk about her work. I was very pleased this summer when she agreed to an interview for Painting Perceptions. I... [Read more of this review]
---
Read more posts from Featured Interviews