I was fortunate to talk with Gina Werfel recently over Skype and interview her where she lives in Davis, near Sacramento,CA. I've long been enchanted by her paintings and was excited to get a chance to talk about her life as a painter and her concerns involving moving from being an outdoor landscape painter for many years to her current studio based abstract painting.
The writer Dewitt Cheng reviewed her 2012 show at the Alex Bult Gallery saying:

"Gina Werfel, a New York painter relocated to the rural Sacramento area to teach at UC Davis, has changed in recent years from making plein-air landscapes to exploring abstract, ambiguous fields of colored plasma, "fragments floating in a fluid space." In the new abstractions, Werfel synthesizes shapes and colors remembered from her earlier work, motifs from daily life (including the studio), and the pentimenti, i.e., repentances, "the ghosts of previous decisions," that accrue during painting and repainting." "…Werfel's new abstractions may have abandoned the window on the world for subjectivity and improvisation, but a feeling of landscape lingers in her "organic" palette and the forms evoked by her linear accents."
I would like to again thank Gina for taking the time to speak with me at length about her work and concerns as an artist.
Gina Werfel has shown widely including the Adler and Co Gallery, San Francisco, Prince Street Gallery, New York, NY, Alex Bult Gallery, Sacramento, CA, Jane Deering Gallery, Santa Barbara, CA and many others. She is a Professor of Art at the University of California-Davis, Davis, CA
Larry Groff: What were some of your most important early influences that lead you to decide to be a painter?
Gina Werfel: I had always been interested in art growing up, every free minute I had was spent drawing or painting. My father died when I was very young and my mother, who never finished college, raised me. She too was interested in art as a child but her mother wouldn't let her go to Pratt, which was her life's dream. My mother was very supportive of me in pursuing my interest in art.
I grew up on Long Island where a family friend, a graphic designer with his own business, encouraged me to make art. I became very close to the painter Eli Friedensohn at Kirkland College (now incorporated with Hamilton College). He became a role model for me of a life as a painter.
I decided to design my own semester abroad in Italy with the help of Eli, who had received a Fulbright in Italy. The following summer, I went to the Boston University Summer Program at Tanglewood where I met Jim Weeks, a Bay Area figurative painter. These intersections with important artists helped me formulate my life as a painter. Elias Friedensohn also suggested I attend the New York Studio School (NYSS).
I started out at the NYSS studying with Gretna Campbell, Leland Bell and Esteban Vicente. Gretna was very supportive but I connected more with Mercedes Matter and transferred to her drawing class. Mercedes was one in a series of pivotal mentors. I had found my community of peers. This was what I wanted to do, to be around other artists, look at great art, to live and breathe painting and drawing.
LG: What in particular have you've learned from them that has the most relevance to your current work?
GW: Leland Bell taught me to look for color in the most neutral tonal situations, such as painting from the model. Mercedes was my main inspiration, teaching me about spatial connections and how to move from figuration to abstraction. Andrew Forge introduced me to British painters  and a more conceptual approach to making art. I always remembered his quote from Degas, "Painting is not an outdoor sport" when I was feeling limited by plein-air painting.
LG: You helped run The NYSS summer program in Paris, how did that come about?
GW: Mercedes Matter had a reputation of ignoring women. I had a very different experience, she was an amazing presence for me. Her spirit of not saying no to anything was similar to mine. I remember painting late one night in spring of 1974 and getting together with Mercedes for a late dinner. The Studio School then had a Paris summer program and I asked Mercedes" Why don't you let us run the Studio School in Paris this summer?" I was 23 at the time and I had just started dating my future husband. She said, "Great idea!" She paid for my airfare and we found a cheap place to live and we ran the program for two summers. Elaine de Kooning was there as well as George Spaventa, Nick Carone and Wayne Thiebaud. We also took the students out to meet Joan Mitchell at her home near Giverny.
LG: Did you have Louis Finkelstein as a teacher at the NYSS back then?
GW: Louis Finkelstein was an influence on me as well. Mercedes would bring him in occasionally. He once did a close reading of the philosopher Albert North Whitehead's Process and Reality and because it was such a dense book there were maybe four of us who are brave enough to read it together just a few pages once a week sitting on the library floor with Louis. It's interesting, after I left the school, Louis and Gretna became bigger influences on me.
During those two summers at the Studio School in Paris is when I started painting outdoors. I was also influenced at that time by my future husband, Hearne Pardee, who introduced me to plein-air painting. Once landscape painting became a big part of my practice, that's when Gretna and Louis became more important to me. One of the things that wasn't that clear to me while at the Studio School was how perceptual painting and drawing could ultimately lead to abstraction in my own work. I think what I admired in Louis' paintings was that he worked in a place between representation and abstraction. Louis was also important to me because of his intellectual interests.  The dense analysis that Louis brought to the Studio School was very important to me.
Another significant influence was Andrew Forge, who became the Dean while I was still at the NYSS.  Andrew published a lot as a scholar and critic but was a very committed painter.  He was very different from anyone else at the school; he talked about a whole host of British artists that I had never heard of before, like Frank Auerbach and Leon Kossoff. He had studied with William Coldstream I believe.  His was a more intellectual approach to painting than I have been used to at the Studio School.
LG: I don't know if we hear as much about Louis and Gretna in the art world these days.
GW: It's too bad they're not better known. I think Gretna still has a following and Tibor de Nagy Gallery represents her estate. We rented their place on Cranberry Island in Maine for a summer.  It was great to paint where Gretna had painted for so many years.
LG: You painted the landscape from observation for many years. Can you tell us something about that and how you've changed after moving to California and since 2008 have concentrated on painting abstractly?
GW: Back in the late seventies I got a grant for a residency at the Bear Mountain State Park. Alan Gussow, a painter, had set up an artist-in-residence program in the National Park System called the "Artist in the Environment". For Bear Mountain, he chose 5 artists whose practices were quite diverse but we were all using the natural world as a resource–Melissa Meyer, Ned Smyth, Ursula von Rydingsvard, Rachel Bas-Cohain, David Grubb. David and I were the only  observational painters. I had been feeling frustrated with painting the city, where the architectural forms seemed to inhibit my brush marks and gesture. I thought going to Bear Mountain would offer great views but it was totally green and enclosed.  I started hiking into the woods to paint rocky stream beds in which I started to lose the horizon line. A few years later, when I interviewed for a teaching job at Vassar, an art historian said "Oh, Lennart Anderson calls you the woods painter". Lennart was struck that I didn't have a horizon in my woods paintings.
The location of my teaching jobs has influenced the kinds of landscape that I paint.  While we were still in New York I was obsessed with painting in the woods, whether it was right across the river in New Jersey or hiking in Bear Mountain. When we moved to Maine I thought there would be tons of woods motifs,  but there were none. Paper companies owned all the woods and much of my surroundings was young growth. I begin painting traditional landscapes but then every summer I started going out to paint on different islands.  I realized that I didn't like bright sunny weather; I wanted a kind of unity that comes with grey light and/or fog.
Throughout my four moves for teaching positions, water became more important to me.  My growing up in Long Island as well as living in Maine made the ocean a very important subject, with my paintings incorporating tidal shifts and weather patterns.  When I was recruited to Virginia and later to Connecticut where both places tended to be very overgrown, I painted still water ponds. After being recruited to teach here at the University of California at Davis I thought I could finally get back to painting water and hilly scenes again but once I arrived here I was shocked by how flat everything is, Kansas flat! I became very uncertain about what to paint. Eventually, I found the bald hills near Vacaville, where I painted for the next five years.
LG: Really I've thought the area around UC Davis was like what we see in Wayne Thiebaud's paintings of the Sacramento River Valley.
GW: It is like that but he's painting them from an overhead perspective. Anyway, for the next five years I would commute out to these  hills, especially when they turned yellow – I loved them. Californians would always suggest that since I was a landscape painter I should paint these hills when they're green! I'd tell them I hate green, I don't want to paint green hills.
The ViewFinder
Planning to return to the JSS in Civita this summer
Corot's view of Civita from Terrano I recently decided return to Civita Castellana...
---
Apollo and Dionysus in the Representational Painting Family Feud
by Elana Hagler This essay explores the subconscious impulses behind aesthetic choice...
---
Tour of Lucian Freud's studio
British TV's Channel Four's exclusive tour of Lucian Freud's studio...
---
August 2009 video interview with Antonio López García
August 2009 video interview with Antonio López García with subtitled english translation...
---
Read more posts from The ViewFinder
Sounding Technical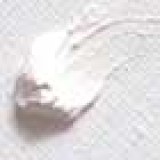 The Great Lead White Shortage
Who took the lead out? Painters who use some form of lead white are now noticing...
---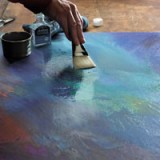 Thoughts on Varnishing
This is the first article for the new section on materials and technique, "Sounding...
---
Read more posts from Sounding Technical
Featured Interviews
Interview with Gina Werfel
Twisted, 2015 30 x 22 acrylic and mixed media I was fortunate to talk with Read More →
---
Interview with Alan Feltus
Alan Feltus, Self-Portrait in Studio, 2012, 15 3/4 X 15 3/4 in images courtesy of Forum Gallery, NY This past summer Alan Feltus and his wife Lani Irwin graciously invited me to visit in Italy at their marvelously restored stone farmhouse with an adjacent studio converted from a barn. Their property, where they've lived since 1987, is surrounding... [Read more of this review]
---
Interview with Lani Irwin
Lani Irwin, Memento, 2015, 70 x 60 cm, oil on linen I was extremely fortunate to be invited to Lani Irwin's home and studio near the Umbrian town of Assisi this summer. Ms. Irwin graciously agreed to an email interview in which she talks about her paintings, process and thoughts on art making. I can't begin to thank Ms. Irwin enough, not only... [Read more of this review]
---
Conversation with Jane Culp
Slanted Rockpile, 20 x 24 oil on board This past spring the painter Jane Culp invited Celia Reisman and I to visit her home and studio complex in the Anza Borrego desert area about an hour and a half from our home San Diego. Ms. Culp bought a large expanse of property here in 2000 and eventually built her studio and strawbale adobe home which looks... [Read more of this review]
---
Celia Reisman – California Paintings
Bess's Roofs, Oil on canvas 26 x 32 inches 2014 Celia Reisman currently has a solo show at the Paul Thiebaud Gallery in San Francisco up until June 13. I had the pleasure of interviewing Celia Reisman back in 2011. A year or so ago Celia contacted me again to ask about what living in San Diego was like and any suggestions I might have to help... [Read more of this review]
---
Interview with Julian Kreimer
In February 2015 I had the pleasure to sit down and talk at length with the painter Julian Kreimer while he was the artist in month long residence at the Lux Institute here in San Diego. He took time out from his busy painting schedule of making one painting each day, many works done from observation of the surrounding coastal chaparral and nearby... [Read more of this review]
---
Conversation with Langdon Quin
photo credit: Tobias Feltus Langdon Quin, a highly respected painter living in both Italy and upstate New York is having an exhibition of recent landscapes at The Painting Center from March 31–April 25, 2015. Quin has exhibited widely, both nationally and internationally. Since receiving his MFA in Painting from Yale University in 1976. He is the... [Read more of this review]
---
Conversation with Lois Dodd
Lois Dodd, Photo by Joe Ward Lois Dodd has been painting her everyday surroundings for sixty years. Her current exhibition, from February 26 through April 4, 2015 at the Alexandre Gallery in NYC shows twenty-four recent small-scaled paintings that depict familiar motifs such as gardens, houses, interiors and views from windows. Dodd, now eighty-seven,... [Read more of this review]
---
Interview with Elizabeth O'Reilly
Elizabeth O'Reilly, Black House, Blairstown, Oil on Panel, 6 X 12 inches 2014 image courtesy of the George Billis Gallery I am very pleased to have had the opportunity to interview Elizabeth O'Reilly by video skype and email and would like to thank Elizabeth for her generosity with her time and energies with this interview. Elizabeth O'Reilly... [Read more of this review]
---
Conversation with Margaret McCann
Margaret McCann, Gazing Globe, 2014 20 x 20 inches oil on linen This past August I was fortunate to meet with Margaret McCann in her studio in NYC for an interview. My good friend and fellow painter, Matthew Mattingly, joined the conversation with many brilliant observations and comments. Larry Groff:  Thank you, Margaret, for talking with us about... [Read more of this review]
---
Interview with Ann Gale
by Larry Groff Ann Gale, Portrait with Orange Scarf, 14 x 11" oil on linen wrapped Masonite, 2014 image courtesy of the artist I am honored that Ann Gale agreed to this telephone interview and thank her greatly for being so generous with her time and attention with sharing thoughts about her art and process. Ann Gale is a leading American figurative... [Read more of this review]
---
Interview with Kyle Staver
Thaddeus Radell wrote in his review of the 2013 Kyle Staver Tibor de Nagy Gallery show: …"Staver is a brilliant inventor whose success lies in her commitment to her inner vision that is at once original and sophisticated and she is remarkably adept at rendering that vision into cohesive luminous constructs. From a broad, almost confused spectrum... [Read more of this review]
---
Intuition and Intention: An Interview with Elizabeth Wilson
by Elana Hagler Elizabeth Wilson, Sunset, Greenport II, oil on panel, 24 x 24, 2012 – 2014 Elizabeth Wilson is a painter living and working in Philadelphia and will be having a show of recent work at the Rosenfeld Gallery in Philadelphia from November 2nd through November 23rd. First studying at the Corcoran School of Art in Washington, D.C.,... [Read more of this review]
---
Conversation with Lennart Anderson
Introduction by Susan Jane Walp I met Lennart Anderson during the summer of 1968. I was an undergraduate student at Mount Holyoke College, attending a summer program run by Boston University at Tanglewood, and Lennart was the painting instructor. We painted from the model, and Lennart painted along with us. Later he expressed some guilt over being... [Read more of this review]
---
Interview with Anne Harris
by Tina Engels Anne Harris, Head Study, 2013 I visited the studio of Anne Harris and had a peek at the some of her new paintings and a glimpse of some drawings that did not make the cut for her last exhibition. We discussed her process as she pushes further and deeper into what she feels is true in her painting, excavating and digging into the various... [Read more of this review]
---
Legacy and Self-Determination: An Interview with Alexandra Tyng
by Elana Hagler The Porcupines From Cadillac, oil on linen, 28″ x 42″ Alexandra Tyng is a painter who lives and works in Philadelphia. She has a B.A. in Art History from Harvard and an M.S. in Education from the University of Pennsylvania. In terms of her painting education, she is mostly self-taught, having examined the work of the old... [Read more of this review]
---
Interview with Duane Keiser
Duane Keiser, "Self Portrait in an iPhone, 9/10/2011″ oil/paper, 6″x5" Duane Keiser is perhaps best known as the leading pioneer in the trend of painters selling work online. He is not only a fabulous painter who has sold work in major NYC galleries but continues to be a leading figure "in democratizing the art world, using... [Read more of this review]
---
Interview with Vincent Desiderio
Vincent Desiderio, Hitchcock's Hands, 2012 oil and mixed media on canvas 64 x 66 inches (Courtesy of the artist and the Marlborough Gallery) Vincent Desiderio is widely considered to be among America's most preeminent living painters. He is currently having his eighth one-man exhibition of new work at the Marlborough Gallery 40 West 57th... [Read more of this review]
---
Interview with Diana Horowitz
(photo credit: Tommy Agriodimas / Downtown Alliance) click here for larger image I've long admired Diana Horowitz's paintings and I was thrilled to have the opportunity to speak with her on the phone and by email for this interview. I thank her greatly for the generosity of her time and thoughts for this interview. Maureen Mullarkey wrote... [Read more of this review]
---
Seeing Along the Periphery, Getting at the Essence
Photo credit: Jason Houston click here for larger view  A'Dora Phillips interviews Lennart Anderson in Collaboration with Brian Schumacher Lennart Anderson on painting from life with central vision blindness; what vision loss has taught him about painting; art school; creativity; genius; influence; not fitting in; and hunkering down. The perceptual... [Read more of this review]
---
Read more posts from Featured Interviews