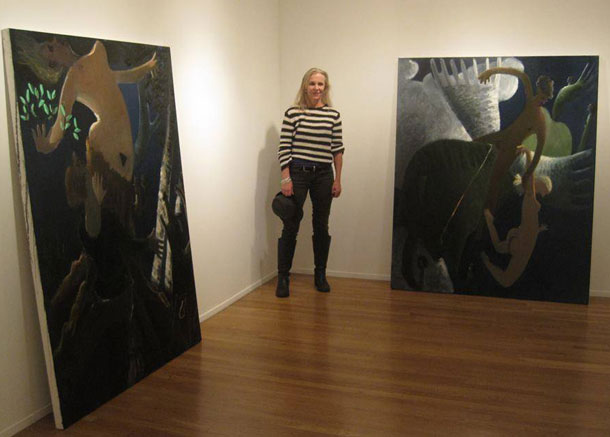 Thaddeus Radell wrote in his review of the 2013 Kyle Staver Tibor de Nagy Gallery show:
…"Staver is a brilliant inventor whose success lies in her commitment to her inner vision that is at once original and sophisticated and she is remarkably adept at rendering that vision into cohesive luminous constructs. From a broad, almost confused spectrum of diverse shapes and shielded color, she synthesizes clarity. And so she transforms the modest room allotted her into a theater of sorts, where the viewer can expand their own imagination by feeding into her ever-ebullient, seriously odd vision."
I was fortunate to meet Kyle Staver recently and interview her at her home and studio in Brooklyn, NY. I've long been enchanted by her paintings and was excited to finally be able to see her work in person. I would like to again thank Kyle for taking the time to speak with me at length about her work and concerns as an artist.
I told her how much I marveled over her incredible compositions but it wasn't just the formal beauty I responded to; it's also the humanistic dimensions–I feel empathy with her characters and storytelling, that this was a refreshing reprieve from the grimmer examples of postmodernist nihilism and irony. She responded that it was critical that her paintings:
"communicate what it's like to be a human being for Kyle Staver" and that "The humane part of painting for me, It's just that I'm not a jerk." She then went on to say that "It's so much easier to say I hate you than it is to say I love you, there is nothing risked in saying fuck you, nothing; but everything is risked if you say I love you and mean it." When I paint, I'm always trying to not pitch, if I have two figures close together and it's romantic I want to hold it and give it teeth. I'm not against irony, I'm against a kind of ironic delivery system that only delivers the fuck you. If I made romantic paintings without the pull in the other direction, and I think that's why a a painting needs irony, to keep the painting taut. I don't want to be a sentimental painter or have the paintings be flabby. I think that the irony is the pull in the opposite direction."
Kyle also discussed how important the community or tribe of artists has been for her growth as a painter. Kyle gives back to this tribe not just with her influential paintings, teaching and personal support to her many artist friends; but also with her Facebook postings, which for many painters around the world, has become an important new way to start their day, reflecting on the vast power and interconnectedness of art.
LG: What has been some of the most significant influences for you as an artist?
KS: Whether you're writing, making music or going to a bar to talk to people, it's all about connecting. I happen to find myself a visual thinker and maker. At a certain point in my life, a woman at a boarding school named Mrs. Moses told me she knew what was wrong with me and what was wrong with me was that I was an artist. She said that it was ok, that there was a whole tribe of artists and not only was there a whole tribe but there was a whole culture. Meaning I wasn't the only person that did this.
If Mrs. Moses hadn't told me that I was an artist I probably would've stayed in northern Minnesota making knit sweaters and macramé. I would have made things. Minnesota artists make marvelous things, I'm not dismissing that. It's just that I had the good fortune of finding out that I needed to make things.
I had the great good fortune to have someone direct me to this great culture of visual making and communicating where I met my tribe. Natalie Charkow, who helped me apply to Yale – as she was going through my slides said "you know the one thing you need is you need more culture", and that was exactly right. I knew nothing except I had to make.
LG: By culture she meant?
KS: That I didn't know enough beyond a certain group of painters that I liked. I thought the sun rose and fell on Soutine. I still like him, but I don't love him like I did, but that's like thinking that when I moved to Brooklyn that Brooklyn was tiny but once I lived in Brooklyn it's enormous. And so that's all Natalie was saying to me, it's wonderful to fall in love, to feel connection and feel like your nervous system is being understood by another artist.
LG: So you studied with Natalie Charkow Hollander? I'm curious how she may have influence your bas relief studies for your paintings.
KS: I studied with her at Yale. I took Natalie's sculpture class and it was the best drawing class I ever had in my life. I started off as a non-figurative sculptor, came to painting late. I took Natalie's class when I went to graduate school and she would have us do these little figure models. At the end of the day she would make us smash them telling us "no one would be making Christmas presents in her class"! You'd work on this piece and then she'd just make you trash it.
At one point we had to make a relief of a painting and of all the paintings in the world to choose from I chose a landscape by Van Gogh, a hay wagon in the middle of a yellow field. It has a massive space, a crazy thing to try and make a relief out of, I don't know what I was thinking. This relief was extremely thick. Natalie said the best thing that could happen to you was to just drop your relief face down, flat on the ground. But after Natalie's class I always built my paintings into very thick reliefs, I don't know what Natalie would say about that but it helps me with some things in my paintings.
LG: When you say you build the painting you mean your clay moquettes, you make these bas relief as studies for paintings?
KS: No, I make them concurrently. I do a lot of different things when I'm working on a painting. Sometimes when I'm painting I get into a corner and I have a painting that's like a mule that just sits down and no matter what I launch at it, it won't move. So, if I back out of the stall, back out of the studio, make a print or work on a relief—I can usually find another way in—that the mule isn't expecting. So everything that I do is alleys to plow back into the painting. I do build paintings, I do watercolors of them, I do a million drawings of them and it is all concurrent—it's like the debris that the painting generates. But Natalie was the first person that I made a relief with.
LG: I'm curious to hear about Gretna Campbell who you studied with at Yale. What was it like to study with her there?
KS: Yale was an extraordinary place, a very exciting time—William Bailey was there, Lester Johnson, Mel Bochner, Andrew Forge, and Bernard Chaet. However, this was a boy's club. Natalie was there some but Gretna Campbell was the only full full-time woman. Every time Gretna came into the studio it was to bring you a miracle, I'll never forget this, she walked into my studio with a Bruegal book and flipped to a page and you probably know the painting there's a figure and looks like his falling out of the painting and he is pointing at the back of him and there is a guy in a tree, do you know this Bruegel?
It was like a key in a lock that turned, and Gretna always told me that if I ever got my handle on space, I'd go to the moon. She said that where it's happening, but I couldn't get a handle on it. I knew I wanted it but I didn't know how to see it, I couldn't do it. And Bruegel was the key for me and that particular painting. I've never forgotten that painting. That's how marvelous she was, she'd come into your studio and you'd be struggling, trying to keep your paint clean or something and she would give these little helpful hints like put your medium in one of those plastic squeeze soap bottles. and your like, "really?" "I'm at Yale at you're telling me about soap bottles?" She said 20 years from now you're not going to remember what Mr. FuddyDuddy said but you'll have clean medium! It's true, all of her tips about making paintings was enormously generous, humane and to the point. Like I say, she brought me miracles.
The ViewFinder
Tour of Lucian Freud's studio
British TV's Channel Four's exclusive tour of Lucian Freud's studio...
---
August 2009 video interview with Antonio López García
August 2009 video interview with Antonio López García with subtitled english translation...
---
Rackstraw Downes Videos
Rackstraw Downes discusses his approach and philosophies involved in his outdoor...
---
The Perfect Squint: The Teaching Legacy of Edwin Dickinson – video lecture by John Leavey
Fascinating presentation explaining Edwin Dickinson's approach to teaching...
---
Read more posts from The ViewFinder
Sounding Technical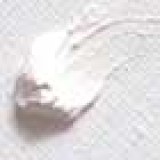 The Great Lead White Shortage
Who took the lead out? Painters who use some form of lead white are now noticing...
---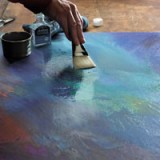 Thoughts on Varnishing
This is the first article for the new section on materials and technique, "Sounding...
---
Read more posts from Sounding Technical
Featured Interviews
Interview with Kyle Staver
Thaddeus Radell wrote in his review of the 2013 Kyle Staver Tibor de Nagy Gallery show: …"Staver is a brilliant inventor whose success lies in her commitment to her inner vision that is at once original and sophisticated and she is remarkably adept at rendering that vision into cohesive luminous constructs. From a broad, almost confused spectrum... [Read more of this review]
---
Intuition and Intention: An Interview with Elizabeth Wilson
by Elana Hagler Elizabeth Wilson, Sunset, Greenport II, oil on panel, 24 x 24, 2012 – 2014 Elizabeth Wilson is a painter living and working in Philadelphia and will be having a show of recent work at the Rosenfeld Gallery in Philadelphia from November 2nd through November 23rd. First studying at the Corcoran School of Art in Washington, D.C.,... [Read more of this review]
---
Conversation with Lennart Anderson
Introduction by Susan Jane Walp I met Lennart Anderson during the summer of 1968. I was an undergraduate student at Mount Holyoke College, attending a summer program run by Boston University at Tanglewood, and Lennart was the painting instructor. We painted from the model, and Lennart painted along with us. Later he expressed some guilt over being... [Read more of this review]
---
Interview with Anne Harris
by Tina Engels Anne Harris, Head Study, 2013 I visited the studio of Anne Harris and had a peek at the some of her new paintings and a glimpse of some drawings that did not make the cut for her last exhibition. We discussed her process as she pushes further and deeper into what she feels is true in her painting, excavating and digging into the various... [Read more of this review]
---
Legacy and Self-Determination: An Interview with Alexandra Tyng
by Elana Hagler The Porcupines From Cadillac, oil on linen, 28″ x 42″ Alexandra Tyng is a painter who lives and works in Philadelphia. She has a B.A. in Art History from Harvard and an M.S. in Education from the University of Pennsylvania. In terms of her painting education, she is mostly self-taught, having examined the work of the old... [Read more of this review]
---
Interview with Duane Keiser
Duane Keiser, "Self Portrait in an iPhone, 9/10/2011″ oil/paper, 6″x5″ Duane Keiser is perhaps best known as the leading pioneer in the trend of painters selling work online. He is not only a fabulous painter who has sold work in major NYC galleries but continues to be a leading figure "in democratizing the art world, using... [Read more of this review]
---
Interview with Vincent Desiderio
Vincent Desiderio, Hitchcock's Hands, 2012 oil and mixed media on canvas 64 x 66 inches (Courtesy of the artist and the Marlborough Gallery) Vincent Desiderio is widely considered to be among America's most preeminent living painters. He is currently having his eighth one-man exhibition of new work at the Marlborough Gallery 40 West 57th... [Read more of this review]
---
Interview with Diana Horowitz
(photo credit: Tommy Agriodimas / Downtown Alliance) click here for larger image I've long admired Diana Horowitz's paintings and I was thrilled to have the opportunity to speak with her on the phone and by email for this interview. I thank her greatly for the generosity of her time and thoughts for this interview. Maureen Mullarkey wrote... [Read more of this review]
---
Seeing Along the Periphery, Getting at the Essence
Photo credit: Jason Houston click here for larger view  A'Dora Phillips interviews Lennart Anderson in Collaboration with Brian Schumacher Lennart Anderson on painting from life with central vision blindness; what vision loss has taught him about painting; art school; creativity; genius; influence; not fitting in; and hunkering down. The perceptual... [Read more of this review]
---
Interview with Michael Tompkins
Barge for an Evening Bird, (DETAIL) 9 3/4 x 81 7/8 inches, 2010, oil on wood panel Please note: several images in this interview link to a "zoomify" viewer where clicking the image allows you to zoom and pan, much the same way one uses google maps. You also have the ability to enlarge the viewing area to fill the browser window with button... [Read more of this review]
---
Interview with John Dubrow
John Dubrow in his studio Interview with John Dubrow by Xico Greenwald John Dubrow has been making ambitious figurative paintings of New York City scenes since he moved to Brooklyn in the mid-1980s. His light-filled canvases are often years in the making—ragged, impastoed surfaces the result of the high standard Dubrow holds himself to.... [Read more of this review]
---
Interview with Lucy MacGillis
Lucy MacGillis Astoncolle II 50 x60 inches Oil on canvas 2010 click here for a larger view Lucy MacGillis is a painter who has been living in Italy since her graduation from the University of Pennsylvania in 2000. Her paintings are represented in private and corporate collections internationally. She shows her work at a variety of venues in Europe... [Read more of this review]
---
Interview with Sigal Tsabari
Sigal Tsabari , Hidden, 102.5x 102cm 2008-10 oil on canvas click here for a much larger view (true for most all images) This past summer, in Civita Castellana, Italy, I was fortunate to meet Sigal Tsabari and to watch her slide talk about her work. I was very pleased this summer when she agreed to an interview for Painting Perceptions. I... [Read more of this review]
---
Interview with Christopher Gallego
Christopher Gallego, Small Studio Jar,, 2008 12 1/8 x 8 7/8 inches click here for a larger view I'd like to thank Christopher Gallego for taking the time to share his thoughts on painting in our recent email interview. Mr. Gallego studied at the National Academy of Design in New York and teaches workshops in New York area. He has shown... [Read more of this review]
---
Liminal Spaces: A Conversation with Daniel Sprick
Daniel Sprick , Still Life & Mirror, , Oil on Board, 12 x 9 inches click here for a larger view Liminal Spaces: A Conversation with Daniel Sprick by Elana Hagler As I pull up in my car, the first thing I notice is how out of place my destination seems in this typical, urban Denver neighborhood. Nestled between the larger streets with their... [Read more of this review]
---
Interview with Harold Reddicliffe
LIGHTER,LENS,CAMERA and BLUE WALL 2012 14X14 inches oil on canvas click here for a larger view Harold Reddicliffe is a still-life painter who shows at the Hirschl & Adler Modern, New York, NY and has shown at the Pepper Gallery in Boston as well as the Tatistcheff Gallery in NYC. He recently had a 30 year retrospective at the Boston University... [Read more of this review]
---
Interview with Julyan Davis
Julyan Davis , Abandoned Mansion II, Oil on canvas 36×38 inches A realist searching for something that's real I recently was introduced to the work of artist, Julyan Davis, an English-born painter, who studied at the Byam Shaw School of Art in London and now lives in Ashville, North Carolina. He recently had a one-person show at the Greenville... [Read more of this review]
---
Interview with Jordan Wolfson
Jordan Wolfson, Interior with Two Chairs and Window VII, 2002, oil on canvas, 48″x42″ by Elana Hagler Long before I had the pleasure to meet him in person, Jordan Wolfson's name conjured up images of atmospheric, energetic paintings of interiors, objects, figures, and landscapes that seemed to slip in and out of various states... [Read more of this review]
---
Interview with Gillian Pederson-Krag
Gillian Pederson-Krag, Still Life, Oil on Canvas, 15" x 17", 2007 Collection: P.L. Porter click here for a larger view Interview with Gillian Pederson-Krag by Elana Hagler I've been aware of Gillian Pederson-Krag's work for a number of years, but finding good images of her paintings and etchings online was very difficult, which is why... [Read more of this review]
---
Stuart Shils in Conversation With Nikolai Fox
Stuart Shils End of a Sumer Day, Last Blast of Warm Light, Looking Back, 30×42 inches click here for a larger view Stuart Shils in Conversation With Nikolai Fox March 2012, in advance of an exhibition at steven harvey fine art projects, April 26 – May 27, 2012 Nikolai Fox is a Philadelphia based photographer, painter, musician,... [Read more of this review]
---
Read more posts from Featured Interviews