by Larry Groff
A couple of weeks ago I saw Ann Lofquist's solo exhibition of recent landscapes at the Craig Krull Gallery in Los Angeles. A delightful show of California landscapes, roughly divided between views of distant urban views along the southern California coast and of pastoral areas between the Santa Ynez Valley and Paso Robles in the California interior. I am often attracted to paintings of things the way they are found in nature, respecting its subtle tones and mysterious,idiosyncratic forms. Lofquist shows remarkable depth in her visual investigations, especially with evoking the play of light during dusk and other fleeting moments. The larger sustained work pulled me closer to observe the mesmerizing qualities of the painterly touch of her brushwork and how the painting worked both close up and standing back, where the underlying structure with its pathways and rhythms of color, line and shape relationships unifies these engaging compositions.
I'm delighted to get the opportunity to learn about her work and thank Ms. Lofquist for taking the time out of her busy painting schedule to answer some questions I sent to her by email.
Larry Groff: Please tell us how you to decided to become a painter and who or what have been some of your greatest influences?
Ann Lofquist I attended public school in Bethesda, Maryland, and while in high school I was fortunate to have an exceptional art teacher named Walt Bartman. It's fair to say that he significantly influenced the direction of my life. As students we were encouraged to paint perceptually, in acrylics. I remember sensing that my eyes were beginning to really see for the first time and that the world was beautiful. It was like first love.
LG: What was art school like for you?
AL: I attended Washington University in St. Louis, which is has an art school incorporated into a larger university. In college we were allotted individual studio spaces, and I was conditioned to believe that the studio is the setting where art should be made. Most of us were abstract painters at that time (early eighties.) I remember that we were preoccupied with trying to do something which was stylistically new — in fact, it was almost an obsession. The problem was that we were looking at other art for inspiration, and naturally our work ended up being very derivative.
However, art school was where I developed the discipline to sustain the development of a painting over a long period of time. I was also introduced to oil paints, which continue to dazzle and bedevil me to this day. In my studio work, I still retain something of the organic working process of my abstract paintings, where the final image is the result of trial and error, addition and reduction, etc.
When I left art school, I worked a couple of years before going back to grad school. When I was working in isolation, I realized that in order to sustain me, my paintings had to directly address my visible surroundings. I also realized that I had lost something of the joy and wonder I experienced as a high school painter. In grad school I came to the realization that landscape was going to be my subject, but I had forgotten what it felt like to work outdoors. I was trying to invent complicated landscapes in the studio without the visual store of information acquired from direct observation. Since then I have tried to find a balance between perceptual and studio painting.
LG: What sorts of things do you look for in nature and what determines your selection? How much does your initial selection determine your final composition?
AL: I think many of us have had the experience of a stab of joy and longing when looking at nature; I certainly have and I'm trying to recapture those moments in my paintings. I've found over the years that I unconsciously gravitate towards certain subjects: a certain scale of space (not too vast) which I think is accessible to the human scale. I am also attracted to a landscape which has been shaped by the human presence. Over and over again I'm moved to paint old trees, roads, streams, tracks in the fields or in the snow, and erosion. Many of these subjects are evocations of the passage of time, and I suspect that's why they move me.
I also prefer the light of the late afternoon/early evening, probably for the same reason. Painting in the morning is problematic for me because I'm a night-owl and hate to get up before dawn. I'm also more attracted to the sense of emotional reflection suggested by the end of the day.
When I go out to paint, the selection of a site is often a long and difficult process — I am looking for a certain combination of subject, space, and atmosphere and have spent countless hours driving up and down country roads looking for the right spot. Once I find a site which pleases me, I tend to go back many times and paint it at different times of day, different seasons, etc. This kind of intimate association with a particular place often bears fruit when I begin studio canvases.
As an aside, the DeLorme Company prints wonderfully detailed atlases (including topography and vegetation) of each of the fifty states. I've found them to be an invaluable resource.
The ViewFinder
Tour of Lucian Freud's studio
British TV's Channel Four's exclusive tour of Lucian Freud's studio...
---
August 2009 video interview with Antonio López García
August 2009 video interview with Antonio López García with subtitled english translation...
---
Rackstraw Downes Videos
Rackstraw Downes discusses his approach and philosophies involved in his outdoor...
---
The Perfect Squint: The Teaching Legacy of Edwin Dickinson – video lecture by John Leavey
Fascinating presentation explaining Edwin Dickinson's approach to teaching...
---
Read more posts from The ViewFinder
Sounding Technical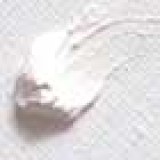 The Great Lead White Shortage
Who took the lead out? Painters who use some form of lead white are now noticing...
---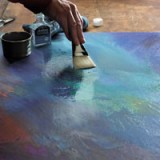 Thoughts on Varnishing
This is the first article for the new section on materials and technique, "Sounding...
---
Read more posts from Sounding Technical
Featured Interviews
Interview with Kyle Staver
Thaddeus Radell wrote in his review of the 2013 Kyle Staver Tibor de Nagy Gallery show: …"Staver is a brilliant inventor whose success lies in her commitment to her inner vision that is at once original and sophisticated and she is remarkably adept at rendering that vision into cohesive luminous constructs. From a broad, almost confused spectrum... [Read more of this review]
---
Intuition and Intention: An Interview with Elizabeth Wilson
by Elana Hagler Elizabeth Wilson, Sunset, Greenport II, oil on panel, 24 x 24, 2012 – 2014 Elizabeth Wilson is a painter living and working in Philadelphia and will be having a show of recent work at the Rosenfeld Gallery in Philadelphia from November 2nd through November 23rd. First studying at the Corcoran School of Art in Washington, D.C.,... [Read more of this review]
---
Conversation with Lennart Anderson
Introduction by Susan Jane Walp I met Lennart Anderson during the summer of 1968. I was an undergraduate student at Mount Holyoke College, attending a summer program run by Boston University at Tanglewood, and Lennart was the painting instructor. We painted from the model, and Lennart painted along with us. Later he expressed some guilt over being... [Read more of this review]
---
Interview with Anne Harris
by Tina Engels Anne Harris, Head Study, 2013 I visited the studio of Anne Harris and had a peek at the some of her new paintings and a glimpse of some drawings that did not make the cut for her last exhibition. We discussed her process as she pushes further and deeper into what she feels is true in her painting, excavating and digging into the various... [Read more of this review]
---
Legacy and Self-Determination: An Interview with Alexandra Tyng
by Elana Hagler The Porcupines From Cadillac, oil on linen, 28″ x 42″ Alexandra Tyng is a painter who lives and works in Philadelphia. She has a B.A. in Art History from Harvard and an M.S. in Education from the University of Pennsylvania. In terms of her painting education, she is mostly self-taught, having examined the work of the old... [Read more of this review]
---
Interview with Duane Keiser
Duane Keiser, "Self Portrait in an iPhone, 9/10/2011″ oil/paper, 6″x5″ Duane Keiser is perhaps best known as the leading pioneer in the trend of painters selling work online. He is not only a fabulous painter who has sold work in major NYC galleries but continues to be a leading figure "in democratizing the art world, using... [Read more of this review]
---
Interview with Vincent Desiderio
Vincent Desiderio, Hitchcock's Hands, 2012 oil and mixed media on canvas 64 x 66 inches (Courtesy of the artist and the Marlborough Gallery) Vincent Desiderio is widely considered to be among America's most preeminent living painters. He is currently having his eighth one-man exhibition of new work at the Marlborough Gallery 40 West 57th... [Read more of this review]
---
Interview with Diana Horowitz
(photo credit: Tommy Agriodimas / Downtown Alliance) click here for larger image I've long admired Diana Horowitz's paintings and I was thrilled to have the opportunity to speak with her on the phone and by email for this interview. I thank her greatly for the generosity of her time and thoughts for this interview. Maureen Mullarkey wrote... [Read more of this review]
---
Seeing Along the Periphery, Getting at the Essence
Photo credit: Jason Houston click here for larger view  A'Dora Phillips interviews Lennart Anderson in Collaboration with Brian Schumacher Lennart Anderson on painting from life with central vision blindness; what vision loss has taught him about painting; art school; creativity; genius; influence; not fitting in; and hunkering down. The perceptual... [Read more of this review]
---
Interview with Michael Tompkins
Barge for an Evening Bird, (DETAIL) 9 3/4 x 81 7/8 inches, 2010, oil on wood panel Please note: several images in this interview link to a "zoomify" viewer where clicking the image allows you to zoom and pan, much the same way one uses google maps. You also have the ability to enlarge the viewing area to fill the browser window with button... [Read more of this review]
---
Interview with John Dubrow
John Dubrow in his studio Interview with John Dubrow by Xico Greenwald John Dubrow has been making ambitious figurative paintings of New York City scenes since he moved to Brooklyn in the mid-1980s. His light-filled canvases are often years in the making—ragged, impastoed surfaces the result of the high standard Dubrow holds himself to.... [Read more of this review]
---
Interview with Lucy MacGillis
Lucy MacGillis Astoncolle II 50 x60 inches Oil on canvas 2010 click here for a larger view Lucy MacGillis is a painter who has been living in Italy since her graduation from the University of Pennsylvania in 2000. Her paintings are represented in private and corporate collections internationally. She shows her work at a variety of venues in Europe... [Read more of this review]
---
Interview with Sigal Tsabari
Sigal Tsabari , Hidden, 102.5x 102cm 2008-10 oil on canvas click here for a much larger view (true for most all images) This past summer, in Civita Castellana, Italy, I was fortunate to meet Sigal Tsabari and to watch her slide talk about her work. I was very pleased this summer when she agreed to an interview for Painting Perceptions. I... [Read more of this review]
---
Interview with Christopher Gallego
Christopher Gallego, Small Studio Jar,, 2008 12 1/8 x 8 7/8 inches click here for a larger view I'd like to thank Christopher Gallego for taking the time to share his thoughts on painting in our recent email interview. Mr. Gallego studied at the National Academy of Design in New York and teaches workshops in New York area. He has shown... [Read more of this review]
---
Liminal Spaces: A Conversation with Daniel Sprick
Daniel Sprick , Still Life & Mirror, , Oil on Board, 12 x 9 inches click here for a larger view Liminal Spaces: A Conversation with Daniel Sprick by Elana Hagler As I pull up in my car, the first thing I notice is how out of place my destination seems in this typical, urban Denver neighborhood. Nestled between the larger streets with their... [Read more of this review]
---
Interview with Harold Reddicliffe
LIGHTER,LENS,CAMERA and BLUE WALL 2012 14X14 inches oil on canvas click here for a larger view Harold Reddicliffe is a still-life painter who shows at the Hirschl & Adler Modern, New York, NY and has shown at the Pepper Gallery in Boston as well as the Tatistcheff Gallery in NYC. He recently had a 30 year retrospective at the Boston University... [Read more of this review]
---
Interview with Julyan Davis
Julyan Davis , Abandoned Mansion II, Oil on canvas 36×38 inches A realist searching for something that's real I recently was introduced to the work of artist, Julyan Davis, an English-born painter, who studied at the Byam Shaw School of Art in London and now lives in Ashville, North Carolina. He recently had a one-person show at the Greenville... [Read more of this review]
---
Interview with Jordan Wolfson
Jordan Wolfson, Interior with Two Chairs and Window VII, 2002, oil on canvas, 48″x42″ by Elana Hagler Long before I had the pleasure to meet him in person, Jordan Wolfson's name conjured up images of atmospheric, energetic paintings of interiors, objects, figures, and landscapes that seemed to slip in and out of various states... [Read more of this review]
---
Interview with Gillian Pederson-Krag
Gillian Pederson-Krag, Still Life, Oil on Canvas, 15" x 17", 2007 Collection: P.L. Porter click here for a larger view Interview with Gillian Pederson-Krag by Elana Hagler I've been aware of Gillian Pederson-Krag's work for a number of years, but finding good images of her paintings and etchings online was very difficult, which is why... [Read more of this review]
---
Stuart Shils in Conversation With Nikolai Fox
Stuart Shils End of a Sumer Day, Last Blast of Warm Light, Looking Back, 30×42 inches click here for a larger view Stuart Shils in Conversation With Nikolai Fox March 2012, in advance of an exhibition at steven harvey fine art projects, April 26 – May 27, 2012 Nikolai Fox is a Philadelphia based photographer, painter, musician,... [Read more of this review]
---
Read more posts from Featured Interviews