I had the pleasure to interview, Andrew Wykes a British painter who currently professor of painting in Minnesota at the Hamline University in St. Paul. He has been painting at the The Ballinglen Art Foundation in Mayo, Ireland for three summers and is teaching a workshop there this summer (see this link for more info) Wykes studied at Richmond upon Thames College, Epsom School of Art and Design and an MFA in painting from American University. He has taught art for thirty two years in schools and colleges in the UK, Belgium and the US. Andrew has shown his work nationally and internationally including London and in New York. He is a recipient of three Minnesota State Arts Board Initiative Awards in 2009, 2013 and 2015. He was awarded a fellowship at the Ballinglen Arts Foundation in Mayo, Ireland, and is featured in the document film "Painting the Place Between". He is represented by the Groveland Gallery in Minneapolis, MN and The Water Street Gallery.
Larry Groff: What were your early years like as a student and as a painter? How did you become a landscape painter? 
Andrew Wykes: I have always painted, since I was a boy. I thought everyone did that, only to find out at Art College I had done an enormous amount of work from my past and the other students had made very little.
Back in the 1970's in the London and the South East of England where I grew up, it was a different world in term of attitudes and outlooks. The landscape was less spoilt and over developed, much has changed since then and not all for the good.
I took a foundation course at Richmond upon Thames College in London in 1978, it was in the days before austerity took a grip. It was a year of exposure to many different art practices, fine art, painting, drawing, figure-drawing, illustration, graphic design, learning how to draw letters and proper spacing. Also learned about book-binding, photography, and an array of printmaking techniques. This was before computers. It was mainly aimed at commercial arts but if one were to be a graphic designer you would have had a really strong foundation to work off. It was rich experience for me.
I still wanted to paint and make fine art, so I then took a three-year Diploma course at Epsom school of Art and design – Just out of London. By then Maggie Thatcher was in power and steep cuts had robbed the art colleges of resources and many were closed. We felt it, as worked in cold studios with little direction. I was lucky to have the other keen students to work with and our teachers were hanging in the London Galleries – so to speak.
LG: Who have been some important influences for you and why?
AW: At the age of fifteen, I was struck by the Constable paintings in the National Gallery collection in London; shadowy, dramatic with an inherent poetic quality. I felt more was going on than mere depiction. The drive behind was on one level a personal experience of place and yet the work holds a pantheistic view of the world. I treasured the dusky tonal colors of horizons and trees; subdued chrome greens and gray pallid Prussian blues. These had a direct and recognizable characteristic that I too saw and enjoyed in the landscape. In reproductions of Constable this does not come over. Also, what impressed me, and still does, is Constable's determination to get it right. While employing a controlled, well ordered direct means of working, the goal to make a parallel of what he sees in real time and space, actual on a flat surface and to give immutability.
There also so many other painters I look at but in fact it is formal aspects of music that is more influential now. In my studio at Epsom I remember frequently listening to such contemporary music as Brian Eno's "Ambient Four, O Land" along with other obscure orchestral works. But before that I was always drawn to the landscape around me. It was and still is my solace.
LG: What are your most important considerations in looking for a view to paint? 
AW: I don't really look for a view to paint. I used to. But I feel there is too much to look at. If I was pinned down, I would say it is to do with nerves and personal preferences that come out of a whole internal catalog of memoires, geographical and autobiographical and desires to acquire the experience of the seen. I find looking and returning to the same subject over numerous  sessions rewarding. I tend to go deep into a subject—not wide.
LG: How much does observation inform your work?
AW: Observation is vital. I have always got great enjoyment from seeing. I feel privileged that I have this gift to see. I also think it is to do with retaining the child's eye of the world before label's for object's disguise the subject.
To see is to forget the name of the thing one sees. (Paul Valery)
Painting is all about seeing. It is learning to understand what one sees in formal terms of course. I am not concerned with depiction or likeness. I am battling with my preconceptions and how to make a spatial world work on a flat surface.
Painting is abstract. It about universal feelings. But on a less formal level, active looking has all the rich trappings of meditation or prayer or oneness, the joy and surprise during a rare moment of lucidity.
LG: What can you tell us about your process? Anything special about your painting technique? What paints do you put out on your palette? Anything note-worthy about how you approach to painting outside? 
AW: The way I work outside changes. It is all to do with practicality. Ideally I would like to have a place where every is set, up and can stay there undisturbed for an unspecified amount of time while I come and go.
But there is an attraction to stripping everything down to the bare essentials. I grew up very near to Windsor Great Park in the UK. I would walk several miles to my location. Everything had to be carried. Small back, easel, food, tea and the appropriate clothes for the weather.
My palette is a mess, no organization. Often more paint on me than the palette! I am clumsily and naturally get paint everywhere—food too!
A lot of my painting now, is made in the studio from memory and photographs. Here I am able to work with very strict systems or processes. I give myself rules throughout a piece. For example a lot of the bigger pieces are made with many rolls of masking tape, my hands and paper towels. I work the paint into the canvas with my hands. No brushes (I never clean them and they go hard so they are useless to me) lids fall off the tubs of paint and get lost in the piled debris on the floor. I don't have time to clean up and be tidy. That detracts form the urgency of painting. It is a bit of a performance I suppose. I can't teach that stuff, we all find our managerial solutions, what works best for one does not for another. Although I would not recommend my approach!
The ViewFinder
Planning to return to the JSS in Civita this summer
Corot's view of Civita from Terrano I recently decided return to Civita Castellana...
---
Apollo and Dionysus in the Representational Painting Family Feud
by Elana Hagler This essay explores the subconscious impulses behind aesthetic choice...
---
Tour of Lucian Freud's studio
British TV's Channel Four's exclusive tour of Lucian Freud's studio...
---
August 2009 video interview with Antonio López García
August 2009 video interview with Antonio López García with subtitled english translation...
---
Read more posts from The ViewFinder
Sounding Technical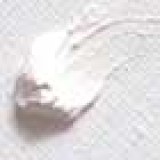 The Great Lead White Shortage
Who took the lead out? Painters who use some form of lead white are now noticing...
---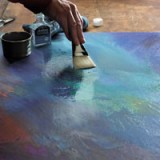 Thoughts on Varnishing
This is the first article for the new section on materials and technique, "Sounding...
---
Read more posts from Sounding Technical
Featured Interviews
Celia Reisman – California Paintings
Bess's Roofs, Oil on canvas 26 x 32 inches 2014 Celia Reisman currently has a solo show at the Paul Thiebaud Gallery in San Francisco up until June 13. I had the pleasure of interviewing Celia Reisman back in 2011. A year or so ago Celia contacted me again to ask about what living in San Diego was like and any suggestions I might have to help... [Read more of this review]
---
Interview with Julian Kreimer
In February 2015 I had the pleasure to sit down and talk at length with the painter Julian Kreimer while he was the artist in month long residence at the Lux Institute here in San Diego. He took time out from his busy painting schedule of making one painting each day, many works done from observation of the surrounding coastal chaparral and nearby... [Read more of this review]
---
Conversation with Langdon Quin
photo credit: Tobias Feltus Langdon Quin, a highly respected painter living in both Italy and upstate New York is having an exhibition of recent landscapes at The Painting Center from March 31–April 25, 2015. Quin has exhibited widely, both nationally and internationally. Since receiving his MFA in Painting from Yale University in 1976. He is the... [Read more of this review]
---
Conversation with Lois Dodd
Lois Dodd, Photo by Joe Ward Lois Dodd has been painting her everyday surroundings for sixty years. Her current exhibition, from February 26 through April 4, 2015 at the Alexandre Gallery in NYC shows twenty-four recent small-scaled paintings that depict familiar motifs such as gardens, houses, interiors and views from windows. Dodd, now eighty-seven,... [Read more of this review]
---
Interview with Elizabeth O'Reilly
Elizabeth O'Reilly, Black House, Blairstown, Oil on Panel, 6 X 12 inches 2014 image courtesy of the George Billis Gallery I am very pleased to have had the opportunity to interview Elizabeth O'Reilly by video skype and email and would like to thank Elizabeth for her generosity with her time and energies with this interview. Elizabeth O'Reilly... [Read more of this review]
---
Conversation with Margaret McCann
Margaret McCann, Gazing Globe, 2014 20 x 20 inches oil on linen This past August I was fortunate to meet with Margaret McCann in her studio in NYC for an interview. My good friend and fellow painter, Matthew Mattingly, joined the conversation with many brilliant observations and comments. Larry Groff:  Thank you, Margaret, for talking with us about... [Read more of this review]
---
Interview with Ann Gale
by Larry Groff Ann Gale, Portrait with Orange Scarf, 14 x 11" oil on linen wrapped Masonite, 2014 image courtesy of the artist I am honored that Ann Gale agreed to this telephone interview and thank her greatly for being so generous with her time and attention with sharing thoughts about her art and process. Ann Gale is a leading American figurative... [Read more of this review]
---
Interview with Kyle Staver
Thaddeus Radell wrote in his review of the 2013 Kyle Staver Tibor de Nagy Gallery show: …"Staver is a brilliant inventor whose success lies in her commitment to her inner vision that is at once original and sophisticated and she is remarkably adept at rendering that vision into cohesive luminous constructs. From a broad, almost confused spectrum... [Read more of this review]
---
Intuition and Intention: An Interview with Elizabeth Wilson
by Elana Hagler Elizabeth Wilson, Sunset, Greenport II, oil on panel, 24 x 24, 2012 – 2014 Elizabeth Wilson is a painter living and working in Philadelphia and will be having a show of recent work at the Rosenfeld Gallery in Philadelphia from November 2nd through November 23rd. First studying at the Corcoran School of Art in Washington, D.C.,... [Read more of this review]
---
Conversation with Lennart Anderson
Introduction by Susan Jane Walp I met Lennart Anderson during the summer of 1968. I was an undergraduate student at Mount Holyoke College, attending a summer program run by Boston University at Tanglewood, and Lennart was the painting instructor. We painted from the model, and Lennart painted along with us. Later he expressed some guilt over being... [Read more of this review]
---
Interview with Anne Harris
by Tina Engels Anne Harris, Head Study, 2013 I visited the studio of Anne Harris and had a peek at the some of her new paintings and a glimpse of some drawings that did not make the cut for her last exhibition. We discussed her process as she pushes further and deeper into what she feels is true in her painting, excavating and digging into the various... [Read more of this review]
---
Legacy and Self-Determination: An Interview with Alexandra Tyng
by Elana Hagler The Porcupines From Cadillac, oil on linen, 28″ x 42″ Alexandra Tyng is a painter who lives and works in Philadelphia. She has a B.A. in Art History from Harvard and an M.S. in Education from the University of Pennsylvania. In terms of her painting education, she is mostly self-taught, having examined the work of the old... [Read more of this review]
---
Interview with Duane Keiser
Duane Keiser, "Self Portrait in an iPhone, 9/10/2011″ oil/paper, 6″x5″ Duane Keiser is perhaps best known as the leading pioneer in the trend of painters selling work online. He is not only a fabulous painter who has sold work in major NYC galleries but continues to be a leading figure "in democratizing the art world, using... [Read more of this review]
---
Interview with Vincent Desiderio
Vincent Desiderio, Hitchcock's Hands, 2012 oil and mixed media on canvas 64 x 66 inches (Courtesy of the artist and the Marlborough Gallery) Vincent Desiderio is widely considered to be among America's most preeminent living painters. He is currently having his eighth one-man exhibition of new work at the Marlborough Gallery 40 West 57th... [Read more of this review]
---
Interview with Diana Horowitz
(photo credit: Tommy Agriodimas / Downtown Alliance) click here for larger image I've long admired Diana Horowitz's paintings and I was thrilled to have the opportunity to speak with her on the phone and by email for this interview. I thank her greatly for the generosity of her time and thoughts for this interview. Maureen Mullarkey wrote... [Read more of this review]
---
Seeing Along the Periphery, Getting at the Essence
Photo credit: Jason Houston click here for larger view  A'Dora Phillips interviews Lennart Anderson in Collaboration with Brian Schumacher Lennart Anderson on painting from life with central vision blindness; what vision loss has taught him about painting; art school; creativity; genius; influence; not fitting in; and hunkering down. The perceptual... [Read more of this review]
---
Interview with Michael Tompkins
Barge for an Evening Bird, (DETAIL) 9 3/4 x 81 7/8 inches, 2010, oil on wood panel Please note: several images in this interview link to a "zoomify" viewer where clicking the image allows you to zoom and pan, much the same way one uses google maps. You also have the ability to enlarge the viewing area to fill the browser window with button... [Read more of this review]
---
Interview with John Dubrow
John Dubrow in his studio Interview with John Dubrow by Xico Greenwald John Dubrow has been making ambitious figurative paintings of New York City scenes since he moved to Brooklyn in the mid-1980s. His light-filled canvases are often years in the making—ragged, impastoed surfaces the result of the high standard Dubrow holds himself to.... [Read more of this review]
---
Interview with Lucy MacGillis
Lucy MacGillis Astoncolle II 50 x60 inches Oil on canvas 2010 click here for a larger view Lucy MacGillis is a painter who has been living in Italy since her graduation from the University of Pennsylvania in 2000. Her paintings are represented in private and corporate collections internationally. She shows her work at a variety of venues in Europe... [Read more of this review]
---
Interview with Sigal Tsabari
Sigal Tsabari , Hidden, 102.5x 102cm 2008-10 oil on canvas click here for a much larger view (true for most all images) This past summer, in Civita Castellana, Italy, I was fortunate to meet Sigal Tsabari and to watch her slide talk about her work. I was very pleased this summer when she agreed to an interview for Painting Perceptions. I... [Read more of this review]
---
Read more posts from Featured Interviews