by Larry Groff
I am honored that Ann Gale agreed to this telephone interview and thank her greatly for being so generous with her time and attention with sharing thoughts about her art and process.
Ann Gale is a leading American figurative painter living in Seattle. Her portraits were shown alongside other leading painters of the figure such as Lucian Freud, Nathan Oliveira and Alex Kanevsky in the 2011 exhibition "HEADS" curated by Peter Selz at her San Francisco Dolby Chadwick Gallery.
The JSS in Civita, (Civita Castellana, Italy) recently announced that Ann Gale will be the 2015 JSS in Civita Master Class Guest-of–Honor. Ms. Gale will be in residence July 13th to August 3th. Here is a link for more information on her workshop in Italy.
In a January 2013 review for Visual Art Source DeWitt Cheng wrote:
"…Gale's paintings, which require months and even years to complete, are aggregations of thousands of brushstrokes (Cézanne's colored oil-paint patches and Giacometti's feathery, tremulous graphite contours come to mind) that alternate, depending on the viewer's distance, angle of view and degree of focus, between heavily textured natural surfaces (bark, lichen) and sharply observed studies of atmosphere and anatomy. Look very closely, and a myriad of tiny abstractions spring into view, with every square inch graphically charged with energy."
Another review in Art ltd. magazine by Richard Speer writes:
"…Gale paints the kind of visages and physiognomies you might expect to see beneath Seattle's heavy gray skies: ashen, Zoloft-ready men and women hunched before muted, putty-colored backgrounds—and yet the artist enlivens her subjects via twinkly, impressionistic brushstrokes that pop and recede with Hofmann-like push/pull. This is Gale's viewpoint and paradox: a scintillating technique deployed in the service of an enervating sense of desolation."

…When the painting is finished, the images do not always resemble their subjects in the standard realist sense—which suits the artist just fine. "Likeness doesn't drive the work at this point; accuracy does," she explains. "But it's not accuracy to the model; it's accuracy to my perception, and that's a very different thing."
Her many prestigious accomplishments include a 2007 solo exhibition at the Portland Art Museum as well as the Falk Art Museum at the University of North Carolina in 2009. Gale received a Guggenheim fellowship in 2007 and a Washington Arts Council fellowship in 2006. Gale is currently Full Professor of Fine Arts at the University of Washington, Seattle and is represented by Dolby Chadwick Gallery in San Francisco where her solo exhibition in 2012 has a catalog which can be obtained from the gallery website. Ms. Gale is also represented by Prographica Gallery in Seattle and have a January exhibition at Steven Harvey Fine Art Projects in NY.
Larry Groff: Can you tell us a little about your early years and what influenced you to become a painter? I understand your mother was an artist. What was art school like for you?
Ann Gale: My mother is still painting, in fact I'll call her today to see if she's painting. Obviously that was very much an influence and support for me. It still is, it's nice to have somebody to call me and ask "did you paint today?"
LG: What kind of painting does your mother make?
AG: She does watercolor landscapes. She worked in oils when I was young and I was allowed to draw all the time. If I was drawing I didn't have to do my chores, which was excellent! I think it still works like that for me a little.
In school, I was fortunate to have art teachers that gave me instruction and time to work in school. They challenged me with different ideas to improve and go beyond what I was doing, even in grade school and middle school. I went to undergraduate school at Rhode Island College and I had great professors Sam Ames, a figurative painter, and Don Smith, an abstract painter. They had a way of teaching me to pay attention to a painting. I found undergraduate school very humbling. I began school thinking that I knew how to draw and soon realized I had a great deal to learn. I was so happy to get into Yale/Norfolk summer program. There, I was exposed to a very diverse group of students and faculty that opened up my idea of what painting could be, what the language was like. I felt kind of untethered. I didn't know what to do there.
LG:  At Norfolk did you ever feel that there was a stigma or less support towards work done from observation or did that not seem to matter?
AG: No. Working from observation wasn't stigmatized, but I also don't think it had any authority. It was interesting to see the kinds of leveling of everything.
Graduate school was kind of similar, only bigger, more intense. William Bailey, Andrew Forge and Bernie Chaet were at Yale then. We talked more about painting than figuration. It really gave me a vocabulary for that discussion in my own studio practice – considering what I valued in the painting, not just in the picture. Andrew Forge once asked us to define our assumptions in painting. This is something I continue to think about.
LG: I've heard the critiques at Yale could often be very pointed, even brutal sometimes. Did you find that experience?
AG: Yes, I sometimes felt vulnerable and exposed. Often the critiques were difficult because they were saying something I was trying not to say to myself.
LG: What have been some of your most important influences that shaped how you paint today?
AG: I am very curious and sometimes obsessive about observation. It is very intense to just be close to somebody and to be looking at their face and down at their lap and being aware of their gravity and proximity. I have been influenced by painters who reveal the intense experience of observation in their work. One of the artists that I found and studied when I was an undergraduate, was Antonio Lopez Garcia. We went down to New York for his show.
LG: That was his earlier show in NYC in 1986 at his Marlborough Fine Art gallery.
AG: Right, I remember standing next to my teacher and him slapping me on the back, saying "breathe, you're not breathing!" I had seen paintings that were accurate like photo-realism or work that was powerful, like Italian Baroque painting, but I hadn't felt this before. I couldn't forget it and it was intriguing that painting could do that. That it could pull me into it's world. It had a very human sensation to it. I always wondered what is it that isn't just information—he seems to have transcended that. I remember when that big catalog came out. I ordered it and sat on my doorstep every day waiting for the mailman, waiting for it to arrive.
LG: That's an amazing book, The Rizzoli Catalog, it's probably my favorite and most used artbook. Did you get to see his big show at the Boston MFA?
AG: No, I didn't get to see the show in Boston. That was horrible to miss that show.
As an undergraduate my teachers showed me Edwin Dickinson's work, which I found incredibly mysterious and intimate. I also found a little black and white catalog that included British figurative paintings. These painters weren't as well known at the time, William Coldstream, Lucian Freud, Patrick George, Uglow, Kossoff… I was interested in how the process of perception was present in the work. It was almost like they were mapping their sensation. It reminded me of Giacometti. I became obsessed over that little group of paintings. And then when I was at Norfolk we went to visit the British Museum and I was taken by the back of the collar by one of the teachers and made to sit in front of Kossoff and the Auerbach – saying I should not leave until I sat there. I had seen these pieces in reproduction but it was important to see the touch and the way they seemingly transform, revealing the fleshiness of the paint. That doesn't reproduce very well, that feeling that I really like about painting. To understand some things about a painting I needed to sit in front of it for some time. So those groups of representational paintings especially, really interested me in school and since.
LG: Is your painting dependent on the model being in front of you in the exact same position? How critical is working directly from life in your work in terms of trying to the sitter's exact likeness, proportions, skin-tones and such?
AG: I've been thinking about this a lot recently. I think it has been changing in my work, how I think about it. I'm used to the tradition of working with the model, where I mark the model and the model tries to sit still in the same place. My studio used to look like a dance studio because I marked my feet where I was standing. It looked like these little shoe-prints everywhere. If I moved a couple of feet closer I would re-mark how everything would change relative to where I was standing. Recently I've had a couple of paintings and drawings where the model changed and I followed the change in my painting. I usually have the model in 3 hour sessions and about 2 hours into the session, the model looks different, they give up to gravity, they're thinking about something else now. My attention seems clearer. There is something more honest in it. So I found myself following that adjustment a lot in my work. Even my own place, I would move in or out and that would change things in the painting. In a technical way, it can make a big muddy mess but it can keep it open. I had to reexamine these same proportions repeatedly. It wasn't just measuring precision but the idea of re-measuring and re-finding something has become more interesting to me now. Also many of these paintings, the larger ones especially, have gone on for a very long time and sometimes people change. They have gotten ill or they've gotten well, their life circumstances have changed. It's not something I want to ignore; it's something I want to watch. It's more truthful; things are constantly changing. When I'm willing to give up what I have, what I see in the painting feels more conscious, more alive.
LG: I remember once reading a quote from Edwin Dickinson, I think, that I something like "a painter should always be paying the model and not the other way around."
AG: That is probably very good advice.
LG: I'm curious to hear more about your measuring and searching. Would you say measuring helps to free up the painting process; that searching for truth through measuring helps turn off the inclination to paint preconceived notions and helps to keep the painting open?
AG: Yes, The search becomes part of the subject of the painting. The figure is so familiar, it is challenging to see past prejudged ideals of the body and face. Measuring can provide an objective lens for perception.
LG: I find that so fascinating because it seems so counterintuitive that the more you search for accurate mark or tone could be more liberating than with loose, bravura-style brush work. That the actual observation and exactitude doesn't have to be constraining, like with painters like Euan Uglow with his obsessive measuring, with all his little position marks on the wall.
AG: I was able to see a less finished piece by Uglow a long time ago. It was of back-to-back women, it wasn't a large painting. It looked like a little study with a very limited palette. I like how he was using that limitation to really ask a precise question about relative measuring.
LG: Your work seems different though, as if the measurement is on a whole other level. It's not just about measuring; it goes beyond that in a way. Would you say that is true?
AG: There are different kinds of measuring. I have a broad definition of measuring. You used the term that it could be liberating. I think it is, it's incredibly liberating if I let it take me somewhere. I think I was really struggling with color within figure/ground relationships. I then changed the way I was observing and measuring color. Instead of trying to achieve some correctness about the background or the part of the body, I tried to be accurate the light and how the color could find the light. I had to keep standing back and asking, "is that the color relationship or not?"—so it's half-measuring and half-feeling because light is very much a sensation, much harder to measure in an objective way.
INTERVIEW CONTINUES
(more…)
The ViewFinder
Tour of Lucian Freud's studio
British TV's Channel Four's exclusive tour of Lucian Freud's studio...
---
August 2009 video interview with Antonio López García
August 2009 video interview with Antonio López García with subtitled english translation...
---
Rackstraw Downes Videos
Rackstraw Downes discusses his approach and philosophies involved in his outdoor...
---
The Perfect Squint: The Teaching Legacy of Edwin Dickinson – video lecture by John Leavey
Fascinating presentation explaining Edwin Dickinson's approach to teaching...
---
Read more posts from The ViewFinder
Sounding Technical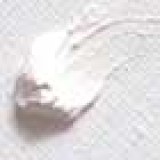 The Great Lead White Shortage
Who took the lead out? Painters who use some form of lead white are now noticing...
---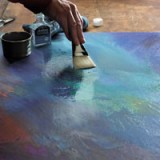 Thoughts on Varnishing
This is the first article for the new section on materials and technique, "Sounding...
---
Read more posts from Sounding Technical
Featured Interviews
Interview with Ann Gale
by Larry Groff Ann Gale, Portrait with Orange Scarf, 14 x 11" oil on linen wrapped Masonite, 2014 image courtesy of the artist I am honored that Ann Gale agreed to this telephone interview and thank her greatly for being so generous with her time and attention with sharing thoughts about her art and process. Ann Gale is a leading American figurative... [Read more of this review]
---
Interview with Kyle Staver
Thaddeus Radell wrote in his review of the 2013 Kyle Staver Tibor de Nagy Gallery show: …"Staver is a brilliant inventor whose success lies in her commitment to her inner vision that is at once original and sophisticated and she is remarkably adept at rendering that vision into cohesive luminous constructs. From a broad, almost confused spectrum... [Read more of this review]
---
Intuition and Intention: An Interview with Elizabeth Wilson
by Elana Hagler Elizabeth Wilson, Sunset, Greenport II, oil on panel, 24 x 24, 2012 – 2014 Elizabeth Wilson is a painter living and working in Philadelphia and will be having a show of recent work at the Rosenfeld Gallery in Philadelphia from November 2nd through November 23rd. First studying at the Corcoran School of Art in Washington, D.C.,... [Read more of this review]
---
Conversation with Lennart Anderson
Introduction by Susan Jane Walp I met Lennart Anderson during the summer of 1968. I was an undergraduate student at Mount Holyoke College, attending a summer program run by Boston University at Tanglewood, and Lennart was the painting instructor. We painted from the model, and Lennart painted along with us. Later he expressed some guilt over being... [Read more of this review]
---
Interview with Anne Harris
by Tina Engels Anne Harris, Head Study, 2013 I visited the studio of Anne Harris and had a peek at the some of her new paintings and a glimpse of some drawings that did not make the cut for her last exhibition. We discussed her process as she pushes further and deeper into what she feels is true in her painting, excavating and digging into the various... [Read more of this review]
---
Legacy and Self-Determination: An Interview with Alexandra Tyng
by Elana Hagler The Porcupines From Cadillac, oil on linen, 28″ x 42″ Alexandra Tyng is a painter who lives and works in Philadelphia. She has a B.A. in Art History from Harvard and an M.S. in Education from the University of Pennsylvania. In terms of her painting education, she is mostly self-taught, having examined the work of the old... [Read more of this review]
---
Interview with Duane Keiser
Duane Keiser, "Self Portrait in an iPhone, 9/10/2011″ oil/paper, 6″x5″ Duane Keiser is perhaps best known as the leading pioneer in the trend of painters selling work online. He is not only a fabulous painter who has sold work in major NYC galleries but continues to be a leading figure "in democratizing the art world, using... [Read more of this review]
---
Interview with Vincent Desiderio
Vincent Desiderio, Hitchcock's Hands, 2012 oil and mixed media on canvas 64 x 66 inches (Courtesy of the artist and the Marlborough Gallery) Vincent Desiderio is widely considered to be among America's most preeminent living painters. He is currently having his eighth one-man exhibition of new work at the Marlborough Gallery 40 West 57th... [Read more of this review]
---
Interview with Diana Horowitz
(photo credit: Tommy Agriodimas / Downtown Alliance) click here for larger image I've long admired Diana Horowitz's paintings and I was thrilled to have the opportunity to speak with her on the phone and by email for this interview. I thank her greatly for the generosity of her time and thoughts for this interview. Maureen Mullarkey wrote... [Read more of this review]
---
Seeing Along the Periphery, Getting at the Essence
Photo credit: Jason Houston click here for larger view  A'Dora Phillips interviews Lennart Anderson in Collaboration with Brian Schumacher Lennart Anderson on painting from life with central vision blindness; what vision loss has taught him about painting; art school; creativity; genius; influence; not fitting in; and hunkering down. The perceptual... [Read more of this review]
---
Interview with Michael Tompkins
Barge for an Evening Bird, (DETAIL) 9 3/4 x 81 7/8 inches, 2010, oil on wood panel Please note: several images in this interview link to a "zoomify" viewer where clicking the image allows you to zoom and pan, much the same way one uses google maps. You also have the ability to enlarge the viewing area to fill the browser window with button... [Read more of this review]
---
Interview with John Dubrow
John Dubrow in his studio Interview with John Dubrow by Xico Greenwald John Dubrow has been making ambitious figurative paintings of New York City scenes since he moved to Brooklyn in the mid-1980s. His light-filled canvases are often years in the making—ragged, impastoed surfaces the result of the high standard Dubrow holds himself to.... [Read more of this review]
---
Interview with Lucy MacGillis
Lucy MacGillis Astoncolle II 50 x60 inches Oil on canvas 2010 click here for a larger view Lucy MacGillis is a painter who has been living in Italy since her graduation from the University of Pennsylvania in 2000. Her paintings are represented in private and corporate collections internationally. She shows her work at a variety of venues in Europe... [Read more of this review]
---
Interview with Sigal Tsabari
Sigal Tsabari , Hidden, 102.5x 102cm 2008-10 oil on canvas click here for a much larger view (true for most all images) This past summer, in Civita Castellana, Italy, I was fortunate to meet Sigal Tsabari and to watch her slide talk about her work. I was very pleased this summer when she agreed to an interview for Painting Perceptions. I... [Read more of this review]
---
Interview with Christopher Gallego
Christopher Gallego, Small Studio Jar,, 2008 12 1/8 x 8 7/8 inches click here for a larger view I'd like to thank Christopher Gallego for taking the time to share his thoughts on painting in our recent email interview. Mr. Gallego studied at the National Academy of Design in New York and teaches workshops in New York area. He has shown... [Read more of this review]
---
Liminal Spaces: A Conversation with Daniel Sprick
Daniel Sprick , Still Life & Mirror, , Oil on Board, 12 x 9 inches click here for a larger view Liminal Spaces: A Conversation with Daniel Sprick by Elana Hagler As I pull up in my car, the first thing I notice is how out of place my destination seems in this typical, urban Denver neighborhood. Nestled between the larger streets with their... [Read more of this review]
---
Interview with Harold Reddicliffe
LIGHTER,LENS,CAMERA and BLUE WALL 2012 14X14 inches oil on canvas click here for a larger view Harold Reddicliffe is a still-life painter who shows at the Hirschl & Adler Modern, New York, NY and has shown at the Pepper Gallery in Boston as well as the Tatistcheff Gallery in NYC. He recently had a 30 year retrospective at the Boston University... [Read more of this review]
---
Interview with Julyan Davis
Julyan Davis , Abandoned Mansion II, Oil on canvas 36×38 inches A realist searching for something that's real I recently was introduced to the work of artist, Julyan Davis, an English-born painter, who studied at the Byam Shaw School of Art in London and now lives in Ashville, North Carolina. He recently had a one-person show at the Greenville... [Read more of this review]
---
Interview with Jordan Wolfson
Jordan Wolfson, Interior with Two Chairs and Window VII, 2002, oil on canvas, 48″x42″ by Elana Hagler Long before I had the pleasure to meet him in person, Jordan Wolfson's name conjured up images of atmospheric, energetic paintings of interiors, objects, figures, and landscapes that seemed to slip in and out of various states... [Read more of this review]
---
Interview with Gillian Pederson-Krag
Gillian Pederson-Krag, Still Life, Oil on Canvas, 15" x 17", 2007 Collection: P.L. Porter click here for a larger view Interview with Gillian Pederson-Krag by Elana Hagler I've been aware of Gillian Pederson-Krag's work for a number of years, but finding good images of her paintings and etchings online was very difficult, which is why... [Read more of this review]
---
Read more posts from Featured Interviews