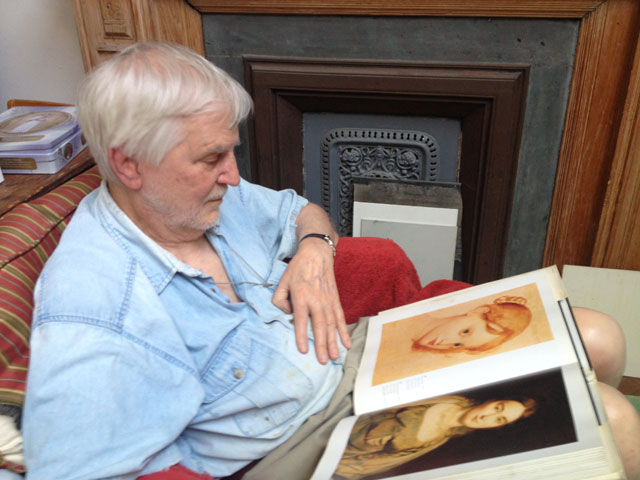 I met Lennart Anderson during the summer of 1968. I was an undergraduate student at Mount Holyoke College, attending a summer program run by Boston University at Tanglewood, and Lennart was the painting instructor. We painted from the model, and Lennart painted along with us. Later he expressed some guilt over being paid for a summer of painting with very little active teaching, but nothing could have been more worthwhile for a beginning student than to observe firsthand how he worked. What I remember most from the silence and subdued light of that studio is Lennart's palette and the orderly piles of paint he had mixed. That color could be so beautiful and that painting could involve these subtle, unnameable tones was a revelation to me.
Ten years later, after several years at the New York Studio School and a period of working on my own in Denver, Colorado, I found myself once again studying with Lennart in a still life class at Brooklyn College. I remember a large room with a wall of north facing windows. We students lined up our easels, and we each set up our own still life on the narrow shelf running the length of the east wall. Lennart made the rounds and sometimes, with permission, would work on a painting, bringing our unruly tones into relationship, softening and eliminating edges, helping us to see the big notes that could provide a more reliable basis for moving towards the smaller forms and details.
There was also a weekly evening session from the model that he supervised and that was open to all of the students in the MFA Program. At the time I had an inexplicable aversion towards Degas. I remember one evening becoming frustrated with how Lennart was going on about him, and I blurted out, "I think…[grasping for the right example]…Giotto was a greater artist than Degas!" After a few moments he gently, and with great kindness, replied, "I agree that Giotto was a greater artist, but…Degas, I believe, was the better painter." I cringe a little now to look back on the naiveté of my comparison. His pithy response (he, of course, has no memory of any of this) was one of many things he has said to me over the years that went to the heart of some underlying obstacle in my own thinking and gave me something to contemplate for years to come. I was a slow and sometimes resistant student, but over time came to more fully appreciate the other painters in his pantheon (Matisse, Corot, Poussin, Velasquez, and Titian), the amount of time he spent studying their work, the detail in which he had memorized so many of their paintings in his mind's eye.
After moving to Vermont in 1985, for a number of years on my visits to the city I often would bring along a painting or two to show to Lennart in the beautiful north light of his Brooklyn studio. He loved talking about painting but was reluctant to continue in the role of teacher as critic outside of the class situation. He had to be coaxed. I would ask questions, and eventually I would get something out of him, some insight into the work, a limitation, an obstacle, something to contemplate and work with until the next visit. I am guessing I am not alone among his students in saying that I didn't turn to Lennart for compliments, which were rare, but rather for his honesty and knowledge, and I think also for the privilege of witnessing the integrity of his own inquiry, its clear focus and spirit of open questioning, the absence of dogma, the intimate and fluid relationship between his thinking mind and the activity of seeing and painting.
I have remained a student of Lennart's work for most of my painting life. For me this has had nothing to do with imitation or with blind faith. It has been a repeated and evolving experience of recognizing qualities in his work that I quite selfishly want for my own, things that his paintings know that my own paintings want to know. Recently I have been studying a reproduction of his Portrait of Matthew Devlin (2001). I remember seeing this painting in a 2008 exhibit on Staten Island, and now I find myself marveling all over again at the subtlety of the tones, the exactitude of the drawing, the smallest details in perfect relation to the larger forms, and yet the brushwork so completely free, open, alive. I have been asking, how does he accomplish this? It is like seeing more clearly the next step for my own work, in this case a more compatible relationship between accuracy and spontaneity, and recognizing the habits that are blocking the way and not serving the seeing.
Is it possible to say in a few words what I have learned from Lennart? To zero in on something essential that could be of benefit to younger painters who are finding their way and haven't had the opportunity of studying with him? I think back to that magical Tanglewood summer and how he opened my eyes to a new way of seeing the world, as an interconnected web of relationships, of colors and tones and light and space, free of the limiting labels of trees, grass, arms, and noses, and how thrilling the experience was of finding an equivalent for these relationships in paint. For lack of a better word (and one he might not approve of), it was an abstract world. Entering it was entering a realm of infinite possibility, and from the very beginning I loved dwelling in it. He has remained my guide and friend ever since.
---
Conversation with Lennart Anderson
This past August I was very fortunate to get invited to Lennart Anderson's studio in Brooklyn where I went with Kyle Staver to talk informally about his thoughts and experience on painting and drawing. Regretfully, The first few minutes of our discussion failed to record properly and was lost. My recollection of this early part of our talk centered around his approach to drawing; Specifically with his use of three points along a vertical in drawing (especially the figure) to determine the width in relation to the height. He also talked about the importance of finding horizontal and vertical relationships of points seen in nature in a grid-like manner.
Lennart said he wrote an essay on drawing and painting that covered many of these concerns, saying, "I wrote that essay so I wouldn't have to be interviewed!" (link to that essay below) I then asked how Lennart's approach differed from the British painters like Euan Uglow, William Coldstream, etc. who had a similar preoccupation with measurement. Lennart, as I recall, said that to them measurement was everything but that wasn't enough for him—he was more interested in other composition aspects besides just the vertical and horizontal alignments. I had asked him if perhaps their painting was more about mapping than traveling. This lead to asking what he thought of Euan Uglow's more planer approach to form and color. Lennart seemed to be less interested in this approach, saying we don't see form that way. This in turn lead to talking about the role of color in painting which is where the conversation began to be recorded properly.
LA:  …Color in painting is almost not important. It is really a very simple thing.
Larry Groff:  If that's true how come so few people can use color as well as you?
LA:   Because they are probably thinking of themselves.
Kyle Staver:  Who should they be thinking of?
LA:  They should be thinking of what they are painting and the relationships of those colors. It's all about trying to paint what you are looking at.
KS: How do I know it's your painting? How come your color and your light is particular to Lennart Anderson…what makes it your unique color?
LA:   This gets complicated. It has a lot to do with the key that your painting is devolving to. It(the painting's key)changes as you work from day to day, so that what you end up with is not exactly what you're looking at. It's as close as you can, but is dropped some, or probably will be dropped in tone from that because paint tends to drop in value as it dries. So, the decisions I'm making are against that kind of thing, I'm trying to hold it(tones) up. So that gets into my look to some extent. I'm always trying to get the what the relationship is…
It's all Corot, you know, you're a landscape painter, he's the great tonalist. The real intimate kind of exactitude of a light in a spot. The ideal I like to refer to is his Bridge at Narni… what do you see when you look at it? oh my god, it's the sun and everything, yes, you look at it and you see that he took a real… he saw something that no one else would have seen, that the shadow under the bridge is a blue, it's BLUE – and the whole thing works because of it, in a sense.
I wouldn't want to be able to tell how anything really works but that's the excitement in the picture, really. That's the excitement. It's a relationship, as you said before, it's about comparisons. You get excited when you look at it That's A BLUE – but when you isolate it that spot through a pin-hole, you certainly wouldn't see blue, it would be some nothing.
I was looking at a catalog of Sargent, and he was trying to paint somebody, and he was in the sunlight or something, a real Sargent tour-de force. and he couldn't get it( he couldn't get the right color) and all of a  sudden he slapped his head, Its MAUVE! MAUVE!-(laughs) but if you isolated that you wouldn't think it was mauve, in the context of the picture of a figure in the landscape It probably wasn't really mauve but only in context.
Boy, that was a good question, why my pictures look different from someone else is because I see something that someone else wouldn't see, somebody might even see it better. What I do is not necessarily better. but I think actually what makes my pictures the way they do… its hard to say because I've painted different things, different ways. Generally – landscapes are all one shot paintings. So that the light that is in the canvas is used to help out the light in the scene to some extent. You don't want to lose the brilliance of the outdoors by mudding up the tone underneath. Try to hang on to the white, so you paint thinly.
The ViewFinder
Tour of Lucian Freud's studio
British TV's Channel Four's exclusive tour of Lucian Freud's studio...
---
August 2009 video interview with Antonio López García
August 2009 video interview with Antonio López García with subtitled english translation...
---
Rackstraw Downes Videos
Rackstraw Downes discusses his approach and philosophies involved in his outdoor...
---
The Perfect Squint: The Teaching Legacy of Edwin Dickinson – video lecture by John Leavey
Fascinating presentation explaining Edwin Dickinson's approach to teaching...
---
Read more posts from The ViewFinder
Sounding Technical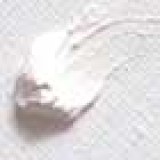 The Great Lead White Shortage
Who took the lead out? Painters who use some form of lead white are now noticing...
---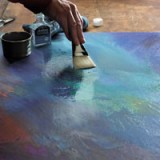 Thoughts on Varnishing
This is the first article for the new section on materials and technique, "Sounding...
---
Read more posts from Sounding Technical
Featured Interviews
Conversation with Lennart Anderson
Introduction by Susan Jane Walp I met Lennart Anderson during the summer of 1968. I was an undergraduate student at Mount Holyoke College, attending a summer program run by Boston University at Tanglewood, and Lennart was the painting instructor. We painted from the model, and Lennart painted along with us. Later he expressed some guilt over being... [Read more of this review]
---
Interview with Anne Harris
by Tina Engels Anne Harris, Head Study, 2013 I visited the studio of Anne Harris and had a peek at the some of her new paintings and a glimpse of some drawings that did not make the cut for her last exhibition. We discussed her process as she pushes further and deeper into what she feels is true in her painting, excavating and digging into the various... [Read more of this review]
---
Legacy and Self-Determination: An Interview with Alexandra Tyng
by Elana Hagler The Porcupines From Cadillac, oil on linen, 28″ x 42″ Alexandra Tyng is a painter who lives and works in Philadelphia. She has a B.A. in Art History from Harvard and an M.S. in Education from the University of Pennsylvania. In terms of her painting education, she is mostly self-taught, having examined the work of the old... [Read more of this review]
---
Interview with Duane Keiser
Duane Keiser, "Self Portrait in an iPhone, 9/10/2011″ oil/paper, 6″x5″ Duane Keiser is perhaps best known as the leading pioneer in the trend of painters selling work online. He is not only a fabulous painter who has sold work in major NYC galleries but continues to be a leading figure "in democratizing the art world, using... [Read more of this review]
---
Interview with Vincent Desiderio
Vincent Desiderio, Hitchcock's Hands, 2012 oil and mixed media on canvas 64 x 66 inches (Courtesy of the artist and the Marlborough Gallery) Vincent Desiderio is widely considered to be among America's most preeminent living painters. He is currently having his eighth one-man exhibition of new work at the Marlborough Gallery 40 West 57th... [Read more of this review]
---
Interview with Diana Horowitz
(photo credit: Tommy Agriodimas / Downtown Alliance) click here for larger image I've long admired Diana Horowitz's paintings and I was thrilled to have the opportunity to speak with her on the phone and by email for this interview. I thank her greatly for the generosity of her time and thoughts for this interview. Maureen Mullarkey wrote... [Read more of this review]
---
Seeing Along the Periphery, Getting at the Essence
Photo credit: Jason Houston click here for larger view  A'Dora Phillips interviews Lennart Anderson in Collaboration with Brian Schumacher Lennart Anderson on painting from life with central vision blindness; what vision loss has taught him about painting; art school; creativity; genius; influence; not fitting in; and hunkering down. The perceptual... [Read more of this review]
---
Interview with Michael Tompkins
Barge for an Evening Bird, (DETAIL) 9 3/4 x 81 7/8 inches, 2010, oil on wood panel Please note: several images in this interview link to a "zoomify" viewer where clicking the image allows you to zoom and pan, much the same way one uses google maps. You also have the ability to enlarge the viewing area to fill the browser window with button... [Read more of this review]
---
Interview with John Dubrow
John Dubrow in his studio Interview with John Dubrow by Xico Greenwald John Dubrow has been making ambitious figurative paintings of New York City scenes since he moved to Brooklyn in the mid-1980s. His light-filled canvases are often years in the making—ragged, impastoed surfaces the result of the high standard Dubrow holds himself to.... [Read more of this review]
---
Interview with Lucy MacGillis
Lucy MacGillis Astoncolle II 50 x60 inches Oil on canvas 2010 click here for a larger view Lucy MacGillis is a painter who has been living in Italy since her graduation from the University of Pennsylvania in 2000. Her paintings are represented in private and corporate collections internationally. She shows her work at a variety of venues in Europe... [Read more of this review]
---
Interview with Sigal Tsabari
Sigal Tsabari , Hidden, 102.5x 102cm 2008-10 oil on canvas click here for a much larger view (true for most all images) This past summer, in Civita Castellana, Italy, I was fortunate to meet Sigal Tsabari and to watch her slide talk about her work. I was very pleased this summer when she agreed to an interview for Painting Perceptions. I... [Read more of this review]
---
Interview with Christopher Gallego
Christopher Gallego, Small Studio Jar,, 2008 12 1/8 x 8 7/8 inches click here for a larger view I'd like to thank Christopher Gallego for taking the time to share his thoughts on painting in our recent email interview. Mr. Gallego studied at the National Academy of Design in New York and teaches workshops in New York area. He has shown... [Read more of this review]
---
Liminal Spaces: A Conversation with Daniel Sprick
Daniel Sprick , Still Life & Mirror, , Oil on Board, 12 x 9 inches click here for a larger view Liminal Spaces: A Conversation with Daniel Sprick by Elana Hagler As I pull up in my car, the first thing I notice is how out of place my destination seems in this typical, urban Denver neighborhood. Nestled between the larger streets with their... [Read more of this review]
---
Interview with Harold Reddicliffe
LIGHTER,LENS,CAMERA and BLUE WALL 2012 14X14 inches oil on canvas click here for a larger view Harold Reddicliffe is a still-life painter who shows at the Hirschl & Adler Modern, New York, NY and has shown at the Pepper Gallery in Boston as well as the Tatistcheff Gallery in NYC. He recently had a 30 year retrospective at the Boston University... [Read more of this review]
---
Interview with Julyan Davis
Julyan Davis , Abandoned Mansion II, Oil on canvas 36×38 inches A realist searching for something that's real I recently was introduced to the work of artist, Julyan Davis, an English-born painter, who studied at the Byam Shaw School of Art in London and now lives in Ashville, North Carolina. He recently had a one-person show at the Greenville... [Read more of this review]
---
Interview with Jordan Wolfson
Jordan Wolfson, Interior with Two Chairs and Window VII, 2002, oil on canvas, 48″x42″ by Elana Hagler Long before I had the pleasure to meet him in person, Jordan Wolfson's name conjured up images of atmospheric, energetic paintings of interiors, objects, figures, and landscapes that seemed to slip in and out of various states... [Read more of this review]
---
Interview with Gillian Pederson-Krag
Gillian Pederson-Krag, Still Life, Oil on Canvas, 15" x 17", 2007 Collection: P.L. Porter click here for a larger view Interview with Gillian Pederson-Krag by Elana Hagler I've been aware of Gillian Pederson-Krag's work for a number of years, but finding good images of her paintings and etchings online was very difficult, which is why... [Read more of this review]
---
Stuart Shils in Conversation With Nikolai Fox
Stuart Shils End of a Sumer Day, Last Blast of Warm Light, Looking Back, 30×42 inches click here for a larger view Stuart Shils in Conversation With Nikolai Fox March 2012, in advance of an exhibition at steven harvey fine art projects, April 26 – May 27, 2012 Nikolai Fox is a Philadelphia based photographer, painter, musician,... [Read more of this review]
---
Interview with Tim Kennedy
Tim Kennedy Jane and Rose 34″ x 48″ oil on linen click here for a larger view I pleased to present a telephone conversation I had recently with Tim Kennedy, a Bloomington, Indiana painter who teaches at Indiana University and shows at the First Street Gallery in NYC where he is currently having a solo exhibition (up until March... [Read more of this review]
---
Interview with Alex Kanevsky
Alex Kanevsky Interview with Neil Plotkin Alex Kanevsky J.F.H. 48″ x 48″, oil on board, 2011 click here for a larger view Many readers are familiar with Alex Kanevsky's work but perhaps not all of his details. The internet offers a great deal of information about Mr. Kanevsky but unfortunately much of it is, if not false, not... [Read more of this review]
---
Read more posts from Featured Interviews