Lois Dodd has been painting her everyday surroundings for sixty years. Her current exhibition, from February 26 through April 4, 2015 at the Alexandre Gallery in NYC shows twenty-four recent small-scaled paintings that depict familiar motifs such as gardens, houses, interiors and views from windows. Dodd, now eighty-seven, is an iconic figure of the early New York Tenth Street art scene, along with her contemporaries, such as Alex Katz and Philip Pearlstein. The Alexandre Gallery has the current exhibition online as well as many earlier works for view that you can view from this link.
The late painter Will Barnet talked about Lois Dodd in an interview with Barbara O'Brien. (From the Kemper Museum catalog, Lois Dodd Catching the Light)
…"What she has is something that belongs to the language of painting that actually only a very few artists really understand and know about. She has that feeling that the flatness of the canvas, and the verticality or the horizontality has to be met in a certain dynamic way. And she can arrange her forms so that the verticals become alive in relationship to the horizontal. So there is a certain wedding of the two. And so her work has a structure that you miss in most painters. In other words, you have a feeling of solidity and that the forms really belong to each other, where they're in the distance or in the front. They combine in such a way that they come together and form a whole picture, and that's what is exciting about—one of the exciting things—Lois." –Will Barnet
With a career that spans six decades, Dodd is a member of the American Academy of Arts and Letters and the National Academy of Design, and a past member of the board of governors for the Skowhegan School of Painting and Sculpture. Among many honors, she recently was awarded the Benjamin West Clinedinist Memorial Medal in 2007 from the Artists' Fellowship, Inc. and Cooper Union's Augustus Saint-Gaudens Award for professional achievement in art in 2005. Her works can be found in museums, including the Portland Museum of Art, Maine and the Kemper Museum of Contemporary Art, Kansas City, Missouri, among others.
The excellent catalog, Lois Dodd Catching the Light can be purchased from the Kemper Museum of Contemporary Art from this link. This catalog is from her Kemper Museum retrospective where more than fifty paintings were shown from 1955 to 2010.
I wish to thank both Lois Dodd for agreeing to the phone conversation and for her time and thoughtfulness with answering my questions and to share her experience and ideas with our readers.
I would also like to thank Elizabeth O'Reilly for the many ways she helped make this possible.
Larry Groff:  Do you spend a lot of time looking and thinking about the subject before you start to paint?
Lois Dodd:  It's more about what I see when I'm walking around looking for something. Then after that it a matter of what size I want to work with and the proportion it will fit into. Then I try to isolate something that would make a good painting, a good subject. I look through my pile of gessoed panels that are different sizes and different proportions. They are all rectangles or squares and I always take a few of those when I go out so I have a variety of panels to choose from because that is the first decision. If you're looking at something you want to paint and it looks exciting, the lighting is good and then you have to decide what size what shape of a panel will it fit onto; you ask yourself, is it a horizontal thing or vertical or square. Those are the first choices.
LG:  How do you start a painting? Do you make studies or thumbnails first? Do you use a viewfinder of some sort?
LOIS DODD: I don't really use a viewfinder but I can put my hands up to frame the view or something like that. I don't make thumbnail sketches, I'm more interested in starting right on the panel. I start with thinned out yellow paint and draw with the brush. So it's pretty minimal, general and not tight. You asked me if I scrape off, I don't use a scraper but I don't use heavy paint either I really paint rather thinly so we never get to the point where I can scrape. But if I don't like what I've done I can rub it off with a rag with turpentine and rub it all around and then I have a nice colored ground to work into that I can use.
LG: When you find the motif that interests you; do you form the composition in your mind before you start? Or is it something that evolves from your prolonged looking at the thing?
LOIS DODD: I do see a geometric breakdown of space of the rectangle so it has an underlying geometric structure so that is pretty basic to what I'm looking at.
LG:  but the rest of it: the color scheme, the mood, the positions of things; they sort of evolve?
LOIS DODD: No, the position of things, that configuration, is what attracts me and what I find exciting to begin with, so I don't move things around. They're either already where I want them or I might get up and move my chair and easel, it might be a little better a couple feet this way or that way. What I'm looking at more or less dictates the composition. I don't really take any liberties with the subject, if it's no good to begin with, that's it.
LG: Do you measure things to get everything right in terms of the relationships between things?
LOIS DODD: No, Did you see that film about that painter in Madrid, Antonio Lopez Garcia? Speaking of measuring?
LG: Victor Erice's Dream of Light http://en.wikipedia.org/wiki/Dream_of_Light
LOIS DODD: Yes, do you remember where he's standing in front of the tree and marking where his feet are going to be and where the leaves are and all of that? I'm certainly not doing that but I'll move few inches this way or that before I start if I don't like what I'm getting at.  Standing or sitting down makes a big difference too.  Once my position is set it's usually fine.
LG:  So it isn't as important for you to pursue getting the underlying grid of horizontal and vertical geometric relationships? Is it more that you want to get the overall feeling or pictorial expression of the thing you first saw, your first impression of why you were attracted to the motif?
LOIS DODD: Yes. It's the way the light is hitting the subject and is creating the composition. The big thing is my paintings are done in one sitting; partly because of the light and partly because of the weather. I can only be there a couple of hours because after that the light changes the whole composition. The sun will have moved and everything is different in two or three hours so my paintings needs to be done in that time.
LG: Do you use larger brushes and smooth surfaces so you can work quickly and broadly?
LOIS DODD: My panels are up to 15 by 20 inches or smaller panels that are 12 by 18 or 12 by 12. I have a whole pile of gessoed panels, they're not huge, 20 inches is largest I would go, as larger Masonite panels tend to warp or be weird. They aren't reliable when they get too big. Once the painting is bigger I paint on linen.
LG: You also work on aluminum panels?
LOIS DODD: The little tiny ones are aluminum step flashing that you can get in the hardware store.
LG: Step flashing? I'm not familiar with that.
LOIS DODD: Step flashing is for putting flashing down the bottom of a chimney where it goes under the roofing material to keep water out. That's what they're made for and they come in these really small sizes. You can buy big bundles of the stuff for very little money.
LG:  What a great idea! Do you gesso these?
LOIS DODD: It's a very good idea. I sand them like mad because I think they're too smooth and then I gesso them.
LG: What kind of gesso do you use?
LOIS DODD: I use Liquitex usually. Step Flashings are very convenient when you see something and you've got 20 minutes. I do a lot of them at night when the moon is full.
LG: You must simplify things a great deal to get everything in one sitting.
LOIS DODD: Of course, I'm not looking for details or surface description that's for sure. But I am looking for the light, how it hits volumes. I am looking for the light and the color.
LG: Is what you're looking at the main concern or do you also think about how other art might relate to your scene? For instance, if you were painting a scene and thought 'this reminds me of an Arthur Dove painting' or someone like that would you ever push it in that direction a little? Or does all that great art history in your head come through more intuitively?
LOIS DODD: I think so, sometimes you see things that are like somebody else's painting so you stay away from it. Have you ever had that experience where you think, 'oh my god this looks like something so-and-so would paint'? So I'm not painting it. It's somebody else's subject matter.
LG: Interesting. So you wouldn't want to do your take on that subject?
LOIS DODD: Well, if you don't notice that it's someone else's subject, definitely, you're always doing your own take. Sometimes I see things that looks like other people's paintings but that's not interesting to me to begin with. It's not for me.
INTERVIEW CONTINUES
(more…)
The ViewFinder
Planning to return to the JSS in Civita this summer
Corot's view of Civita from Terrano I recently decided return to Civita Castellana...
---
Apollo and Dionysus in the Representational Painting Family Feud
by Elana Hagler This essay explores the subconscious impulses behind aesthetic choice...
---
Tour of Lucian Freud's studio
British TV's Channel Four's exclusive tour of Lucian Freud's studio...
---
August 2009 video interview with Antonio López García
August 2009 video interview with Antonio López García with subtitled english translation...
---
Read more posts from The ViewFinder
Sounding Technical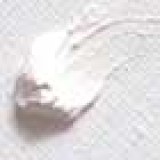 The Great Lead White Shortage
Who took the lead out? Painters who use some form of lead white are now noticing...
---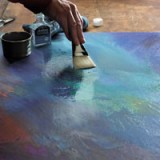 Thoughts on Varnishing
This is the first article for the new section on materials and technique, "Sounding...
---
Read more posts from Sounding Technical
Featured Interviews
Conversation with Lois Dodd
Lois Dodd, Photo by Joe Ward Lois Dodd has been painting her everyday surroundings for sixty years. Her current exhibition, from February 26 through April 4, 2015 at the Alexandre Gallery in NYC shows twenty-four recent small-scaled paintings that depict familiar motifs such as gardens, houses, interiors and views from windows. Dodd, now eighty-seven,... [Read more of this review]
---
Interview with Elizabeth O'Reilly
Elizabeth O'Reilly, Black House, Blairstown, Oil on Panel, 6 X 12 inches 2014 image courtesy of the George Billis Gallery I am very pleased to have had the opportunity to interview Elizabeth O'Reilly by video skype and email and would like to thank Elizabeth for her generosity with her time and energies with this interview. Elizabeth O'Reilly... [Read more of this review]
---
Conversation with Margaret McCann
Margaret McCann, Gazing Globe, 2014 20 x 20 inches oil on linen This past August I was fortunate to meet with Margaret McCann in her studio in NYC for an interview. My good friend and fellow painter, Matthew Mattingly, joined the conversation with many brilliant observations and comments. Larry Groff:  Thank you, Margaret, for talking with us about... [Read more of this review]
---
Interview with Ann Gale
by Larry Groff Ann Gale, Portrait with Orange Scarf, 14 x 11" oil on linen wrapped Masonite, 2014 image courtesy of the artist I am honored that Ann Gale agreed to this telephone interview and thank her greatly for being so generous with her time and attention with sharing thoughts about her art and process. Ann Gale is a leading American figurative... [Read more of this review]
---
Interview with Kyle Staver
Thaddeus Radell wrote in his review of the 2013 Kyle Staver Tibor de Nagy Gallery show: …"Staver is a brilliant inventor whose success lies in her commitment to her inner vision that is at once original and sophisticated and she is remarkably adept at rendering that vision into cohesive luminous constructs. From a broad, almost confused spectrum... [Read more of this review]
---
Intuition and Intention: An Interview with Elizabeth Wilson
by Elana Hagler Elizabeth Wilson, Sunset, Greenport II, oil on panel, 24 x 24, 2012 – 2014 Elizabeth Wilson is a painter living and working in Philadelphia and will be having a show of recent work at the Rosenfeld Gallery in Philadelphia from November 2nd through November 23rd. First studying at the Corcoran School of Art in Washington, D.C.,... [Read more of this review]
---
Conversation with Lennart Anderson
Introduction by Susan Jane Walp I met Lennart Anderson during the summer of 1968. I was an undergraduate student at Mount Holyoke College, attending a summer program run by Boston University at Tanglewood, and Lennart was the painting instructor. We painted from the model, and Lennart painted along with us. Later he expressed some guilt over being... [Read more of this review]
---
Interview with Anne Harris
by Tina Engels Anne Harris, Head Study, 2013 I visited the studio of Anne Harris and had a peek at the some of her new paintings and a glimpse of some drawings that did not make the cut for her last exhibition. We discussed her process as she pushes further and deeper into what she feels is true in her painting, excavating and digging into the various... [Read more of this review]
---
Legacy and Self-Determination: An Interview with Alexandra Tyng
by Elana Hagler The Porcupines From Cadillac, oil on linen, 28″ x 42″ Alexandra Tyng is a painter who lives and works in Philadelphia. She has a B.A. in Art History from Harvard and an M.S. in Education from the University of Pennsylvania. In terms of her painting education, she is mostly self-taught, having examined the work of the old... [Read more of this review]
---
Interview with Duane Keiser
Duane Keiser, "Self Portrait in an iPhone, 9/10/2011″ oil/paper, 6″x5″ Duane Keiser is perhaps best known as the leading pioneer in the trend of painters selling work online. He is not only a fabulous painter who has sold work in major NYC galleries but continues to be a leading figure "in democratizing the art world, using... [Read more of this review]
---
Interview with Vincent Desiderio
Vincent Desiderio, Hitchcock's Hands, 2012 oil and mixed media on canvas 64 x 66 inches (Courtesy of the artist and the Marlborough Gallery) Vincent Desiderio is widely considered to be among America's most preeminent living painters. He is currently having his eighth one-man exhibition of new work at the Marlborough Gallery 40 West 57th... [Read more of this review]
---
Interview with Diana Horowitz
(photo credit: Tommy Agriodimas / Downtown Alliance) click here for larger image I've long admired Diana Horowitz's paintings and I was thrilled to have the opportunity to speak with her on the phone and by email for this interview. I thank her greatly for the generosity of her time and thoughts for this interview. Maureen Mullarkey wrote... [Read more of this review]
---
Seeing Along the Periphery, Getting at the Essence
Photo credit: Jason Houston click here for larger view  A'Dora Phillips interviews Lennart Anderson in Collaboration with Brian Schumacher Lennart Anderson on painting from life with central vision blindness; what vision loss has taught him about painting; art school; creativity; genius; influence; not fitting in; and hunkering down. The perceptual... [Read more of this review]
---
Interview with Michael Tompkins
Barge for an Evening Bird, (DETAIL) 9 3/4 x 81 7/8 inches, 2010, oil on wood panel Please note: several images in this interview link to a "zoomify" viewer where clicking the image allows you to zoom and pan, much the same way one uses google maps. You also have the ability to enlarge the viewing area to fill the browser window with button... [Read more of this review]
---
Interview with John Dubrow
John Dubrow in his studio Interview with John Dubrow by Xico Greenwald John Dubrow has been making ambitious figurative paintings of New York City scenes since he moved to Brooklyn in the mid-1980s. His light-filled canvases are often years in the making—ragged, impastoed surfaces the result of the high standard Dubrow holds himself to.... [Read more of this review]
---
Interview with Lucy MacGillis
Lucy MacGillis Astoncolle II 50 x60 inches Oil on canvas 2010 click here for a larger view Lucy MacGillis is a painter who has been living in Italy since her graduation from the University of Pennsylvania in 2000. Her paintings are represented in private and corporate collections internationally. She shows her work at a variety of venues in Europe... [Read more of this review]
---
Interview with Sigal Tsabari
Sigal Tsabari , Hidden, 102.5x 102cm 2008-10 oil on canvas click here for a much larger view (true for most all images) This past summer, in Civita Castellana, Italy, I was fortunate to meet Sigal Tsabari and to watch her slide talk about her work. I was very pleased this summer when she agreed to an interview for Painting Perceptions. I... [Read more of this review]
---
Interview with Christopher Gallego
Christopher Gallego, Small Studio Jar,, 2008 12 1/8 x 8 7/8 inches click here for a larger view I'd like to thank Christopher Gallego for taking the time to share his thoughts on painting in our recent email interview. Mr. Gallego studied at the National Academy of Design in New York and teaches workshops in New York area. He has shown... [Read more of this review]
---
Liminal Spaces: A Conversation with Daniel Sprick
Daniel Sprick , Still Life & Mirror, , Oil on Board, 12 x 9 inches click here for a larger view Liminal Spaces: A Conversation with Daniel Sprick by Elana Hagler As I pull up in my car, the first thing I notice is how out of place my destination seems in this typical, urban Denver neighborhood. Nestled between the larger streets with their... [Read more of this review]
---
Interview with Harold Reddicliffe
LIGHTER,LENS,CAMERA and BLUE WALL 2012 14X14 inches oil on canvas click here for a larger view Harold Reddicliffe is a still-life painter who shows at the Hirschl & Adler Modern, New York, NY and has shown at the Pepper Gallery in Boston as well as the Tatistcheff Gallery in NYC. He recently had a 30 year retrospective at the Boston University... [Read more of this review]
---
Read more posts from Featured Interviews