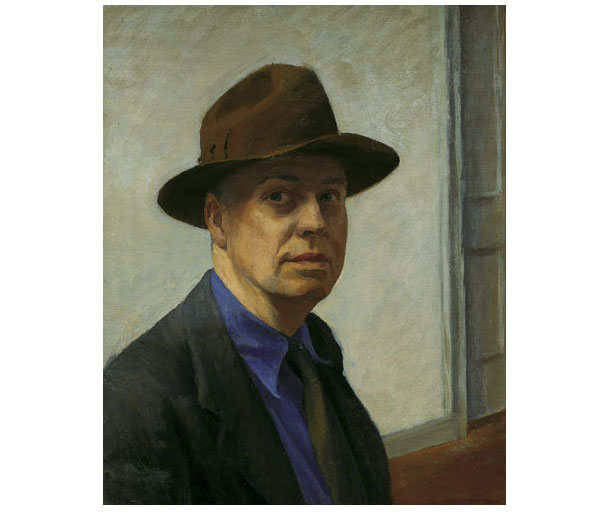 Edward Hopper, a documentary film narrated by actor, art collector and musician Steve Martin, was produced by the National Gallery of Art for an major exhibition there in 2007 that included 48 paintings, 34 watercolors, and 12 prints from public and private collections.
From a IMDb review:
Edward Hopper (1882 – 1967) is one of the best known and most admired of American artists. He found poetry in quiet, private moments set in unexceptional places, such as anonymous hotel rooms, diners (Nighthawks), gas stations, and traditional houses. Within these urban or small-town spaces, Hopper created iconic images of American life that present us with the possibility of narrative, but ultimately remain enigmatic. Rather than depict a specific story, they suggest a universal, shared experience. This film traces Hopper's varied influences, from French impressionism to the gangster films of the 1930s. The documentary uses archival photos and film, specially shot footage of locations painted by Hopper in New York and the New England coast, and interviews with artists Eric Fischl and Red Grooms, scholars, and curators.
See more about An Opera Inspired by Five Paintings of Edward Hopper after the fold.
The ViewFinder
August 2009 video interview with Antonio López García
August 2009 video interview with Antonio López García with subtitled english translation...
---
Rackstraw Downes Videos
Rackstraw Downes discusses his approach and philosophies involved in his outdoor...
---
The Perfect Squint: The Teaching Legacy of Edwin Dickinson – video lecture by John Leavey
Fascinating presentation explaining Edwin Dickinson's approach to teaching...
---
A review of La polvere di Morandi/ Morandi's Dust
image courtesy of Imago Orbis click here for a larger view I was fortunate...
---
Read more posts from The ViewFinder
Sounding Technical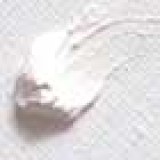 The Great Lead White Shortage
Who took the lead out? Painters who use some form of lead white are now noticing...
---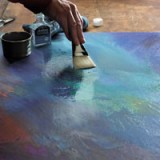 Thoughts on Varnishing
This is the first article for the new section on materials and technique, "Sounding...
---
Read more posts from Sounding Technical
Featured Interviews
Interview with Vincent Desiderio
Vincent Desiderio, Hitchcock's Hands, 2012 oil and mixed media on canvas 64 x 66 inches (Courtesy of the artist and the Marlborough Gallery) Vincent Desiderio is widely considered to be among America's most preeminent living painters. He is currently having his eighth one-man exhibition of new work at the Marlborough Gallery 40 West 57th... [Read more of this review]
---
Interview with Diana Horowitz
(photo credit: Tommy Agriodimas / Downtown Alliance) click here for larger image I've long admired Diana Horowitz's paintings and I was thrilled to have the opportunity to speak with her on the phone and by email for this interview. I thank her greatly for the generosity of her time and thoughts for this interview. Maureen Mullarkey wrote... [Read more of this review]
---
Seeing Along the Periphery, Getting at the Essence
Photo credit: Jason Houston click here for larger view  A'Dora Phillips interviews Lennart Anderson in Collaboration with Brian Schumacher Lennart Anderson on painting from life with central vision blindness; what vision loss has taught him about painting; art school; creativity; genius; influence; not fitting in; and hunkering down. The perceptual... [Read more of this review]
---
Interview with Michael Tompkins
Barge for an Evening Bird, (DETAIL) 9 3/4 x 81 7/8 inches, 2010, oil on wood panel Please note: several images in this interview link to a "zoomify" viewer where clicking the image allows you to zoom and pan, much the same way one uses google maps. You also have the ability to enlarge the viewing area to fill the browser window with button... [Read more of this review]
---
Interview with John Dubrow
John Dubrow in his studio Interview with John Dubrow by Xico Greenwald John Dubrow has been making ambitious figurative paintings of New York City scenes since he moved to Brooklyn in the mid-1980s. His light-filled canvases are often years in the making—ragged, impastoed surfaces the result of the high standard Dubrow holds himself to.... [Read more of this review]
---
Interview with Lucy MacGillis
Lucy MacGillis Astoncolle II 50 x60 inches Oil on canvas 2010 click here for a larger view Lucy MacGillis is a painter who has been living in Italy since her graduation from the University of Pennsylvania in 2000. Her paintings are represented in private and corporate collections internationally. She shows her work at a variety of venues in Europe... [Read more of this review]
---
Interview with Sigal Tsabari
Sigal Tsabari , Hidden, 102.5x 102cm 2008-10 oil on canvas click here for a much larger view (true for most all images) This past summer, in Civita Castellana, Italy, I was fortunate to meet Sigal Tsabari and to watch her slide talk about her work. I was very pleased this summer when she agreed to an interview for Painting Perceptions. I... [Read more of this review]
---
Interview with Christopher Gallego
Christopher Gallego, Small Studio Jar,, 2008 12 1/8 x 8 7/8 inches click here for a larger view I'd like to thank Christopher Gallego for taking the time to share his thoughts on painting in our recent email interview. Mr. Gallego studied at the National Academy of Design in New York and teaches workshops in New York area. He has shown... [Read more of this review]
---
Liminal Spaces: A Conversation with Daniel Sprick
Daniel Sprick , Still Life & Mirror, , Oil on Board, 12 x 9 inches click here for a larger view Liminal Spaces: A Conversation with Daniel Sprick by Elana Hagler As I pull up in my car, the first thing I notice is how out of place my destination seems in this typical, urban Denver neighborhood. Nestled between the larger streets with their... [Read more of this review]
---
Interview with Harold Reddicliffe
LIGHTER,LENS,CAMERA and BLUE WALL 2012 14X14 inches oil on canvas click here for a larger view Harold Reddicliffe is a still-life painter who shows at the Hirschl & Adler Modern, New York, NY and has shown at the Pepper Gallery in Boston as well as the Tatistcheff Gallery in NYC. He recently had a 30 year retrospective at the Boston University... [Read more of this review]
---
Interview with Julyan Davis
Julyan Davis , Abandoned Mansion II, Oil on canvas 36×38 inches A realist searching for something that's real I recently was introduced to the work of artist, Julyan Davis, an English-born painter, who studied at the Byam Shaw School of Art in London and now lives in Ashville, North Carolina. He recently had a one-person show at the Greenville... [Read more of this review]
---
Interview with Jordan Wolfson
Jordan Wolfson, Interior with Two Chairs and Window VII, 2002, oil on canvas, 48″x42″ by Elana Hagler Long before I had the pleasure to meet him in person, Jordan Wolfson's name conjured up images of atmospheric, energetic paintings of interiors, objects, figures, and landscapes that seemed to slip in and out of various states... [Read more of this review]
---
Interview with Gillian Pederson-Krag
Gillian Pederson-Krag, Still Life, Oil on Canvas, 15" x 17", 2007 Collection: P.L. Porter click here for a larger view Interview with Gillian Pederson-Krag by Elana Hagler I've been aware of Gillian Pederson-Krag's work for a number of years, but finding good images of her paintings and etchings online was very difficult, which is why... [Read more of this review]
---
Stuart Shils in Conversation With Nikolai Fox
Stuart Shils End of a Sumer Day, Last Blast of Warm Light, Looking Back, 30×42 inches click here for a larger view Stuart Shils in Conversation With Nikolai Fox March 2012, in advance of an exhibition at steven harvey fine art projects, April 26 – May 27, 2012 Nikolai Fox is a Philadelphia based photographer, painter, musician,... [Read more of this review]
---
Interview with Tim Kennedy
Tim Kennedy Jane and Rose 34″ x 48″ oil on linen click here for a larger view I pleased to present a telephone conversation I had recently with Tim Kennedy, a Bloomington, Indiana painter who teaches at Indiana University and shows at the First Street Gallery in NYC where he is currently having a solo exhibition (up until March... [Read more of this review]
---
Interview with Alex Kanevsky
Alex Kanevsky Interview with Neil Plotkin Alex Kanevsky J.F.H. 48″ x 48″, oil on board, 2011 click here for a larger view Many readers are familiar with Alex Kanevsky's work but perhaps not all of his details. The internet offers a great deal of information about Mr. Kanevsky but unfortunately much of it is, if not false, not... [Read more of this review]
---

Interview with Sydney Licht
click here for a larger view Interview with Sydney Licht by Neil Plotkin Sydney Licht is a painter based in New York. Ms. Licht studied at Smith College and received her MFA from the School of the Art Institute of Chicago. She is represented by Kathryn Markel Fine Arts in New York and is also a member of the still life group Zeuxis. This... [Read more of this review]
---
Interview with Yael Scalia
Yael Scalia Lud Street, Jerusalem click here for a larger view I was fortunate to meet Yael Scalia in Italy during the JSS summer program in Siena a couple of summers ago. I was smitten by her work and insights into painting and find myself returning to her paintings time after time for inspiration and ideas. I am delighted that she was able... [Read more of this review]
---

Amy Weiskopf
Amy Weiskopf "Still Life with Tomatoes, Green Apples and Leek", 2010 Oil on linen, 13 3/4 x 17 3/4 in. click here for a larger view Images courtesy of the Hirschl & Adler Modern Last summer I was fortunate to meet and study with Amy Weiskopf in Seina, Italy at the Jerusalem Studio School's summer Certosa program. For... [Read more of this review]
---

Interview with Lucy Barber
Lucy Barber Red Cup And Swallows oil on linen, 14 x 16 inches click here for a larger view Lucy Barber is an incredible painter whose landscapes and still-lifes has long enchanted me and who I made one of my earliest blog posts about. I've returned to her work for a closer view and she graciously agreed to an interview via email. Lucy... [Read more of this review]
---
Read more posts from Featured Interviews