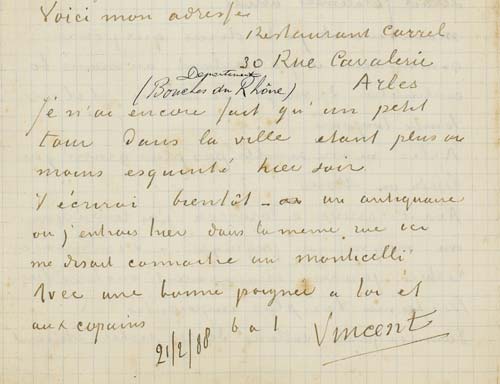 I recently discovered this incredible online resource, Vincent van Gogh, The Letters, put together by scholars from the Van Gogh Museum in Amsterdam, the complete translated 902 letters of Van Gogh along with over 4,300 illustrations – every work to which Van Gogh refers is reproduced. There are excellent search features that allow you to easily view the letters, artwork, notations, translations, etc by period, location and by correspondent.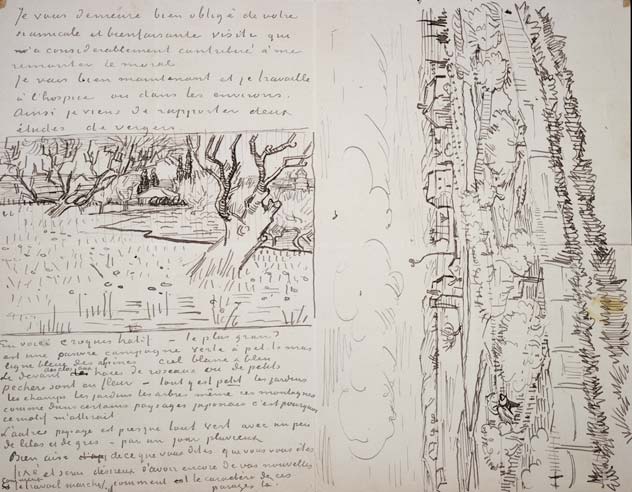 Most of the letters were written to his brother Theo, but Vincent also wrote to other family members, including his sister Wilhelmina. He also wrote letters to several other artists, such as Emile Bernard and Paul Gauguin. The letters often show the evolutions of his ideas about painting, nature and literature.
If you're like me and collect artbooks then you will seriously be considering wanting the physical book version, which has six volumes with a slipcase. However, just because you want something doesn't make it so, the free online version will keep us occupied while waiting for the right amount of "discretionary income" to fall into our laps!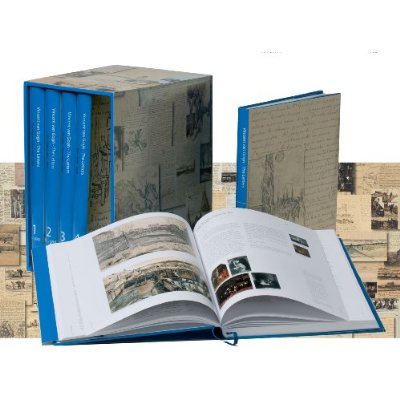 But if you do decide to spring for the hard copy, please consider buying it from this Painting Perceptions' link to Amazon.com

The price new ranges around $640.00 but used versions can be found for $450+
If you do buy the book from clicking our link to Amazon it will help support this site by giving us a small percentage of the sale. This money can then be used to help pay for travel expenses to make more video interviews with painters, labor fees, etc.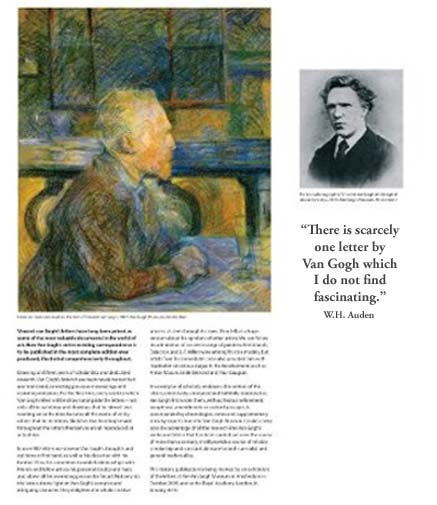 Also of interest is that The Royal Academy in London is having a major Van Gogh exhibition through April 18, 2010, where they will display around 65 paintings and 30 drawings along with over 35 original letters, which rarely get exhibited due to their fragility.
From Amazon:
A massive work of scholarship as well as a visual delight. (Sunday Telegraph [UK] )

The greatest cache of writing about art left behind by any artist. Intense, relentless, gossipy, utterly fascinating. (The Sunday Times [London] )

The most important art publication of 2009, if not of the decade. (Financial Times )

This could be the best autobiography of an artist yet to appear anywhere. (The Economist )

With his words and visions united in all their blazing intensity, this momentous edition at last completes the palette of Vincent's double art. (The Independent [UK] )
This edition is an immense treasure trove of biographical and art-historical information. The culmination of fifteen years of new research and superseding all previous editions in its ambition and up-to-date scholarship, it provides a lasting pleasure as a personal testimony to a life consecrated to art.

* Over 4,300 illustrations
* New transcriptions of every known letter to or from Van Gogh
* The complete collection: this edition includes all the letters, both in the Van Gogh Museum and those in other museums, archives and private collections
* New translations render Van Gogh's words more closely than ever before – unadorned, unimproved, faithful and accurate
* Van Gogh's sketches, made throughout the letters, are reproduced here at full size
* New material: previously unknown letters and fragments of letters are published in English here for the first time
* New scholarship: fifteen years of new research have added to scholars' understanding of Van Gogh's life and work. Extensive research has been carried out to identify every work of art mentioned, whether produced by Van Gogh or by other artists.
* Authoritative editing: many omissions and misreadings in previous editions have now been corrected. For the first time the letters are fully annotated.
* Supplementary texts add information about Van Gogh's life, his family, his correspondents, his characteristics as a letter-writer and the context in which the letters were written. Also includes a comprehensive list of materials discussed in the letters, a chronology of his life and a full index
* Exemplary design: the typography and design is by Wim Crouwel, one of Holland's most accomplished book designers of the last fifty years
---
Donate to Painting Perceptions
Donations to Painting Perceptions helps this site greatly, please consider your gift today.