By Elana Hagler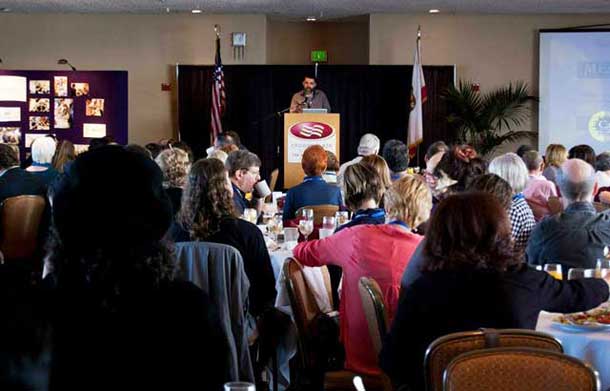 photo credit: Brittany McGinley
I just came back from four days spent at the Representational Art Conference in Ventura, California. When I told several painter friends that I was planning on attending this event, they expressed dismay that I would be wading into a sea of classical painters. The general tone of our conversations held the question, "But why would you want to do that?"
Let me back up a minute. Like a good number of painters who are featured on Painting Perceptions, and are in our general painting tribe, I consider myself an observational (or perceptual) painter. For me, when I paint, the act of looking and responding takes primacy.  I was also weaned at the teat of Charles Hawthorne and Edwin Dickinson, and first learned to paint at the age of twenty by watching Lennart Anderson rub his thumb across my canvas and somehow magically create believable space. At the conference, I was presenting my paper "Apollo and Dionysus in the Representational Family Feud" where I examined the nature of the (very fluid) divisions between three different types of contemporary representational paintings: classical, observational, and constructed.  What prompted me to write this paper was the attempt to understand why there seems to be such squabbling and turning up of noses between different types of representational painters, when most other contemporary artists working today would lump us all together as obsolete and stodgy "realists" and dismiss the lot of us as utterly irrelevant. In the paper, I discuss Nietzsche's dichotomy of the Apollonian and the Dionysian, and explore how these forces interact in contemporary representational painting. Nietzsche shows how the Apollonian and Dionysian tendencies are responses to the chaotic nature of existence. When we see that aesthetic form is an embodied response which is related to our deepest hopes and insecurities, it becomes a little more fathomable how such a fuss can be raised over issues of painting style and subject matter. I argue that where a painting falls on the Apollonian/Dionysian spectrum should not in itself determine a painting's worth or validity, and that we should recognize our kneejerk reactions for what they are.
The thing is, that while I identified with my peers and classmates who were also heavily involved in painting from perception, I was shocked when I was told (quite unmistakably!) by several of them that I was not, in fact, one of them.  It took me a while to understand why that could be.  You see, while some of my work was loose and "painterly" my most recent series of still-lifes was fairly hard-edged and very detailed.  I sometimes painted "high class" objects which made some painters nervous.  My paintings smacked too much of conventional beauty.  I had also dabbled in working from old family photographs in grad school, and even though my still-lifes are painted from life, I guess the "stain" of working from visual aids still followed me.  And possibly even worse, I seem to be perversely interested in issues of narrative.  I freely admit that while my still-life objects function primarily as formal devices, I still see them as vessels of memory, and stand-ins for those who have made the most indelible marks upon my life.  "You're not a perceptual painter," I was told, "You're just a confused classicist."  In case you haven't already figured it out, "classicist" was, in this context, a dirty, dirty word.
As I walked into the Crowne Plaza on Ventura Beach where TRAC was starting up last Sunday, I wasn't sure if I was an undercover agent or a prodigal daughter finally coming home. There were a good amount of academic papers being presented, but many other activities, as well. There were keynote speeches by Roger Scruton, Odd Nerdrum (that's right, everyone's favorite whipping boy), and Juliette Aristides. There were panel discussions with topics such as "The Aesthetics of 21st Century Representational Art." There were also several shows of paintings, both on and off site, and a number of demonstrations being performed in the evenings.
I was concerned that I would find rabid anti-modernism and anti-intellectualism, and to be fair, there was some of that. Let's just say that there were things said about Willem de Kooning and Art Historians as an undifferentiated group that made me squirm a bit in my seat. But it's easy to empathize with painters who might have spent the majority of their careers working in relative obscurity and poverty who might have found a receptive audience if representational painting had not been so marginalized over the decades.  What I found was that such overt bitterness was very much the minority point of view. There was a general dissatisfaction with the state of the art world as it currently is, with exorbitant prices being commanded by the work of a very few artists at the pinnacle of the art world.  And there was a real sense that there is much good work being done today that is overlooked because it simply isn't considered "cool" by contemporary standards—much more an issue of fashion than of quality.  The anti-modernism was more than balanced out by wonderful talks, such as one by USC professor and painter Ruth Weisberg that accompanied a show titled "Women by Women" and a featured paper presentation on "The Legacy of Bay Area Figuration" by Huffington Post blogger John Seed, who was a student of Nathan Oliveira.
Rather than trying to bring down the art establishment as it is, TRAC seemed to be offering an alternative that could exist side-by-side. This is not to say that everyone was gung ho about appropriating the label "kitsch," as Odd Nerdrum and his followers have done. It was more about the realization that there is no monolithic art world, although art criticism has a way of making it seem like there is. Having been to the College Art Association (CAA) conference a number of times, I find that TRAC is a very attractive alternative. It is obviously not as big at this point (although it has already grown tremendously since its first manifestation two years ago) with fewer academic papers and considerably fewer venders of art supplies and such, but I found the general feel of the conference to be quite refreshing.  It didn't have the sort of stuffiness and impersonality that I've come to associate with the CAA. People were generally passionate and eager to interact and learn more about each other's art and ideas. Above all, the conference buzzed with optimistic energy and a real excitement about the recent resurgence of representational painting.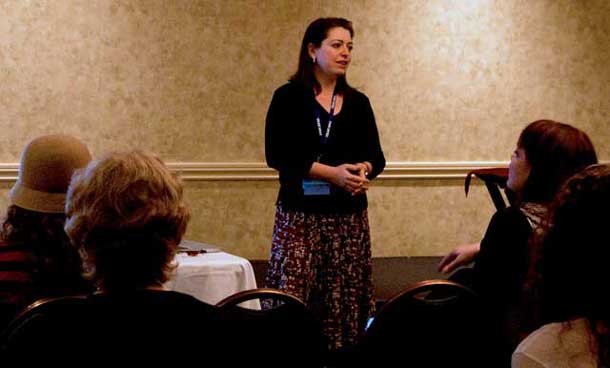 photo credit: Brittany McGinley
So was I an undercover agent or a member of this tribe? Well, what I found was that the population of the conference was incredibly diverse. Sure, various people had their own ideologies. I know that I naturally have a kumbaya attitude of we should all get along and relish each other's differences, but I started thinking about the role of polemicists in painting today. It seems like people either hate or love Roger Scruton and Odd Nerdrum.  It's hard to find someone who feels lukewarm or just generally, faintly positive about either of them.  But let us not forget that observational painting, abstract painting, conceptual art, and all forms of art-making have their loud and divisive figures.  And I think I've come to the conclusion that that's a good thing.  I'm glad that these strong characters are out there, making waves, and pushing us to question and analyze where we all stand. I think that the real danger lies in acolytes. Anytime that a strong figure emerges, you will have those who worship the ground that he or she walks on and who will do everything in their power to try to become a carbon copy. But remember, all you sneerers, that this is not just an ailment of classical painting!  This applies to all types of painting and indeed, all fields of study.  It's similar to people looking at a great holy man, and rather than distilling those features of faith and intellect which are the shining manifestations of his brilliance, acolytes will start to mimic the way that he dressed, his mannerisms, and his turns of phrase. Well, this happens in painting.  These strong figures catch our collective attention because there is truly something to them. Now whether we accept or reject their messages is up to us, but the main thing is to be discerning individuals ourselves. We should be able to take the influences, draw up the essence that resonates most deeply with our own sense of self, and discard the rest. And it's important to have many influences, so that we can broaden our perspectives and avoid the dangers of outright mimicry.
Ultimately, I would have liked to have seen a greater observational painting presence at TRAC, but maybe that will happen in coming years. At the end of the conference, the organizers handed out a form to us which asked for any suggestions on how to improve future conferences, and my recommendation was to invite more painters from outside of the atelier movement, such as Vincent Desiderio, Susan Lichtman, Scott Noel, Israel Hershberg, and Susan Walp. I feel that it would help make the Representational Art Conference more fully live up to its name. If I go to the next conference, perhaps I'll give a talk on the tradition of observational painting. And no, I'm not an undercover agent, secretly sneering at the heartfelt confessions of classical painters, but neither do I see myself as a classical painter. And yes, I had a strong feeling of belonging at TRAC. Like Peter Trippi, editor of Fine Art Connoisseur, said on the final panel discussion, if we started going into all of our differences, the room would dissolve into a bunch of cat fighting. But we can choose to acknowledge and savor our differences, and support each other to greater and greater heights. Sure, there are legitimate criticisms of both classical and observational painting that can and should be made, but hopefully in the context of a positive discussion of aesthetics, rather than the wholesale dismissal of one category or another. And let us not forget the many of us painters who might straddle the line. As painter Richard T. Scott said in his presentation, positive competition would strengthen us all. He would rather get a silver medal with everyone else painting at the top of their game, than a gold with a beaten-down opposition. I come away from TRAC grateful for the large number of interesting people and wonderful painters whom I met. I also cherish the fact that they are not all like me, and that I'm not walking around in some terrifying episode of The Twilight Zone, with my own face reflected back at me for eternity. I feel very hopeful for the future of representational art.