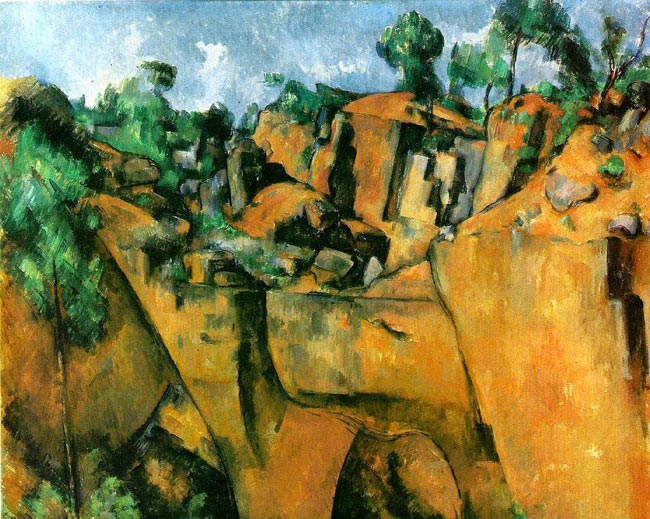 Bibemus Quarry c. 1895 Oil on canvas, 65.1 x 81 cm
I got to see the Philadelphia Museum of Art 's "Cézanne and Beyond," shortly before it closed this May. The show had on view some 50 Cézanne paintings and another 100 stellar works from 18 major artists, such as Matisse, Mondrian, Picasso, Braque, Charles Demuth, Max Beckmann, Giorgio Morandi, Alberto Giacometti, Jasper Johns, and Brice Marden. You can obtain a nearly 600 page catalog of the show with this link .
Seeing so many masterful works by Cezanne in one place was immensely enjoyable but found the some artists connections to Cezanne a bit thin in places, like the color field ribbons of Brice Marden or minimalist pears by Ellsworth Kelly– connections to Cezanne perhaps only wishful thinking from the artist or curator. It's all too easy to claim Cezanne your source of inspiration but I'll take them at their word; after all Cezanne is the big granddady to modern painting.
However surely not all the grandchildren turned their backs to painting from nature – except for a few like Morandi and Giacometti most painters in the show had a more conceptual rather than perceptual basis to their work, which would seem to run contrary to one of Cezanne's core belief of working from nature. For example; shown below is the "Card Players" by Jeff Wall, a 2006 transparency in a huge lightbox photo shown here hung next to the Met's Cezanne's Card Players. Or this extreme example, the performance artist Francis Alys covered an actual Cézanne painting with bubble wrap and hung it at the show's exit point as what he called his homage "to where Cézanne had left us: a place where one could no longer see nature with a virginal eye." It left me feeling that at least one bullshit artist covered up the real spirit of Cezanne with yet more plastic crap destined for the landfill.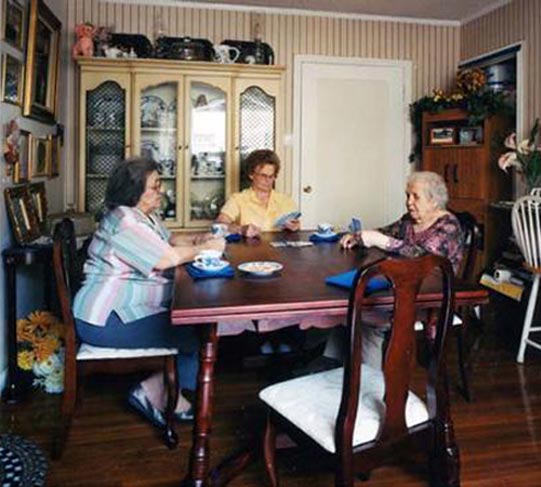 "Card Players" by Jeff Wall, 2006, transparency in lightbox photo
I 'm not sure when I last saw nature through a virginal eye, which presumably means before you first got screwed by modernist abstraction, but I do think Cezanne still offer great rewards for contemporary realist painters. Most painters know that painting is a life long study, that no one really graduates. But "post-graduate" study isn't just taking workshops, watching DVD's and rigorous study from the motif; it is also important to understand art history that continues into the 21st century, like it or not. Too many painters make very skilled, competent but extremely boring paintings because they are trying to get back to that pre-modern virginal state of mind, when what counted was the ability to paint according to exacting academic doctrine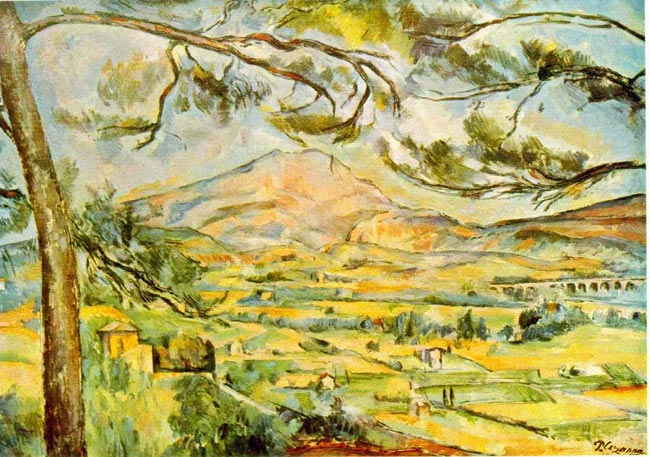 Paul Cezanne Mont Sainte-Victoire 1885-87 Oil on canvas, 26 x 35 3/8 in;
Much can be learned from Cezanne; his ways of composing and thinking about his painting, not to copy his style or affectations (like so many have done before) but to gain additional understanding about other ways of seeing and construct a painting; additional tools for creating a more visually meaningful expression that you use with your own voice and to your own purpose.
Getting to sources of modernism– where painters like Matisse looked which in turn inspired someone like Richard Diebenkorn's Bay Area figurative work and his abstract Ocean Park Series – to a contemporary realist painter like Ben Aronson – whose realist cityscapes show a direct lineage. Ben Aronson said "In working from familiar surroundings, as I often do, I find that in order to raise a work from the commonplace to the extraordinary – from a simple descriptive record to a work of art, the main objective is not merely physical likeness, but rather to aim for the most concentrated form of a powerful visual experience. Perfect spelling alone does not make great poetry, just as the realistic rendering of numerous visual facts will not alone amount to high art."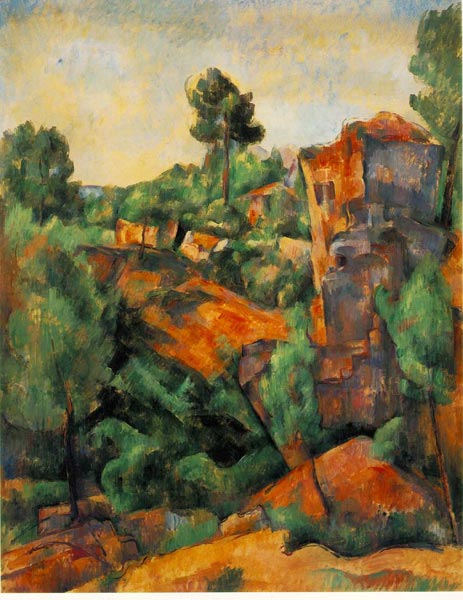 I am planning on writing an intermittent series of posts on Cezanne and perceptual painting, specifically dealing with his thoughts on color sensation and composition. I thought it might be a great opportunity to try and learn more about his works myself and share with you my findings. Finally I will end by this quote from Cezanne himself:
"The artist must shun opinions not based on the intelligent observation of essentials. He must avoid thinking like a writer, which so often distracts the painter from his true goal—the direct study of nature—and causes him to waste his time intangible theories.
The painter must dedicate himself totally to the study of nature and try to produce paintings which enlighten. Conversations about art are almost always useless. Work, which brings about progress in one's art, is sufficient consolation for being misunderstood by fools. The writer's expresses himself in abstractions while the painter renders his sensations and his perceptions concrete by means of drawing and color."
Or to put it another way from another translation or quote: "One cannot be too conscientious, too sincere, or too submissive to nature; but one must be more or less master of his model and, above all, of his means of expression. His goal is to penetrate what lies before him and to strive to express himself as logically as possible."