(note all images have a higher resolution image when clicked)
Regardless of where you live, the one show not to be missed this summer is the Concord Art Association's Sight Specific: A Selection of American Perceptual Paintings, curated by George Nick. The show runs until August 13 in Concord, Ma. George Nick selected more than 75 paintings from 56 artists for this show. The diverse range of styles, subjects and formal concerns are united by their connection to great painting and observational traditions. Nick's lecture with this show was video-taped and the hour long lecture and can be viewed later in this article. Philip Pearlstein gives another lecture, Just the facts: Contemporary Perceptual Realist Painting, on Saturday, June 28, 2pm – more information can be obtained from the CAA website or by calling (978) 369-2578.
From the Concord Art Association press release:
According to Nick,

"The goal of the show is to celebrate the tradition of careful observation as the basis for an important aspect of American painting and to emphasize the remarkable variety of imagery it has generated."

Beginning at the turn of the twentieth century with the still-lifes of John Frederick Peto and landscapes of John Frederick Kensett and Childe Hassam, the exhibition will progress through subsequent generations, including paintings by Edwin Dickinson, Walter Murch, Philip Pearlstein, Neil Welliver, George Nick and Lennart Anderson. It will continue with work by current mid-career painters as well as recent graduates who will play a central role in the next generation of American painting.

Nick continues, "Our hope is that the consistently high quality of the painting exhibited will reveal the enduring relevance, the compelling visual richness, and the limitless variety of this pictorial tradition. Most important, it will serve as a reminder that many of the brightest and most gifted young painters working today have chosen this tradition, among all available options, to help define the future of visual arts."
The artists in this exhibition include: Eric Aho, Kim Alemian, Lennart Anderson, Sam Cady, Matthew Cerletty, Bernard Chaet, Christopher Chippendale, Rachel Christofi, William Ciccarelli, Dana Clancy, Charles Demuth, Edwin Dickinson, Jeremy Durling, Richard Estes, Jeff Fichera, Shalom Flash, Rick Fox, Chawky Frenn, Elizabeth Geiger, Philip Geiger, Gregory Gillespie, Jill Grimes, Anne Harris, Kelley Harwood, Haley Hasler, Childe Hassam, Andrew Karnes, Catherine Kehoe, Ron Krouk, John Lee, Kathy Liao, Megan Marlatt, Siobhan McBride, Nancy McCarthy, Elizabeth Menges, K. Min, Joseph McNamara, Julia von Metzsch, John Moore, Walter Tandy Murch, George Nick, Scott Noel, Philip Pearlstein, John Frederick Peto, Paul Rahilly, Richard Raiselis, Robert Rasely, Harold Reddicliffe, Richard Sheehan, Charlie Shurcliff, Amy Sudarsky, Julia von Metzch, Lindsey Warren, Frederick Judd Waugh, Neil Welliver, and Alexi Worth.
I would like to thank the Concord Art Association for their help in making higher resolution images available of a selected number of the work in the show. (images shown below the fold) They have a terrific catalog that can be obtained for $10.00 if you speak to someone by phone or in person (see their website for details)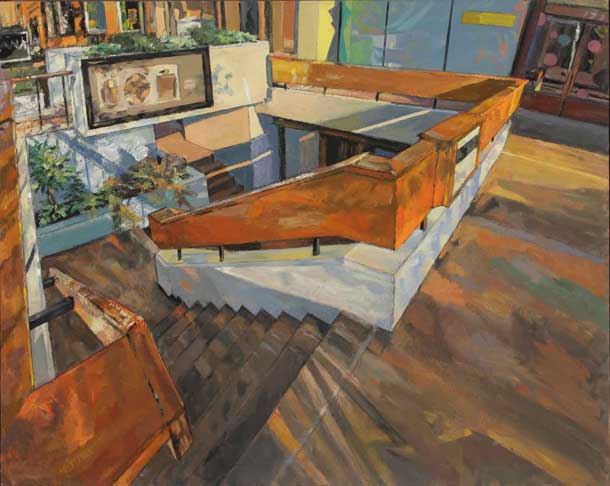 STATEMENT FROM GEORGE NICK, CURATOR
While this exhibition began somewhere between the vague boundaries of figurative art and realism, it coalesced quickly into something more personal, that is, a representation of those artists who have been foremost in my mind over the course of my own experience and personal development. These artists include, but are not limited to: Edwin Dickinson, Neil Welliver, Philip Pearlstein, Fairfield Porter, and Lennart Anderson. Ultimately I sought to gather together work by them, as well as that of an additional number of young talents, for this show.

Over the years it has become apparent to me that the fire of the old masters, which many presumed out (or smoldering) since WW II, has been growing steadily, and roars in full flame. Critics, museums, commercial galleries, and institutions of learning have largely chosen to ignore this growth of the contemporary realist movement, thereby serving to form an academy reminiscent of the French control of taste in the late 1800's. Meanwhile, contemporary realism and figurative art work thus relegated to the margin by many, but not all, leading thinkers, continued to grow, driven by a real desire and focus of spirit sustained by the younger artists of our generation. They are the ones who continue to breathe life into Art and enrich our lives and futures by doing so.

This exhibition is dedicated to Edwin Dickinson, a mentor from the past, and to all artists contemporary or otherwise, who devote their lives to their art.
George+Nick+Lecture+2.0-HD from Concord Art Association on Vimeo