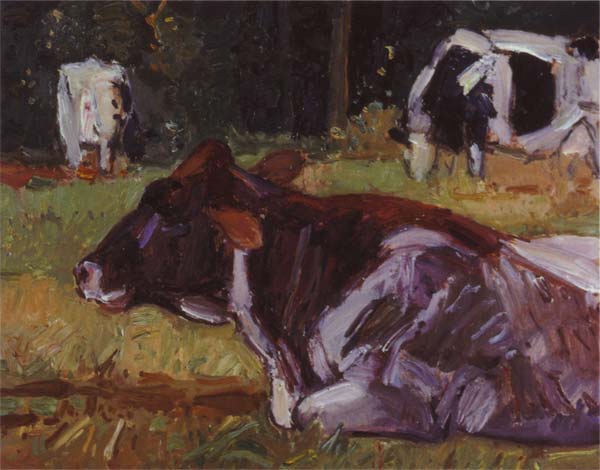 The Heifer, oil on paper on panel, 8 x 10 inches
Sharon Yates is an amazing painter whose primary subject for many years has been small paintings of cows done completely from life. Out of curiosity, I made a Google image search on "cow paintings" to see what other contemporary painters were doing with the subject. There are many, perhaps too many, paintings of cows done in almost every artistic style and genre and level of skill imaginable. But what I didn't see was paintings made, not from photos, but made while being out in a field actually looking at the cows. Rarer still are cow paintings made from life where the subject isn't just the cow but also about the act of painting and the paint itself.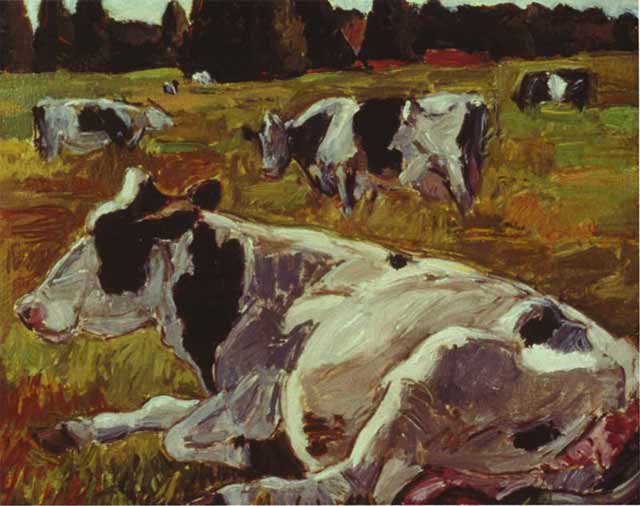 Bell Farm No 1, 2006 , oil on paper on panel, 8 x 10 inches
I would imagine that to properly paint cows from life you'd want a zen-like willingness to let go of control and instead embrace the moment before you. To be here in the now with the cow! I imagine once the cows get used to you they settle down and go off to find there spot which then dictates on some level how the picture evolves. As the cow moves, memory becomes just as important as vision. When painting outdoors you have to deal with the frustration of changing elements that rarely allows you to dictate the terms of your encounter. You must go with the flow of quickly changing light and weather, the torment of insects, and interruptions from all kinds of mammals but to also paint moving cows on top of all this seems madness. But once you no longer resist and embrace the changes that are beyond your control, keeping open to changes and letting the painting be in a constant state of flux until all elements are working together as a whole, the painting then can feel complete in conveying the experience of the artist as well as the observed cow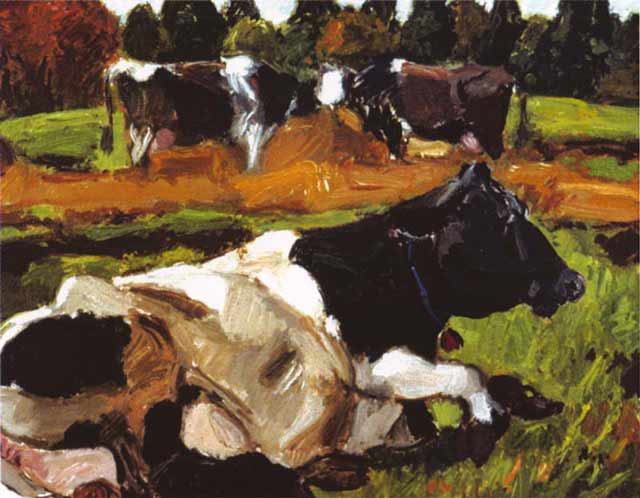 Belty (McPhail's), 2008 , oil on paper on panel, 8 x 10 inches
In the rush to capture the moment as well as from aesthetic considerations, forms are simplified and modeling is minimal. She paints the cows in a gutsy direct manner that accentuates the gesture of the cow's pose as well as it's massive form and weight. Often the pattern of the cows markings echo other elements in the landscape to form a rhythmic connection. Spacial recession seems more defined by overlapping relatively flat planes of color than on atmospheric perspective and suggesting recession into deep space. The direction, weight, speed and energy of her drawn brush marks moves the viewers eye through the picture. The rapid nature of alla prima painting calls for emphatic decision making, there is no time for ambivalence you can only say this is what I experienced, this is what it looked like to me, this is how I felt. The painting's subject are just as much about cows in a landscape as it is a record of her encounter with nature and with art. She shows us compelling patterns of shapes that happen to be cows as well as the tension between dark and light, big and small, figure and ground, honest response and painterly invention. The small scale of the painting invites the viewer to step closer in a more intimate encounter with quiet, lyrical vision.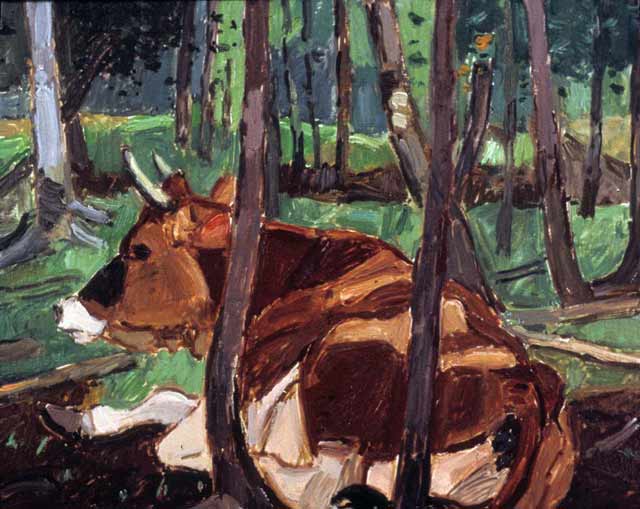 Heifer in the Woods, 2008 , oil on paper on panel, 8 x 10 inches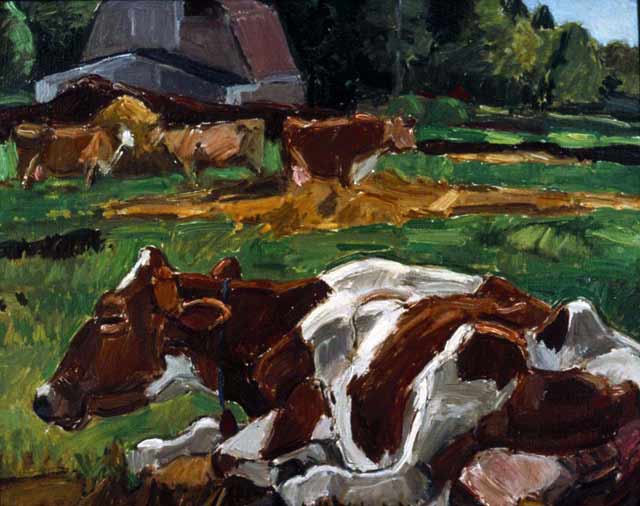 Luxury (McPhail's), 2008 , oil on paper on panel, 8 x 10 inches
From a review by Philip Isaacson:
Paintings of landscapes with cows are comforting, but don't offer much in the way of emotional intensity. Paintings of cows in a landscape, on the other hand, can be both a delight and an ever-fresh source of corporeal animation. Those lumpy, bony carcasses can really move when motivated. I've learned much of this over time from the small plein air paintings of Sharon Yates. Her work has an immediacy–a sense of nearness–that is almost startling. Yates paints cows in situ, and you can feel it with your eyes. They are right there in front of you, but probably not for long. And that's part of the wonder of her work. The creatures are apt to wander off before the painting is finished. The cows set the tempo; the painter scrambles after them building their ambulations into the paint. And her surfaces are spellbinding. While the brushwork is as quick as the unpredictable subject matter demands, somehow a luxuriance is contributed to the paint that is almost at odds with pasturing cattle. The elegance of Yates' hand and the first-glance banality of a ruminating bossy seem to be curious bedfellows. But in time, they settle in. Yates is enchanted by the creatures, and we come to accept them as worthy of her accomplishments as a painter. Her small paintings–that's what they have to bare a feast for the eye.
Sharon Yates currently lives and paints in Lubec, Maine. After a long tenure of teaching at the Maryland Institute College of Art she retired from teaching in 2007. She has been a visiting artist at the Glasgow School of Art in Scotland, George Washington University and the SACI program in Italy. Her paintings have been exhibited internationally and won her several honors including the Prix de Rome and an Ingram Merrill Foundation Grant. In 2009 her work was included in the National Academy Museum Biennial, NYC where she is an academician member. She shows with the Dowling Walsh Gallery in Maine and currently has work in the the current Zeuxis Common Object at the Lancaster Museum of Art in Pennsylvania. Born in Rochester, NY, Yates holds a BFA from Syracuse University and an MFA from Tulane University.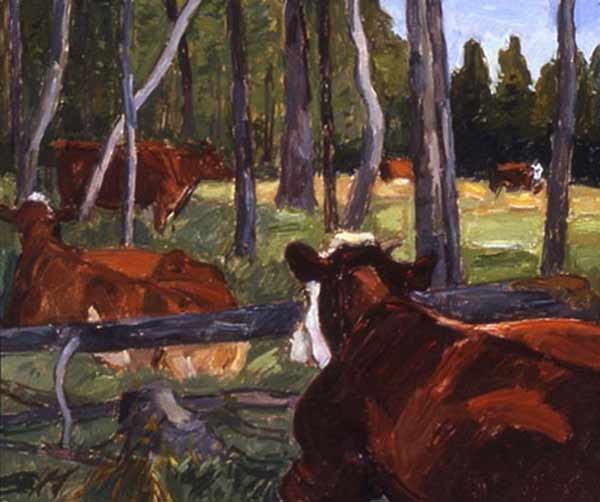 Brown's Woods No 3, 2004, oil on paper on panel, 8 x 10 inches

Brown's Woods, 2004, oil on paper on panel, 8 x 10 inches
She also paints watercolors on site, here are a couple of water color drawing she did.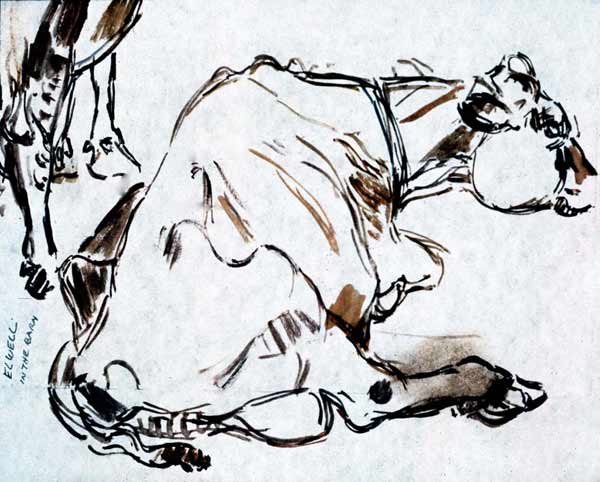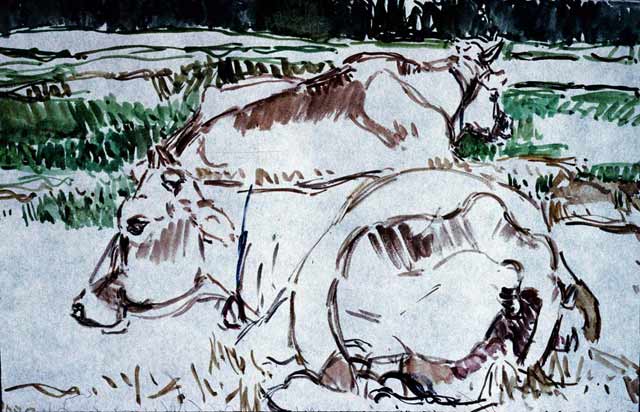 Here are a couple of cow-less landscapes Sharon Yates that you may find of interest.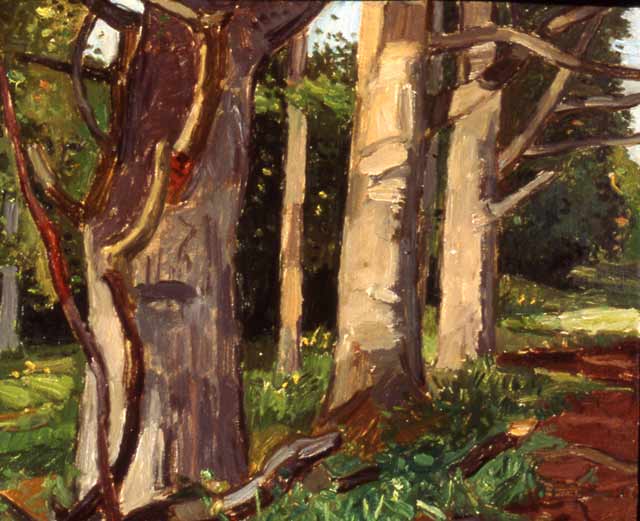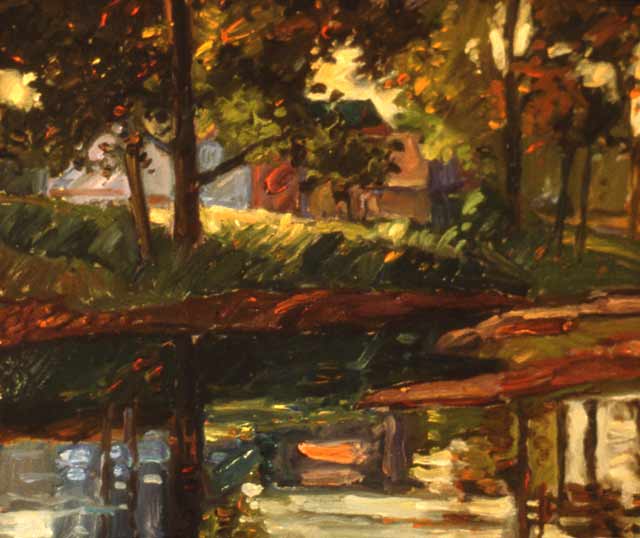 ---
Donate to Painting Perceptions
Donations to Painting Perceptions helps this site greatly, please consider your gift today.