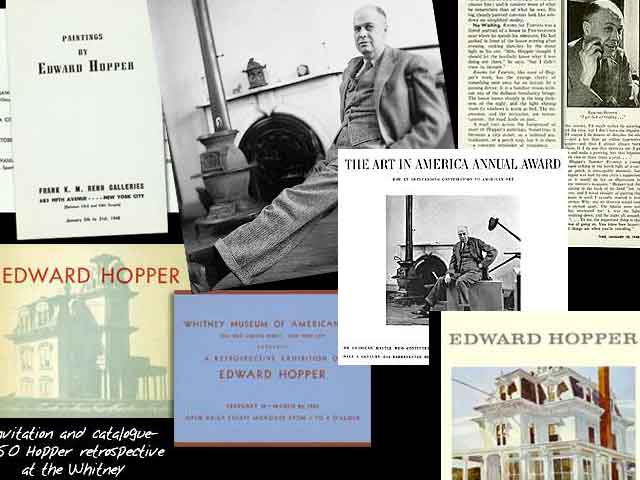 Collage of images from the Smithsonian American Art Museum's Edward Hopper Scrapbook.
Hopper is perhaps mainly known for his studio based paintings but of course he also made many of his paintings on-site, especially his watercolors. His influence on contemporary realism can't be underestimated and I continually find inspiration and insight whenever I return to his work. I recently read Linda Nochlin'sGail Levin's Edward Hopper: An Intimate Biography
, a terrific read which has got me thinking more about him lately.
Here is a link to a wonderful online scrapbook produced by the Smithsonian American Art Museum gives us a sampling of Hopper's paintings, including some seldom seen watercolors, reviews of shows, catalog covers, photos and other memorabilia. It also includes a link to a real audio file that is Edward Hopper discusses his philosophy on art. Edward Hopper: Great art is the outward expression of an inner life in the artist, and this inner life will result in his personal vision of the world. No amount of skillful invention can replace the essential element of imagination.
Here is a link to the page with the Audio file However, I couldn't get the audio file to play but maybe they were having problems on their server or maybe it was something on my end. Not to worry, you can also read the transcription of this interview here.
Also, several other videos, some for sale, audio files as well as other links and many images of Hopper can be found on this National Gallery of Art page.
A video (about an hour) produced by the National Gallery of Art Center for Advanced Study in the Visual Arts, Wyeth Lecture in American Art 2007 of a lecture given by Alexander Nemerov, a Yale Art Historian discussing his interpretation of Hopper's Ground Swell of 1939 – where he makes a convincing case for the painting being about Hitler's invasion of Poland. The lecture is fascinating and opens up new ways of looking at Hopper's work of this period, the introduction was a tad long but If you wait till the whole video loads you can right click on it and save it to your hard drive and scrub the playbar to your heart's content. For more information about this lecture and Alexander Nemerov you can check out this link to a Washington Post article about him – worth the read.
Finally, here are a couple of youTube videos that might put you in a Hopperesque state of mind. (the particular Benny Goodman soundtrack disconnects with the "moodiness" of Hopper's paintings but otherwise a great slide show. The other "An Afternoon Daydream" video is almost embarrassingly "arty" but has it moments.
---
Donate to Painting Perceptions
Donations to Painting Perceptions helps this site greatly, please consider your gift today.