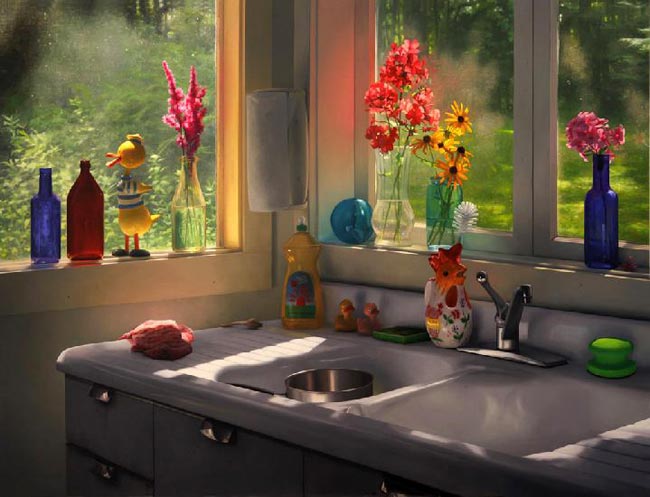 Scott Prior, Summer Cabin Kitchen, 2009, Oil on Panel, 32 x 42 inches
I've been an admirer of Scott Prior's work ever since I first saw his painting of his wife and Golden Retriever hanging in Boston's MFA (link to this painting) back in the 80's so I was fortunate to see his new show at Boston's Alpha gallery early this May.
The light in his paintings have an expressive quality that is rarely seen in photorealistic works. He must use photographic source material in some manner but clearly goes beyond mere hyperrealist bravura and concentrates instead on crafting visual poetry. His enamel smooth surface of his oil on panels erases the hand of the artist and focuses instead on the artist's eye. The many visual delights, especially his quasi-surreal luminosity of the paintings are more than enough to make great paintings but he goes even further; to what Scott Prior has put it, "discovering the spiritual in the everyday" that gives the artist his power to speak to us of common experience. In these images of home and family, "where the battles are "… subtle and everyday — as between a pair of garden clippers and a weed," (from an essay by Richard Morange on his website)
Check out Scott Prior's website for a number of interesting articles and his amazing portfolio of stellar works.
**********************************************************************

PLEASE NOTE
My apologies for the absence of posts over the past couple of weeks but finally I've reached a place where I will be posting again with renewed vigor.
---
Donate to Painting Perceptions
Donations to Painting Perceptions helps this site greatly, please consider your gift today.