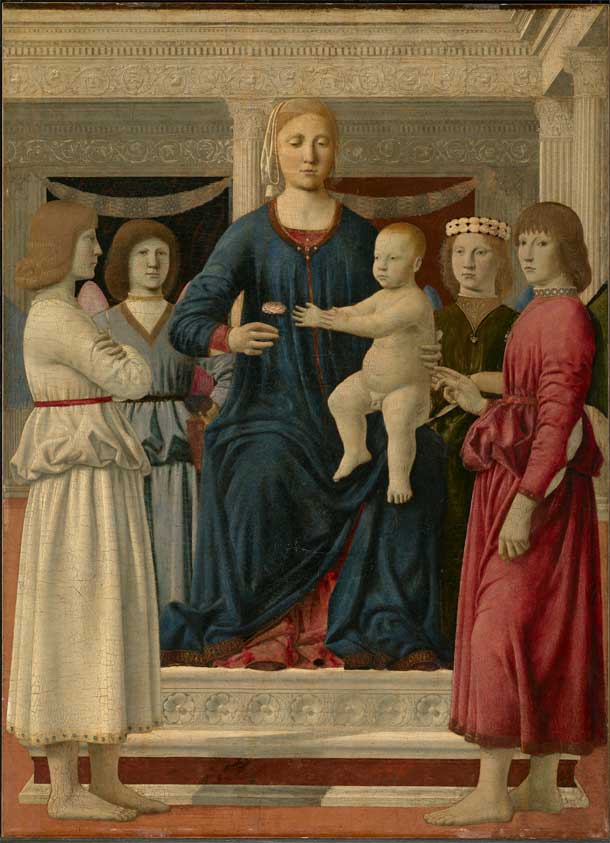 Piero della Francesca | Virgin and Child Enthroned with Four Angels (1480-1482)
Williamstown, Sterling and Francine Clark Art Institute
click here for a high resolution view
(Painting Perceptions thanks Xico Greenwald for his generosity in allowing us to print his review here.)

The Frick Collection owns four panels by Piero della Francesca: a full-length portrait of St. John The Evangelist in a flowing red robe; two small, gilded panels of an Augustinian Nun and an Augustinian Friar; and a small, gilded crucifixion scene. These four works have been identified as parts of the Sant'Agostino altarpiece, a commission Piero della Francesca received in 1454 for a church in his hometown of Sansepolcro.

One hundred years after the completion of the altarpiece, the paintings were disassembled and the various components scattered throughout Europe. In Piero della Francesca in America, now on view at The Frick Collection, guest curator Nathan Silver has attempted to recreate the original Sant'Agostino altarpiece, borrowing two additional panels, one from the National Gallery in Washington – an amusing, small picture of St. Apollonia holding a tooth with a pair of pliers – and a full-length panel of Saint Augustine himself, on loan from Museu Nacional de Arte Antiga in Lisbon. The only other known panels from the Sant'Agostino altarpiece, depictions of St. Nicholas in Milan and St. Michael in London, are not included in this exhibit.

Hanging alongside the Piero della Francesca works in the oval gallery at the Frick is a computer-generated image with all eight panels arranged in a virtual rendering of the Sant'Agostino altarpiece. The glaring absence here is the altar's empty centerpiece – a work which has been lost. Ostensibly in an effort to fill that void, Mr. Silver has borrowed "Virgin and Child Enthroned with Four Angels," a magnificent painting, from the Sterling and Francine Clark Art Institute in the Berkshires. This is a special loan, for it rarely leaves the Clark, and it is as spectacular a painting as has ever come to New York City.

One of Sterling Clark's earliest major art acquisitions, this masterpiece is an often-overlooked work by Piero. In "Virgin and Child Enthroned with Four Angels," Mary sits in the center of the painting, subtly larger than the four angels surrounding her, the scale-difference giving her quiet grandeur. Holding a flower in her right hand and with the baby Jesus on her left knee, Mary has a classical poise. Her garments fall naturalistically down over her form, like an ancient monument to Hera.
And, as if to underline Piero della Francesca's sense of order, her robe folds into a perfect circle at the base of the throne along the central vertical axis of the painting, giving the artwork a sense of supernatural symmetry and composure. Though crowded with figures, the space in this painting breathes easily and a pearlescent delicacy of color adds to the visual delight. The painting of St. Augustine, on loan from its home in Portugal, is also a marvel of virtuosity; the Bishop's miter and mantel, covered in images of biblical scenes, is, on its own, almost as full of imagery as an altarpiece.
In Italy the Piero pilgrimage is well trodden by the artist's many admirers. Aldous Huxley, in a 1925 collection of travel essays, identified Piero della Frencesca's Resurrection in Sansepolcro as "the best painting in the world." Since then, artists and art historians, including Roger Fry, Kenneth Clark, Philip Guston and John Pope Hennessy, have happily trekked through Tuscany and Umbria, from Perugia to Arezzo to Sansepolcro to Urbino, from Rimini up to Milan, all just to stand in front of this early renaissance master's otherworldly creations.
We here in New York can now enjoy the first-ever American exhibit devoted exclusively to the work of this artist. With precious few Piero della Francesca works in the world – only about twenty – to have seven paintings under one roof makes this a remarkable opportunity. 'Piero della Francesca in America', on view through May 19, 2013 at The Frick Collection, 1 East 70th Street, 212-288-0700, www.frick.org
By Xico Greenwald
(Again, Painting Perceptions would like to thank Xico for his generosity for this review.)
The University of Amsterdam art scholar and specialist in the Italian Renaissance, Machtelt Israëls, give a 54 minute video lecture partnered with the Frick Museum (from Foro TV) with the title: "Piero at Home: The Art of Piero della Francesca" She also edited the 2009 book on the early 15th century Siena painter, Sassetta; "Sassetta: The Borgo San Sepolcro Altarpiece" available at Sassetta: The Borgo San Sepolcro Altarpiece (Villa I Tatti) 2 volume set
(please note that purchase of this book from this link to Amazon helps support this site.)
Piero at Home: The Art of Piero della Francesca from The Frick Collection on FORA.tv