by Elana Hagler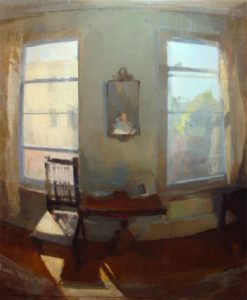 Windows are a transparent barrier between what is interior and what is exterior. Through them, we may visually perceive the outside world but, unlike with a door, we may not exit through them. Inside may be warm and cozy, or oppressive and imprisoning. The outside world might be a longed-for adventure or the threat of expulsion. They divide spaces between the private and the public, between that which is sheltered and that which is exposed. Through a window, not only may we see the world outside, but we ourselves may be apprehended. Light emanating from a window reveals a glimpse of the mystery within. The eye is a window through which our mind accesses the visual world, and how often have we heard the axiom that the eyes are windows to the soul? Merriam-Webster tells us that the first known use of the word "window" dates back to the 13th century, and that the Middle English window derives from the Old Norse vindauga, itself a combination of vindr wind and auga eye. The interpretations of the symbolism of windows is as boundless as the human experiences of interiority/exteriority, light, and observation.
---
Donate to Painting Perceptions
Donations to Painting Perceptions helps this site greatly, please consider your gift today.