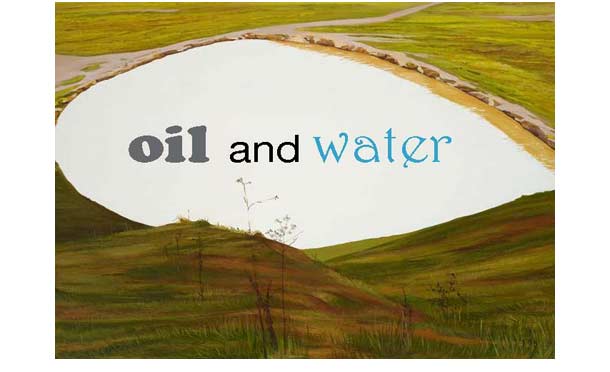 Oil and Water at Fred Bancroft and Steven Harvey Fine Art Projects
By Neil Plotkin with Jennifer Gilchrist
The received wisdom in Western Art is that painting has continuously and inevitably evolved away from representation towards a higher and more pure abstract style. In line with this belief is the assumption that artists only worked in one method or the other, or if they changed, hopefully it was towards abstraction. The show, Oil and Water, organized with the art critic/poet John Yau reassesses this narrative. The show includes an eclectic group of masterful painters in order to make the point that painting is not, nor has it ever been, a one-way street away from representation towards abstraction. The title itself is a play on the how inconsequential the concept of a division between abstraction and representation is. The paintings in the show are snap shots in the careers of artists who paint in an abstract manner, in a representational mode, and in both or a blend of approaches. Seen side by side, these painters—and by implication Western painters in general–cannot be placed as easily into simplistic slots as convention would have us believe. As a whole, these painters reveal a love of the material and of the process of making paintings, employing diverse techniques to create finished works of art that address the issues that are important to themselves rather than to critics' or historians' preconceptions of how to catalog work.

Many of the paintings in the show approach their subjects utilizing formal geometric techniques (though many of these artists' other paintings do not employ this tactic),seen in work by Elena Sisto, Earl Kerkam, Sangram Majumdar, Bill Rice, John Heliker, Andrea Bergart, and Paul Demuro.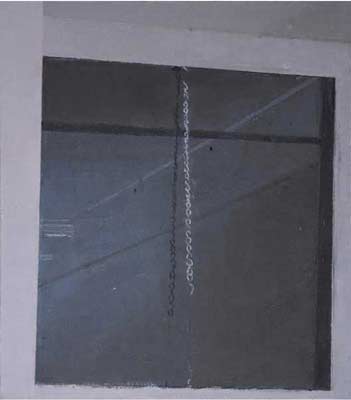 Sangram Majumdar Night-light 2010 Oil on linen, 128 x 32 inches
Sangram Majumdar's Night Light, is reminiscent of Lopez-Garcia's night time window views but plays with the composition just enough to make it an abstract composition. With the tilt of the window the painting becomes a black square on a white ground ala Malevich or Josef Albers.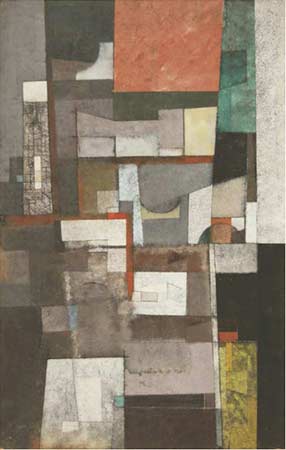 John Heliker Memory of Rome Oil on Board, 19 x 12 inches
John Hileker's Memory of Rome is a very good example of the difficulty of placing artists into categories where they are supposed to stay and live their lives out. He started his career as a representational artist, moved towards total abstraction and later painted in a representational mode (the late work is redolent of Henry Finkelstein or Seymore Remenick). The painting in the show, from the abstract period, is a delicate geometric with lovely paint subtleties in the vein of Klee.
Bill Rice's delicate Untitled is a both geometric and gestural. A representation of a windowsill looking out to the city, it looks at the same time like a Larry Rivers version of a Mondrian. It is a painting solidly in both the abstract and representational traditions.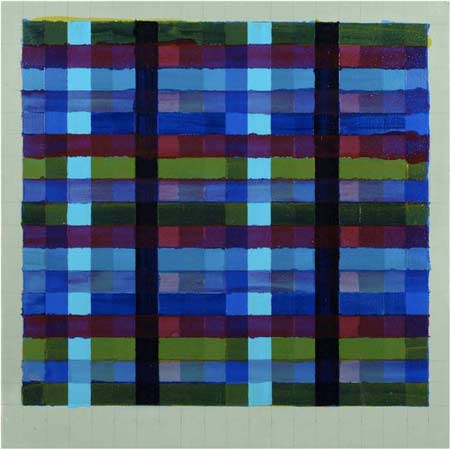 Andrea Bergart Kente 3 2009 Oil on canvas, 20 x 20 inches
Andrea Bergarts delicate and painterly Kente 3 is at first view an abstract formalist painting.   As is the case here, many of her paintings incorporate textile designs of West Africa. This intertextuality blurs the point at which this sort of painting stops being an abstract painting and starts becoming an observed object.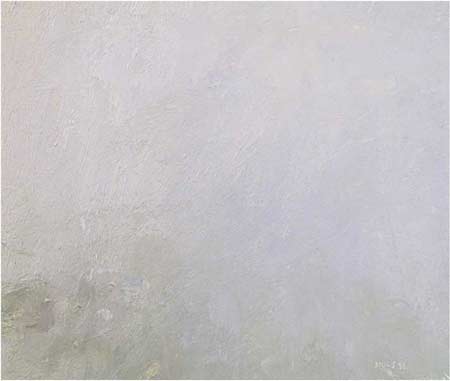 Stuart Shils Dense Mists Blown Across Pale Hillside, Morning, 1998 Oil on Paper Mounted on Panel, 10 ¾ x 12 7/8 inches
Another grouping of work, by the artists Rosemarie Beck, Andrea Belag, Earl Kerkam, Bob Witz, tend to be more gestural in nature. For example, Stuart Shils' painting demonstrates how difficult it is to pigeon hole artists as abstract or as representational. The work is a moody depiction of a specific place and a specific time–probably 1998 on a hillside in Ireland–and yet the painting is subtle nuances of grays and greens.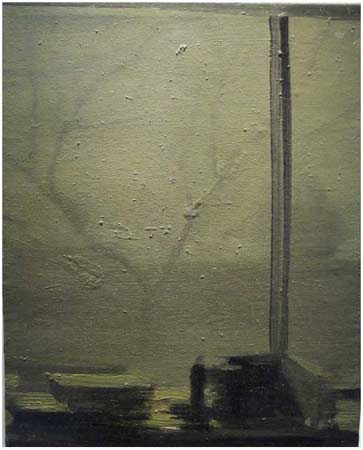 Stephanie Pierce Untitled,(Window) 2004 Oil on Canvas 14 x 12 inches
Other paintings by Milet Andrejevic, Gandy Broady, Jenny Dubnau, Mark Lijftogt, Stephanie Pierce, Stephanie Sanchez, Abrahm Storer utilize a broad range of techniques to achieve the aims of the artists. A lovely small painting by Stephanie Pierce, Untitled, is view of a windowsill and an exterior view. The painting is a quiet view of a gray morning in a studio. It is painted in a very direct and an informal manner. It is a very representational view of a window. This piece is in contrast to much of her other work which plays with ideas of multiple views over time in a manner reminiscent of Ann Gale. It is impossible to say that she is an abstract or a representational painter.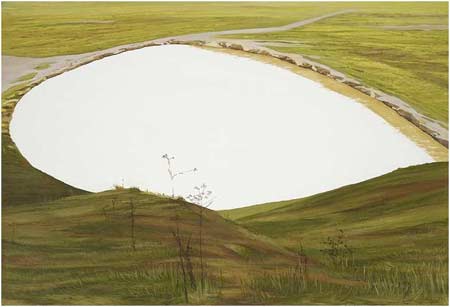 Abraham Storer Watering Hole 2009 Oil on Canvas, 30 x 44 inches
The painting on the announcement to the show, Watering Hole by Abraham Storer, depicts a field with a lake/pond in the center of the composition. Rather than paint the pond as we would expect it to be seen, he paints it with a white straight out of the tube and creates an unusual effect of flattening the plane right in the center.
Many readers of this blog are artists who are interested in capturing qualities of the observed world. This, as a starting point, forces us to accept abstraction as a fundamental aspect of painting. It is impossible to convert the three-dimensional world into two dimensions without utilizing abstractions to imply that world. Successful shows such as Oil and Water are an incredible resource for artists and art lovers to see how fluid and interdependent the paths are between abstraction and representation.
Artists are not and never have been limited to methodologies that prevent them from exploring their own world. Sometimes we need to capture what we are physically seeing and at other times we need to explore concepts outside the physical realm. John Yau sums up his essay for the show by saying that painters are necessary because "the good ones keep looking long after many of us turn away. They see what we all know to be true, and they don't back way from it or avert their eyes." He goes on to state that people are afraid of this clarity–-they want to know how things end–but artists' intense searching excludes that sort of knowledge. This is precisely what keeps so many of us in the studio–the hope of finding some truth through our observations of the world around us regardless of the methodology.
Oil and Water
Coleman Bancroft – 35 e 67 st, 4th flr, nyc 10065
Gallery Schlesinger- 24 e 73 st. #2F, nyc 10021
May 18-June 13, 2010, opening Thursday May 20th, at Gallery Schesinger 4-6pm
and at Coleman Bancroft 6-8pm, gallery hrs: 11-6 tues-fri, 11-5 sat
Organized with John Yau
Links to show's artists:
++++++++++++++++++++++++++++++++++++++
Editor Note: Many thanks for this excellent review by Neil Plotkin and Jennifer Gilchrist, we can hopefully look forward to any future articles and reviews of shows in New York City they might be able to contribute.
---
Donate to Painting Perceptions
Donations to Painting Perceptions helps this site greatly, please consider your gift today.