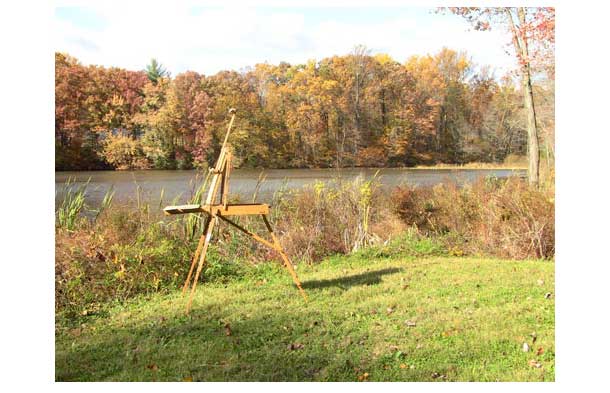 New opportunities for the study of landscape painting this summer.
There has been a long history of summer programs for painters wanting to paint the landscape along side other painters. The camaraderie which grows from the shared challenges of painting outdoors over an extended period of time can push the painter much further than just painting on their own. Of course, you can learn technical and theoretical aspects of painting from books, online and the occasional workshop, but to really grow as an artist, to see how your efforts relates and compares to the continuum of art history and contemporary painting it is far better to be part of a larger group. Well known, highly sought after and competitive programs like Skowhegan, the Yale Summer Program in Norfolk can be fantastic experience for the lucky few who get to attend. However, some of these other schools don't necessarily focus on the landscape or observational painting.
Mt Gretna's program is one of the few intensive study programs that does place emphasis on working from life. The school's structure is inspired by the New York Chautauqua School of Art. Jay Noble, who is the Mt. Gretna's program's executive director, who has both attended and taught twice at the Chautauqua School. Noble also boasts his summer school cred by having taught at Putney School summer program, and attended the New York Studio School summer session twice.
He wanted to start a summer program that focuses on landscape painting as well as drawing and other studio based work. Noble stated in an interview "The classes really function like an immersion program would for a language program," Noble said. "In college, their art classes would be more fragmented, held between other classes. This is 40 hours a week, focusing on a singular subject, and that's largely unavailable in a college setting." A single sustained six week session runs June 1st to July 12th.
Mt. Gretna School of Art Fund Raising Auction
The new Mt. Gretna Summer School of Art, in the rural Lebanon county of Pennsylvania, recently announced a fund-raising auction to help fund the school and to provide some financial assistance for students. A worthy cause, especially since a main emphasis of this school involves painting the landscape from observation in an intensive 6 week program. The local area's newspaper, The Lebanon Daily News, had a feature article about the school that examines the program in depth and a good read for anyone wishing further information.
Mount Gretna School of Art is having a Benefit Auction that will be held at Lancaster Galleries in Lancaster, PA. The Reception and sale is March 30th. For more information on the auction please see this link For more information on other ways to help support this school you can go to their support page on their website. The auction includes very generous works by many painters who have been interviewed on Painting Perceptions such as Xico Greenwald, Diana Horowitz, Celia Reisman, Erin Raedeke, and John David Wissler. There are many other excellent painters contributing and you can see a display of the work from this link.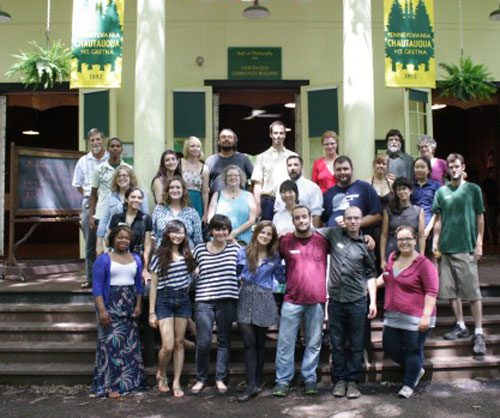 This year's painting teachers will be: Jay Noble, Faculty at Pennsylvania College of Art and Design, and York College of Pennsylvania, Martha Armstrong, Artist and faculty at Pennsylvania Academy of Fine Arts, Xico Greenwald, Artist and faculty at Pratt Institute and City University of New York, Art Critic, at the The New York Sun and contributing writer for Painting Perceptions. Drawing instructors includes Brian Kreydatus, a faculty member at the College of William & Mary and Lynette Lombard, who is a faculty member of Knox College.
Also included in the program is a robust line-up of critics, lecturers and workshop teachers including such luminaries as: Gideon Bok, Christopher Dolan, Barbara Grossman, Al Gury, Deborah Kahn, Ken Kewley, Susan Lichtman, and Amber Scoon.
In Civita, Italy last summer, at the JSS in Civita Summer Art School and Residency, I met Ben Lowery who had attended the Mt. Gretna Summer Program. I asked him in an email if he could write something about his experience studying there. He wrote back:
"The program was instrumental in my development as a painter, and I appreciate and continue to learn from much of the instruction and critiques I received, as well as benefiting the many friendships and connections I developed during the program."

"The dense wooded areas, rivers, a lake and the beautiful farmland, is ideal for what the program promises, an immersive experience in landscape painting. The program is six weeks long, and the director, Jay Noble, seamlessly filled the entire time with varied and well rounded instruction and critique, balanced with self-driven studio life drawing and plein air field work. The instruction was augmented with trips to museums in New York City and Philadelphia (The Metropolitan, NYC gallery walks, the PMA, and the Barnes) that provide inspiration and motivation to get back out and keep painting with fresh eyes."
For more information see the Mount Gretna School of Art website.
Art New England Summer Workshops
Additionally the Art New England Summer Workshops in Bennington, Vermont run by the Massachusetts College of Art has a three-week long summer program starting July 13 that has a wide variety of workshops to choose from, "This is summer camp for adults," said Peter Laytin, a professional photographer, Fitchburg State University professor said in a Boston Globe article, and part-time studio manager at Art New England. "There's just their artwork — no cooking, no chores, nothing." Especially note-worthy is the excellent landscape workshop with painting instruction by Christopher Chippendale
I've written at length and even produced a video about about the stellar JSS Summer program in Civita , which I consider one of the best places in the world to be studying painting the landscape. I won't go into this at length here but you can see my video or visit their webpage for more info.
Select photos from Mt. Gretna School of Art last summer

A youtube video showing what the Mt. Gretna School of Art building and studio space looks like.