I'd like to share some information Michael Kareken's gallery sent me about a show that starts in Minneapolis this week. I made a video interview with him awhile back, and wanted to post an update about his terrific new body of work of Parts – or his Auto Salvage Series.
Michael Kareken / Parts October 16 – November 29, 2014 runs in two galleries,
A show of his paintingsThe Burnet Gallery
as well as a concurrant showing of his drawings at the Groveland Gallery
From the gallery press release:
About two years ago, Michael Kareken began painting urban landscapes featuring automotive salvage yards. While some of the cars were damaged in accidents, most of them were deconstructed for their parts, leaving behind skeletons of cars, their inner-workings exposed. For Kareken the forms were strongly suggestive of the human body, and there was a disturbing sense of violation in the casual way that the vehicles have been dismantled. The pieces were bold, powerful statements, rich in context on the economy, the environment and an exploration of the subject matter.
In his new show, Parts, Kareken, a Minneapolis-based artist, looks inward and takes his study of automotive salvage to someplace more intimate and personal.
"Automobiles consume a huge portion of our culture," explains Kareken. "They're so ubiquitous. I find these discarded elements resonate with me on a number of levels – as a symbol for society, but also for the human condition. "My earlier urban landscapes were looking outward at society and were more observational, while the works in Parts are pushing inward and are more meditative. I want the work to embody the sense of vulnerability, fragility and disfigurement that I perceive in the subject."
Kareken's drawings are composed of individual parts and pieces: pulleys, fans and belts are sensitively rendered and their forms brought into crisp focus. These elements are anchored by shadows and expressionistic marks that suggest the chaos of the larger mechanics beyond the composition's focal point. Kareken's larger ink and acrylic paintings on paper present a complicated tangle of car engine tubes and wires. These dynamic compositions explore the figurative aspects of these inanimate objects, and the artist's use of collage lends his paintings a tactility resembling the subject itself.
"In several new pieces I am using a collage technique to construct the forms of the vehicles themselves," explains Kareken. "My newest work is created from dozens of old, abandoned drawings that I have ripped apart and recycled into a new image. This technique creates a rough, layered surface that viscerally conveys the feeling of fragmentation and disintegration inherent in the subject matter. At the same time — and paradoxically – the technique gives me a sense of physically building up the subject, as if the collage and painting process is a means of reconstructing or resurrecting the dismantled vehicles."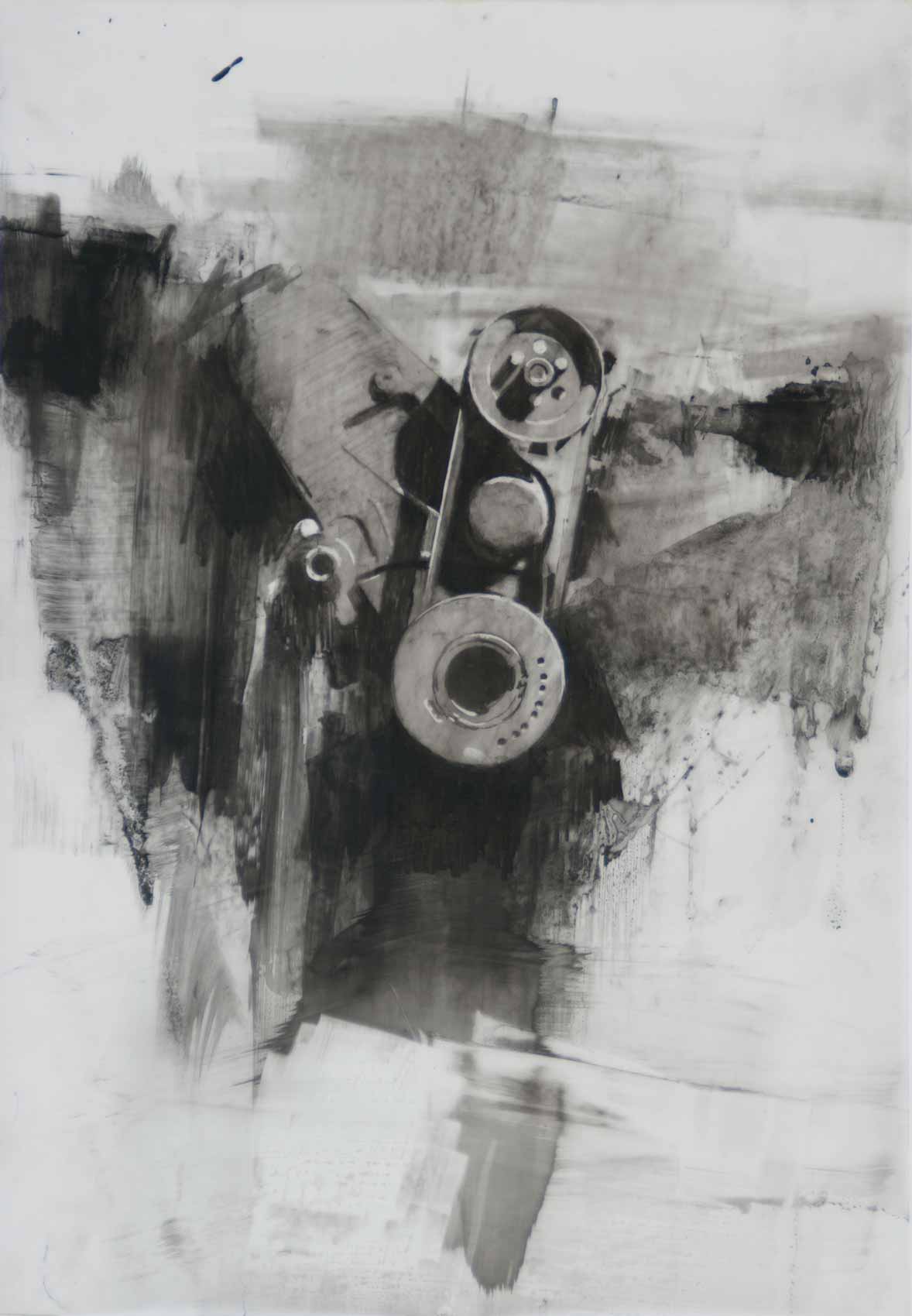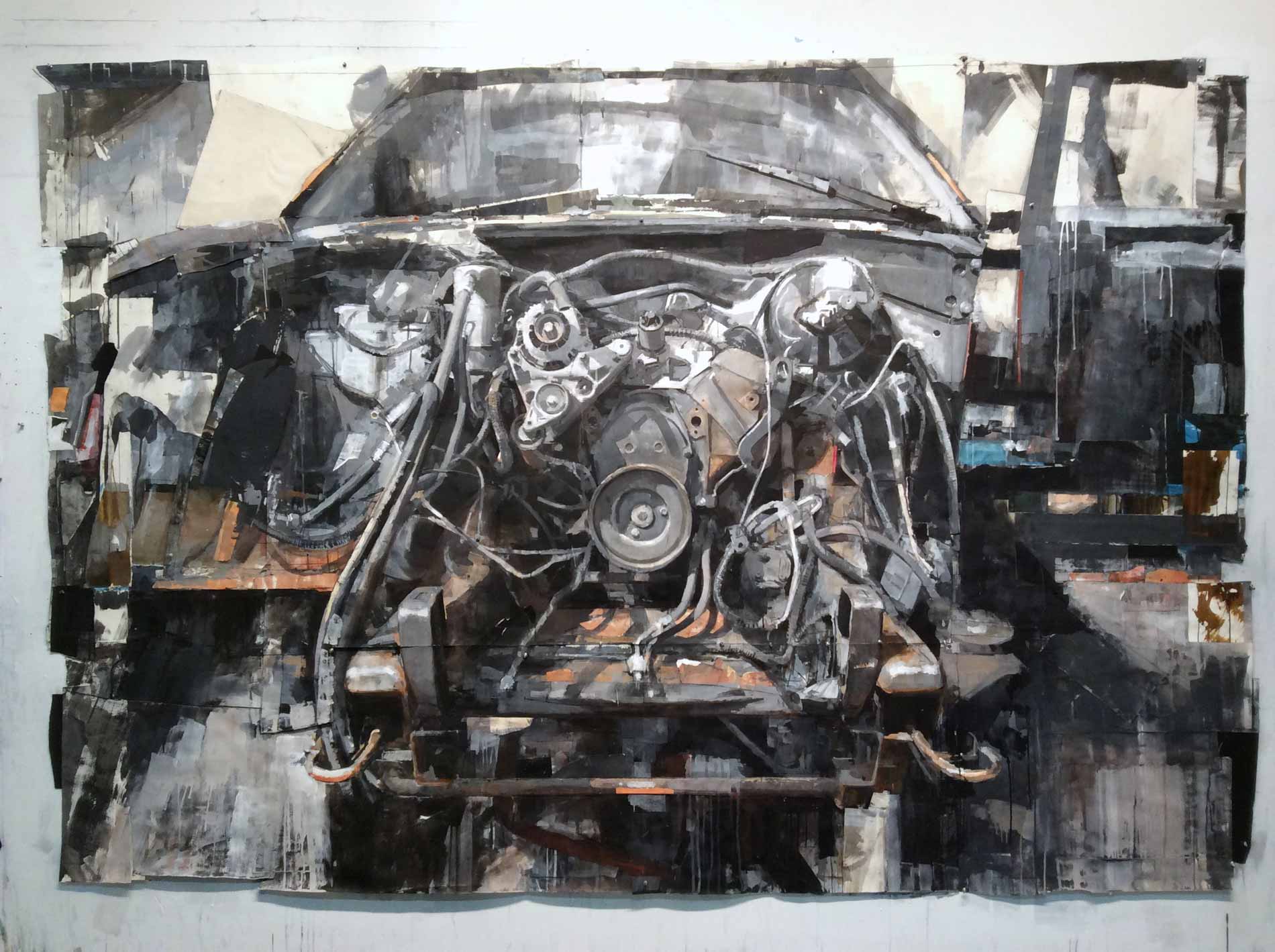 ---
Donate to Painting Perceptions
Donations to Painting Perceptions helps this site greatly, please consider your gift today.