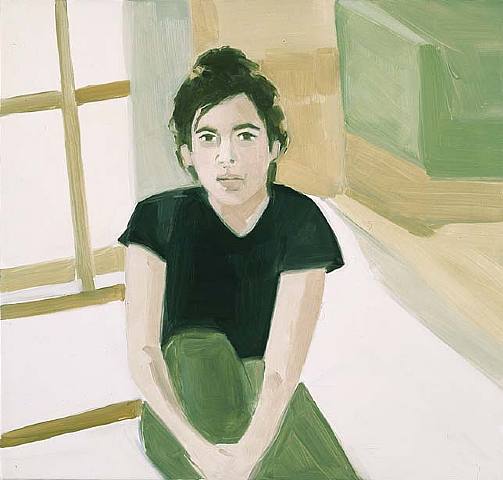 Maureen Gallace Self-Portrait 2003 11 x 12 inches
This spring I saw a show of Maureen Gallace's work at the Kohn Gallery in LA.
I wasn't familiar with her work and quickly walked through the show being unimpressed overall but stopping for a few paintings that were likable enough, but puzzled me at how these small simplified scenes of summer New England beach cottages ended up in this high-end West Hollywood gallery. What stopped me in my tracks and caused me to turn around for a second look was the price list. Many of these 9″ x 12″ oil on panel paintings which seemingly done quickly in one sitting had price tags of 40 – 50 Thousand dollars. I suppose that wasn't so unusual but what really threw me was that even in this recession almost all were covered with red dots.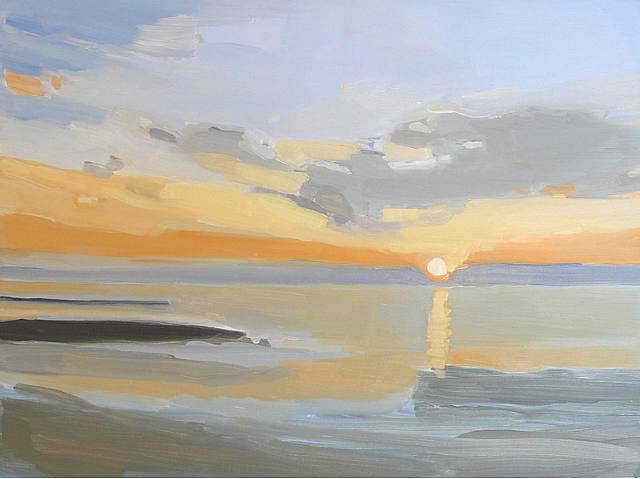 September Sunset 2008 Oil on Panel 9 x 12 inches
I then went back and looked at everything closer with a completely different eye. I could appreciate her broad paint handling, simplified forms and space like buildings absent of windows or doors. But I also felt they of seemed generic and frankly boring – rather than some pure universal truth about beach cottages representing rectangles of tone. The color is pleasant enough, considered and harmonious. But her drawing and brushwork seemed easily satisfied and the sometimes the painting felt rushed and tentative. There are some wonderful underlying designs and balance of tonal shapes – in a formal sense many of these paintings are quite sophisticated. But no more so than many other landscape painters with far less attention paid to by the art world. These are likable paintings but I couldn't see what elevated them so astronomically higher than many other painters in the barn and beach cottage genre. She works from photos but seems to try to give the affectation of painting done in plein air. There were a few paintings I warmed up to more like the September Sunset and the Sandpiper.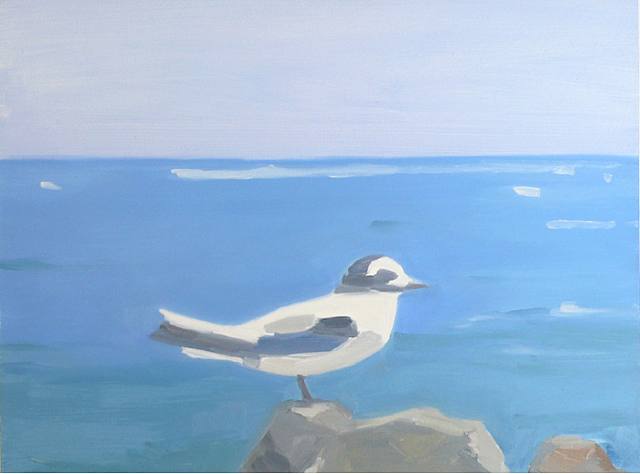 Sandpiper 2008 Oil on Panel 9 x 12 inches
I didn't see anything exceptional about how they were painted and couldn't help worrying if this wasn't some sort of Mark Kostobi like sham but with far more arty paintings that could appeal to conservative and liberal tastes alike, decorating their beach home as well as glibly demonstrating how sophisticated their taste in art is. Or maybe she really is the new Morandi with flip flops. But I must confess, I probably wouldn't think twice about her painting if I hadn't seen her price list and that she shows in places like the high end Chelsea 303 Gallery.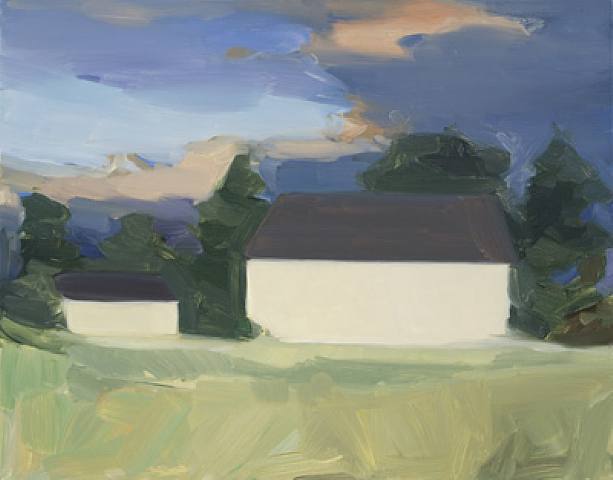 Marfa 2007 Oil on Panel 11 x 14 inches
But maybe I am missing the boat house here and I need to work on fixing my post-modern antennae so I too can tune into this channel. So in fairness I will try to defend her work with this quote from a review of her 2006 show at the Art Institute of Chicago by Michelle Grabner says: "Small, bucolic paintings slowly give way to perfidious abstractions that have relatively little to do with the vernacular structures of the New England landscape that they depict. Maureen Gallace's paintings are welcomingly complex if you give them time. As I returned to her exhibition at The Art Institute of Chicago several times throughout the course of last summer, the 21 paintings that comprised the show stubbornly unfolded their knotty relationship to ideas of psychological and geographical distance and the formal vocabulary of picture-making. Although they appear to be content simply to be charming works that could quietly co-exist among the quaint barn and seagull pictures hanging in an upscale souvenir gallery in Cape Cod, they require slow analysis, structural dissection and a historical dialogue with American landscape painting."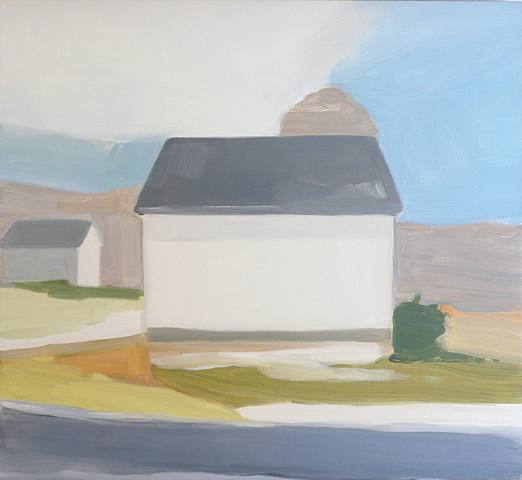 Late October Frost 2009 Oil on Panel 11 x 12 inches
So, if you believe the critics, these are highly sophisticated abstract paintings masquerading as quaint beach and barn scenes. These painting's simplifications of form and compositional arrangements are supposed to suggest such painters as Alex Katz, Milton Avery, Giorgio Morandi, and perhaps Fairfield Porter or even Edward Hopper. Some like the Art Institute of Chicago's curator James Rondeau reverently speak of her work as with this quote by him "Gallace's modest objects seem old fashioned and maybe even anachronistic in today's world of contemporary figurative painting," said curator James Rondeau. "But that's exactly what sets her apart. The strength and importance of her work come from its self-conscious simplicity, confident technical discipline, and theoretical orientation. The focus of her subject matter is so narrow because her conceptual contribution is so broad; she is the rare artist who can find infinite creative potential within a restricted idiom."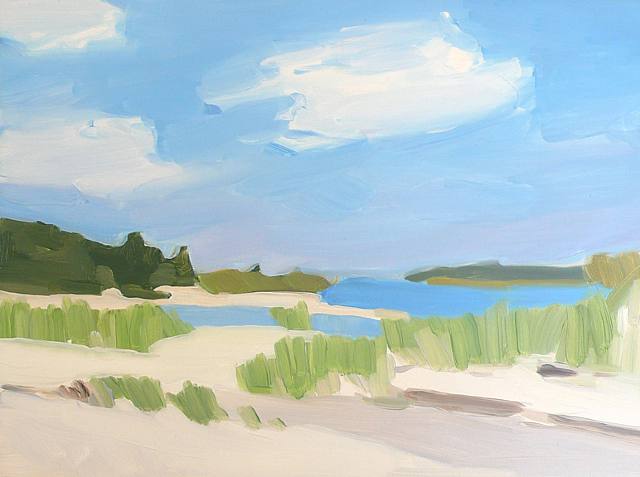 July 2008 Oil on Panel 9 x 12 inches
The best source online for seeing her work is at her 303 Gallery as there is a wider range of work and the images are bigger in size.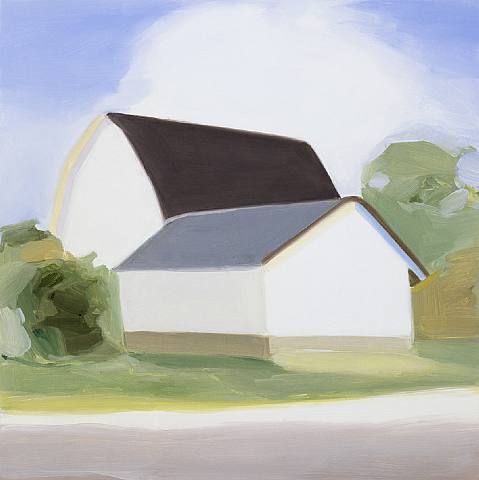 Summer Farmhouse 2007 Oil on Panel 12 x 12 inches
Maureen Gallace is an instructor of painting at New York University, and has taught in the Art Department of UCLA. Gallace's paintings are in the permanent collection of the Art Institute of Chicago, the Dallas Museum of Art, the Wadsworth Atheneum, and the Whitney Museum of American Art. Her work has be reviewed in the Art News, Art in America, The New York Times and numerous other major publications. She got her BFA The Hartford Art School in 1981 and MFA at Rutgers University. I read somewhere that she may have studied with David Salle but I couldn't find anything to verify that and I seemed to have lost where I read that.
I need some help understanding this work and I would be curious to hear others opinions. so I turn to people here to contribute your thoughts on what is going on with these paintings.
---
Donate to Painting Perceptions
Donations to Painting Perceptions helps this site greatly, please consider your gift today.