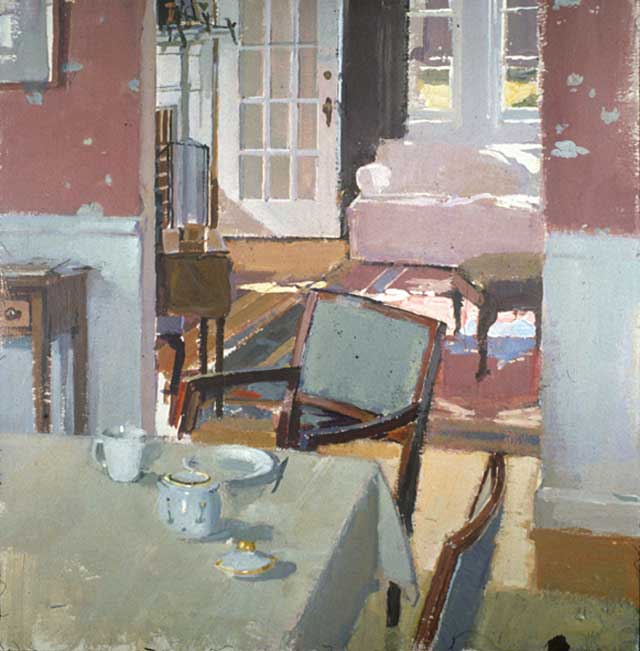 Mark Karnes Interior With Sugar Bowl 2000, acrylic on board, 25 x 26 inches
Over the past 30 years Mark Karnes has been painting and drawing in his Baltimore home using his familiar daily surroundings as a starting point of his subject matter. He paints neighborhood views through the many windows of his home or interiors and still-life. But his subject is often more about the light itself than simply depicting a room with furniture, as his home has 30 windows, the resulting play of light through the rooms is particularly engaging. The interiors are not just formal constructs but are compelling compositions that explore geometry and color sensation to transform comfortable household views into meditative poetry. I am also particularly awed by his exquisite drawing and tonal sensitivity in his ink on paper drawings, which he makes as studies for painting ideas as well as to simply make something wonderful.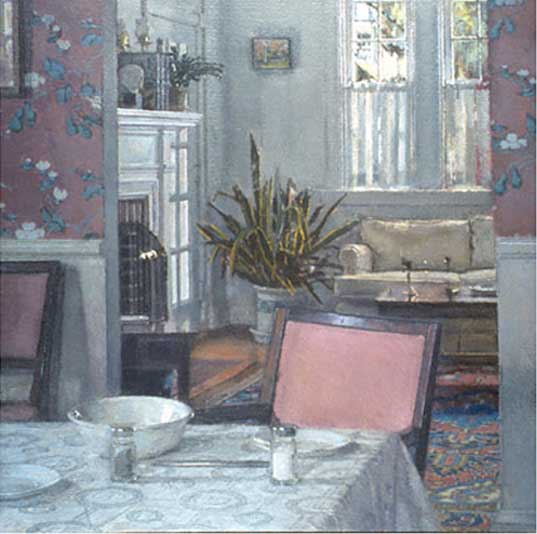 Dining Room & Living Room 2006, acrylic on board
In an article from 8 Feb 2008, American Artist, "Mark Karnes: Intimate Paintings and Drawings" by Ephraim Rubenstein (excellent article that goes into great detail and intelligent insight into Mark's paintings and process- very much worth the read)
A quote from this article states:
"Like all great painters of the near-at-hand, Karnes' work reminds us that beauty is to be found everywhere, at both expected and unexpected moments, and with every turn of the head. In the first of his Letters to a Young Poet, the German poet Rainer Maria Rilke formulated this aesthetic challenge: "If your daily life seems poor, do not blame it; blame yourself, tell yourself that you are not poet enough to call forth its riches; for to the creator there is no poverty and no poor indifferent place." Almost in direct response to Rilke's words, Karnes has been making paintings and drawings in and around his northern Baltimore home for more than 30 years. "My work is about my connection to my surroundings. The subjects of my pictures are things that are familiar and immediate to me."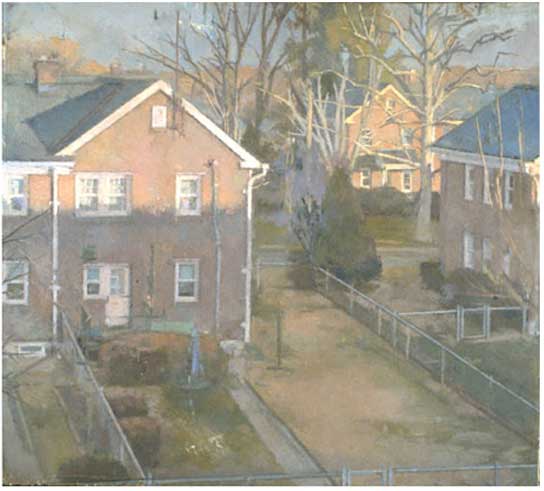 Alley Morning 2003-2005, oil on board
Later in the article, Ephraim Rubenstein says;
"…The painter Pissarro often talked about searching through different hotel rooms, looking out the windows, trying to find the perfect view. Over the years, Karnes' vision has become ruthlessly democratic, giving up the idea that there is the perfect view. He has learned to accept and appreciate precisely what is before him, to become the poet that Rilke demanded. He has concluded that it doesn't matter what the view is. In order to be as free as possible from preconceptions and expectations, he believes that the whole endeavor has to be more open, more arbitrary. "I get in trouble when I try to get too picky about 'what it is'."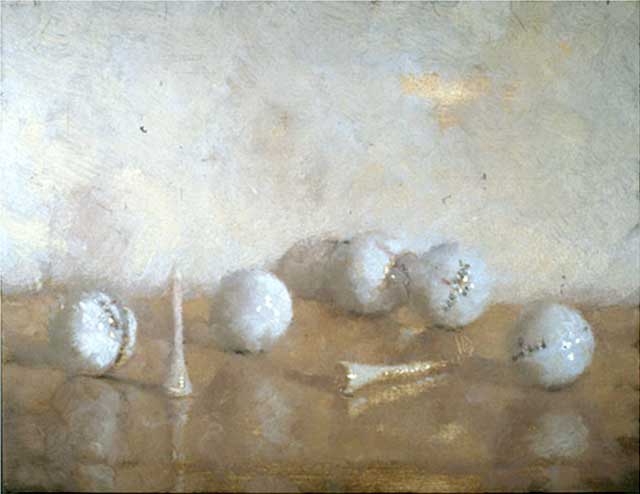 Golf Boards 1998, oil on board
From Mark Karnes website:
"Mark Karnes received his MFA in painting from Yale University in 1972 and his BFA in painting from Philadelphia College of Art. He has received grants from the National Endowment for the Arts and the Maryland State Arts Council as well as a Fulbright-Hayes grant for study in Florence, Italy. His work has been widely exhibited both nationally and internationally and can be found in numerous private and museum collections, including the permanent collection of the National Gallery of Art, Washington D.C. Karnes lives in Baltimore, MD, where he has taught drawing and painting at Maryland Institute College of Art since 1974"
Here are a few of his wonderful drawings.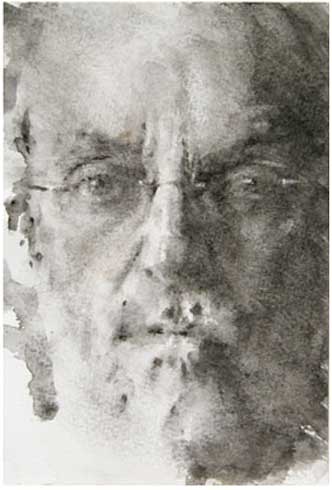 self portrait ink on paper, 2006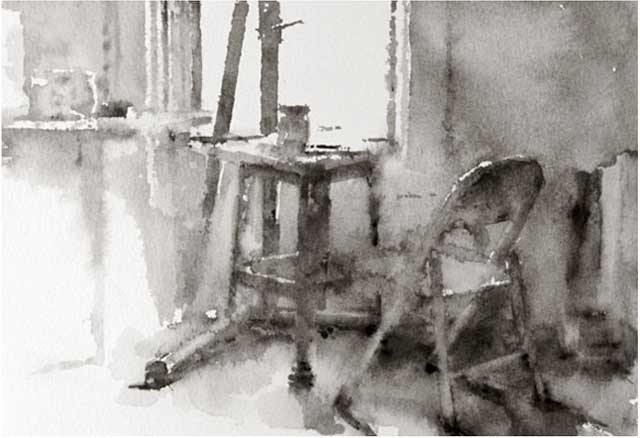 Chair with sunlight ink on paper, 2004