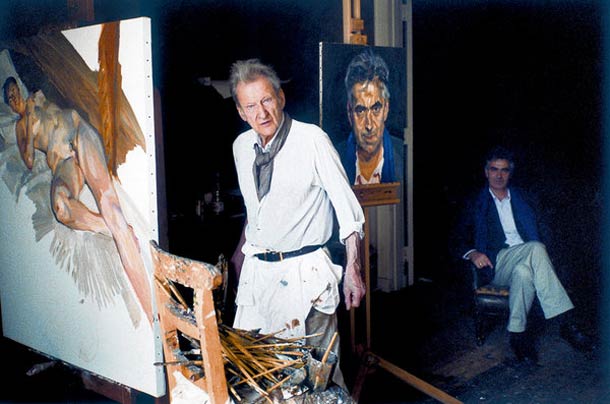 Lucian Freud with Martin Gayford. Photograph: David Dawson (from a Guardian.com book review)
There is a DVD (currently only able to get in the UK) of film-maker Jake Auerbach's Lucian Freud: Portraits. I have a 3 part, relatively long youTube excerpts that give an excellent sampling of the movie after the break.
Also, In case anyone might have missed it, last fall the art critic Martin Gayford came out with the book, Man With a Blue Scarf: On Sitting for a Portrait by Lucian Freud by Martin Gayford that reveals what it was like having Lucian Freud paint his portrait over the course of seven months. It is an engaging read with many interesting moments as Lucian Freud discusses his work, art and personalities. The Guardian.com book review by Laura Cummings said:
What is unusual is the fact that the sitter is painting a rival portrait, of sorts, and the sheer volume of their conversation. Most of the talk happens before and after evening sessions, "like a marathon dinner date", and Freud's opinions become addictive: his loathing of Leonardo and "the awful Mona Lisa", of Raphael's weightless figures ("I sometimes can't tell which way up they're supposed to be"), of everything by Dante Gabriel Rossetti, whose work is "the nearest painting can get to bad breath". Picasso, whom he knew, is guilty of emotional dishonesty and being out "to amaze, surprise and astonish", compared to Matisse, whose art is far greater because it concerns the life of forms, "which is what art is about, really".
A review by Maureen Mullarkey brings her fellow art critic and the artist's megalomania to task with her hilarious but stinging review, here is an excerpt and a link to the full review (a great read)
Enter Martin Gayford, critic, and author of The Yellow House, a lively sketch of Van Gogh and Gauguin together in Arles, and Constable in Love. Both prove Gayford a deft biographer of the well-known and documented dead. But something happens in company with the living. Man with a Blue Scarf is the diary of seven months spent, at the author's own request, as Lucian Freud's model. The result is oddly redolent of Facebook: Gayford wants you to know that Freud agreed to "friend" him, and he cannot quite get over it….

…Gayford supplies the obligatory angst, but it is largely his own: "What if he loses interest in me as a subject, as he did in the horse he decided not to paint?" It is hard to press creative agony out of an artist whose presumption of his own amplitude permits him to regard the history of art as an accompaniment to himself. Gayford sanctions Freud's admitted megalomania as "necessary for an artist who intends to add something new to a tradition already 5,000 years old." The book stretches Lord's spare formula—a mix of chronicle, autobiography, and opinion—with the sort of patter you can follow on Twitter: "LF has a mysterious visitor coming at seven." LF is going to Kate Moss's birthday party. LF loves his bath. LF can tell time to the minute without a watch. MG met Damien Hirst who ran into LF . . . . LF drinks a carrot juice smoothie.
– Maureen Mullarkey
There are a few parts of the book where Gaylord discusses Freud's working methods that I particularly find fascinating, such as that he doesn't make a careful outlined drawing first, that he will just start with painting in the middle of the face, an eye or a nose, and paint it to completion, gradually working his way outwards.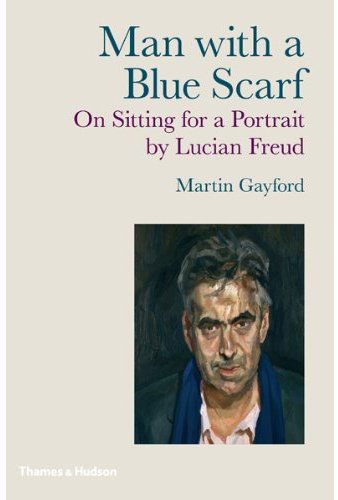 You can buy this book from Amazon from this link and also help support Painting Perceptions.
Man with a Blue Scarf: On Sitting for a Portrait by Lucian Freud
Lucian Freud: Portraits
Here are the excerpts from the DVD from youTube. Lucian Freud himself doesn't appear in the movie except briefly at the end. The film was made by Jake Auerbach (Frank Auerbach's son) who has also made films on Paula Rego and his father.
part one

part two
part three