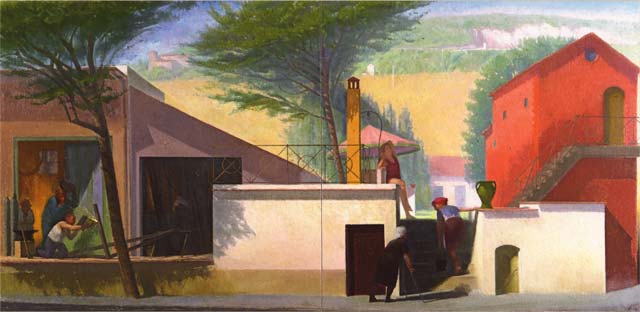 Click image for larger view
Langdon Quin La Bottega: A Family Portrait III, 1996, 52 x 104 inches
I was lucky to get the gorgeous catalog for Langdon Quin's current show at the The University of New Hampshire's Museum of Art: Acts & Memory: Paintings by Langdon Quin, 1990 – 2010. This show features 35 paintings of landscape, still lifes and large scale figurative works or combination thereof. The show is up until April 8, 2010. I was able to scan a few images from the catalog that seemed reasonable representations of the catalog images. Most of his paintings are quite large and read much better in larger images that I'm able to post here. Be sure to click for the larger views when available. I had hoped to get to the see the show in person but it looks like I will yet again be jealous of the East Coasters.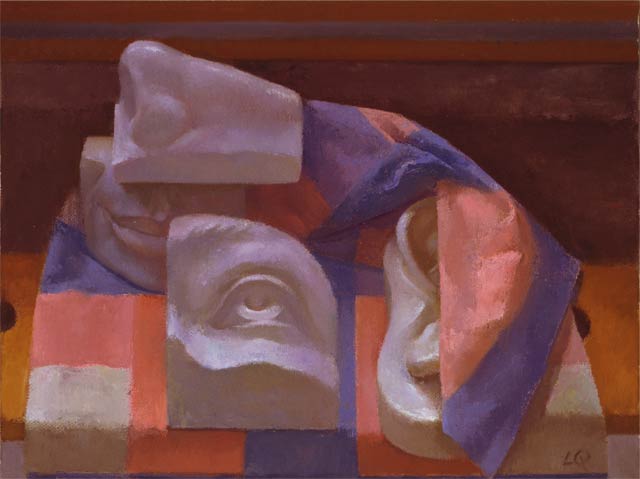 Click image for larger view
Still Life with Some Senses, 2004, oil on canvas, 18 x 24 inches
Langdon Quin's paintings grow from both observation and invention and use landscape, interiors, figure and still life in which to play out his formal and narrative interests. David Carbone states in the essay for the show's catalog "Often moving from perception to invention, Quin may begin with a drawing or a "first strike" oil sketch, after Corot's practice, with the principle aim of establishing the space through light. From such spontaneous works, larger synthetic paintings are developed, where more complex structural ideas are elaborated. Quin's desire to dwell deeply in what is seen becomes an extended meditation on landscape, still life, or the figure."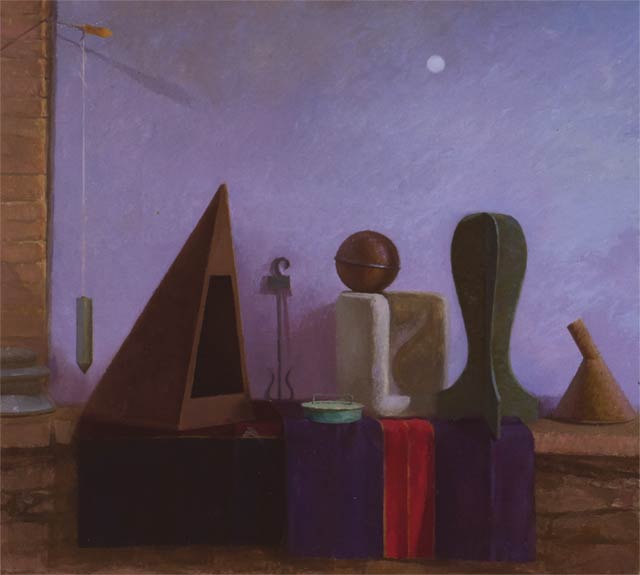 Click image for larger view
Ledge, 2006-2007, oil on canvas, 33 3/4 x 37 1/2 inches
Langdon Quin has exhibited widely, both nationally and internationally. Since receiving his MFA in Painting from Yale University in 1976, he has had numerous one person shows in galleries on both the east and west coasts. These include the Kraushaar Galleries and the Robert Schoelkopf Gallery in New York, the Alpha Gallery in Boston and Hackett Freedman Gallery in San Francisco.
From his website bio: "He is the recipient of many awards including a Fulbright Fellowship, a Louis Comfort Tiffany Foundation Grant, a National Endowment for the Arts grant, and two Ingram Merrill Foundation grants. He is also a member elect of the National Academy of Design in New York City. His paintings and works on paper are in prominent public and private collections both here and abroad. In addition, he has had a distinguished academic career teaching both undergraduates and graduate students in various university settings and professional art programs throughout the northeast." Langdon Quin recently retired from teaching and is currently a Professor Emeritus of Painting and Drawing at the University of New Hampshire.

Click image for larger view
Working from Life III, 2005-9, oil on canvas, 35 x 104 inches
Maureen Mullarkey in a review stated
At first glance, his three-part panel, Working from Life, seems out of sync with the sensibility on view elsewhere in the gallery. But look again. There is the same control over light, more raucous this time but no less measured. There is that same diagonal slant of light that divides the picture plane into zones of brightness and coloristic hush. Dense pigment adds weight to small elements of design. Drawing is deliberate, the placement of objects just so.

But what chaos is on view! Studio clutter is everywhere. Students vie for space to work, some resorting to the floor. A couple waltz with a skeleton, a danse macabre quite suitable to a classroom with its anatomy props. Natural daylight of one panel competes against the glare of studio lights in another. Each panel has its conventional nude model but the central one is . . . a hermaphrodite?

This is the studio as theater, its productions as calculated for effect as any other staged performance. Working from Life is a sly, clever visual essay on the role of art and the process of art-making. The humor of it only partly disguised by the seductiveness of the paint.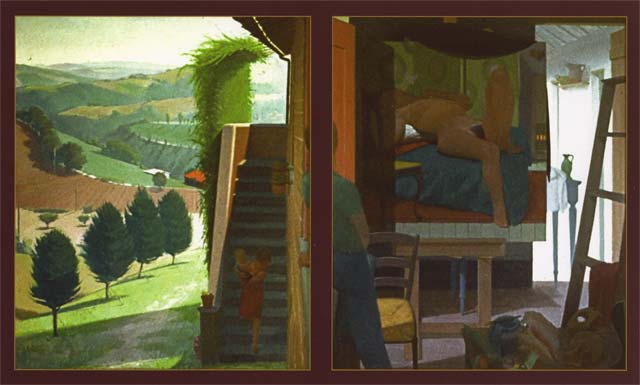 Click image for larger view
A Studio View, 1988-90, oil on canvas 47 x 82 inches
David Carbone's essay on Langdon Quin is available in it's entirety at this link at the berkshirefinearts.com Carbone's insight in Quin's work is remarkable, Mr Carbone himself is a gifted painter and writes about the work from a painter's perspective as well as a poet's. I offer a few select quotes from David Carbone's essay that can better frame the context and the process of this compelling work.
"Langdon Quin is a classicizing realist who, over several decades, has steadfastly held to his own path, one committed to the challenges of both perceptual and synthetic representation. For him, the Western tradition has been open and alive. By immersing himself in the art-past, Quin has been able to fortify himself for the difficult task of developing a language for his experience. At the core of Quin's art is a sense of awe and a deep pleasure in being able to see the world and express it through forms generated out of a late-modernist sensibility."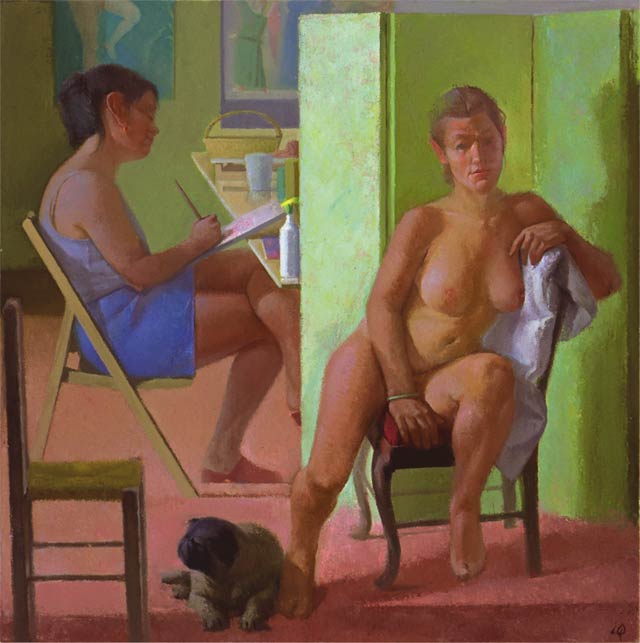 Click image for larger view
Models: an Allegory of Faith, 2005-2006 , oil on canvas, 36 x 36 inches
"This approach was derived in part from his mentors at Tanglewood and Yale: William Bailey, Gretna Campbell, Bernard Chaet, and Gabriel Laderman. All of these artists approached figuration through their understanding of modernism and abstraction; and each arrived at a completely different figurative position. In arranging his own constellation of forebears, Quin has also looked to Piero, Corot, de Chirico, the Novecento artists Felice Casorati and Fausto Pirandello, Bonnard, Balthus, Lennart Anderson, and James Weeks; all of whose influences can be felt in various ways, especially in his landscapes"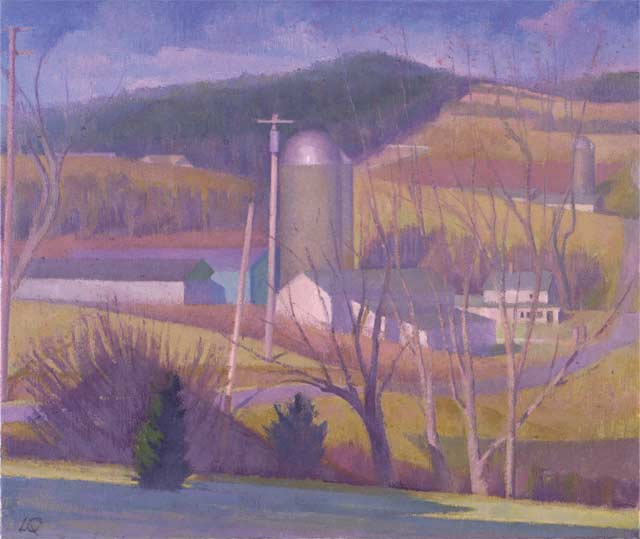 Click image for larger view
Upstate Spring, Abandoned Farm, 1997, Oil on canvas, 40 x 47 inches
"These works hold illusionism in check through a generalized painterly representation heightened by a prismatic palette of colors. Quin shows himself to be a master of balancing spatial organization and the simultaneous ordering of forms as shapes in the surface. This aspect gives his images a cubist foundation that links his formal concerns with those of Piero, Bonnard, Balthus, and Casorati. Often working with a painting knife, to heighten the material presence of the paint, both as an analogy to the substance of things and as an agent to activate the surface-to-space tensions, Quin pushes his paintings from image toward musical-like structure, and in his best works, to a rapt vision. By lowering the effects of realistic mimicry, Quin is able to give his work a luminosity and effects of luster, a hazy atmosphere of beautifully nuanced tones and color temperatures that veil nature's forms with his emotion.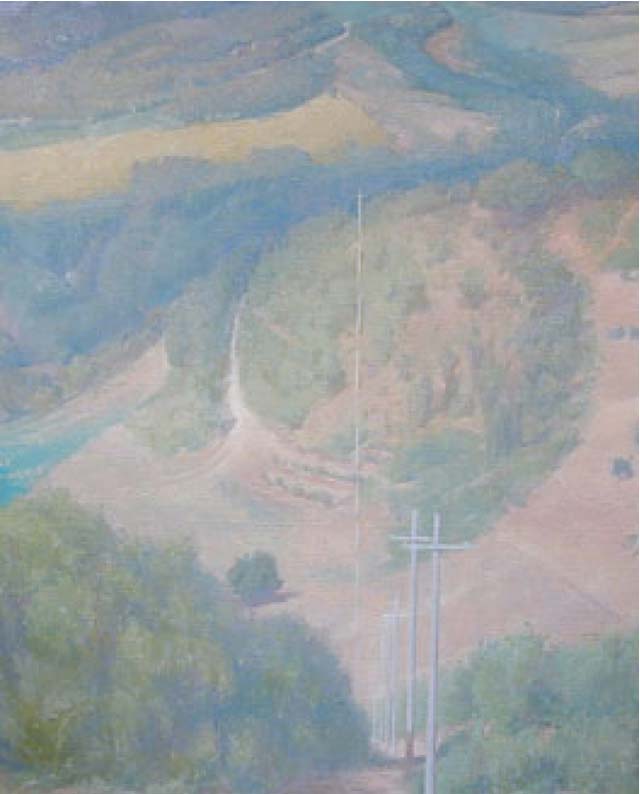 Landlines, 2005-6, oil on canvas, 39 x 47 inches
Although these mostly rural scenes are alternately from Troy, New York, Durham, New Hampshire, and Gubbio in Umbria, Italy, where Quin has spent his summers for several decades, the dominant dialogue is with Balthus's Chassy landscapes. While much of Balthus's dark tenebrous winter landscapes express a spectral existential melancholy, Quin has sought to rival the languid humidity of Balthus's spring and summer views with their golden haze and verdant flora. In Quin's work languor, haze, and greenery express his most ecstatic self and a wistful longing to glimpse the Eden beneath the surface of the everyday wilderness"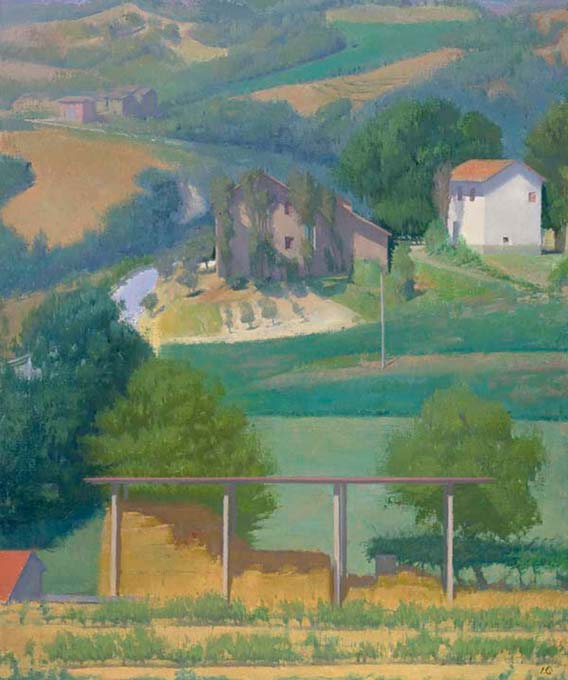 Click image for larger view
Parish, 2004-5, oil on canvas, 48 x 40 inches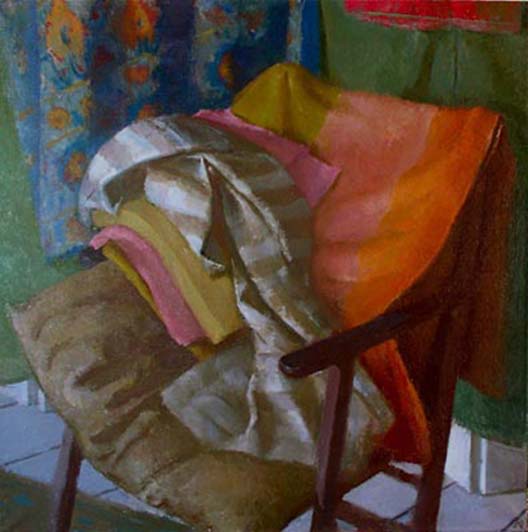 Still Life with Model's Chair, 2006, oil on canvas, 30 x 40 inches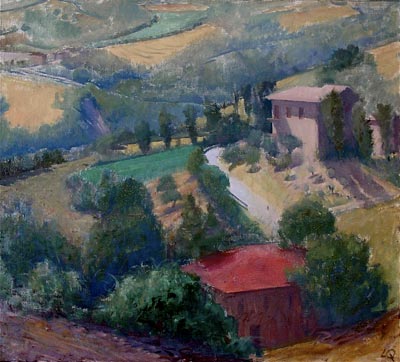 Above Baldelli's, 2004-2005, oil on canvas, 39 1/2 x 39 1/2 inches
A 30-page, color catalog accompanies the exhibition is available for $15. You may order at the UNH website www.unh.edu/moa or call 603/862-3712.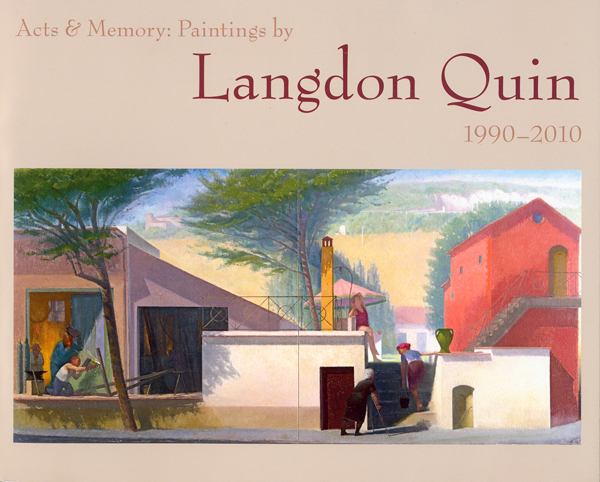 Catalog Cover
Selected images from Acts & Memory: Paintings by Langdon Quin, 1990 – 2010
---
Donate to Painting Perceptions
Donations to Painting Perceptions helps this site greatly, please consider your gift today.