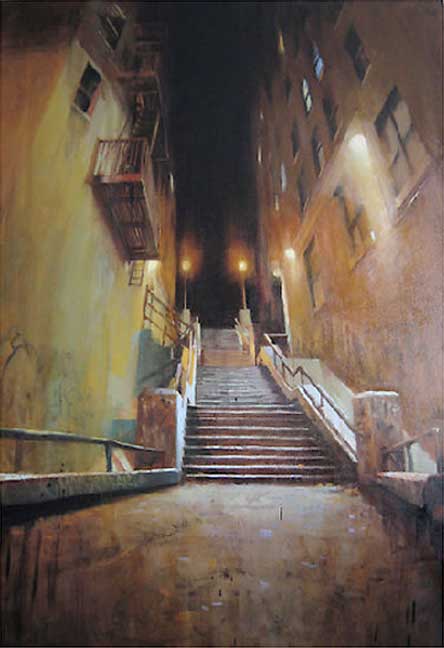 Kim Cogan Stairway 2008, Oil on Canvas 48″x32″
A few days ago I was lucky to get up to Laguna Beach to the Sue Greenwood Fine Art cityscape group show (up through June 29th) where four Kim Cogan's paintings were on view. I saw his solo show at his NYC gallery the Gallery Henoch back in 2008 and have been smitten by his work.
This young painter (Born 1977 Pusan, Korea) is already establishing himself as a major talent in the realist cityscape genre. He studied at the Academy of Art College in San Francisco where he lives and paints much of his subject matter, especially views of Chinatown. His work probably can't truly be called perceptual painting as it is clearly studio based and he seems to work from multiple photos of a scene manually composited into an expanded perspective. However, his work is more about visual issues than conceptual ones. His dramatic viewpoints often with strong perspective diagonals draws you into the painting and the marvelous play of interlocking shapes keeps you in the painting.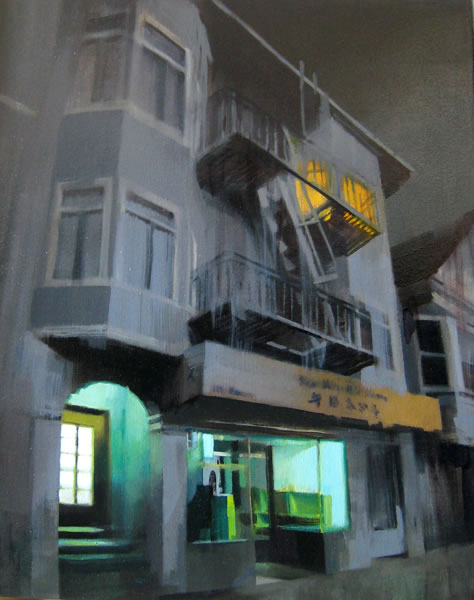 Lime Light 2009 (?), Oil on Canvas 18×24
He paints with a gutsy Zen-like control/non-control where there is calligraphic feel to the way large shapes of color are constructed. He paints with a refined, basically tonal palette, often with the painting having predominantly muted tones that sets off a central area of higher chroma as seen in his masterful "Lime Light" in the show. It's hard not to think of Hopper looking at his work, specifically, the MFA's "Drugstore" of 1927.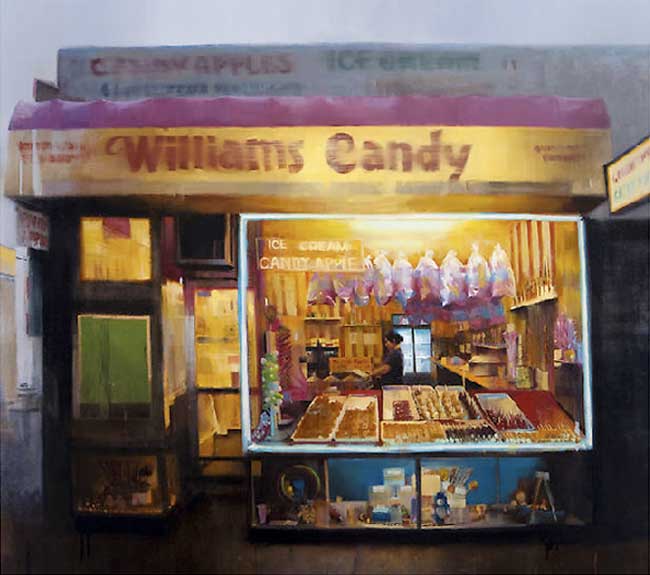 Sweet Tooth 2009, 54″ x 60″
Perhaps the most interesting aspect of his work is how he unites the painting with the light and merges forms into broad groupings with lost and found edge – which strengthens the overall abstract configuration. There seems to be nothing out of place except perhaps for the occasional splatter and drips of paint that seems to ask the viewer to appreciate the tactile surface and to celebrate the paint's physicality. Unfortunately, it doesn't always ring true to me. His masterly control of the brush and studio calculations contradicts notions of the vigorous looseness often seen as scrapes, marks, drips resulting from the urgency in chasing quickly changing light and of rapidly changing ideas, moods and decisions.

T.L. Rooftops, 2009, Oil on Canvas 24″ x 36″
In Antonio Lopez Garcia paintings, another artist I think of when looking at Cogan's work, the hand of the artist is clearly visible, not polished smooth despite the extreme control, but this "rough hewn" quality follows logically out of Lopez Garcia's corrections and alterations – a natural result of his process. Perhaps a better painter to consider along these lines is Alex Kanevsky where the drips are even more central to the painting. As much as I love and respect Kanevsky's work I am less enamored when realist painters feel compelled to recreate this looseness that seemingly asks for validation to their modern/post-modern sensibilities. Understandably many young realists are conscience of many galleries avoidance of anything seeming too academic but good painting will been seen regardless. Clearly that is the case with Cogan's work. He is not just painting highly accomplished urban scenes but they also reveal a deep connection to his identity and visual world. You can follow his amazing paintings, musing and writings about his art on his blog. Here is a link to a 2005 interview with him.
Finally, a couple more paintings and some brief video footage of him and his work below.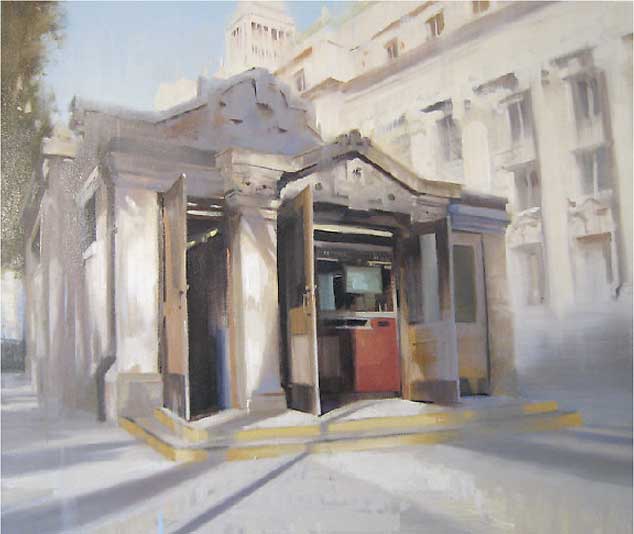 Late Afternoon at Bowling Green, 2008, Oil on Canvas 30″ x 36″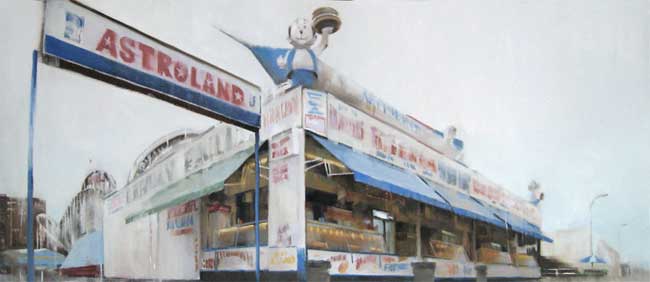 Astroland Oil on Canvas 24″x60″
---
Donate to Painting Perceptions
Donations to Painting Perceptions helps this site greatly, please consider your gift today.