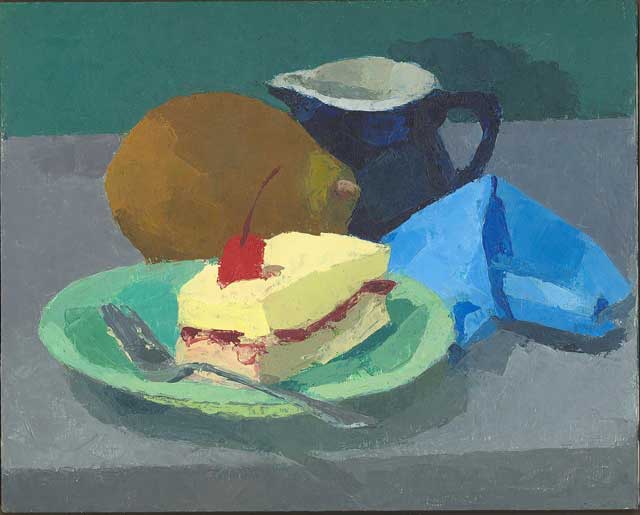 Cherry Cheesecake with Pear, 2000, oil on panel, 8 x 10 in.
Passion, excitement needs to be there at the beginning to have it there at the end.
If you have a circle in your mind you will not make a square. If you try to draw the perfect circle you fail and the result is your own circle.
Many things are invented when one tries to repeat the past and fails or through misunderstanding.
Some of the best t-shirt slogans come from misreading.
Good things come when one no longer cares about pleasing anyone else.
We do the paintings we want to see.
The same lessons need to be learnt over and over.
Paint itself is beautiful. It amazes me how someone can make something so ugly with it.
Mastering paint is the ability to move from the large things to the small things and back again, always within the whole.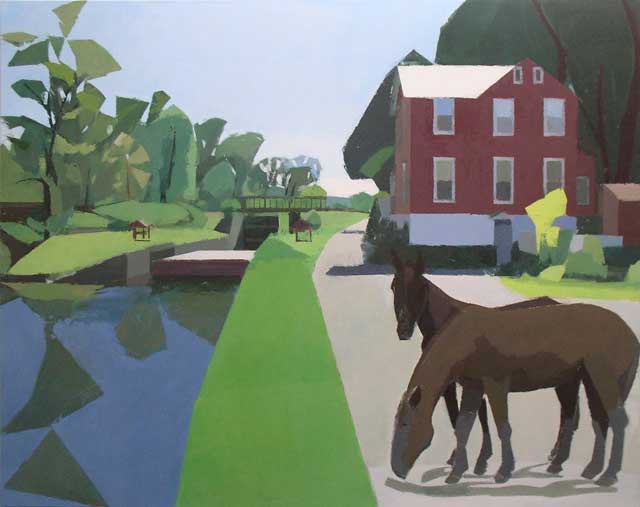 Canel Keeper's House. 2009 oil on canvas, 48 x 60 in.
Composing has to do with setting up rhymes and rhythms between forms. "Visual art is the intuitively ordered play of forms and sometimes colors within a contain arena". – J. Goodrich. Keep things in flux. You must be willing to get rid of anything. Painting is visual poetry. Take a page of descriptive writing, remove enough words and you have a poem. As has been said about sculpture; remove everything from the block of marble that is not the subject.
The artist must show the viewer exactly what they want the viewer to see, in what order and at what speed. Show me more forcefully what I should be looking at. Forms must be described by drawing enclosing lines at the same time. Do not spend a lot of time on one side of a form. You got to enclose that form quickly. It is hard to describe something with one hand.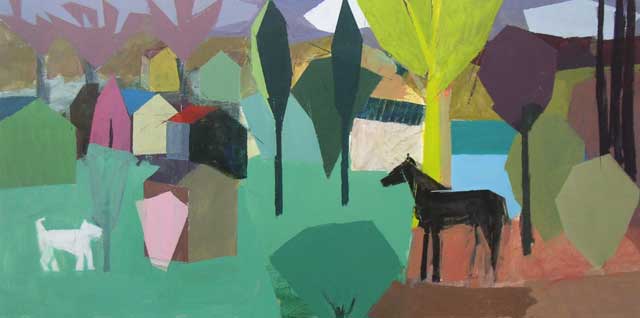 Houses with Horse and Dog. (in progress) acrylic on wood panel, 18 x 36 in.
The live model is capable of infinite number of abstract forms that do not read quickly as human.
Setting up a still life is like sculpting.
Sometimes there is no painting there. It is not the subject but the abstraction that must carry the painting.
Colors and forms are forces. Painting is using these forces. Illustration is relying on descriptive details.
Love of color makes a colorist.
Painting can surpass nature by the nature of composing into a visual poetry. Think music; sounds composed into otherworldly passages.
I love messy precision, very loose and very specific at the same time, wildly using a straight edge, the straight line drawn by hand and the messy mark drawn with the use of a straight edge.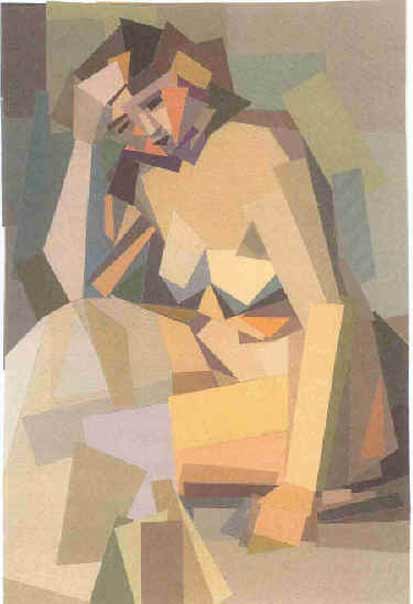 Nude (after Derain), 2007 7 1/2 x 5 1x 8 inches Collage
Get back to the joy of painting and trust that all you need to know is within you.
My daughter's elementary school art room has a wall of windows. From the projects they do in this room there is nothing that shows that they ever look out the window. The art teacher according to what I hear from my daughter has never said "look out the window and draw". What they do are projects. Project implies an already known result. It is something like a safety net. It removes some of the excitement or the chance of what the teacher might think is failure, but this is not a trapeze. The freedom to look and draw does not put the child in danger. Looking and drawing does not kill creativity, teachers do. It begins with the first word spoken in reaction to the child's work. What if the parent responded by drawing? Painting is a language that is easier learnt when young. Artists dealing with ideas (conceptual artists) who use paint to illustrate ideas (jokes) are illustrators more than painters. Using paint does not make one a painter. Paint can do so much more. The life of a painter is a life of exploring
---
Donate to Painting Perceptions
Donations to Painting Perceptions helps this site greatly, please consider your gift today.