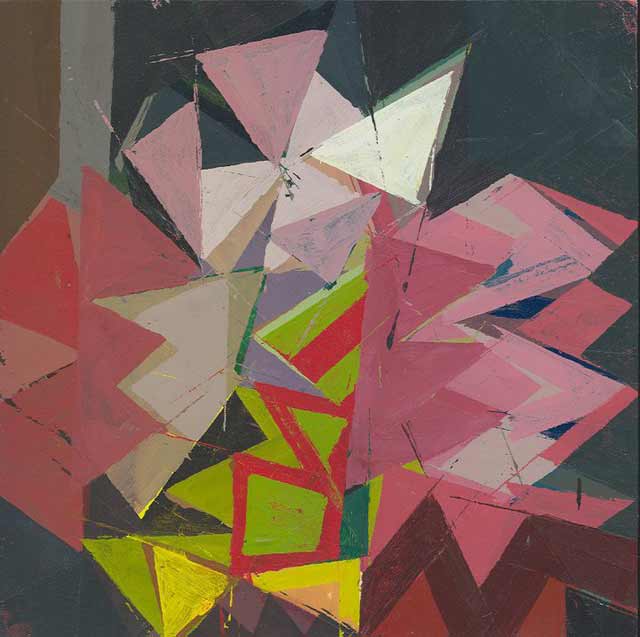 Certosa Painting acrylic on paper 2010
Translating a painting into a collage calls for new rules; a divergence from the original by having to limit colors, shapes, and details.
There is sometimes a place for straight out of the tube colors. At other times they are a bit like a naked person in public. One sometimes needs to dress properly to fit in (to the larger picture). Sometimes the one object or color that attracts is the one thing that distracts from the whole. In this case a support needs to be found to anchor the color to the whole.
The painting is the result of the process of painting. Do not anticipate this. Forget that you are painting a painting, and even more, that it is a picture.
Give up control to let things happen in painting.
Knowledge increases options.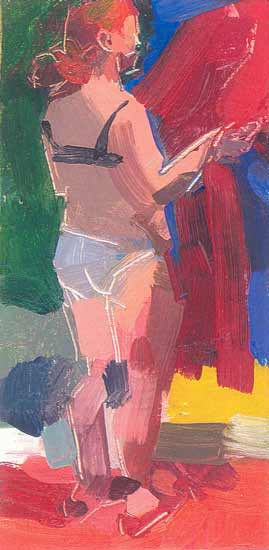 Dressing Room Painting.: 1999, oil on panel, 5 1/2 x 2 3/4 in.
Even though I am aware that there is a book called Yellow and Blue don't make Green and it is true that pigment acts differently than light, let us agree that yellow and blue makes something that resemble green. It depends a lot on what yellow and what blue. The same goes for yellow and red making orange and also red and blue making purple. The truth is that it doesn't matter all that much what color they make but only that you are aware of what colors they tend to make. If you need an orange color use orange. The main thing is be aware of how little it takes to change a color. Start with a very little dab and then only use a fraction of that to begin with. More important is the value. To go lighter use a color of a lighter value all the way to a little white, to go darker use a color of a darker value all the way to black. This probably sounds too simple. Good.
Think of colors becoming stained. Light colors are easier stained than dark colors. Red wine on a white or any light colored shirt. Yellow will be altered more dramatically by another color than a green or blue. Beware of this value range from light to dark and back. With the same brush, work from dark to lighter, putting in darks while your brush is loaded with that value. Rinse only when you need to go quickly from one extreme to another.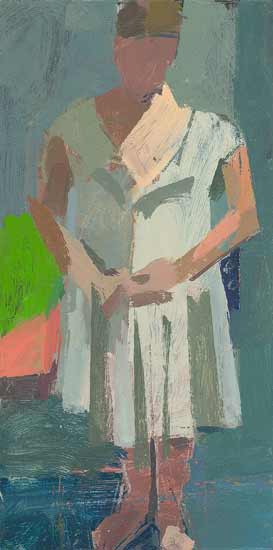 Dressing Room Painting 2007 acrylic on board, 10 x 5 in.
When painting from life, before you use any color for a particular object, compare the color of the object to any similarly colored object. Ask; which is more or less intense, lighter or darker, etc. Reserve the most intense, darkest or lightest, to where it is really needed. Don't think rules. Don't think what colors come forward and which go back. Think about the relative difference between colors. Pure colors are rare. Look at great paintings. Look for primary colors, colors that can be easily named, i.e. green, orange, etc. Usually they are not found. Most colors are without names. Most colors are adjusted and fine tuned. Colors found by a need to compose the whole, each color playing a role. Color changes depending on the size of the form and its neighbors.
The secret (your methods) to painting needs to be discovered everyday. This is necessary because these secrets only work for a little while.
Having painted awhile there is more to unlearn than to learn.
Some colors are warm and some are cool. Colors like yellow, orange and red associated with fire are considered warm and colors like green, blue and purple associated with water are considered cool. I do not spend much time thinking about this, especially whether or not they are advancing or going back into space. Just be aware of the relative difference. A bigger jump can be made between colors if a warm is opposed to a cool. Paint instinctively, not by rules. Adjust each color to best play their role. Group colors into larger masses that work with and against other masses. A group of similar darks opposed to a group of close value lights. There can be lights within the dark masses and darks within the light masses. These masses must form shapes that play their parts in making up a composition. Leading roles and supporting roles as in a play, a balance of unbalanced elements, controlled chaos.
Look at your palette after a bout of painting. There will be colors you would never have consciously placed next to each other, but this is similar to nature. It is what makes nature so visually exciting. If there is a higher being it is an unconscious being. A tree never worries about the house it blocks from view. Our viewpoint is always shifting and creating new juxtapositions. The thrill never stops. Whatever the subject the shapes and colors that make up this subject must also make up an abstract design (composition).