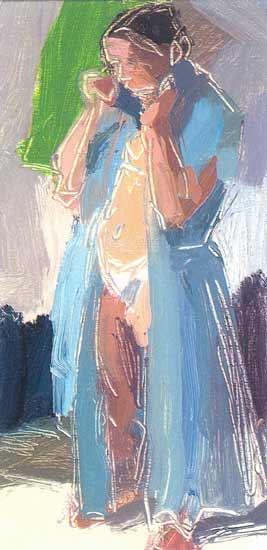 Dressing Room Painting 1999, oil on panel, 5 1/2 x 2 3/4 in.
Emphasis is invention. Look to nature and the unconscious mess of the palette for direction.
The need to find shapes is a need to exaggerate and gives freedom to invent.
Values are more important than color. Strong Fauve paintings reproduced in black and white retain much of their force. Force sometimes comes by supplying little choice.
Black and white can be used to reshape the painting into larger forms. Black and white can be used as extremes. Be aware of the lightest and darkest part of a painting.
Color is used to shape space and build form through relationships.
Paintings are not finished, they are stopped.
When you stop a painting, draw a quick (a few lines) sketch of it, to see ways to simplify next work.
Do not work too hard, but work all the time.
We make sense of our surroundings by ordering in the mind, by painting a picture in our mind. Painting is therefore very natural.
Good painting is natural. Bad painting is unnatural and must be learnt.
When working from life you take a fragment of the world then attempt to make it whole by making sense of the loose ends left when it was torn from the world.
If you cannot find the right color find an equivalent, colors that have a similar relationship. Colors and values need to be kept in reserve for where they are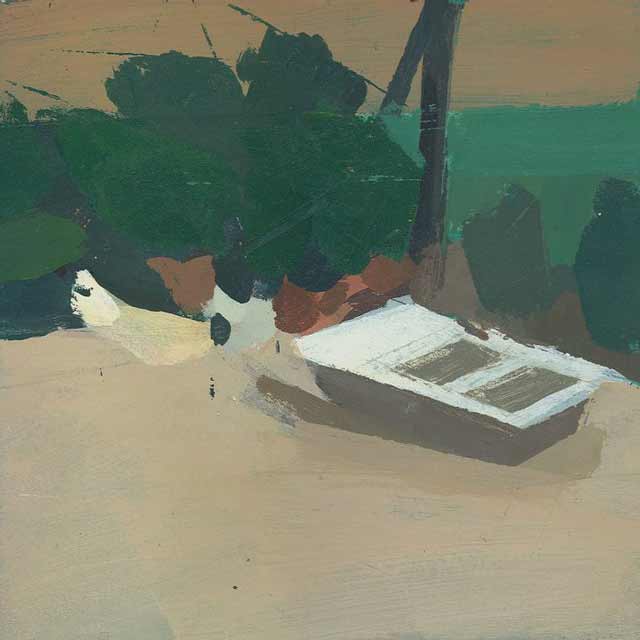 Certosa Painting acrylic on paper 2010
Some colors must play larger roles just as some actors play larger roles in the theatre. Keep these colors for those roles. A too similar color elsewhere will confuse like a supporting actor who looks too much like the leading actor. Matisse said to start with the most intense color then add another and adjust the first if needed, then add another keeping always in mind the overall effect. This should be what you are most interested in and so this should be natural and easily done. You may sometimes find that your interest lies elsewhere. Then go with that. Relax and the right answer will come to you. Relax and the right color will be found. Relax and any discord will show itself. While working on a collage, when searching for the right color from a box of hundreds of colors I find if I relax, stop thinking, the right color pops out (comes into focus). Intensiveness, temperature, values (light and dark), etc. need to be taken into account. This is a non-theory color theory, a freeing of your natural color sense. It will feel that color is being emphasized over drawing but drawing will take care of itself in the process. It will result in better drawing. Impulse should be stressed. Rejecting should be rejected. Surprising yourself should be encouraged.
Painting runs parallels to music with discords and concordances and musical groupings.
Working in the dark (near dark) to see the simple masses.
Exercise by sorting colors. Cut out colors from magazines for use in collage and sort into color groups.
To get some distance from what you have done take a piece of mat board larger than your work and place the work on it, cover with a piece of Plexiglas of similar size to mat board, in a sense framing your work. This helps to get past the remembrance of the process to see the results.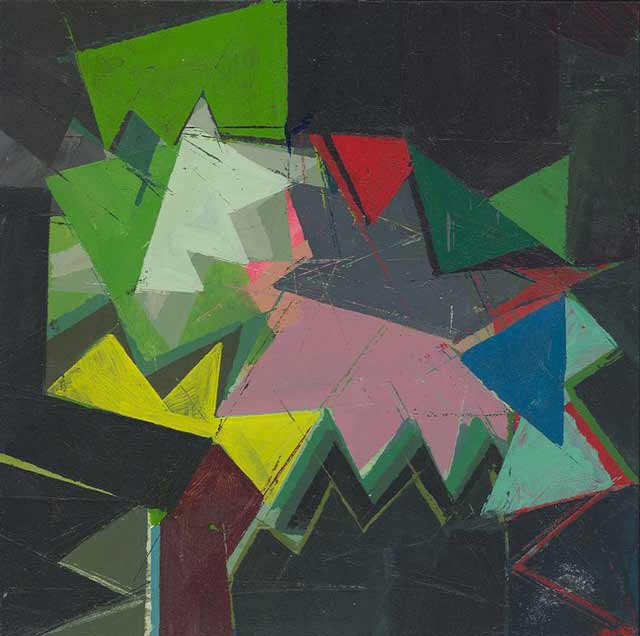 Certosa Painting acrylic on paper 2010
Editing your work, picking out what you want to represent you is valuable.
Make abstract collages. Without subject matter one can concentrate on finding a composition out of chaos. One does not need to fear losing one's way in art, there is always a way out and often very clever ways that one would never have found without having been lost.
Wipe out and repaint. Sketching the same thing over and over, making a hundred sketches, painting a similar painting over a previous painting, a series of figure paintings where the head is at the top and feet are at the bottom, tweaking the same painting, painting over related paintings; a still life over a still life, etc. something a kin to animation, with the pose changing ever so slightly. This is not a bad method for drawing the model. A model that moves a bit is not a bad thing. For one thing it means the model is alive and that in itself is exciting. Also one should always be reconsidering the whole and willing to redraw the whole.