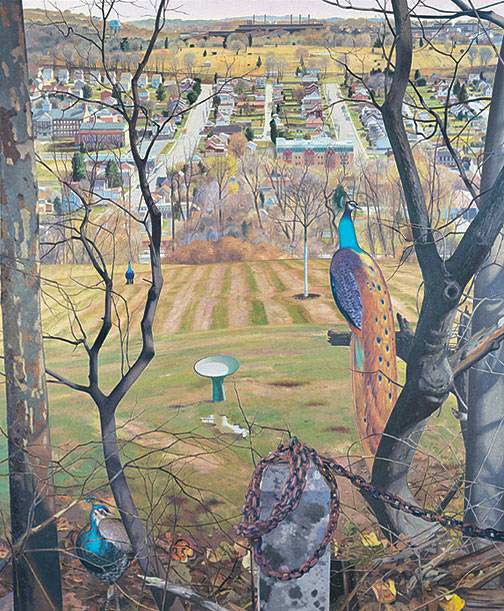 John Moore, A Fine Fall Day, 2008, Oil on Canvas, 90 x 75 inches
I just returned from Philadelphia where I saw the "Thirteen Miles from Paradise", Paintings by John Moore being shown at the University of Pennsylvania's Arthur Ross Gallery up until June 14 , 2009 (this show was previously at the Hirschl & Adler Gallery in NYC)
John Moore is one of the leading realist painters working today. Shows at the Hirschl & Adler gallery He is a faculty member and out-going chair of the University of Pennsylvania's Department of Fine Arts. He has also taught at Boston University and the Tyler School of Art. His paintings are held in the Metropolitan Museum of Art, the Philadelphia Museum of Art, San Francisco Museum of Modern Art among others.
I studied with John Moore when he lead the graduate painting department at Boston University in the early 90's and, for what it's worth, I also attended First Grade at the Paradise Elementary School and lived in Paradise, a predominately Amish and Mennonite farmland, for a few years as a child – my grandmother lived in Kinzers, which was 12 miles down the Lincoln Highway to Coatesville, PA and the subject-matter of this show)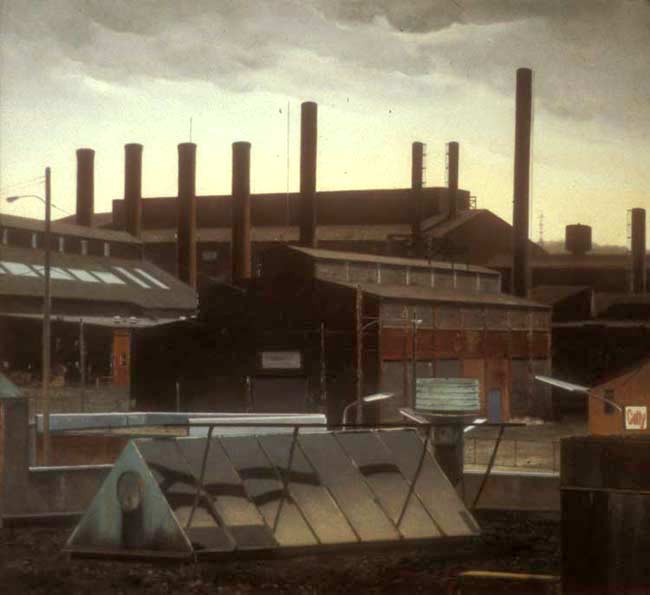 John Moore, Near Lincoln Highway, 1988-93, Oil on Canvas, 30 x 33 inches
In this show are his new four large (90 by 75 inches) paintings of Coatesville depicting the four seasons as well as studies and several other paintings of Coatesville and other industrial landscapes that date back to the mid-80's. The vast Coatesville steel mills lured American Modernists Charles Demuth and Ralston Crawford to make paintings highlighting the abstract architectural shapes and geometry. This interested John Moore and inspired him to make several large scale works with Coatesville as his subject matter. There was a very professional and engaging video documentary made by Will Brown being played on a loop in the gallery. You can see an excerpt from that video here, and the entire video can be purchased online at the same link.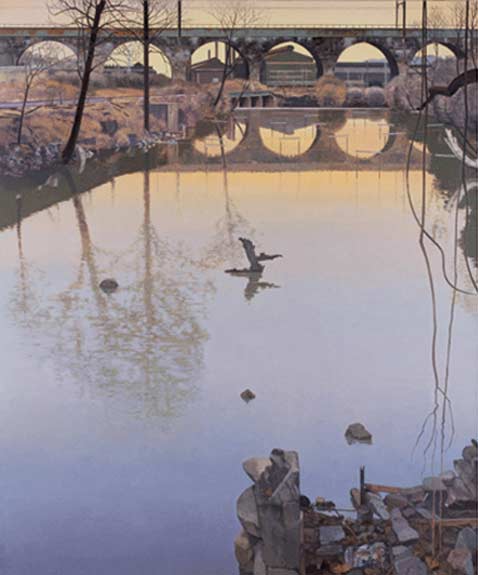 John Moore, Stillwater: Spring, 2008, Oil on Canvas, 90 x 75 inches
Moore will often take liberties with the scene, combining views from different locations, seamlessly blending views, memories and elements together to "make a larger truth". Long before photoshop he would sometimes take views from one city and blend them from scenes from another to form a coherent whole. His use of multiple sources, smaller oil studies, drawings, and photos creates a world that is both derived from both perception and concept. His work has the look of life, not mere photographic detail. His work speaks to many concerns but the primary impact to me is visual. The way the painting is organized in an abstract geometric sense, the amazing artistry and craft of his painting and drawing, the subtle but richly tactile quality of paint surface and exquisite color sensibility all strike me before the narrative draws me even further in.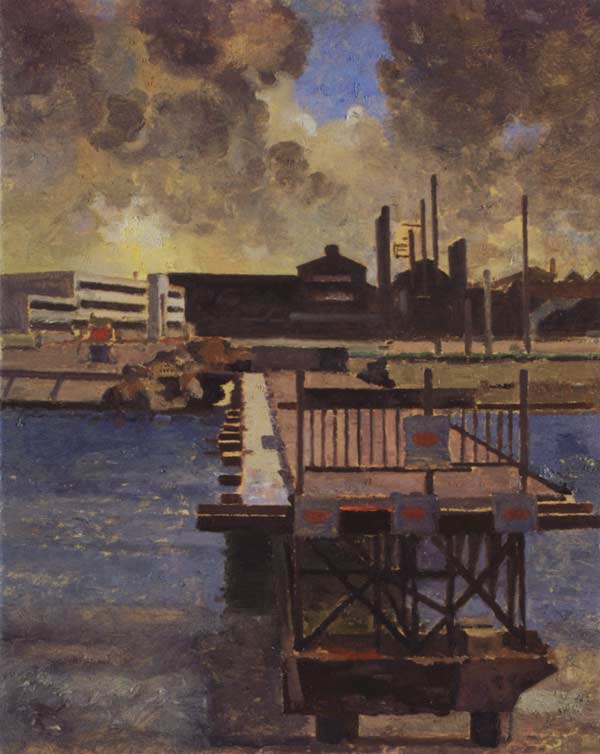 John Moore, Sunday Evening: Summer Study 1, 2008, Oil on Board, 11 x 14 inches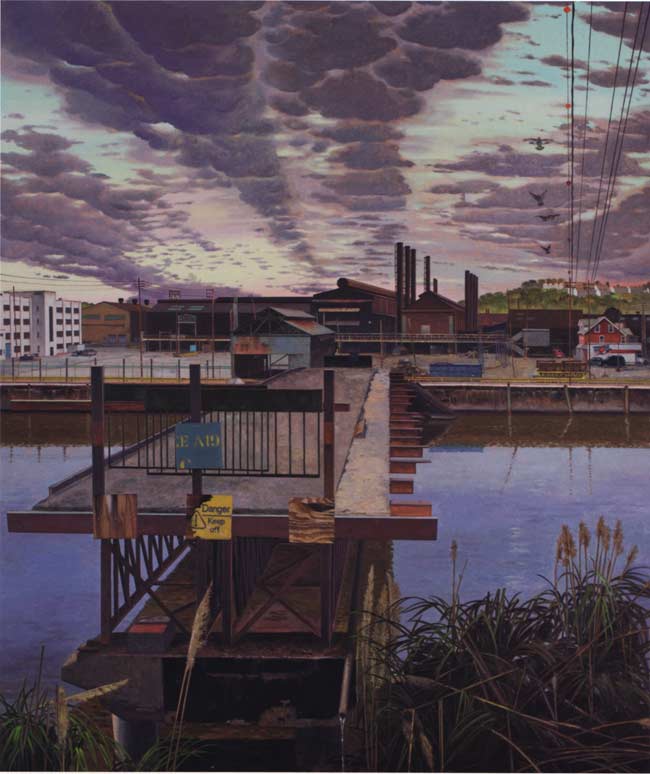 John Moore, Sunday Evening: Summer, 2009, Oil on Canvas, 90 x 75 inches
The poetry and moodyness of these ominous industrial wastelands is all the more poignant by contrast with the precise forms and delinated space, where everything is orchestrated and considered. Moore reveals in the abstractions of shapes placed in exacting intervals and relationships like the patterns made from rows of smokestacks and other industrial forms. Unlike Charles Sheeler and other precisionists there usually seems to be a human dimension and a story brewing. His placement and use of such mundane elements such as small signs at the end of a dock in center of the painting's foreground, whose meanings of the written warnings long since weathered away take on new purpose and mystery.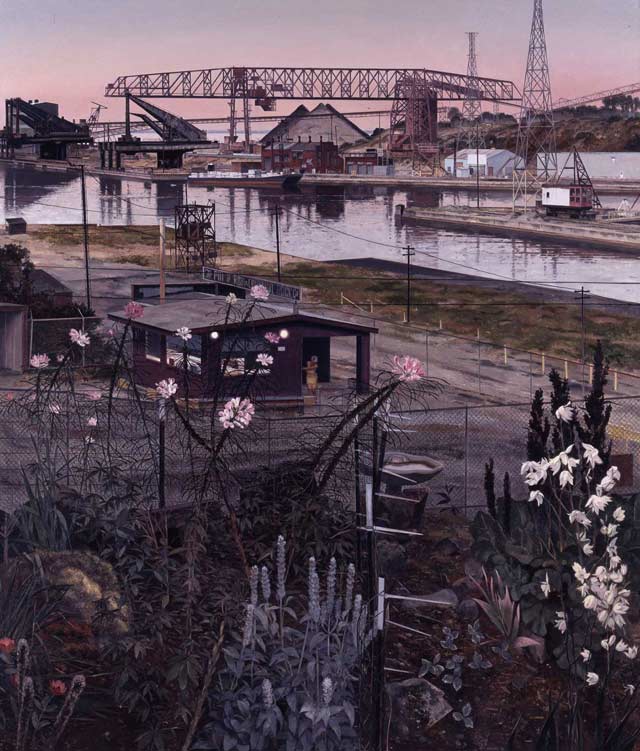 John Moore, Erie Evening, 1996, Oil on Canvas, 72 x 62 inches
Here is a link to another review of this show on Philly.com arts and entertainment section by Edward Sozanski.
There is a catalog to the show you can order from Amazon
Thirteen Miles from Paradise catalog of painting by John Moore, Debra Bricker Balken (Contributor), Lynn Marsden-atlass (Contributor), Alexi Worth (Contributor)
another book on John Moore's painting worth looking at:
Inventing Reality: The Paintings of John Moore (Hardcover)
by Therese Dolan (Author) Order from Amazon Here