Jerome Witkin:
Well, thank you so much. I really appreciate this.
I don't know. If you could send the images you make and all that stuff through other people's laptops. Is that possible?
Larry Groff:
Basically what I will do is, I will transcribe this conversation, so that it will be written. I also have available, so that people can listen to it—because a lot of times, it's rather long. People would just prefer to listen to it. So it will be both. That's how I've done it with previous ones.
And then I'll also have a series of images of your work that are related. Like say when you were talking about Morandi, I'll maybe have a Morandi picture there or something like that. And then the other paintings, just select ones. Not too many. Maybe ten images of your work altogether.
So it will be a pretty comprehensive thing. And then I'll give a little background information that I'll get from the catalog. And that will be it.
You know, I get quite a few. It's really growing quite a bit. I get maybe eight or 9,000 people come every month to see it. You know, for painters, it's a sizeable number. It's not that big for the general public but …
Jerome Witkin:
No, but Larry this is a very generous thing you're doing. It's a very pedagogical thing, too. And it's also a sharing thing, which is very nice. And I think to have a fresh conversation with people, it's something like visiting a studio …
Larry Groff:
Exactly.
Jerome Witkin:
… and sitting down with somebody. And then they chat about their work because they're right there. I took a bunch of my advanced drawing students, when I was through there yesterday. And they looked around. And I had things set up, like the Dirty Man thing and some other portraits. And they were very quiet.
And I said, "Howard. You're very quiet. Are you disappointed? What is happening?"
And then they were talking slowly about it, but they were watching it. It was interesting, because it helped me out. Those things are memorable, and I think it's very important for especially young people to have these experiences of going into studios and seeing what people do or they try to do or they fail at or they succeed at. All that stuff is very important.
And I always remember all my studio visits, because there's so many different people. I forget the people that didn't get me in terms of involvement. But the ones that did involve me, I could almost draw out the look of the studio and what they had on the walls. It was a very deep experience.
But I thank you so very much. Let me ask you. What kind of paintings do you make yourself?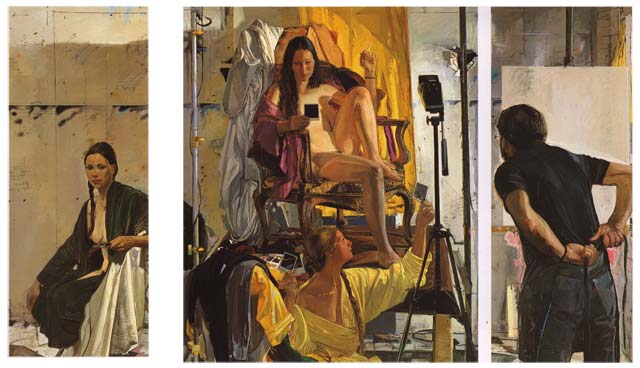 See What I Mean? Lets Try That Pose 1989 Triptych 84 x 132 inches Oil on Canvas
Larry Groff:
I'm primarily a cityscape painter. Kind of landscape and cityscape. I studied with George Nick …
Jerome Witkin:
Oh, yeah.
Larry Groff:
And I also went to BU and studied with John Moore at BU.
Jerome Witkin:
I know John. Yes.
Larry Groff:
And I'm just sort of still trying to find my voice. I'm one of these people who, I had been very political in my past, in my private life. But in my painting, it has, like I was saying, it was really more about formal issues, but with a lot of feeling to it.
I'm very much interested in more painterly, expressive—I am also really fond of Max Beckmann and Oskar Kokoschka and people like that. But I don't know. It hasn't …
Jerome Witkin:
I'll tell you something. Some of the greatest little paintings are Corots in Italy. So I think it's a matter of the jewel box. And there's some incredible landscapes that are just so deep. So I don't think there's any room for what is the more complex or the greater thing, narrative or still life, and all those categories. I think people will surprise any venue to get into.
Like Corot did a few paintings which are gems of all gems,  of little tiny pictures that are just—they're way up there …
Larry Groff:
Yeah. I love those.
Jerome Witkin:
… so I think it's a matter where what works, works. And we don't know why. And there it is.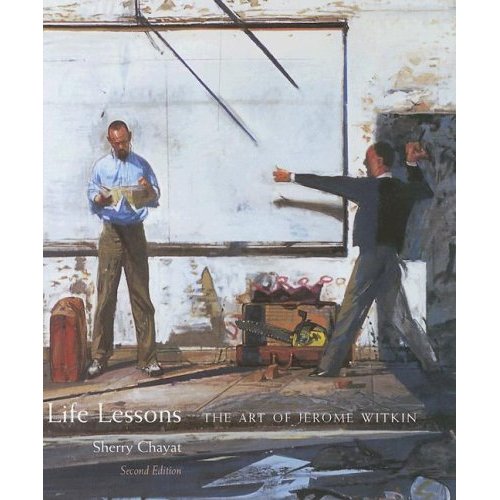 Life Lessons: The Art of Jerome Witkin
Currently the best source of images and information about Jerome Witkin is the book Life Lessons The Art of Jerome Witkin by Sherry Chayat, in its second edition as hard back with a large number of color reproductions. It can be purchased from Amazon from This Link

. (Note if you buy the book from this link you will help support Painting Perceptions.)
A wonderful essay by Joel C. Sheesley in Image about Jerome Witkin can be read here. Another good article, Grim Witness by Donald Kuspit can be read here from Artnet.
Additional work can be seen at his Jack Rutberg Fine Arts Gallery in San Francisco Los Angeles and the ACA Gallery in New York.
LISTEN TO THE PODCAST VERSION OF THIS INTERVIEW WITH JEROME WITKIN HERE
[podcast]http://witkin.s3.amazonaws.com/JeromeWitkin_interview.mp3[/podcast]
---
Donate to Painting Perceptions
Donations to Painting Perceptions helps this site greatly, please consider your gift today.