Larry Groff:
Your self portraits are amazing. The one with—I think you called it Boom? It was quite unique, I thought, and I couldn't help but be curious if—I know you have work in the collection of the Uffizi. And I know that you have a self-portrait section there.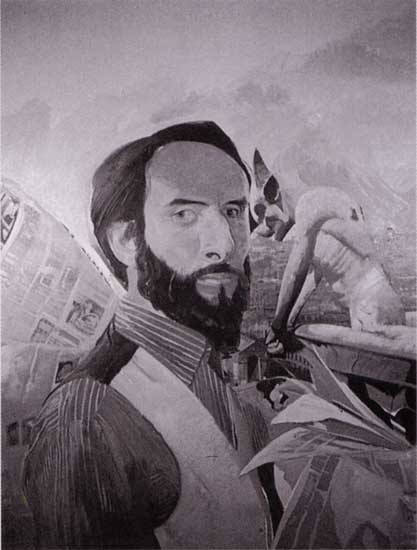 St. Isaac 1970 60 x 48 inches Oil on Canvas Collection of Galleria delgli Uffizi, Florence, Italy
Jerome Witkin:
Yes. That's an early one. Called Saint Isaac. What was the picture you mentioned …
Larry Groff:
Boom, I think it was called? Or there was one where it was sort of a multipanel self portrait? Showing your reaction to—I forget. I think it was for your mother's death …
Jerome Witkin:
That was interesting. That was a modern Jesus picture. A guy in ropes. He's bound and, the Spanish guy, close to me, very dark looking guy. And the gun is just about to go off at his temple being squeezed. And I put, I don't know, about six, seven pictures of me, small paintings, 13×12, looking as though I'm reacting to seeing somebody being killed.
Larry Groff:
Oh, I see.



Mind/Mirror: Suddenly Remembering an Insult 1984 21 x 102 inches Oil on Canvas
Jerome Witkin:
There's another one where I turn into—my face starts burning, or something. And that's in a museum. That took a whole summer. That's about eight panels of myself smiling and then it goes into this burnout. I literally burn up in anger. And I look like—a little bit like myself, but transformed.
Some portraits are interesting. I do them sometimes. I mean, invariably I look at myself, and I think I've aged because of the worry for my son this year, a lot. So my face is thinner. My skin is thinner. I think I'm walking oddly. I used to walk more like an athlete. Now I'm walking like a referee, or something. Different.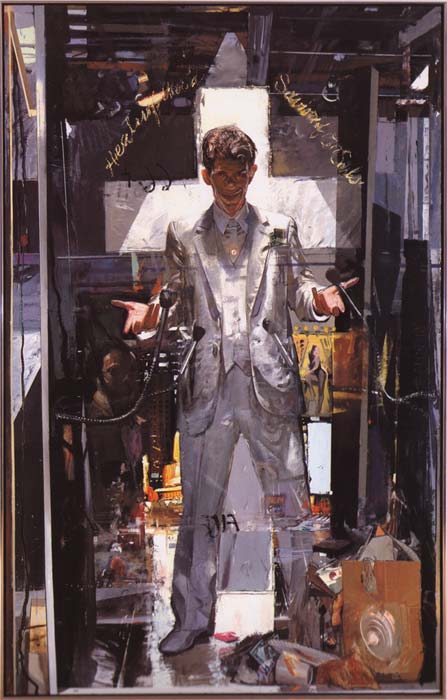 Self-Portrait with a Jesus for Our Time 1986 72 x 45 inches Oil on Canvas
Larry Groff:
I'm curious with your son. Have you—you must be familiar with Vincent Desidario. I think that's the pronunciation …
Jerome Witkin:
Oh, we know each other very well, yeah.
Larry Groff:
Oh, you do. I was curious. Those paintings that he did of his son are just so powerful. I was thinking of you when I saw that.
Jerome Witkin:
I'll tell you something. A few months ago, I tried doing my son when he left for Cincinnati, before they had the bone marrow, the BMT transplant. And I did the painting on the basis of, I was sure he would die, and I was sure he would be pulled into a kind of darkness. And I so got depressed on making this picture. And I since said to myself—What if he survives and I showed him this? He'd be really insulted— that I didn't have faith in him, or faith in his wanting to continue.
So, I destroyed the picture. I destroyed the picture. And I showed it to my father-in-law and, you know, and we both looked at it like, you know, it's just too dark. It was just too dark. And I rarely would destroy a picture, but I had to kill that one. I really had to kill it. It was so about defeat and so about pity. And I didn't want to pity my son.
I gave up the picture and I went back to my Dirty Man picture. And that helped a lot.
And I also—this is going to sound very strange—but when you have one child walking between life and death, you start going on your knees a lot and praying. You simply realize that life is everything and holding onto life is everything. And my work is an imitation of life, but it's not life. And I think having children who, with his problem, a very rare blood disease, he's never been healthy. And now he has a chance to be healthy. And it's very, very odd.
I was there in the room in Cincinnati when his immunologist, Dr. Marsh, when she described all the stuff that had to happen doing the BMT, the bone marrow transplant: The right donor, the right age of the donor, the match, the whole thing and the pain involved with double chemo; she said, "Well, you'll have to go through a lot."
And then Andrew said, "Well, what will that do to me if it's successful?"
And she said, "Oh, you'll be healthy."
And he said, "What's that?"
I mean, this is how sick children exist. They go through all this, but they don't know—and they don't make themselves say, "Why me?" They're incredibly generous. And I think—this is going to sound terribly weird, but I think my son is this cliché of the old soul. I think he's a once-lived or twice-lived returnee who is teaching us a lot of things. I love that child more than anything on the planet. He is just so amazing.
Larry Groff:
How old is he?
Jerome Witkin:
He's going to be sixteen on May 24th. I have children from my first marriage who are forty-two and forty years old. They're much more into midlife, now, and he's into teenage life. It's interesting.
But I mean, my wife Liz is the best. And she's incredible and she's too good for me. What can I tell you. She's incredibly strong. One time at a dinner I threw about three years ago for her birthday with some really good friends, I wrote the toast, and I said, "Here's to Lisa. She's too good for me." And no one laughed. No one laughed. There you go.
Larry Groff:
That's great. I don't want to take any more of your time. This has been terrific. You've been wonderful. I don't know what else I could ask you, anyway, other than, thank you for making such great paintings and bringing such powerful work into the world.