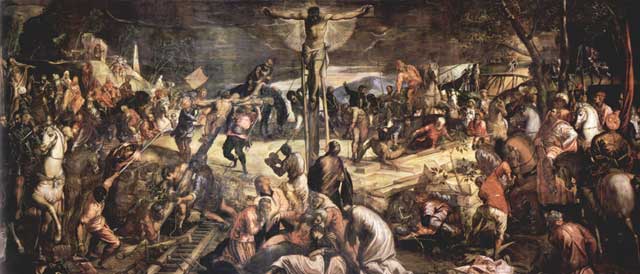 Jacopo Tintoretto Crucifixion 1565 211 x 481 inches
It's interesting that Tintoretto in the Son Giorgio in Venice, he worked for twenty-six years, I think it was, on this gigantic crucifixion which is his master work. Besides what a masterpiece, which is the picture of paradise he did, which is wonderful too, but his crucifixion thing is his big manifesto.
And I think we're all trying to find our great manifesto picture. And I think he did the crucifixion like nobody else. I mean, it was everything… (unable to hear the audio and transcribe a sentence here)
And so did the Tintoretto with the Crucifixion II. So did Grunewald, for that matter. Grunewald's painting is also interesting because he does it for the aiding of people with skin ailments and venereal disease and all sorts of itches and burns and they're going through different torment. And he gives you a Jesus who passed all that into more torment with venereal pus and horrible lesions on his body and green crap. All that stuff to show that God, as Jesus, takes on all this pain.
And Grunewald probably never thought that picture would be having so many visitors or so [many] reproductions of it. But, I think there's a modesty to the idea of investment. Like he put five years or four years into that picture and, you know, from that picture is more of this man to be a deep person.
He revealed himself. Other people who you know, you can call, are deep people. There's a few around. But I think Grunewald was an amazing character. I spent a whole day, when I was twenty years old, looking at the picture in Kolmar and it never left me. I think it's a picture or a piece of music or a piece of literature or whatever, that thing never leaves you. You know something is deeply special. And there is so much of simple art that is forgettable. Sloppy. And we have museums to hold these things which are unforgettable.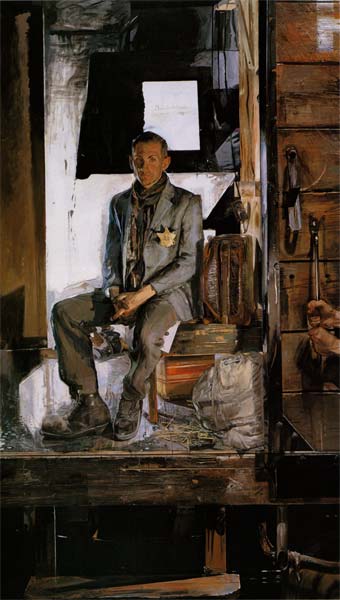 Terminal 1987 123 x 70 inches Oil on Canvas


Entering Darkness 1998-2002 Click on image for huge view…
Oil on Linen Six Panels (from Right to Left) Panel 1- 67×76, P2 72×42, P3 75×30, P4 77×59, P5 109×104, P6 130×76, (inches) (32.24 feet total)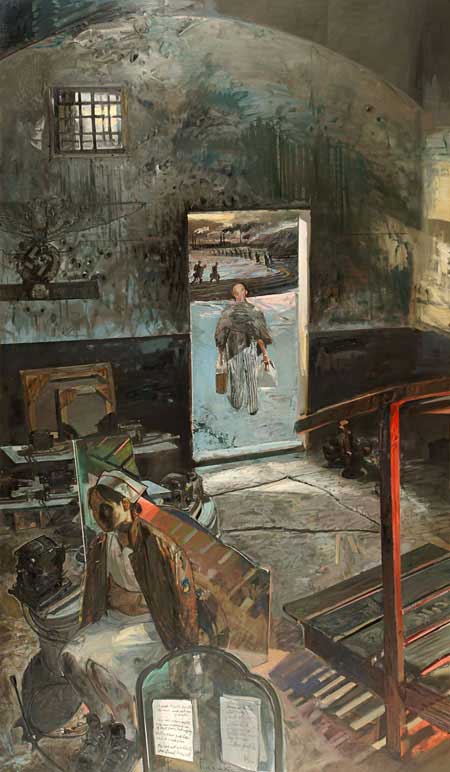 Panel Six 1998-2002 130 x 76 inches Oil on Linen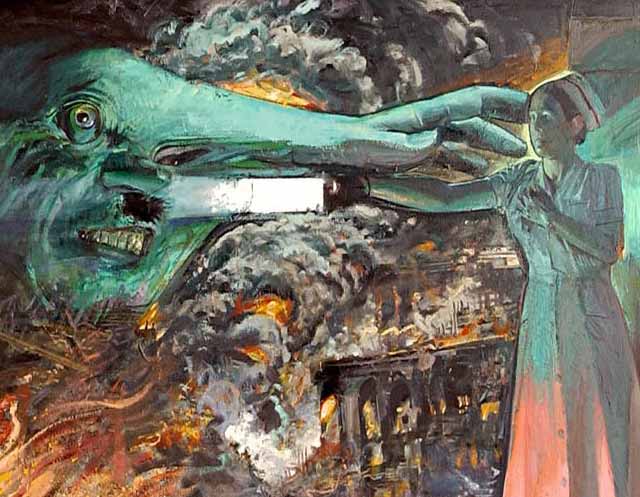 Detail from Panel Five
Larry Groff:
My last question for you. Other than wanting to know when your next show is, if you know that, when and where your next showing of your work might be …
Jerome Witkin:
Well, I'm hoping, this summer, to meet the woman who is the director of the Smithsonian National Portrait Gallery. She was in New York at the AK Gallery some months ago, and she really flipped out on my work. She wanted more information. The gallery sent her a lot of images. She has written that she wants to come to the studio. And my West Coast dealer, Jack Rutberg, is going to be in contact with her to find out exactly when, because I'd already wished to call her about that, so I really should. I'm pretty sure she'll be here.
This summer, if that show goes well, it will be quite nice because it will probably have a catalog. It's interesting, because we could redefine the portrait in it. This big picture, Dirty Man, is that a portrait or is that simply a bizarre and a long narrative. But I think it is a portrait. It's a role of extending the portrait or showing something more than somebody in a chair. And the Marten Luther King picture, too, is a portrait, I think. Dorothy Day is a portrait. It's a quite like a summation. How do you summarize somebody?
---
Donate to Painting Perceptions
Donations to Painting Perceptions helps this site greatly, please consider your gift today.