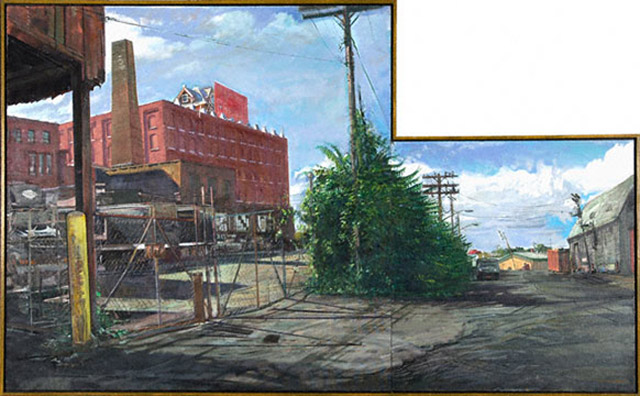 PenfieldGate 2001-4 49 x 79 inches Oil on Canvas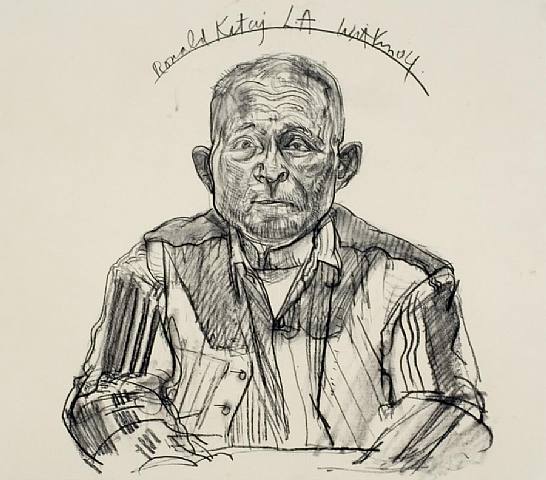 RONALD KITAJ – LA 2004 charcoal
Larry Groff:
Okay. Interesting. You were telling me, when I spoke to you before, briefly about the current project you're working on, this really huge, I forget. What did you say? It was a huge project about the saints … I'm curious to hear more about that.
Jerome Witkin:
It's called The Dirty Man because this guy left his home at a very young age—I think he was about eighteen—and walked through Europe with this little world he made with a cross on his chest over the heart. And he had a belt, maybe a rosary around him. And walked with little, crummy shoes.
And refused to beg. He would take what was in the slop pails outside of homes or that was thrown out on the streets for dogs to eat. He really put himself in the most lowly situation. Antisocial. He continued being antisocial because he didn't want to bathe or wash or change his clothes. So the guy was really like a mess. And he lived like some kind of a … You know, you take a person, roll them in a compost heap and you'd get him eventually.
He traveled by foot to France. Through France to Italy and back to France and back to Italy. He was very fond of Rome. His last years were mostly there. And he would spend his mornings in churches hearing mass and sitting there. When he was hungry he would eat or go back to his little hole in the Coliseum.
And avoided people. He wasn't much there. He found a confessor priest that heard his confession a few times. And the confessor and the priest knew that this guy had a lot of education, or more than the usual amount than they would expect. But even with that, Benedict Joseph Labre just referred to himself as a poor man, that he's the patron saint of poor beggars and homeless people.

Figure in a Landscape 1991 108 x 63 inches Oil on Canvas
My father was a homeless man. He failed in his business. He failed in two marriages. He tried to commit suicide. He was mugged to death in a park in Brooklyn. You couldn't find him, and all that stuff. My father was a very sad case of not succeeding in anything. But at the same time, as a homeless man, where homeless people look alike, it's usually very sad. And they are open to being hurt by other people.
But I think this man was a homeless man by reason of his wishing to be a man of great faith. When he did die of exposure at the age of thirty-five, he was carried two days before then to a house of a butcher in the Agatha Coliseum area, because he was very fond of one church near the coliseum.
And he died after two days, and the minute he died, it seems, or the hour of his death, word went out very rapidly and all these children from all over Rome came out of their houses and apartments and they were mingling and running the streets singing in Italian, "Lo santo es mortal, the saint is dead."
His body was left for a number of days, in a certain church, where they couldn't stop people from visiting him. In fact, one person said, "We have a saint who we can now go to." So the old workman is meant as a saint in his own lifetime. I think that's fascinating, how you know when somebody is really in there for keeps. They were antisocial, but they were so about finding what they had to find.
My painting starts with a horrible street scene. You see one guy kicking this naked man with his robe coming around off his body. This guy is kicking him, and this other guy is coming in the picture with a baseball bat, grinning. So it's a horrible situation. And there's a piece of garbage in the front space where they're making this guy feel like garbage.
And then the drawings. There's nine drawings that go in a slight arch, and they are the narrative of the back story about his leaving and finding whatever. And then the nine pictures become this horribly brutalized man in that bloody robe crawling to a church opening. And then you see him, in the next picture, going in, but his hand is being eliminated by a ray of light.
In the next picture he is about to die, but this hugely impressive woman-like figure with a kind of golden grid over her, which is more diamond-shaped, extends her hand to him as he tries to touch it. And then the boys in the next picture find the dead body and they are shouting to witness the dead body. And then the last picture is all these kids, girls and boys, coming out of the church and just screaming around that the saint is dead.
So whatever that means, I don't know. I might be losing my mind. I see this picture so large to show. My dealer in the West Coast couldn't show it because they didn't have a big enough space.
But again, I said, to you last night, that, you know, I really, in my—I'm seventy years old. I don't believe I am. I feel more like ninety years old. It's not that I feel younger. But I really feel like, what's to lose? You do what you want to do. And I'm not trying to satisfy anybody except my heart and my soul …
Larry Groff:
Good. Good for you.
Jerome Witkin:
… and go spiritual. But I don't care about the art world, at this point. I care about the interior world and I want to show that. And I want to show something that I feel is very important, and maybe something that has to be shown or is impossible to show or hard to paint …
Larry Groff:
How big is this, again? What's the size of the …
Jerome Witkin:
I think it's sixty-seven feet, the whole thing … Feet. Running feet, yeah.
Jerome Witkin:
That's not including the spaces in between, which maybe add more dimension to it. And that's okay. It's like, I go back to the idea that, you know, you want to be absorbed by an event.
---
Donate to Painting Perceptions
Donations to Painting Perceptions helps this site greatly, please consider your gift today.